Check out this eco-friendly Black Friday deal (yes, such a thing exists) as the SodaStream is discounted in both the UK and US right now. A SodaStream deal is quite hard to come by, so when we saw these offers we just had to shout about them.
Whether you have been considering spending your money on a SodaStream for a while – but have been holding out for a sale – or you are buying for an eco-warrior this Christmas, the SodaStream is a purchase you won't forget making. The SodaStream Spirit (in the UK) and the SodaStream Fizzi (in the US) are both discounted. Compact and they come in a range of colours – we love the mustard one.
Use this machine to make your own mixers for cocktails, soft drinks over Christmas, or just to enjoy sparkling water guilt free. Say goodbye to plastic bottles, and hello to the convenience of making your own fizzy drinks. All for under £60/$50? Joy to the world.
Interested in more deals? See our Black Friday deals page for more offers.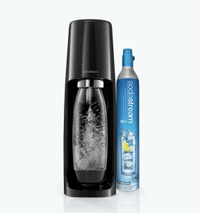 SodaStream Spirit Starter Pack | £99.99 £59.99 (save £40) at SodaStream
We've not seen many SodaStream deals for Black Friday this year, apart from this amazing offer. The Spirit comes in a range of colours and it's compact so as not to take up too much space on your worktop. Boasting a cordless design, you could even use it in a home office or bring it into your living room. Included comes a carbonating cylinder, a one-litre bottle, free shipping and a two-year warranty.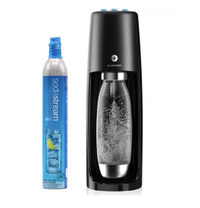 SodaStream Fizzi Starter Pack | $59.99 $47.99 (save $12) at Kohl's with code YOUGET20
Choose from four colours and use the discount code YOUGET20 at Kohl's for 25 percent off this SodaStream. It can turn water into sparkling water in seconds, while it's nice and compact for your kitchen counter. It comes with a one-liter reusable carbonating bottle and a 60-liter CO2 cylinder, too.
Where to use my new SodaStream?
You could use your new SodaStream anywhere from your kitchen (obvs) to your living room, you could pop it in your home office for fizzy water on tap, or, if you are lucky enough to have a dedicated cinema room, it would go great in there. Since the SodaStream Spirit is cordless, you can use it anywhere in your home. Super convenient that.
More Black Friday sales...