Since moving into my apartment last year, I've been on the hunt for the best TV money can buy. But it wasn't until I watched Hilary Duff's house tour that I realized I had met my match.
Almost immediately after spotting Duff's TV (which doubled as wall art), I hopped on Google to search "Hilary Duff's living room TV," and since then, I've had my heart set on the Samsung Frame TV. But before I could make such an investment, there were a few things I had to take into consideration.
I needed to find a proper Samsung Frame that would best serve all my needs. Meaning, first and foremost, I needed to narrow down which of the six available sizes — 32", 43", 50", 55", 65", and 75" —that worked best with my current space.
After deciding on the 32" version (as that was the exact measurement of my wall), I needed to figure out how I could even afford it.
With the Samsung Frame being a bit steeper than most TVs on the market — due to its 4k quantum processor and the fact that it's one of the sleekest looking models you can buy, I presume — I patiently watched for the perfect time to buy. And now, thanks to Walmart's 'Deal for Days,' I'm in luck.
Right now, Walmart has so many Samsung Frame TV deals, including my coveted 32-inch choice. We also recommend heading over to our Samsung discount code page for the latest deals and savings.
The Samsung Frame 32" TV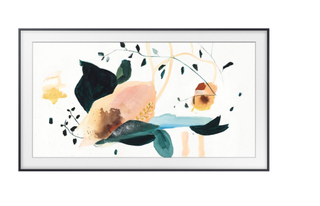 Ringing in at only $478 (nearly $100 off the regular retail price), I can take full advantage of the many (many) features without going broke.
And, if you're also lusting over this Samsung TV Frame, now is the time to invest!
Powered by quantum dots, this TV offers 4x the resolution of any traditional full HD 1080p TV; there are brilliant shades of color, a brilliantly clear and crisp picture, and even perfect sound.
Plus, when this TV is not in use, it doubles as a stunning portrait with the most beautiful black bezel (an add-on I opted to include). It was small on space and big on style — and as someone living in a compact apartment, it was a win-win.
This is why you shouldn't wait — head on over to Walmart to pick up on this Samsung TV Frame — after all, it's the life-changing model you don't want but need.
Samsung Frame TV: View more deals below!