You can color us excited: the Our Place Black Friday sale has dropped *way* ahead of schedule, and we're already dreaming about the lavender and blue salt-toned accessories we're adding to our wish list.
The line has long been praised for its dreamy aesthetics and top-tier functionality, so of course we're going to take a peek at the seasonal savings event. What's more, Our Place debuted brand-new products throughout 2023, to much fanfare. If you haven't had a chance to get in on the hype, now seems to be the perfect time.
All small kitchen ideas should include a non-toxic cookware set, in our opinion. Our Place delivers on both wellness and looks, so let's kickstart perusing those pre-Black Friday home deals with this woman and immigrant-owned brand.
Our Place Black Friday sale: what you need to know
The brand's biggest sale of the year didn't wait for Black Friday itself (November 24, 2023). Its sizable line of products is already discounted, and it includes "everything you need to cook and gather."
We first learned about Our Place thanks to its viral eight-in-one Always Pan, and immediately fell in love. This year, we swooned the equally adorable and practical Our Place pressure cooker and Wonder Oven. (You can read our Our Place Wonder Under review in all of its highly-rated glory.)
Given that the line is only growing, we figured our collection might as well grow along with it. (Fair warning: you might need to figure out ways to organize a small kitchen and how to store plates and cookware in your abode if you're planning on doing some serious cyber shopping.)
And with these steep price slashes, we wouldn't judge you for adding to your cart. You can score up to $230 off the four-piece cookware set and $55 off the large Always Pan.
What we're shopping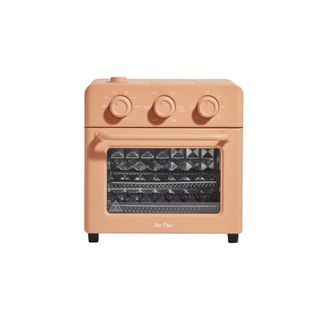 six colors
Price: Was $195, Now $170 (save $25) at Our Place
Dimensions (in.): D10.6 x W11.5 x H11.6
The Wonder Oven is not just about looks: it delivers on its promise with steam infusion technology that allows you to air fry, bake, roast, toast, reheat, and broil. A one-year warranty is included in your purchase.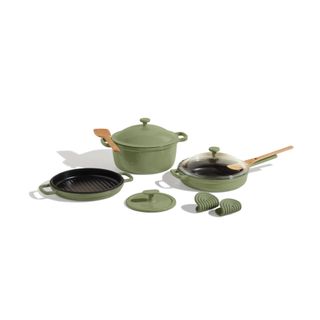 heat resistance up to 500°F
Our Place Cast Iron Cookware Set
Price: Was $465, Now $340 (save $125) at Our Place
If you predict there will be searing, grilling, and sautéing in your future, the four-piece cast iron cookware set will deliver in abundance. The collection includes an Always Pan, Perfect Pot, Hot Grill, Grill Press, and bonus Hot Grips. There's a 100 day trial for you to test things out.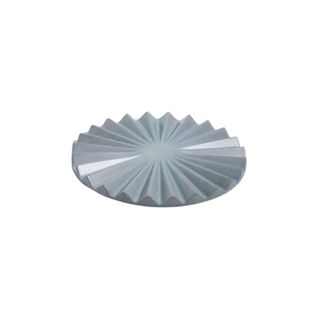 durable stoneware
Price: Was $35, now $28 (save $7) at Our Place
Dimensions (in.): D10
'Tis the season to gather, and you best believe your tiny table will be overflowing with delicious eats. This "sunburst-shaped" trivet will not only keep your surfaces from getting damaged, but they'll add some flair with their pastel hues and pleated texture.
Our Place Black Friday deals
Want a look at all of the Our Place discounts being served this cyber season? We have you covered:
What's on your list this season? One of everything? We can't blame you! We'll put in a good word with the man in the North Pole on your behalf!
FAQs
Is it cheaper to shop on Black Friday?
It depends what you're shopping for and what brand you're planning on purchasing from. Plenty of home retailers have already begun their discounts that will continue through to Cyber Monday, November 27, 2023, so it's worth checking brands/retailers individually for specifics. Our edit of Black Friday Home Deals can also help.
What stores are having biggest Black Friday sales?
Our Place isn't the only home retailer to offer savings to shoppers (and ahead of schedule at that). Some brands participating include: Amazon, Etsy, Neom, Nest, Wayfair, and Walmart, to name just a few.
---
Still shopping for your future culinary endeavors? The Caraway Black Friday sale has also landed ahead of the event itself, and you'll be just as enamored with the cookware's charm and health-focused features.