Until now, we didn't know that Lidl smart lighting was a thing. Let alone that, it's a pretty impressive – and much more affordable – alternative to the super popular light strips found elsewhere.
An easy way to create an eye-catching lighting effect in any of your rooms (we'll tell you how in a min), these smart light strips easy to fit. Plus, at just £16.99 per 3m length, they're cheap cheap cheap.
What is smart lighting?
Lighting can be called 'smart' when it connects to a smart phone, tablet, or another smart device. This means it can be controlled remotely, which is perfect for enhancing home security and illuminating hard to reach areas. Often, it also allows users to completely customise their lighting, too.
Available from Sunday, Lidl smart lighting is sure to be a big hit, so we'd recommend getting your hands on it before it's too late. Lidl's not spent any money on lavish photography to help us give you ideas on how to use the light strip, but we've found inspiration for five ways we'd use strip lighting, below, with light strips from other companies we love – check them out if you want a wider choice.
Find more inspiration with these smart lighting gadgets to light up your home. For the latest smart home news, advice and information, check out The Hub.
1. Design the walk in wardrobe you've always dreamt of
We know we're not the only ones who've dreamt of a walk in wardrobe. But, if we're honest, most of us don't really have the space to justify one. So, why not upgrade the wardrobe you do have into something that makes you feel a little more special?
Running strip lights around the edge of your wardrobe, or on the underside of your shelves (anyone else thinking shoes) could be the solution. It's super affordable and will just make your space feel that little bit more luxe.
2. Create task lighting for your kitchen
Task lighting is the name we give to lighting that serves a specific purpose – or that is required to perform a specific task. For example, if you're choosing lighting for your kitchen you'll need to think of how you intend on using the space and how light will affect your ability to do so.
Consider running strip lighting, such as the Livarno Lux 3m Smart LED Light Strip along the underside of your kitchen cabinets – if they're at head height – to give what can be a dark space a little more light. It'll make preparing food easier and give your kitchen a warm glow, which is perfect if you're looking to create lighting zones in an open plan space. Or run them beneath base units or above wall cabinets to create that 'floating' look, like in this kitchen above by Hafele (not lit with Lidl's lights, in case you were wondering).
3. Illuminate open shelves
Open shelving is another popular option for small kitchens, as well as throughout the rest of the home, but can leave a space feeling a little dark if there's a lack of natural light.
Sticking strip lights to the underside of your shelves is a super subtle way of getting that extra bit of light and illuminate the possessions you've put on display. Time to get your work Christmas party prize out again? Could be...
The dimmable ones above are by Lighting Direct.
4. Enhance the home cinema experience with strip lights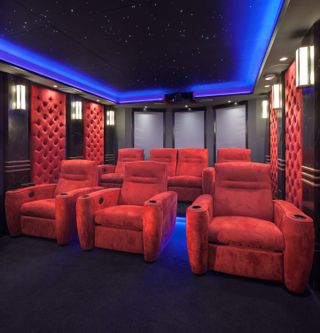 Another reason we love strip lighting is for its ability to enhance the home cinema experience. The Livarno Lux Light Strip gives users access to 16 million RGB colours, all accessible via its handy, accompanying app.
Watching a scary movie, or getting into a game? Choosing lighting that reflects the mood and instantly enhance the viewing experience. Room above by Loud & Clear (also not using Lidl's strip lighting, as far as we know).
5. Set the mood in the living room or bedroom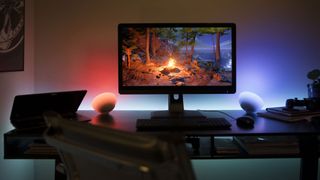 Love the idea of mood lighting for the bedroom, living room, or elsewhere? Use your connected app to customise the colour and intensity of your space and never worry about overly harsh lighting again. Perfect if you're planning a date night in – or just want your space to feel especially cosy.
The lighting above is by market leader Philips Hue; find out more about their products in our dedicated features.
6. Programme your lights to give the impression that someone's home
Heading away over winter? Either for a bit of sun, or to visit relatives over the festive period? You may be pleased to know that the Livarno Lux Strip Light can be scheduled to give the impression that someone's home, even when they're not. It's a super simple security measure, but could make all the difference when it comes to deterring criminal activity. Shown above, Ring smart lighting.