Halloween is on a Saturday this year, leaving plenty of time for spooky activities. While trick-or-treating will be different or may even be out of the question depending on where you live, that doesn't mean you can't go all-in with your Halloween festivities. Think pumpkin carving, costumes galore, and an epic movie marathon night among family or a few close friends.
Power up a favorite family classic like Hocus Pocus, or opt for a spine-tingling horror flick like The Shining. And make sure that the candy and good fun is free-flowing for all. Of course, don't forget a costume and a mask!
Keep scrolling for our favorite Halloween movie night ideas.
For the ultimate backyard movie night, check out our guide to the best outdoor projectors.
Start with the basics: a portable projector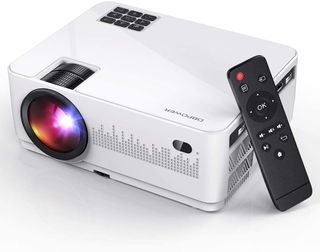 No movie marathon is complete without a big screen. (And, if you don't have an actual projection screen, a white sheet or white wall will do in a pinch). Projectors are available in a wide range of prices, from under $100 to well over $1,000. Check out our best outdoor projector buying guide for our top picks, including this DBPOWER Video Projector chosen for its great stereo sound, brightness, and ease of set up.
Some projectors come with a screen as a bundle, but if you want to go all out, this free-standing 100-inch portable screen has high marks.
Make sure you have some plenty of seating options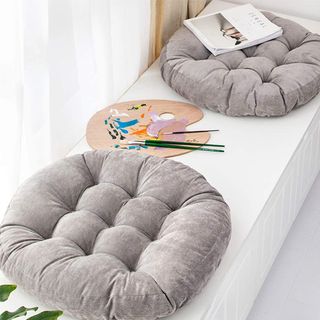 While you may already have a big sectional or some patio seating, encourage comfort and social distancing with an array of floor cushions, blankets, and camp chairs. We're feeling quite fond of these round indoor/outdoor floor pillows that can also be repurposed as extra padding for your furniture. The kids will probably be clamoring to claim these cushions faster than you can say "Trick or Treat."
Rethink those pumpkin pails...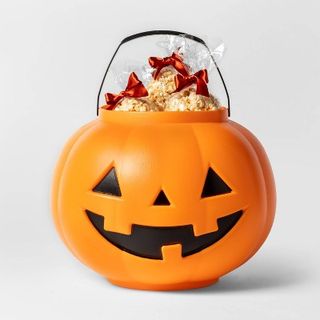 Stock up on plastic pumpkin pails in-store from the likes of Target, Walmart, Party City, and Spirit Halloween to fill with candy, popcorn, and other treats for guest to enjoy while they watch. Or hey, you might already have a few of these classic buckets already lying around to repurpose rather than trick-or-treating.
...and pull out spirited serveware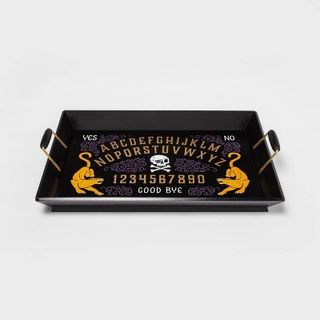 This Ouija-board printed wooden tray is essential if any paranormal-themed movies are on the schedule. And if you're wanting to cut down on the number of dishes you interact with post-event, this party set of disposable dinnerware is super convenient (and adorable). Meanwhile, the adults will love sipping on spiked concoctions with these spooky skeleton glasses.
Add a little mood lighting...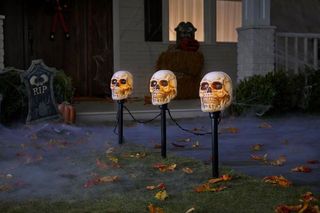 Whether you're looking to stake lights in the ground or decorate with some lanterns sprinkled about the snack station, we're having a hard time between adding a few of these top-rated lanterns from Amazon to our cart or lining the yard with a trio of haunting skull pathway markers.
and, remember, face masks not optional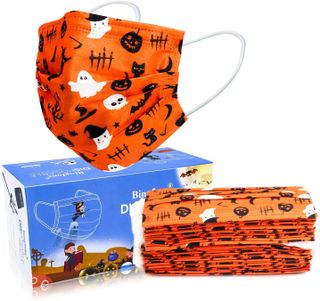 Wear a festive mask, and it's like you're immediately in a costume. Treat guests to festive disposable face masks with Halloween flair, like this 50 pack decorated with ghosts, pumpkins, bats, and more.
For something just for you, there are so many Halloween-themed masks to discover like fall-themed prints at Etsy to a host of pop-culture references like these iconic Hocus Pocus or Nightmare Before Christmas masks.
Read more...