Most of us will be having conversations via smart screen and plugging our cars in to charge them at home by the year 2023 – that's the prediction made by members of the public in a new survey.
Homes will be advancing on the new technology that has started with digital assistants like Alexa and remotely controlled systems such as Hive, according to the report by AXA Insurance, which asked people what they thought homes would be like in five, 10 and 20 years' time.
More than a quarter of those surveyed said that in five years they believed it would be quite common for people to call friends and relatives on TV-style screens throughout their homes. Twenty five per cent said they thought the popularity of electric cars will have soared and it'll be easier to charge them from our houses than having to go to special charging points.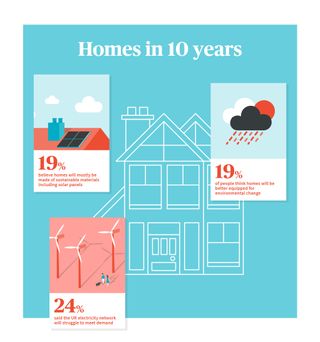 Homes will be packed with smart technology
But 2028 will see an era of sustainability ushered in and homeowners wanting greener houses, with 20 per cent of people hoping new properties will be made from sustainable materials. They'll also be equipped with ways to harness energy from nature, such as by solar panels, as 24 per cent of those questioned warned that the UK's electricity network would be struggling to keep up with demand in 10 years' time. And with the frequency of devastating flooding seemingly on the rise, people also thought that flood-resistant technology would be necessary to keep the waters at bay.
As far as cars were concerned, one in five thought that we'll have a lot more access to driverless vehicles.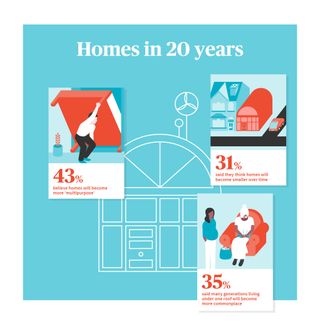 Homes will be multi-purpose and multi-generational
In 20 years' time, those surveyed envisioned homes needing to be multi-purpose spaces, with 43 per cent believing rooms will be easily changed for different uses ­– such as work, relaxing or leisure activities.
And as people live longer, different generations will be living under the same roof –yet the buildings themselves won't be growing any bigger, so will have to work hard to accommodate the whole family and all their different needs. Thirty-five per cent said that in 20 years' time it would be the norm for grandparents, parents and children all to be living together. Thirty one per cent of people think UK homes, already considered small in size in general, will possibly get even smaller.
'Today more than ever, people are starting to use their homes for multiple purposes and are relying more heavily on new technology, and this is set to continue. In the next five, 10 and 20 years we expect homes to change once again, but into what is a conversation we all need to have,' says Gareth Howell, managing director of AXA Insurance.'