If you've been lusting after that Hermès blanket (one of the best throws around) for a while now, then you're going to want to inch a tad closer to your screen. Yes, we've found an incredible dupe for the Hermès Avalon Blanket, sold at eBay for less than £20 in some instances. Because believe it or not: some of us don't have a spare £1,240 to spend on a blanket. Some day, eh?
If you're still Christmas shopping and your time is being spent searching for something for that someone who is hard to buy for, then this is what we suggest. This doppelgänger blanket is great for use on the couch, for draping at the end of a bed or even for folding for display purposes and sitting atop a shelf. It's super warm (we've already bought one) and they come in a range of colors from beige to orange, your classic black plus more.
Aptly named the H Blanket, it's strikingly similar to the Hermès blanket, so much so that we think no one would ever realise it's a dupe. With several sellers to choose from, they are usually made up to 80 per cent wool and 20 per cent cashmere – hence the softness.
What are you waiting for? If not for someone else, grab one for yourself ahead of Christmas to cozy up in style. You might want to buy soon, though, as delivery time will take a good few days.
Buy the Hermès Avalon blanket now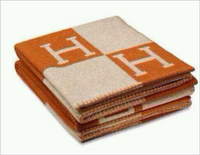 H Blanket | £35.50 at eBay
Select your color and add this cashmere blend blanket to your basket. It comes from the Netherlands, so delivery time should only take a few days...
How is the Hermès blanket dupe different to the original?
The original is made using 90 per cent Merino wool and 10 per cent cashmere, whilst the H Blanket is just 80 per cent wool and 20 per cent cashmere.
In terms of size, the original measures 135cm x 170 cm and the dupe is 130cm x 170cm – so ever so slightly different.
Other than that, there are no aesthetic differences in these blankets. And of course: they're both finished with the iconic stitching around the edges, and they are dotted with the letter H.
Celebrities and their Hermès blankets...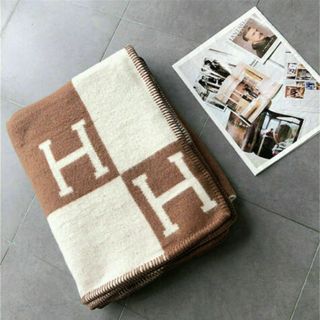 We've spotted the Hermès Avalon blanket inside many celebrity homes; to name a few, we've seen it in Hilary Duff's – she has the black version. Khloe Kardashian also has the beige one draped over her daughter's cot, and Ellen DeGeneres has a gray one in her home, too. Clearly, these blankets are popular among celebs, and it's easy to see why, when they blend in with any color scheme as seamlessly as they do.
Searching for more blankets to keep your home cozy over the cold season?
Searching for more Christmas gift ideas?