According to shopping price comparison site idealo.co.uk, around half of UK shoppers don't trust Black Friday deals and, with the figures just released, it's easy to see why.
More than 40 per cent of us admit to having bought something during Black Friday and then found it cheaper; around a quarter (23 per cent) find the shopping frenzy stressful; and a further 15 per cent of us frustrated at not finding any of the products we actually want in the sales.
SUBSCRIBE TO THE BEST HOMES MAGAZINES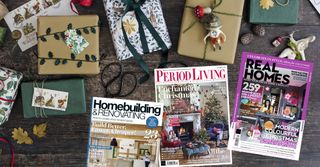 Interestingly, the youngest age group (18 to 24) find Black Friday almost equally as stressful as people over 65.
'We hope that by providing clear pricing information and encouraging consumers to set up price alerts on their favourite products, shoppers this year might have better peace of mind that they're actually making a saving.
There are ways to approach Black Friday shopping without the stress and uncertainty about getting a genuine deal, though – one of which is with price tracking, which helps you quickly discover whether the deal you are getting is real. Check out our 10 tips for getting the best Black Friday deals in 2018, which will help you shop like a Black Friday pro – and avoid making costly mistakes. You can find all our Black Friday deals on our dedicated page.
In the meantime, here are a few of our favourite deals:
Best sofa bed deals
Rafael Single Fabric sofa bed | Was £249 now £199 | Save £50
Much like Made's Haru sofa bed, but bigger, this stylish sofa bed currently has £50 off, and comes in three different colours. Also, Very have just opened their Black Friday sale, so click for a peek. View Deal
Tyler Grey Fabric Sofa Bed | Was £215, now £99.99 | Save £115
A perfect budget-friendly sofa bed, easy to useView Deal
Wantaugh three seater sofa bed | Was £558.99 now £332.99 | Save £226
Available in four different colours, this practical yet still comfy sofa bed currently has 40 per cent off, and it features an easy-to-use click-clack mechanism to turn it in to a bed. A bargain from our point of view.View Deal
Best sofa deals
Flint Two Seater Sofa | Was £619.99 now £378.99 | Save £241
Available in 13 different colours, this loveseat sofa has button stitch detailing and slanted wooden legs. With 40% off right now, it could be yours for under £400.View Deal
Emi Velvet Loveseat | Was £651.99 now £560.99 | Save £91
With 12 different colours to choose from, this velvet loveseat is so on trend right now, and we can't get enough of the emerald green colour.View Deal
Three Seater Chesterfield Sofa | Was £670.99 now £564.99 | Save £106
Been eyeing up a chesterfield sofa? You're in luck thanks to Wayfair, and this one has 16 per cent off right now, saving you over £100.View Deal
Best bed deals
Gabriella Upholstered Ottoman Bed | Was £199 now £163.99 | Save £35.01
On the hunt for a single bed? Currently in Wayfair's sale for 18 per cent off, this one has lots of storage underneath for shoes, toys or spare bedding.
Embrace Ortho Wool Pocket Sprung Divan Set | Was £1,069 now £699 | Save £370
Bag yourself an early Black Friday bargain with Furniture Village , as they've already opened their Black Friday sale, and they have a number of beds on offer, all of which can be made and delivered in time for Christmas. This one will save you a whopping £370 and is available as a double, single, king size and super king. It can also be customised in seven different colours, you can choose between how much storage space you'd like AND there are three different headboards to choose from.View Deal
Amesbury Bed Frame | Was £429.99 now £346.99 | Save £83
Currently sporting 36 per cent off, this rustic looking bed frame also has bedside tables, a chest of drawer and a wardrobe you can buy to match. It'll be sure to add a hint of industrial chic to any room.View Deal
Best bedding deals
Non-Iron Duvet Cover Set | £18.99
Ideal for students or if you can just never be bothered to iron your bed sheets, this non-iron duvet cover set is available in single, double and king sizes, and you can choose from white, black, pink and blue.
Tempur Cloud Pillow | Was £129 now £90 | Save £39
The key to a good night's sleep is investing good money on pillows. Luckily for you, this one currently has £39 off.View Deal
Scandinavian Classic Duck Feather And Down 13.5 Tog Duvet | Was £40.99 now £35.99 | Save £5
On the hunt for a duck feather and down duvet but don't fancy spending all of your life-long savings? Here's a deal for you. View Deal
Quick links to Black Friday pages