There's no better time to start or add to your kitchen collection than now, because the sales are here and the discounts are wild. These aesthetically-pleasing cookware and bakeware sets (and their huge savings for Black Friday) are *chef's kiss*.
We've rounded up the best savings across all our favorite brands, and have found the most Insta-worthy cookware and bakeware pieces and sets to immediately add to your cart.
If you're living in a small space, chances are you have limited room for storage in your kitchen cabinets. Finding cookware and bakeware that is cute enough to live on the countertop full-time instead allows you to use your pots and pans as a decor element too and create a kitchen color scheme.
We've searched far and wide, and these are our top picks on sale for Black Friday.
Our favorite find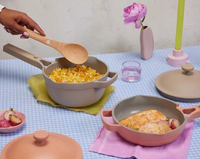 (opens in new tab)
Our Place Mini Home Cook Duo | Was $240, Now $155 (save $85) (opens in new tab)
It wouldn't be an Insta-worthy roundup without the Our Place Perfect Pot and Always Pan.
These tiny versions of the classic Always Pot and Perfect Pan are a little more cabinet-friendly (and a fraction of the price). Made to cook for one or two people, this scaled-down duo also comes with the wooden spoon and spatula. It's also available in all of the colors we've come to know and love from the brand.
Cookware deals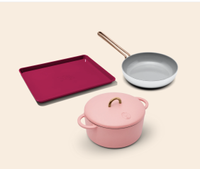 (opens in new tab)
Great Jones The Starting Lineup | Was $218, Now $130 (save $88) (opens in new tab)
Living up to its name, the Starting Lineup set has the three essentials everyone needs to start their kitchen collection: a frying pan, a mini Dutch oven that doubles as a pot, and a baking sheet. The smaller sizes also mean you can save on precious cabinet space (although these are cute enough to leave on display, too).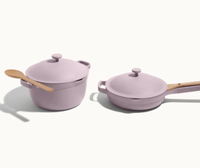 (opens in new tab)
Our Place Home Cook Duo | Was $310, Now $200 (save $110) (opens in new tab)
When you bundle an Always Pan with the family-sized, oven-safe Perfect Pot, you can save $110. This is the best deal we've ever seen from Our Place. Mix and match colors to create your own set.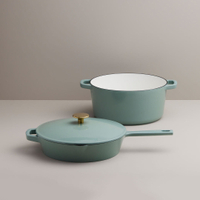 (opens in new tab)
Milo By Kana 3-Piece Cast Iron Cookware Set | Was $250, Now $175 (save $75) (opens in new tab)
Available in a range of dreamy earth tones, this set is on sale for $75 off. The gold lid handle and glossy finish on this enamel cast iron collection give an elevated minimalist look, and the set comes with perfectly fitted parchment shapes for the skillet (which is safe for use at up to 500°F, btw).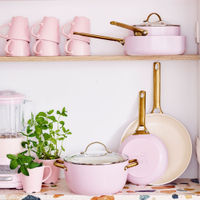 (opens in new tab)
Greenpan Ceramic Nonstick 10-Piece Cookware Set | Was $399.99, Now $299.99 (save $100) (opens in new tab)
Say hello to the cutest Barbiecore (opens in new tab) cookware set. This 10-piece collection comes with two pots, two pans, a casserole dish, and matching lids. We love that Greenpan makes its products using recycled aluminum, meaning this set is cute for your kitchen and kind to the planet.
Bakeware deals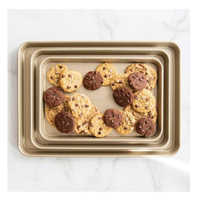 (opens in new tab)
Nordic Ware 3-Piece Gold Baking Sheet Set | Was $38.54, Now $14 (save $24.54) (opens in new tab)
This gold set of three nonstick baking sheets is the stuff of Scandi (opens in new tab) dreams. The three different sizes come together for a hard-to-beat price of $14, and they stack together neatly for easy, space-saving storage.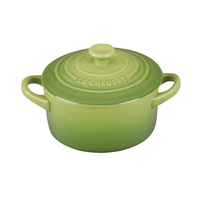 (opens in new tab)
Le Creuset Mini Round Cocotte | Was $32, Now $22 (save $10) (opens in new tab)
If you've been dreaming of adding a Le Creuset to your collection, Black Friday is the time to finally do it. These mini cocottes are perfect for single-serve cakes, baked eggs, and tasty snacks. They are both adorable and affordable and would be great for gifting, too.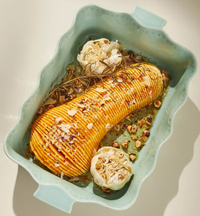 (opens in new tab)
Anthropologie Old Havana Baking Dish | Was $58, Now $40.60 (save $17.40) (opens in new tab)
With its mint green shade and the wavy finish on the stoneware, we're loving the retro vibes of this versatile piece you can use to bake and serve in. Its table centerpiece potential is through the roof, so it feels like a great fit for your main dish. And with 30% off, you can score this splurge-worthy piece at a major discount.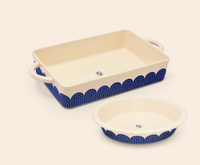 (opens in new tab)
Great Jones Stoneware Sweeties | Was $125, Now $65 (save $60) (opens in new tab)
Another great find from Great Jones (pun fully intended), this set of two baking dishes is both practical and adorable. Plus, the Sweetie Pie dish features a wavy rim that helps you to make picture-perfect pie crusts.