The Caraway Black Friday sale has kickstarted the celebration — and savings —quite early. We haven't even mapped out our Thanksgiving tablescape plans, yet the deals for the annual retail event are already live. Talk about speed!
Perhaps there's something to be said about the timing. We can get our holiday meals underway with the help of fabulous cookware that otherwise would've been wrapped up under the Christmas tree until December 25. (Depending on the item's availability and shipping expectancy, of course.) Maybe working ahead of schedule has its benefits after all.
While you peruse the other brands' early Black Friday home deals and start noodling small kitchen ideas to carry out in 2024, have a look at what foodies' fan-favorite collection is shelling out this year. (If you have been dreaming about the newly debuted Caraway Stainless Steel collection, it's nearly $300 off.)
The Caraway Black Friday sale is heating up
Cyber season is officially a go, and the beloved non-toxic cookware set is offering 20% off sitewide on a range of products. Plus, if you bundle and save, you're entitled to some price-slashing:
Save 10% on orders over $85+
Save 15% on orders over $425+
Save 20% on orders over $525+
Those who are stocking up for themselves and others are also likely to receive a complimentary tea kettle. When you add items to your cart, a graph will appear indicating how far away you are from receiving the freebie.
What to shop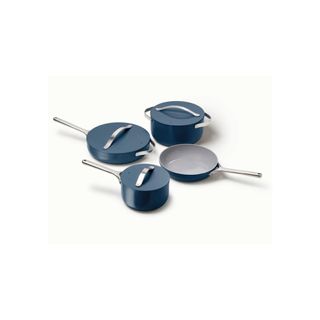 4.8/5 stars
Price: Was $545, Now $355.50 (save $189.50) at Caraway
There's a reason this set is a bestseller, folks. The four-piece non-toxic, non-stick cookware — a 10.5" frying pan, 3 qt saucepan, 4.5 quart sauté pan, and a 6.5 qt Dutch oven — ditches the chemicals and looks gorgeous in the kitchen as you whip up a delicious meal.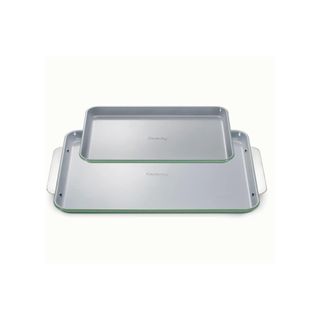 Oven safe up to 550°
Price: Was $100, Now $90 (save $10) at Caraway
Dimensions (in.): L18 x W13 and L15 x W10
Christmas cookie season is underway, and you can never be too prepared. These sheets not only offer good looks, but a naturally slick, non-toxic ceramic-coated interior. Oh, and did we mention that clean-up is a breeze?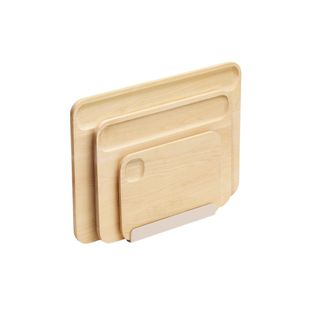 Storage organizer included
Price: Was $255, Now $175.50 (save $79.50) at Caraway
Dimensions (in.): L17 x W12, L14 x W10, L10 x W7
All meals have to start somewhere, and this FSC-certified cutting board set will get the job done healthily. It's made from FSC-certified Birch Wood and finished with food-safe mineral oil and wax, so you can feel confident about whatever you're whipping up this holiday season — and beyond.
Caraway Black Friday sale offers
Caraway is about more than just cookware and has discounted items in all categories of its line. Here's what you can shop:
FAQs
Does Caraway do Black Friday deals?
Caraway not only participates in Black Friday deals but kickstarts the offerings — up to 20% off products — early. In 2023, savings went live on November 1 and will continue until Cyber Season comes to a close after Cyber Monday on November 27.
Why is Caraway popular?
Shoppers and cooks are drawn to the brand's quality, durability, and looks, especially in comparison to bland lines that make meal prep feel dull, even if you're whipping up something spicy and fun. Caraway is a non-toxic, non-reactive, and non-corrosive line that will make you feel better about how you prepare your meals. Cleanup is also quite simple thanks to the non-stick materials.
---
Psst: while you're scanning the Caraway sale, be sure to take experts' advice on how to store plates and cookware in a small kitchen — you'll appreciate the advice!