Shopping this Black Friday on a budget? Aren't we all! And if you have capped your spending at £50, we have you covered because we have picked out the best deals you can bag for under fifty quid. There's loads of great stuff in here, from some of our fave brands too – John Lewis, Made, Nutribullet, Google, The White Company and more. So just keep scrolling to get shopping and for more of the best Black Friday deals make sure you check out our hub page too.
The best Black Friday deals under £50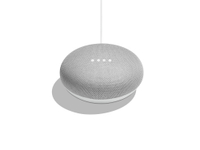 (opens in new tab)
Google Home Mini Hands-Free Smart Speaker | £49 £19 (save £30) at John Lewis (opens in new tab)
Total bargain right here. Get one for you, your mum, your nan, your neighbour, we aren't kidding – the Google Home Mini is super easy to use and a great small smart addition to any home. It's essentially a speaker that responds to your voice, can answer questions and keep you updated on the news, weather and your calendar.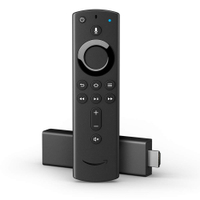 (opens in new tab)
Fire TV Stick Lite | £29.99 £19.99 (save £10) at Amazon (opens in new tab)
Another great smart home buy for under £50, this is ideal for anyone who want to make their TV a smart TV. The Fire Stick lets you watch all the good stuff – Netflix, Disney Plus and more. A lockdown essential we think!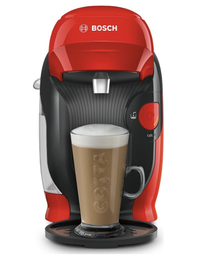 (opens in new tab)
Tassimo by Bosch Style TAS1103GB Coffee Machine | £89.99 £29 (save £60.99) at Currys PC World) (opens in new tab)
Yes this is a coffee machine for just £29! See we told you you can get loads for under £50 this Black Friday. Not only is this coffee machine great at making coffee, but it's also super easy to clean as you can detach all the parts and bung them in the washing machine.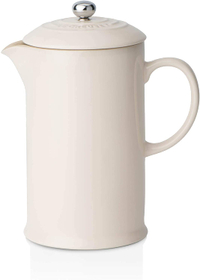 (opens in new tab)
Le Creuset Stoneware Cafetière | £57 £39.15 (save £17.85) at Amazon (opens in new tab)
And if you are more of a traditionalist when it comes to your coffee, this is a great buy. It looks gorgeous yes, but also keep your coffee warm so it's not stone cold when you come to your 3rd (or 4th, or 5th) cup. This is actually the cheapest we have even seen the Le Creuset French press so move quickly before this sells out.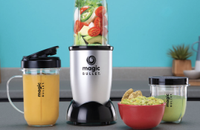 (opens in new tab)
NUTRIBULLET Magic Bullet 01333 Blender | £29.99 £19.99 (save £10) at Currys PC World (opens in new tab)
The perfect little pre–Christmas present for yourself, or of course a practical gift for someone else, this Nutribullet is the cheapest deal we can find this Black Friday. What we like about this in comparison to so of the price models is just how easy it is to use! Blenders seem to have so many bells and whistle these days, when really all we want is something that's easy to use and quick to clean.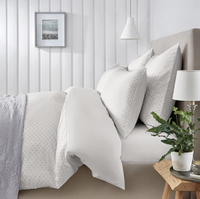 (opens in new tab)
Avignon Print Duvet Cover | From £60 from £48 at The White Company (opens in new tab)
Ah bedding! If you fancy treating yourself to some nice new sheets The White Company is the place to go. There are loads of gorgeous sets in the sale, one of our faves in this really subtly printed set with the lovely pom pom edging.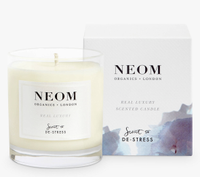 (opens in new tab)
Neom Organics London Real Luxury Standard Scented Candle | £32 £25.50 at John Lewis (opens in new tab)
Another little treat for yourself as you plough on with your Christmas shopping – or this could get someone else ticked off the list. We really rate Neom candles, they aren't extortionately expensive but they fab quality, the smells are delicious and they burn really evenly.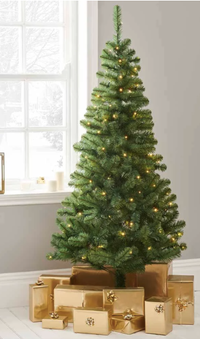 (opens in new tab)
Wilko 6ft Pre-Lit Artificial Christmas Tree | £55 £35 at Wilko (opens in new tab)
What better time to buy your Christmas tree than on sale over Black Friday. Wilko is the place to head this year, they have so many trees on offer, but if you are after the best one under £50, this pre-lit beauty is the one for you.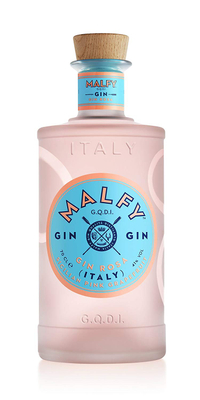 (opens in new tab)
Malfy Gin Rosa Pink Grapefruit Italian Gin, 70cl | £28 £25 (save £3) at Amazon (opens in new tab)
It wouldn't be a Real Homes round up without some gin in there would there? Most of the team has ordered a bottle of this delicious stuff, it's the taste of the summer we've all missed out on! As well as pink grapefruit it has a subtle taste of rhubarb and a punch of orange.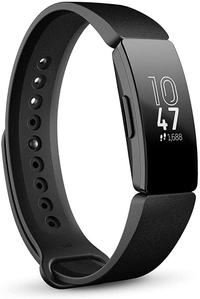 (opens in new tab)
Fitbit Inspire
£69.99 £38.99 (save £31) at Amazon (opens in new tab)
Yep you can get a Fitbit for under £50 this Black Friday! The Inspire is super simple to use just connect it to your smartphone via the Fitbit app and see your stats such as resting heart rate, calories burned and steps taken. You can track your sleep using your phone, too. Essentially, a Fitbit gives you a complete overview of your health, just from sitting on your wrist 24/7.
Shop more of the best Black Friday deals:
Amara: (opens in new tab) 20% off designer brands – Black Friday home deals coming soon
Amazon: (opens in new tab) click to shop Black Friday sale
Anthropologie: (opens in new tab) click to shop Black Friday sale – 25% off everything with code OURTREAT
AO: (opens in new tab) click to shop Black Friday sale
Appliances Direct: (opens in new tab) click to shop Black Friday sale
Argos: (opens in new tab) click to shop Black Friday sale
B&M: (opens in new tab) Black Friday home deals coming tomorrow
B&Q: (opens in new tab) click to shop Black Friday sale
Christy: (opens in new tab) click to shop Black Friday sale
Cox & Cox: (opens in new tab) click to shop Black Friday sale – 50% off selected items
Currys PC World: (opens in new tab) click to shop Black Friday sale
Debenhams: (opens in new tab) click to shop Black Friday sale
Dreams: (opens in new tab) click to shop Black Friday sale
Dunelm: (opens in new tab) click to shop Black Friday sale
Dyson: (opens in new tab) click to shop Black Friday sale
eBay: (opens in new tab) click to shop Black Friday sale – up to 50% off
Emma Bridgewater: (opens in new tab) click to shop Black Friday sale – 3 for 2 offer
Etsy: (opens in new tab) click to shop Black Friday sale
Eve Sleep: (opens in new tab) click to shop Black Friday sale – 35% off mattresses
Furniture and Choice: (opens in new tab) click to shop Black Friday sale
Fy: (opens in new tab) click to shop Black Friday sale – 20% off everything
GHD: (opens in new tab) click to shop Black Friday sale – 20% off hair tools
Groupon: (opens in new tab) click to shop Black Friday sale – up to 75% off selected deals
H&M Home: (opens in new tab) click to shop Black Friday sale – 20% off everything for members
Habitat: (opens in new tab) click to shop Black Friday sale
Harrods: (opens in new tab) Black Friday home deals coming soon
Hive: (opens in new tab) click to shop Black Friday sale – 25% off + free Echo Dot
Homebase: (opens in new tab) Black Friday home deals coming soon
House of Fraser: (opens in new tab) click to Shop Black Friday sale – up to 50% off + £20 voucher when spending £100+
Hughes: (opens in new tab) click to shop Black Friday sale
Iconic Lights: (opens in new tab) click to shop Black Friday sale – use code OUTDOOR15
John Lewis & Partners: (opens in new tab) click to shop Black Friday sale
La Redoute: (opens in new tab) click to shop Black Friday sale – 40% off EVERYTHING
Lakeland: (opens in new tab) click to shop Black Friday sale
Le Creuset: (opens in new tab) click to shop Black Friday sale – up to 50% off
Made.com: (opens in new tab) click to shop Black Friday sale
Matalan: (opens in new tab) Black Friday home deals coming tomorrow
Nectar: (opens in new tab) click to shop Black Friday sale – £125 off mattresses + free pillows and delivery
Ninja: (opens in new tab) click to shop Black Friday sale – save up to £50 + free accessories
Oak Furniture Land: (opens in new tab) click to shop Black Friday sale
Oliver Bonas: (opens in new tab) click to shop Black Friday sale – early access for account holders
Philips Hue: (opens in new tab) click to shop Black Friday sale
QVC: (opens in new tab) click to shop Black Friday sale
Robert Dyas: (opens in new tab) click to shop Black Friday sale
ScS: (opens in new tab) click to shop Black Friday sale
Selfridges: (opens in new tab) 20% off every single thing on site using code SELFCCE
Shark: (opens in new tab) click to shop Black Friday sale – selling fast!
Simba: (opens in new tab) click to shop Black Friday sale – 35% off site-wide
SodaStream: (opens in new tab) click to shop Black Friday sale – prices from £49.99
Superdrug: (opens in new tab) click to shop Black Friday sale – up to 50% off
The Range: (opens in new tab) click to shop Black Friday sale
The White Company: (opens in new tab) click to shop Black Friday sale – use MAGICAL20 for 20% off everything
Tk Maxx: (opens in new tab) Black Friday home deals coming tomorrow
Urban Outfitters: (opens in new tab) click to shop Black Friday sale – up to 50% off home
Waterstones: (opens in new tab) click to shop Black Friday sale
Wayfair: (opens in new tab) Black Friday home deals coming soon – pre-sale now on!
Zara home: (opens in new tab) Black Friday home deals coming tomorrow