Watching sport on TV might be the closest we get to the action this summer. As sporting stadiums and live tournaments remain closed to the public, it turns out that us Brits are purchasing new television sets to enhance our sport viewing experience.
Best TV: our 8 top buys, from budget to premium 8K Ultra HD televisions
This is according to online electrical retailer AO.com, who have seen sales of TVs rise by 173 per cent (YoY). And, as customers look to get a piece of the action, they have released some advice from their resident TV expert – Lee Harper – about how to get the very best out of your television. Keep scrolling to see what he has to say, and what 2,000 respondents to a survey – conducted by AO.com – say about their television as a focal point.
1. Calculate the space you have
Depending on the TV screen size it is best to leave a good distance between your sofa and TV. Just like in a stadium, it's important to get the best seat in the house. Not only does this help you see the full effect of the picture, but it'll also prevent you getting eyestrain. For a 30in TV you should leave 3–5ft distance. If you're looking to buy a 50in TV and above, we'd recommend considering leaving a minimum of 6ft between your sofa and television.
2. Give it some space
With 53 per cent of Brits agreeing that the TV is the focal point of the home, make it the statement in your living room. Give the TV a good amount of room around it so you can really focus on the picture and you aren't dimming the sound with lots of soft furnishings nearby.
3. Avoid the windows
If you have a room with plenty of windows it may be great for natural light but not so good for your TV. Just like sitting with the sun on you at the football, natural sunlight makes it hard to see your screen. If you have a lot of windows and don't know where to place your TV, consider installing some opaque blinds for the closest windows.
4. Spend time with your telly
Smart TVs have an array of functions on offer, but don't let it overwhelm you. Spend an afternoon playing around with the apps available on the main menu. If you're signed up to a music subscription service, some of these can be played from your TV, so no need to worry about not having speakers loud enough for the pre-match atmosphere. You can use apps like YouTube to show your favourite workout routines to follow too. Check your Wi-Fi connection too – a strong connection will enable you to get the absolute max from your apps.
5. No need to be sharp
New 4K HDR TVs have a super high picture quality (four times the quality of HD TVs) and when you first get your TV it might feel almost unnatural as the picture quality is probably a vast improvement on your old one. If the picture is almost 'too good', reduce the sharpness on your settings – this will help create a more natural image for your eyes, especially if you're out of practice watching the footy on TV.
6. See the world in colour
Newer televisions in general have a higher picture quality than they did five years ago, but if you enjoy programmes where colour makes all the difference – nature programmes or sports are a great example – QLED is for you. Due to advancements in LED technology, QLED enables billions of colour combinations to be seen on your screen.
7. Consider a soundbar
If you're purchasing a larger TV because you want an immersive experience when watching the return of the Premier League, flashback tournament replays or action films, consider looking into soundbars or home-cinema systems for absolute audio clarity. Home-cinema systems offer depth to the sound, creating a stadium-immersed feel through sound alone. Soundbars are ideal for enhancing poor sound quality on your TV without creating a surround-sound feel.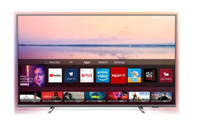 Philips 75PUS6754 75in Smart Ambilight 4K Ultra HD TV | £999 at AO
This stunning LED TV is perfect for watching all the action unfold this summer. It boasts incredible detail and clarity, plus it's Smart too. And with the innovative Ambilight which casts the colours from your screen onto the wall around it as you watch, you'll be totally immersed in the entire viewing experience. Use code PHILIPS30 to get 30 per cent off a soundbar when you buy this TV.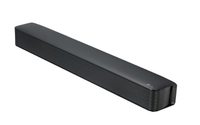 LG SK1 Bluetooth Soundbar | £66 at AO
This soundbar suits all TVs 32 inches and above, delivering 20 Watt audio with movies AND music when you stream it from your devices. Delivery is from Sunday.

Samsung HW-Q60T Bluetooth Soundbar with Wireless Subwoofer | £499 at AO
Part of a new range at AO, this soundbar with wireless sub is PACKED with all the audio punch you need. The soundbar has 9 built-in speakers alone and it's bluetooth enabled for wireless connectivity.
More on TVs
Check out our TV deals 2020 page for a bargain
Enhance the viewing experience, and make a practical addition to living room, with top TV stands
Boost your TVs sound with the best soundbar; an easy upgrade for any screen size