Christmas 2019 NowTV pass deals are here, and we're pleased to say that you can now bag an entire year's worth of TV for just £114.99 with 50 per cent off (among many other amazing deals). What. A. Bargain.
So, whether you're currently obsessed with RuPaul's Drag Race and are eyeing up the Entertainment Pass, you enjoy watching the latest movies from the comfort of your sofa – think Dumbo, Captian Marvel and more – from the Cinema Pass or you're avid sports fan eyeing up the Sports Pass, here's how to do all of these things will saving a few ££s per month.
Jump to what you want to know:
The need for super expensive joint broadband and TV contract goes out of the window thanks to the Now TV pass deals below.
Excited for Boxing Day sales? Head to our hub page for all the info you need to know.
The best Now TV pass deals
Here are the best Now TV pass deals right now.
The best NowTV yearly pass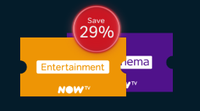 Sky Cinema & Entertainment | 12 months | £215 £114.99 for a whole year
We know a bargain when we see one, and this is certainly something to shout about. For one entire year you get to watch Sky Entertainment AND Sky Cinema until your heart's content. All for 50 per cent off. No monthly fees to worry about and it's all at a low price of £114.99. Yesss.
The best NowTV two-month pass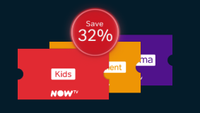 The best NowTV monthly pass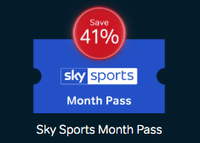 Now TV Sky Sports Pass | 1 month | £16.99 per month
This Now TV pass gives you access to one month of live sports from the comfort of your own home. You'll pay £16.99 for the first month, then the price will raise to £33.99 per month. An incredible Christmas NowTV pass deal, we think.
What is a Now TV pass?
Simply put, Now TV offers Sky programmes in forms of pay-monthly passes that connect with your (smart) TV. These passes can be purchased on their own, or added to an existing broadband package from Now TV. Selected passes start from just £5.99.
Now TV pass packages
From Sky Sports to cinema, entertainment and even a mix of two or three – these are the best Now TV pass deals this month from Amazon, Currys and more. What's the difference between each pass? We explain below.
The Now TV Entertainment Pass
This pass is the ideal option for those who love watching the latest and best TV programmes available. It also comes with a huge range of 300 box sets to watch On Demand, all of which can be streamed through your TV, online or via your smartphone if you're on the go. You can watch all your favourite programmes on channels such as Sky One, Fox, Sky Witness, Sky Atlantic, Comedy Central, MTV and several others.
In terms of TV programmes, think: Watchmen, American Dad, Walking Dead, American Horror Story, RuPaul's Drag Race, A League Of Their Own, S.W.A.T and many more.
Now TV Entertainment passes start at £8.99 per month and can be purchased monthly, or in bundles of three months or six months.
The Now TV Cinema Pass
The Now TV Cinema Pass gives access to Sky Cinema and 1000 more movies as well as a new premiere every day. We're talking everything from Jurassic World: Fallen Kingdom to Star Wars: The Last Jedi, Black Panther, The Greatest Showman, Coco and much more.
Now TV Cinema Passes start at £11.99 per month and can be purchased monthly or in bundles of three or six months.
The Now TV Sports Pass
Here's how to watch the biggest sporting events of the year on Sky Sports: buy a Now TV Sports Pass. In terms of channels included, there's a huge range from Sky Sports Football to Sky Sports Main Event, Sky Sports F1, Sky Sports Cricket, Sky Sports Arena and many more.
Now TV Sports Passes start at £5.99 and can be purchased daily, weekly or monthly.
Now TV broadband
Use our broadband comparison chart below to find a Now TV broadband deal to suit your needs. All packages are free upfront and include line rental, too.
Loading...
Now TV stick deals
What's a NOW TV smart stick? Simply enough it's a streaming device that can turn any TV into a smart TV. Interesting. It comes complete with a remote to control the device, and it can be easily plugged into a HDMI port for setup. This way you can watch catch up TV through iPlayer, ITV Hub, My5, 4od and more.
More on those over at our best streaming device guide, otherwise scroll for the best Now TV stick deals right now.
Now TV Smart Box 4K deals
What's a Now TV Smart Box, you ask? It's a TV box that turns your TV smart, allowing you to stream everything from YouTube to Channel 4, Netflix, BBC, ITV and more (subscription permitting). Inside the box comes a huge range of 50 apps to use, and if you purchase the box along with a Now TV pass, it'll directly download to your TV to make watching Sky Cinema, Sky Sports and Sky Entertainment a breeze. The Now TV Smart Box also comes with a remote that works via your voice to replace your regular TV remote.
You can purchase the Now TV box from Now TV for £45.99 or including passes, prices start from £49.99.
Need a new TV?