Hanging planters are a brilliant container gardening idea for anyone with a small outdoor space – or anyone keen on creating a vertical garden, perhaps against a sunny wall near the kitchen door. What to plant in them? The humble herb is simple to grow and light enough to for a hanging planter; plus, herbs are the perfect planting solution for getting green fingered in a small space. Here, we show you how to make the perfect-sized hanging planter in your ideal colour in just a few simple steps…
If you are blessed with the space to have a full on veg garden but not really got a clue where to start, make sure you head over to our guide to creating a kitchen garden. Or if you are after some more weekend projects, head over to our hub page.
You will need:
Rope cut into four equal lengths
Your favourite herbs – oregano and sage are perfect choices for vertical gardening
Step one: drill holes in your crates
Drill small holes in the bottom of your wooden crate and sand off the rough edges. This will allow the water to drain and stop the wood from rotting. Make sure you drill a hole for the rope in each corner of the crate too and sand smooth.
Step two: Paint the crates
Apply two coats of your favourite Cuprinol Garden Shades colour inside and out, allowing it to dry thoroughly between coats. We chose Coastal Mist, just because it looked so lovely against the lush green of the herbs.
Step three: secure with rope
Next, cut four equal lengths of rope then thread one through each corner hole and tie securely. Create a secure loop at the top.
Step four: fix your brackets
Fix a bracket to the wall if needed. Fill your brand new planter with your favourite herbs and hang it up – all ready to harvest and add to your salad at your next barbecue...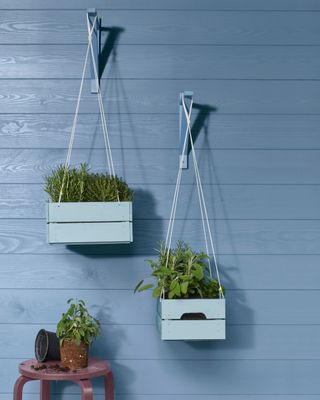 Read more: