Looking for DIY greenhouse ideas? If you answered 'yes' to that question, you're in the right place. Greenhouses have gained cult status in the gardening world as one of the most valuable additions to your outside garden space. Why? Because not only do they allow you to grow vegetables and other plants requiring regulated climatic conditions, greenhouses can keep pests away.
Evie Lane, Gardening Expert at Primrose says, 'Greenhouses allow gardeners to grow plants that we wouldn't be able to in a cold climate, such as exotic flowers or tropical fruit. They also protect your plants against pests such as squirrels and insects.'
Get growing with creative DIY greenhouse ideas
And while some of the best greenhouses are best left to the professionals, there's a range of ways in which you can create your own little growing haven in your backyard or on your balcony.
From handy DIY greenhouse kits to full-blown start-from-scratch projects – here are the most creative ideas to get stuck into. Keep scrolling for tons of inspiration, plus a list of tools you'll need.
1. Craft a small space sustainable model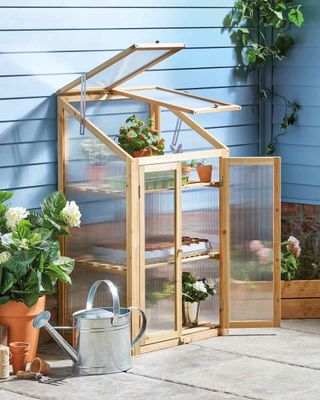 This design by Gardenline from Aldi is made with 100% sustainable fir wood – and comes with three storage shelves and lifting lids. Just like all of the DIY greenhouses listed in our guide, you'll need to follow the buyer's instructions to build this flatpack yourself. So just grab your trusty screwdriver, a cuppa and you're good to go.
Plus, you'll be pleased to find a range of other DIY greenhouse kits available at other popular retailers such as Wayfair, Amazon, Walmart and Home Depot.
2. Create a raised bed with greenhouse qualities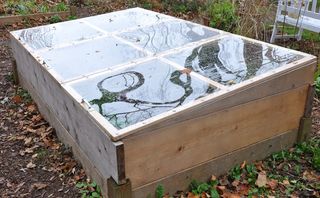 Nowadays, greenhouses can take many forms. Just take this DIY raised garden bed design from Three Dogs in a Garden for example, which features cedar boards and plexiglass doors which during the warmer months especially helps to provide plants with moisture and heat.
To find out how to recreate this design, along with the materials you'll need, click here.
3. Craft a greenhouse made from windows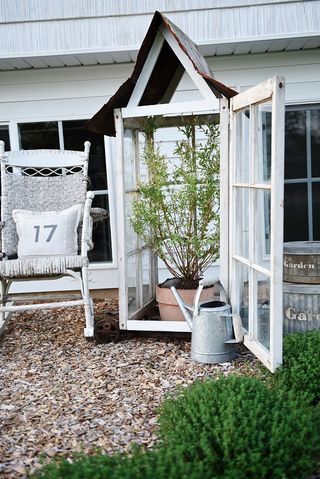 We know we mentioned mini-greenhouses earlier on – but this magical window creation from The White Cottage Farm takes the word 'mini' to another level.
DIY expert Jose Galvan, from The White Cottage Farm, says, 'The cheapest way is to go to garage sales and antique markets to look for low priced old wood windows. The style and design are completely up to the DIY-er. Have fun with the build. You cannot go wrong with mini-greenhouses.'
For this build, you'll need:
- Drill
- Hacksaw
- Four windows close in size
- Hinges
- Screws
To make your own greenhouse made from windows – follow Galvan's instructions here.
4. Re-use, reclaim and recycle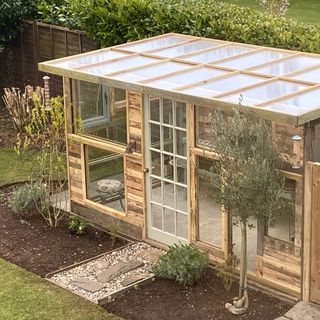 That's what former professional gardener-turned-home-improvement-expert Elizabeth Bloodworth did for her incredible greenhouse she made from scratch.
Using an Amazon gift voucher to buy 14 polyurethane roof panels, Bloodworth created a 4m x 2.5m-greenhouse in her garden. But how exactly did she do it?
Bloodworth says, 'I contacted a local glazers, and asked them if they had any old windows they were getting rid of. Fortunately, they had lots and were happy for me to take them as it saved them space in their skip. The windows were all different shapes and sizes, so the design had to be based on those, and fitting them all in was a challenge, but I'm thrilled with it.
'I make a lot of things, so I was lucky to have lots of odd bits and pieces of structural timber, and a lot of the wall panels are made from pallet wood. I did eventually run out of timber, so had to think a little more carefully… I found a good thick branch that had fallen during a storm, and incorporated that into the design, and it's one of my favorite parts now.'
If you're thinking of creating a greenhouse using reclaimed materials, we'd suggest following a plan to make sure you get the measurements right.
5. Create a lean-to greenhouse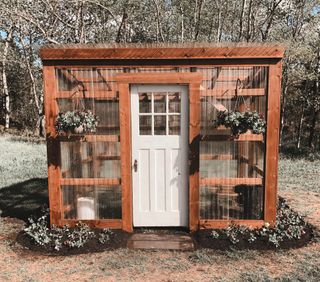 Nowadays there's not much you can't buy on Etsy. Just take this 7x10 greenhouse, for example, which Canada-based DIY enthusiast Carolynne Hill, owner of Hillside Market, created the plans for and now sells this handy guide far and wide on the online marketplace.
But where should you start when it comes to creating your own greenhouse? Carolynne says, 'Plan, plan, plan. With lumber being so expensive these days it is more important than ever to plan ahead. What does this look like for me? Typically I start with sketching my design idea down on paper and then I start making a list of all the different sizes and lengths of lumber that I am going to need to complete the work. Once I have a rough list together I call around to all my local lumber yards and price out my materials before buying.'
If you're interested in creating a lean-to greenhouse, check out Carolynne's guide. Once you've purchased it, you'll get a material list, project cost, and step-by-step method with measurements and plenty of photos to simplify the process for you.
6. Invest in a DIY greenhouse build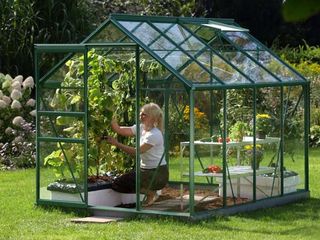 DIY greenhouse kits really are the gifts that keep on giving. They provide you with all the materials you need to create your very own greenhouse, without any faff. Take this 6ftx4ft DIY aluminum greenhouse kit for example, which provides you with 2.5m² of growing space. It also comes with a variety of glazing options – from horticultural glass, toughened glass and polycarbonate glazing. So grab a tool kit and get building.
Lane says, 'The Venus greenhouse is every expert gardener's dream. Plants prosper in varying conditions and the ventilation control feature allows you to provide your plants with the optimal environment for them to thrive.'
7. Opt for a greenhouse with sliding doors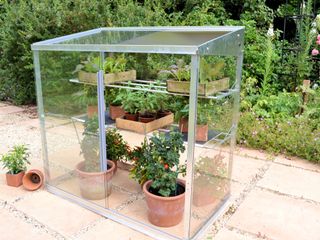 You don't have to have bundles of backyard space to reap all the rewards greenhouses can bring. Don't believe us? Check out this 4ft wide and under 4ft tall design from Primrose, which is perfect for small gardens. Plus, it comes with a ground-fixing anchorage kit to make set-up even easier. Don't forget to pick up a handy screwdriver set to make sure you've got all the tools you need.
Lane says, 'One of the biggest trends we've seen over the past few years is balcony gardening; people are finding ways to embrace their gardening hobby without having access to a real garden. The Mini Greenhouse does just that, you can grow potted plants and seedlings from this compact greenhouse without having to rent an allotment.'
8 . Choose a colorful DIY greenhouse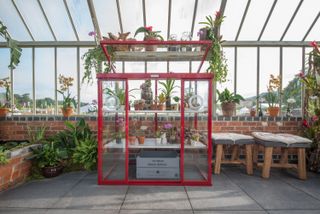 If you've got a roof terrace or small balcony and love color, Hartley Botanic's Patio Glasshouse could be for you. Coming in 15 colors, ranging from ruby red to white, who said greenhouses had to be…green?
Plus, when you purchase this beauty, you can choose between assembling it yourself – or having the choice of getting a professional to do it.
Tom Barry, Managing Director of Hartley Botanic said, 'It is probably decades since we have seen such an interest in growing your own and becoming more self-sufficient amongst those interested in our Greenhouses. The current experience is clearly changing consumers' thinking, approach and priorities. Being able to produce your own food taps into the most basic of human needs. Ultimately, for many people 'growing their own' is the right choice for their own health and wellbeing, allowing them to feel more secure.'
How can I build a simple greenhouse at home?
If you're a complete beginner in the DIY world, when it comes to building a simple greenhouse at home, we'd recommend using a step-by-step guide you can follow and tailor to your outdoor space. These plans will guide you through how to make the said greenhouse design you choose. While another easy way to build a simple – yet stunning greenhouse – is to buy a DIY kit. These kits – which we've included in our guide above – give you all the materials you need to create a greenhouse in your garden. All you need to do is set aside an hour or two to fit the pieces together.
Talking about DIY greenhouse kits, Lane says, 'All greenhouses come with full instructions, but the placement of your greenhouse is very important when it comes to building it at home. Choose a north or south-facing garden area for your greenhouse placement – one of the most vital requirements is that it receives a good amount of consistent sunlight throughout the day.
'While you want to reap the garden rewards of a greenhouse, you may not wish for it to be overly prominent in your garden. It's important that, when choosing the placement for your greenhouse, you consider how the structure will fit aesthetically into your landscaping. When placed in the right place and woven into your garden's aesthetic, greenhouses can completely transform the look of your garden.
'You can also build greenhouses that act as a practical place for growing your chosen plants but also where you can sit for some alone time. Simply place some seating (if space allows) at one end with a small bistro table for refreshments.'
What is the cheapest way to build a greenhouse?
The cheapest way to build a greenhouse is to either use a DIY greenhouse kit – or use recycled and reclaimed materials. Whether that's with discarded materials you have around the home, or whether that's by purchasing pre-loved materials on second-hand websites which you can often find for much less. It all depends on how big your space is and how large you want your greenhouse.
But that's not to say that using reclaimed materials won't give you the desired greenhouse-style you're after.
Lane adds, 'You can use glass, fibreglass, acrylic, or polycarbonate plastic to cover your greenhouse – but different materials will allow different amounts of light to pass through. Traditionally, glass has been the go-to for greenhouse materials due to allowing the most light through but depending on the plant, it can transmit too much light and overheat plants.'
Either way, you'll find a range of ways to make create a greenhouse that's both fit-for-purpose and affordable.