On the hunt for master bedroom ideas? Master bedroom sounds quite formal doesn't it, but essentially what we mean is your main bedroom, the one you sleep in, the most important bedroom! And whatever your personal style, whatever size space you are dealing with, it deserves to be one of the best-dressed rooms in your home – hence why we have dedicated a whole gallery to master bedrooms.
We have you covered with plenty of lovely color scheme ideas, layout advice, trends to try out, and more. So just keep scrolling to get inspired...
1. Pick a color scheme to suit your space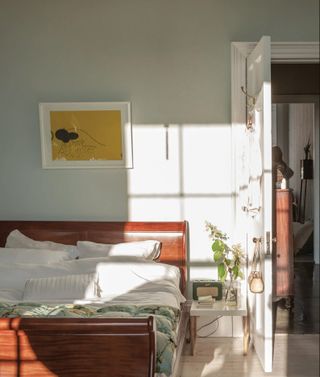 If you are designing a master bedroom from scratch, or even if you are looking for a quick way to freshen up your space, paint is a great place to start. We will talk to you through plenty of bedroom color ideas, but be sure to pick the right shades for your space. Think about the size of your master bedroom and how much light it gets before you go choosing your color scheme.
The general rules to follow are; if your room is small go with lighter hues and if it's dark (north or east-facing) opt for warmer tones. But of course, there are exceptions to don't be afraid to experiment. Just always order samples to test out colors in your space.
'While dark colors for any room can often feel like a leap of faith, they can create surprisingly cocooning spaces, so don't rule out using them in the bedroom, especially if the room is poorly blessed with natural light. Try something like Down Pipe which never feels too cold or overwhelming, especially when simply dressed in off white linen for a clean contrast.' says Patrick Patrick O'Donnell of Farrow & Ball.
'East facing rooms are drenched with morning light but cooler in the afternoon so work with nature and play to this bias using soft Aquas, (essentially blue/ green shades). They have a natural affinity to the lighting conditions but rarely feel too icy due to the blend of both colours. Aqua has a lovely restful quality and are super flexible depending on how you decorate your room with other furnishings which can make the room feel either modern or traditional.'
2. Get your master bedroom layout spot on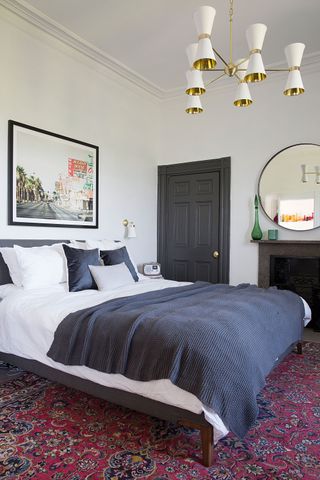 The layout of your space is another thing to consider pretty early on in your design process. The layout will be determined by the size and shape of your master bedroom, but symmetry is always a good place to start. You want your space to feel balanced plus a symmetrical look will make your bedroom feel more spacious, not to mention it makes it way easier to make the bed when you have access to both sides.
3. Pick out a statement bed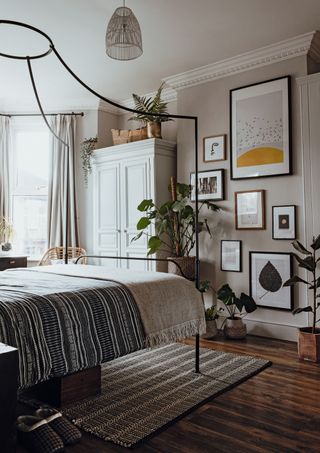 A master bedroom deserves a statement bed, and for us, that means a gorgeous contemporary four-poster. Gone are the days of bulky, heavily carved four posters, you can now pick up a super slimline number than even a small bedroom could handle. You could take it even further and add drapes to give your space an intimate romantic vibe.
We love the striking lines of the bed against the soft beige of the walls in this bedroom – a lovely alternative to monochrome that feels just as fresh and modern.
4. Or hang netting around the bed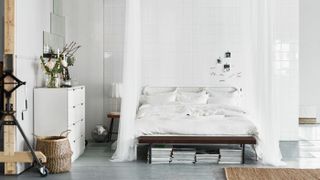 And if the four-poster option isn't going to work in your space, create a similar effect by just hanging net drapes from the ceiling, letting them flow down on either side of the bed. Emphasize that soft, romantic look by picking textured white bed linen and plenty of throw pillows to make the bed feel almost like a (grown-up) den.
Oh, and this is a super easy budget bedroom idea too, just pick up some cheap net curtains and so hooks you can attach to the ceiling, and voila.
5. Add panelling for a modern rustic feel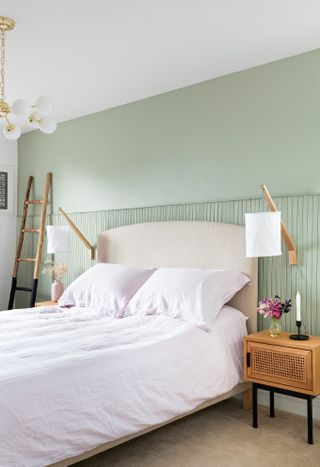 Paneling is everywhere right now, and despite its more traditional roots, it can work in any style of bedroom. You can even DIY the look using wood glue and narrow boards. Add just enough texture by going halfway up your walls with your paneling and then either paint it the same color or, if you want the paneling to be more of a statement, go for a darker hue to contrast the rest of the walls.
This is a great small bedroom idea too, as it alludes to the room having more height, making it feel loftier.
6. Create a seating area in a master bedroom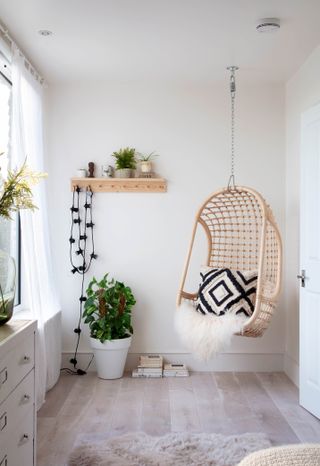 A little sitting area in a master bedroom is such a lovely thing and makes the space feel like more than just somewhere you sleep. Add a tiny love seat at the end of the bed, position a cozy armchair in one corner, or pinch this idea and going for a hanging chair (works great in small spaces). Then use that area to read, relax, hang out away from your main living space.
7. Choose a bold blue for a master bedroom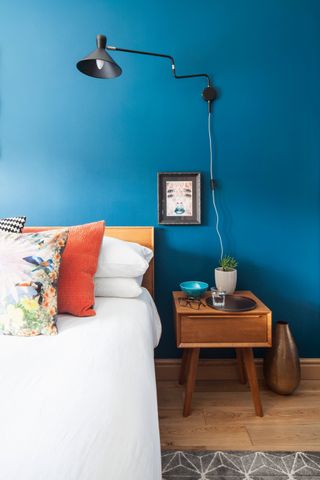 Blue is known for its calming, soothing qualities which makes it a great color choice for a master bedroom. There are so many shades for you to pick from too, but if you are feeling like a bold change, why not pick a blue that's really going to change up the look of your room. A deep, rich blue, paired with warm woods and minimalist decor is the way to go.
'Blue is a little difficult to use because it's generally cool-toned, and the lighter shades can almost make a space feel too big and open (first world problems eh)!' says Annie Sloan, Colour and Paint Expert. 'You have a couple of options here. One is to opt for a deep, rich blue – which has a complex balance of warm and cool pigments and will make a space feel bigger, but not exposed. Or, if you're like me and you like to play with color, using complementaries! I'd include some orange accessories which will provide warmth, emphasize the depth of both colors and make a very stylish statement.'
8. Pick luxurious drapes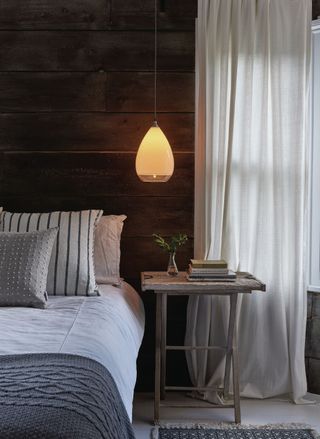 Drapes tend to get a bit ignored in a bedroom, but they really can make all the difference. Switching out your drapes can totally change the look of the room, especially if you opt for something that's going to enhance the room, making it feel bigger and bright and well, just better.
'Gone are the days of shorter curtains, they feel dated and can make a window feel small and boxed in. Instead opt for floor to ceiling curtains, ensuring there are no gaps.' advise Jen and Mar founders of Interior Fox. 'This look adds height to a bedroom, while keeping a clean a simple aesthetic. A personal favorite of ours is a wave curtain in a solid color, they create a smart but simple finish that's easy on the eye. Attention to detail goes a long way, we like to swap out the eyelets to match the curtain pole. This simple but effective technique makes all the difference and helps to create a more unified and custom look.'
9. Add plenty of texture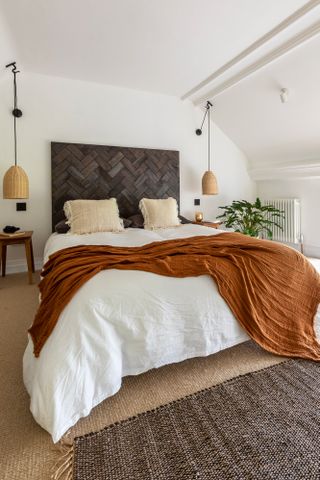 The main thing everyone wants with a master bedroom is for it to feel cozy and inviting right? Regardless of your style, whether is super a minimalist or a touch rustic, the key to creating a relaxing, comfortable sleep space is layers and textures. Pile up throw pillow and blankets on the bed and keep things soft underfoot with a large area rug and small rug layered on top.
10. Pick the perfect master bedroom lighting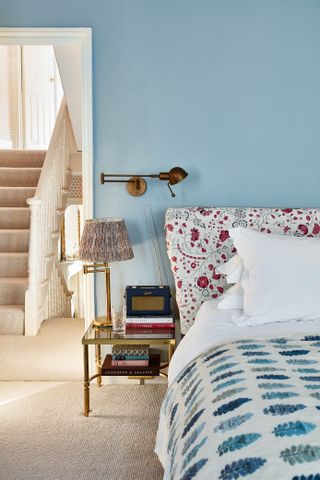 When it comes to picking bedroom lighting 'think about what feel you're after in the bedroom, is it calming and pared-back, warm and cozy or something with a more opulent flavor, then create your lighting scheme around that,' says Rohan Blacker, Founder of Pooky. 'Keep bulbs shaded with material as opposed to glass, unless you want to use the light source for reading. If you're a book lover, directional wall or desk lights are far more effective than lamps with lampshades, but they are less equipped to create warm, ambient light.'
We are loving the symmetrical wall lamps placed on either side of this bed, giving the room some hotel vibes, plus they are ideal if you want to save some space on your bedside table. You could opt for two hanging pendants too, a very on-trend look right now.
If you are after more bedroom lighting ideas and inspiration head over to our gallery.
11. Create a modern farmhouse feel
Oooh just look at those lovely beams, what we would do to have beams in our bedroom. But even if, like us, you haven't been blessed with these architectural features, you can still recreate that rustic, farmhouse feel with your decor. The key to this look is mixing new pieces in with second-hand finds, so get scouring thrift shops and online marketplaces. Look out for weather-worn wooden furniture you can spruce up and vintage rugs that are going to add some texture and color.
12. Bring in pattern with wallpaper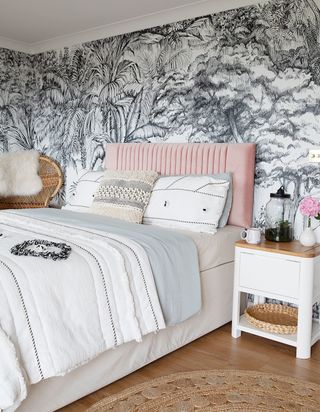 Want to make a statement in your master bedroom? No matter what size your space, wallpaper is a sure-fire way to do just that. Wallpaper a single wall behind the bed to make that the focus or go all out and cover every wall. This lovely, soft tropical print really expands the space in this smaller bedroom as it blurs the lines of the room. Plus, the minimal monochrome color scheme with just that touch of pink means the wallpaper doesn't overwhelm the room.
You can find loads more bedroom wallpaper ideas over in our gallery.
13. DIY a headboard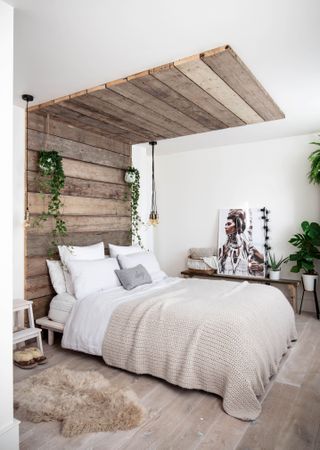 A DIY headboard might sound complex, but we promise, there's a project out there for you no matter how much of a novice you are. You can create a headboard really quickly just will wallpaper or create a shape with paint. But this gorgeous, rustic setup was created simply by cutting wooden boards down to size and securing them to the wall behind the bed and up onto the ceiling too. It creates almost like a canopy or a treehouse feel to the bedroom and works so well with all the lovely wooden textures going on in the rest of the room.
14. Opt for a beach house vibe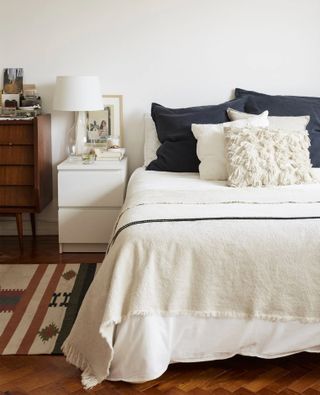 You don't have to live anywhere near the ocean to bring those laid back beachy vibes into your master bedroom. It's easy to create the look just using the right furniture, color palette and accessories. Now, we aren't talking your typical beach motifs, you won't find any 'Life's a beach' signs in this bedroom, but the blue and cream scheme, the simple furniture and the relaxed textures do create an overall beach house feel that would be really easy to replicate in your own bedroom.
15. Don't forget the finishing touches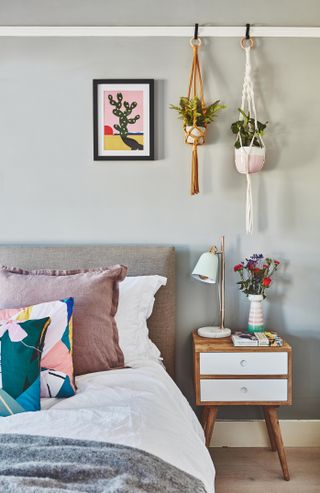 Don't underestimate the small changes you can make to your master bedroom to make it feel more welcoming. If you are on a budget, just treat yourself to little additions that are going to make your space feel extra special.
'Small finishing touches in a bedroom make a real difference and make if feel extra special.' says Chrissie Rucker founder of The White Company. 'I love to have some flowers or greenery from the garden, a nice looking jug of water and a bedroom should always smell lovely too. Scent diffusers are fantastic for this as you can easily control the scent level by adjusting how many reeds you use. The soft flicker of a scented candle makes a room feel instantly more restful before your go to bed.'
How you make a master bedroom beautiful?
To make a master bedroom beautiful, you want it to feel like your sanctuary and to reflect your tastes. But if you are after a space that feels calm and serene, you are best picking lighter, muted colors over anything too bold. Think peaches, lavenders, sage greens, white and pale greys. And inject splashes of moodier, jewel tones to ground all those pale hues.
Keep the layout simple, and don't cram the space with furniture. Allow for plenty of room for you to walk around your bed and only include the furniture that you need.
Invest in the best bed sheets too to give your bedroom a more luxurious touch. Look out for high treat counts (somewhere between 80 and 300) and choose natural fibers like cotton, linen and silk.
How do you arrange furniture in a master bedroom?
The best way to arrange furniture in a master bedroom will depend on the size and shape of your bedroom. But as a general rule, start with your bed and position it in a space in your room that will freely allow you to walk around both sides. If possible you want around three feet between bed and wall. Then position your bedside tables on either side if you have the space.
How can you make a master bedroom look expensive?
A fresh coat of paint will always freshen up a master bedroom and make it feel more expensive. And your layout can give your room a more put-together vibe too if you go for an elegant, symmetrical layout and that's totally free too! Small accessories, that won't break the bank can help too – think prints, throw pillows, rugs, lighting. And keeping the room free of clutter is always going to give your room a more luxurious feel.