All things pumpkin-spice step aside, because Christmas has (nearly) arrived. That's right, put away your Halloween decorations, and switch out your fall bedding sheets — it's time to say hello to the holiday season. What better way to do so than with a Christmas wreath? It's one of our all-time favorite Christmas decorating ideas. Whether you adorn your door with one, use it as a centerpiece, or find a space on an indoor wall, wreaths add a decorative touch that ceases to go out of style year after year.
There are plenty of pretty ones on the market as well, including faux and artificially-crafted wreaths, ones made with real flowers, wreaths filled with baubles, and even options with LED lights. No matter your budget either, you can find affordable wreaths and garlands for as low as $30, with more premium types to choose from too. From the retailers you know and love, that is.
So if you've yet to find a wreath for your wish list, we've got you covered with picks from Anthropologie, Amazon, and more. You'll find stunning wreath and garland designs to get your picture-perfect front door display underway in styles to suit every home. Go ahead: greet your guests with a seasonal wreath this Christmas.
9 Christmas wreaths and garlands to buy this year
Why you can trust Real Homes Our expert reviewers spend hours testing and comparing products and services so you can choose the best for you. Find out more about how we test.
---
How we chose these Christmas wreaths
Louise is one of our home decor experts and loves nothing more than spending time shopping for seasonal items that help make your home feel that little bit more special.
However, when it comes to sourcing the best buys, durability and versatility has to come first. A faux wreath, for example, is often okay to keep outside and will last you for a few years to come. Therefore, Louise has chosen those that are weatherproof and put them at the top of this list because they make a better investment item. Keeping budget in mind too, the average price for a quality wreath spans between $50–$100. Of course, then color, design, and style preference comes into play. These picks will ensure you have the prettiest wreaths and garlands at your fingertips that are guaranteed to go with any winter theme you're envisioning.
How to choose a Christmas wreath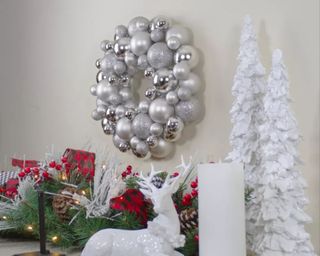 With so many options to choose from when it comes to finding your Christmas wreath, we spoke to Sheva Knopfler, co-founder and creative director of Lights.com for her know-how on what to look for. She advises to consider the size of your door, whether the wreath can be covered, and it's hanging mechanism before deciding which wreath will suit you.
'If your door is under a covered porch, or if you have a storm door, you could protect your wreath from autumn rain and wind,' says Knopfler. 'If not, you will need a sturdier, weather-proof wreath. You should also consider the color of your door and the foliage around it. What colors you'd like to "pop" in your decor. If your door is visible from the street at night, it might be a nice touch to have a lit wreath'.

When can you hang a Christmas wreath?
Look for the change in seasons. While there's no blanket rule for when to put up your Christmas wreath, we'd suggest keeping it in time with when the weather changes. As soon as fall is on its way out and the leaves have fallen, you should start decorating. Otherwise, most start to think about hanging their Christmas wreaths and gardens after Halloween and Thanksgiving are over. Down come the Halloween decorations and turkey motifs, up go the Christmas ones.
Where should a wreath be placed?
Traditionally, as with any seasonal wreath, the front door is considered the best place to hang it. Picture that typical Christmas image of a beautifully styled front door where a wreath hangs neatly in the center. A top tip? Place your wreath in the top half of your door, centering it at eye level. It's a decorative touch that lets people know you've got that festive feeling.
It's also become more popular to use a wreath in other areas of your home, from the dining table where it makes a nice centerpiece to the wall of your entryway.