These DIY desk ideas have got us reassessing our working from home space, so we simply had to share them with you. Working from home is a bit like marmite, you either love it or you hate it. But whatever side of the fence you're on, you can make the experience a whole lot more enjoyable with a few simple design tweaks.
So from turning a cupboard into a study room, to updating your desk with a coat of paint, to innovative new DIY designs to help maintain that sought after work-life balance, keep on scrolling to be inspired.
For more like this, check out our home office ideas.
1. Transform a cupboard into a study nook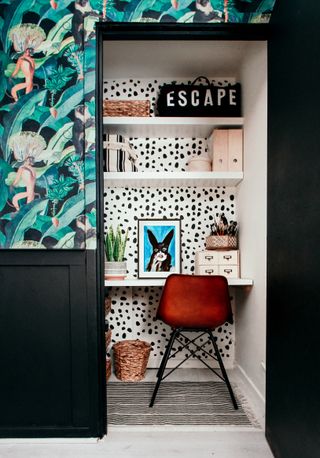 Now this is a study space we wouldn't mind working in! Believe it or not, this stylish workspace was once a cluttered cupboard, filled to the brim with unused things. Now, @patirobins has cleared the decks and transformed it into a statement study nook. It's an ingenious way of creating a separate home office, even in the smallest of homes. Now let's see, which cupboard could we do without...
2. Make it fun and paint on bold colors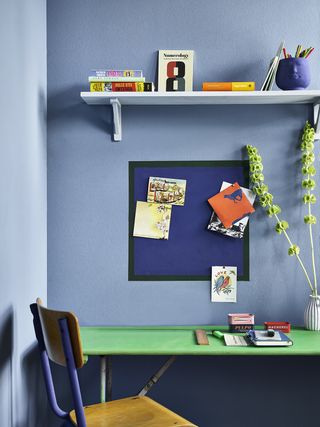 Working from home can be hard on the kids too, so brighten their days with a vibrant desk. A simple lick of paint, such as this Giverny by Annie Sloan can completely lift a space to make them feel more energized while they're battling their spellings.
We're also loving this notice board painted directly onto the wall in Napoleonic Blue, also by Annie Sloan, as a great way of zoning the room and highlighting a designated work area.
3. Shop your home to repurpose under-used tables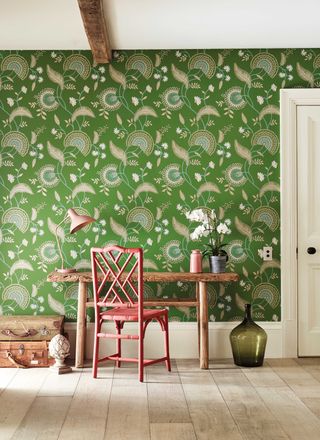 If, like many of us, your wallet isn't exactly bursting at the seams at the moment, listen up. The idea of 'shopping your wardrobe' was coined to prevent us from buying branding new for every event, and now we're coining the idea of 'shopping your home.' Look around your space for any tables, sideboards, console tables or worktops that you don't use that much. We bet there's one or two. Give them a new lease of life and repurpose them as your desk. Add a chair at the perfect height, a stylish desk lamp and some coasters and you're good to go.
This wallpaper by Sanderson is a real showstopper, and the clash with that coral chair? Design goals.
4. Create a multi-functional room with a collapsible desk
This desk by Noukk is seriously innovative. Made from birch plywood, this desk slots together without screws or glue. This means you can quickly and easily build your desk in your favorite part of your home in the morning and enjoy a spacious desk in prime position all day long. When 5:30 hits, simply dismantle your desk, prop it up discreetly against the wall, and enjoy your home to its fullest in the evening.
We love the idea of physically dismantling your desk every night - a great way to enforce a work-life balance and allow you to switch off of an evening and at weekends.
5. Design the perfect storage for your needs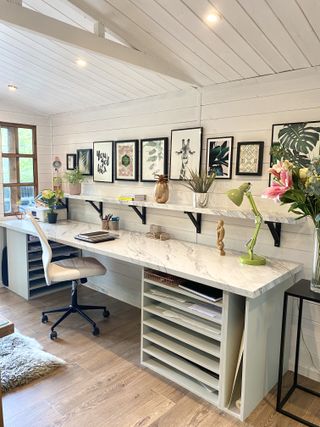 How blissful does this space look?! This DIY desk design is by @lisaweaverhome and it has created quite a stir among the Real Homes team. The MDF shelves were designed to fit in A2 paper perfectly, and the tabletop is made from a marble effect worktop from Worktop Express.
As kitchen worktops are generally deeper than desks, Lisa cut the worktop to her perfect size and used the off-cut to create the shelf above. She attached them with simple brackets from Ikea and voila! A complete space that functions as well as it looks. What. A. Beauty.
Read more: