Setting up a beautiful WFH space shouldn't cost the earth. Thankfully, there are some seriously stylish yet budget home office ideas around right now to inspire your own setup.
Sure, office days were fun but were they the most stylish places? Not always. So, it's time to find yourself a spot at home where you can WFH a little more permanently and which you can decorate to your heart's content.
Whether you want your space to blend in seamlessly with the rest of your home's decor or if you want it to pop and be more of a work of art, you can bring the most brilliant home office ideas to life even on a shoestring. It's all about nodding to DIY and getting out of your pjs...
Budget home office ideas
It's time to get creative, and anything is possible with a little inspiration. Plus, you don't need a professional to create a space that ticks all the boxes either...
1. Make room in your attic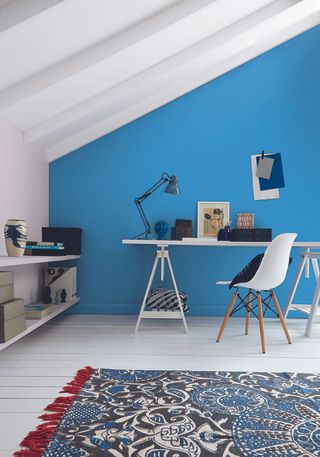 Converted attic spaces make ideal offices, they're tucked out of the way so you can get that much needed peace and quiet for your zoom meetings. You don't need lots of space, a simple desk, chair and lamp will suffice – check out Ikea's LAGKAPTEN/MITTBACK desk.
To give it a splash of color paint one wall - Crown's Peekaboo can be seen here, and keep the rest white, lofts can be a little dark so grab the light where you can.
2. Paint a mini mural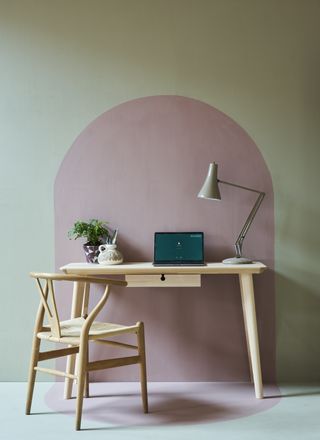 The best wall painting ideas boast some of the most creative and budget-friendly ways to upgrade a bland space, fast.
'No obvious spot for a desk? All you need to create your personal workspace is a section of wall, your two favourite Farrow & Ball colours in Modern Emulsion, and a steady hand,' says Charlotte Cosby, Head of Creative at Farrow & Ball.
'This on-trend arch marks the boundary between work and play in the most attractive way, creating a spot you'll love to sit down to, we've used Light Gray and Sulking Room Pink.
If you're feeling bold, you can even continue the shape onto the floor in Modern Eggshell.'
3. Create your own gallery wall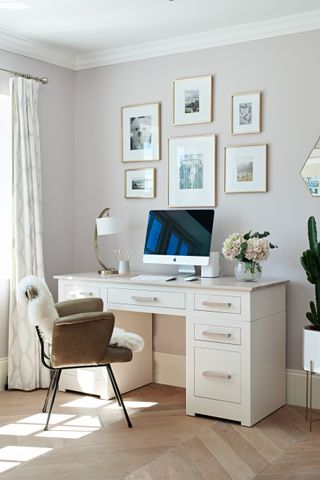 Sitting in front of a screen all day can be made alot nicer if you create something fabulous in front of your desk. One of our top tips for home office decorating is to create a gallery wall – it's a favorite of ours and a bare office wall lends itself to this kind of design feature.
Choose a variety of frame sizes and fill them with photos of days out and family - when that deadline is nearing you can look at them to give you that extra bit of energy and inspiration.
4. Don't panic when space is tight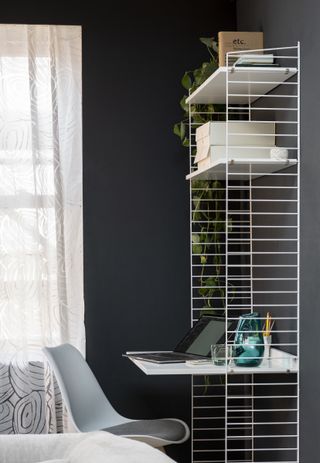 There are always options – even if they're super slimline. It's about paring back and only using what you really need, which essentially is space for a laptop, a notebook and a pen or two.
This neat shelving idea is really clever, and you can adapt it to what you need. Look out for modular systems, they really are your friend when space is tight and you can primp them up with plants to make them look extra stylish.
5. Alcoves and 'odd' spaces are your friend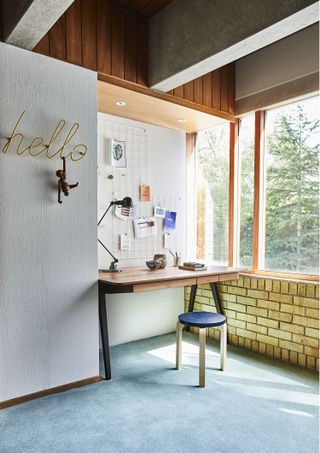 It can be hard to come up with budget home office ideas but look around your home for existing areas to see what can work. That awkward corner that's essentially a dead space? It will be perfect for a desk and if it's by a window then all the better.
Alcoves on each side of a fireplace are also a great option and most have shelves fitted anyway, so all you need to do is add a desk and a stool and away you go!
6. Go vintage hunting for a desk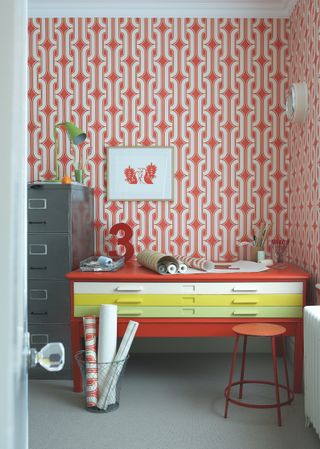 A great DIY home office decorating idea when you're on a budget is to scour flea markets and car boots for vintage pieces of furniture. Give them a clean up and then try your hand at painting furniture yourself. Go for the same color or choose a new different look like multi-colored drawers. You can do the same with a stool too or pick up a cute swivel chair for next to nothing and reupholster the seat.
7. Zone off an area for your home office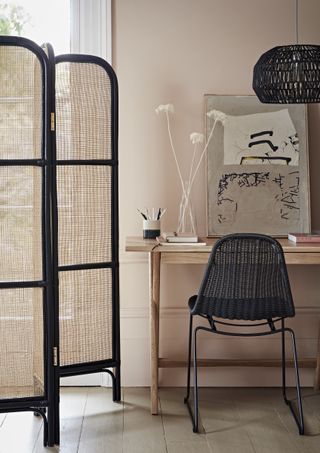 Another great budget home office decorating idea is to zone off your space. Often we have to share our home office spaces with the rest of the family – in the living room or bedroom for example if there's no spare room, so coming up with an idea to cordon off the space so you get a little peace is essential.
A screen is a great option for this, it doesn't need to be solid, it's just to create a gentle barrier that gives you a corner to yourself.
8. Choose easy care flooring that's super stylish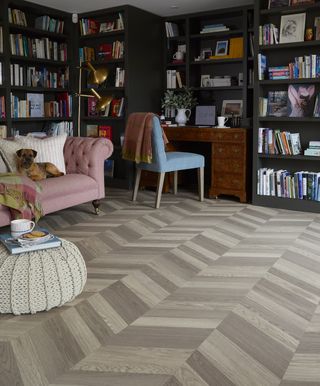 'With so many of us now working from home on a permanent basis, it's inevitable that our floors will be subject to a higher level of wear and tear than before,' explains Inga Morris-Blincoe, General Manager at Lifestyle Floors.
'So whether you are looking to create a home office in a dedicated room or to integrate one into an existing space such as living room or bedroom, it's a good idea to consider which flooring will make an affordable hardwearing choice. One suggestion would be vinyl, this versatile flooring is available in different thicknesses and comes in a wide variety of patterns and finishes including those that replicate real wood. It's particularly budget friendly, is straightforward and quick to lay onto a clean, smooth, dry subfloor.'
9. Be resourceful with scraps of wallpaper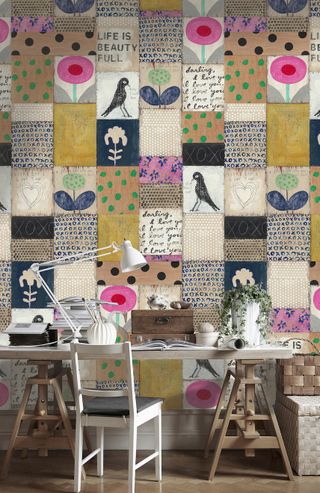 So you've got a space for your DIY home office, now you want to make it your own by coming up with a cool wall design right? We all have offcuts of wallpaper and paint samples lying about, so now's the time to dig them out and create something wonderful with them.
Lay them out on the floor into a patchwork type design, then paste them to the wall and you'll have your own gorgeous wallpaper that's unique to your home.
10. Go open plan when space is at a premium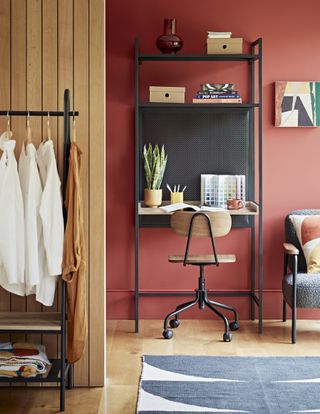 When you have no choice but to take up a wall space in your living room then choose a multi-faceted desk system that will fulfil your needs. Habitat's Turner desk will tick all of your boxes.
The more shelving you can opt for the better and go tall as it will take up less space if you go for height over width. This design is streamlined and stylish, it's visually appealing and not 'heavy' on the eye, accessorize with bright stationery and a chair to match your scheme.
11. Make your home office space as personal as possible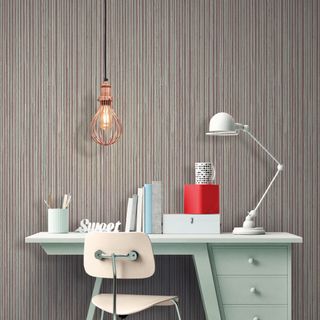 'With more and more people opting for flexible working, it's important to have not only a functional office but also a stylish one that inspires you to do the best work. Working from home gives you the opportunity to add a personal touch to your workspace,' explains Marketa Rypacek, Managing Director at Industville.
'Use art that inspires you, wallpaper that matches your scheme or add plants to create a greener area. Light plays a vital role in home offices; a well-lit, nicely designed office is needed to boost creativity and motivation! There are some amazing lighting options available so you don't need to break the bank creating a professional at home work space.'
12. Use what you have at home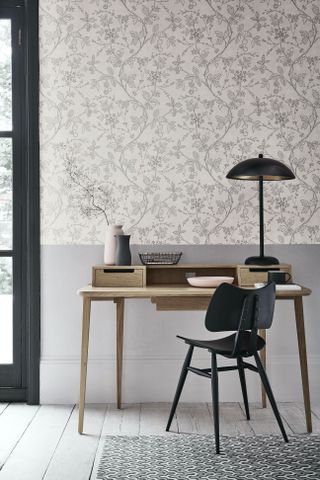 An unused roll of wallpaper and half a tub of paint is enough to give you a stylish accent wall backdrop for your desk and it's an innovative way to save cash too. Paint the bottom half to the dado rail and wallpaper above.
This pretty Wrest Trail wallpaper in pink plaster is perfectly matched to the Perennial Grey paint, whatever you have left over, choose a paint color that matches your wallpaper for a cohesive look.
13. Can't decide on a color scheme? Go for monochrome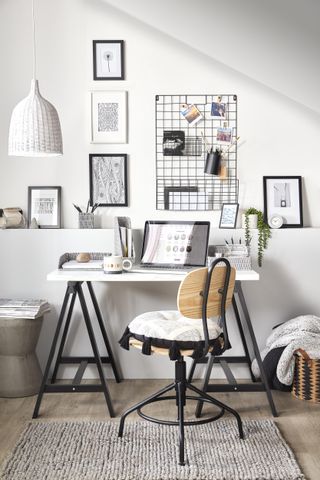 Simple is often best and when you're looking for budget home office ideas wanting to use multiple colors can cost more. Classic black and white will is easy to pull together - white paint is a budget buy and will give you a minimalist look that's light and airy to boot.
You can even paint accessories in black and white too – cheap frames are easily revamped and you could create a chalkboard for writing on also.
14. Desk organisation is key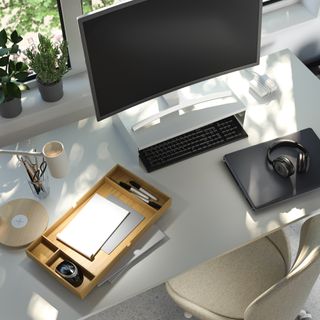 You've found your corner and have your desk space set up, the next thing is to get super organised. Clutter is not your friend when space is tight and organisation is your friend. We love Ikea's desk tidy organisers – essential home office storage buys for those on a budget.
Shown here is their ELLOVEN monitor stand with a drawer that gives you perfect storage and raises your computer to the right height making it a great ergonomic choice.
15. It's all in the details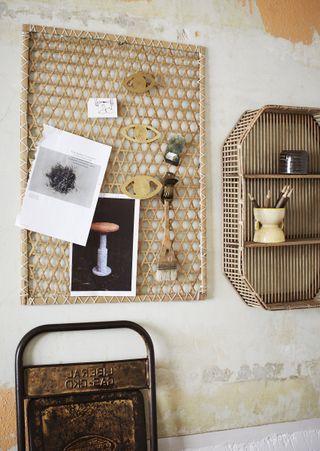 Utilize your wall space by hanging up some oh-so-useful pinboards and little shelves. They're ideal for postcards, invites and inspiring photos and you can hang your favorite keepsakes on them too.
Shelves are great for small vases, pen and pencil pots and small notebooks, basically, you can never have too much storage, but when space and budget is tight you need to keep it more contained.
How can I make an inexpensive home office?
It can be challenging to create a budget home office as there are so many factors to consider. But, done well and a home office can give you the best of both worlds. Letting you work from home and spend more time with your family too.
The key is to try to create your own space – if you have a spare room then great, that's the best option. But if you don't then make the most of the room you have - a wall space is all you need, plus a desk and chair of course. You can pick up furniture from thrift stores and flea markets, then use up old tubs of paint to fancy them up, it's the perfect opportunity to be more inventive.