Pink and grey bedrooms are hardly a new interiors trend – they have been a classic combo for YEARS. So we thought it was about time we dedicated a gallery to this ever-popular duo. These looks are all really easy (and affordable) to copy too, all things you can do yourself this weekend to give your bedroom a bit of a makeover.
For more bedroom ideas, make sure you head to our hub page, and if you are as obsessed with pink as we are, we have a whole pink room ideas feature for you to scroll through.
1. Go for a boho-style pink and grey bedroom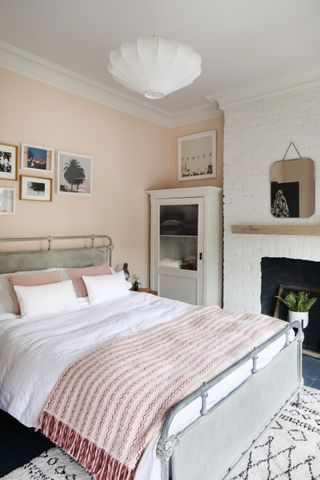 Something we love about pink and grey bedrooms is how versatile they are. You can adapt this color combo to suit all styles – from the super traditional to the uber-modern. Even the ever-popular boho trend can work, just check out this bedroom. The dusky pale pink works perfectly with the pale grey bed and Berber rug. Pop in a few houseplants too to complete the look.
For more boho design ideas check out our gallery.
2. Add hint of pink to a grey background with gallery wall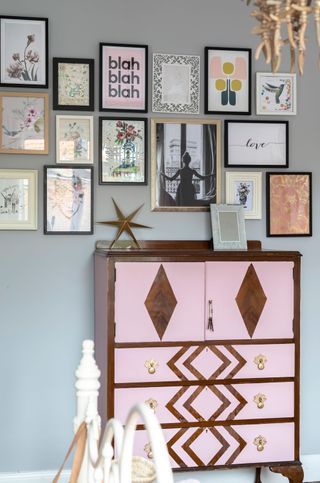 First of all, how amazing is this chest of drawers? You could definitely recreate the look with some masking tape and a pot of pink paint. But if you want to add just a touch of pink to your grey bedroom, a gallery wall is a great way to do so. For loads of gallery wall ideas, head over to our feature.
3. Create the softest of color pallets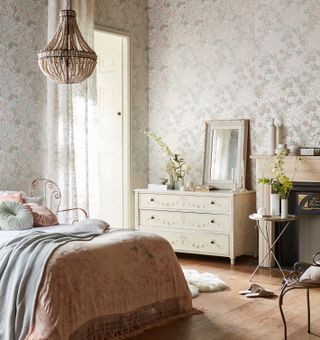 If you prefer more traditional pink and grey bedroom, let this one inspire you. The lovely almost worn pink look beautiful with the pale bluely grey and the cream furniture only further softens the look. A touch of glamour from the chandelier gives it a French boudoir vibe that we are definitely here for.
4. Add a pink headboard to a grey bedroom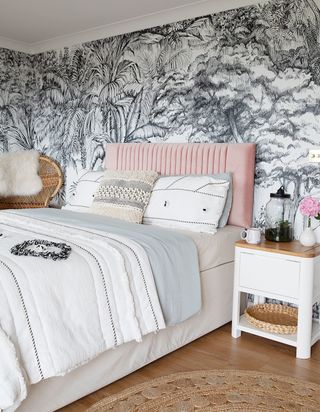 Looking for a really quick way to add plenty of pink to a grey bedroom? Pick up a pink headboard – we say go velvet for a really luxurious feel. You could also DIY a pink headboard, just check out how with our DIY headboards.
5. Paint your bedroom furniture pink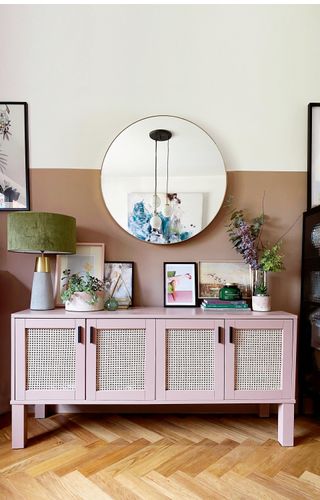 Another super easy one, paint a piece of your bedroom furniture pink. You can make is as large or a small as you like, depending on how much pink you want to add. a bedside table, a chest of drawers, a wardrobe – all can be turned pink in just a few hours, just follow our guide to how to paint furniture.
6. Add small pops pink with bedroom accessories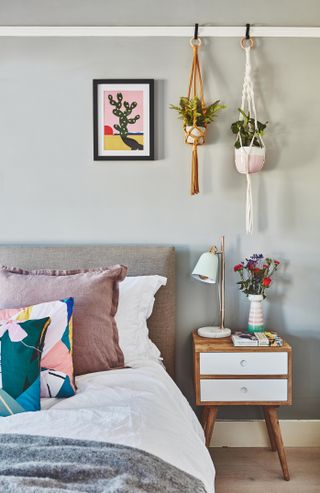 See, told you they were easy! If you already have a grey theme going on in your bedroom – doesn't have to be anything major, a grey headboard, or some bedding would do the trick – accessorize with smaller elements of pink. We love how in this bedroom, there's no in your face bright pink, just tiny pops coming through in the cushions, prints, planter holders and even the vase has a tiny blush accent.
7. Paint a bedroom wall a bang-on-trend dusky pink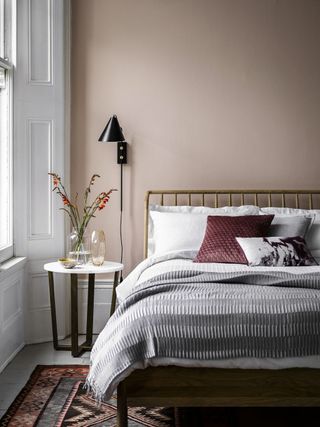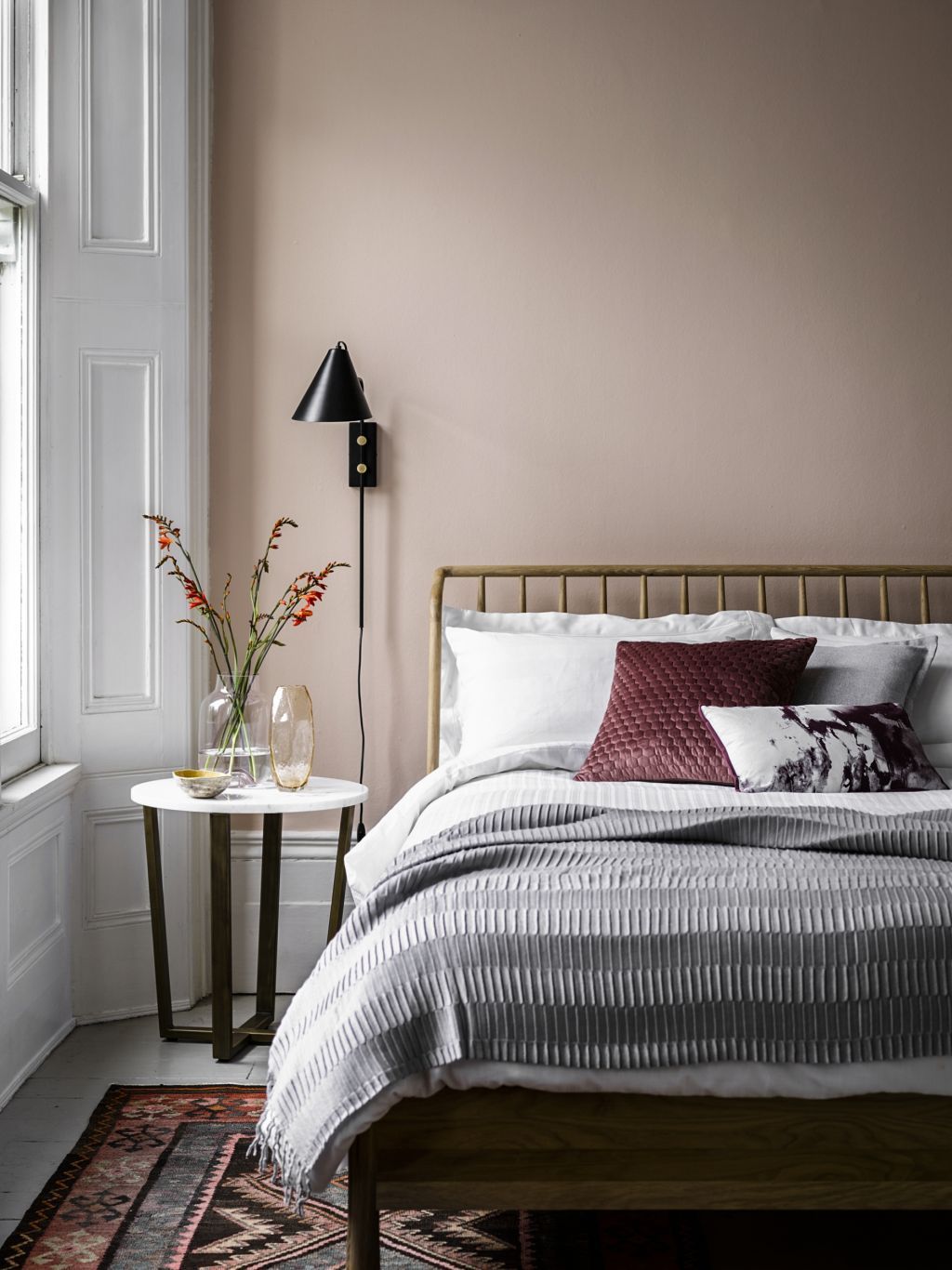 Blush pinks are our favorite at the moment, and they are the best tone to work with grey too. They bring warmth to cooler tones and look amazing with any shade of grey – even black looks lovely combined with this pink.
Bring this gorgeous color into your bedroom by painting a feature wall – we would recommend the wall behind your bed. You can add grey with your throw cushions and bedding to get that dreamy combo.
P.S our fave pink paint at the moment? It's Farrow & Ball's Sulking Room Pink.
8. Create a color block effect with a dado rail
Oooh just look how that pink pops against the grey of the dado rail. This is a look you can create so easily too – even if you don't have a dado rail, create a similar effect by using masking tape and painting the bottom section grey.
9. Combine pink paint with a grey wallpaper in a bedroom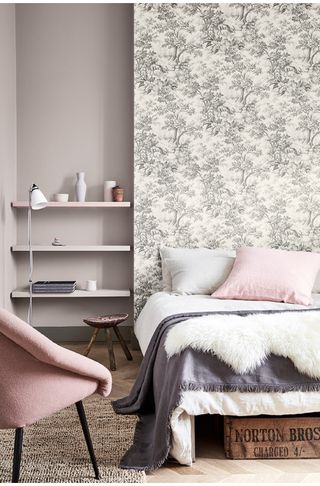 Want to add pattern to your bedroom? A subtle grey wallpaper is a great way to do so. It's really cheap update that you can DIY in a weekend, just check out our guide to how to wallpaper to get it right. A dainty grey floral print works so well with pink too, gives it a more contemporary feel.
For plenty more grey wallpaper ideas, check out our gallery.
10. Go traditional with greys and peachy pinks
Peachy, almost bare plaster pinks are bang on trend at the moment and they do look lovely when paired with a light grey. They are both very calming colors hence why they work so well in a bedroom and they are also a great backdrop for adding more vibrant hues – in this bedroom with love the blues and the pop of bright fuchsia pink.
Check out all our traditional bedroom ideas for more inspiration.
11. Contrast pink with a dark grey furniture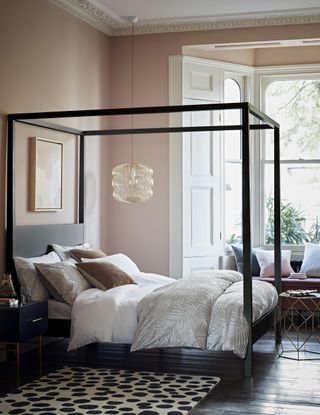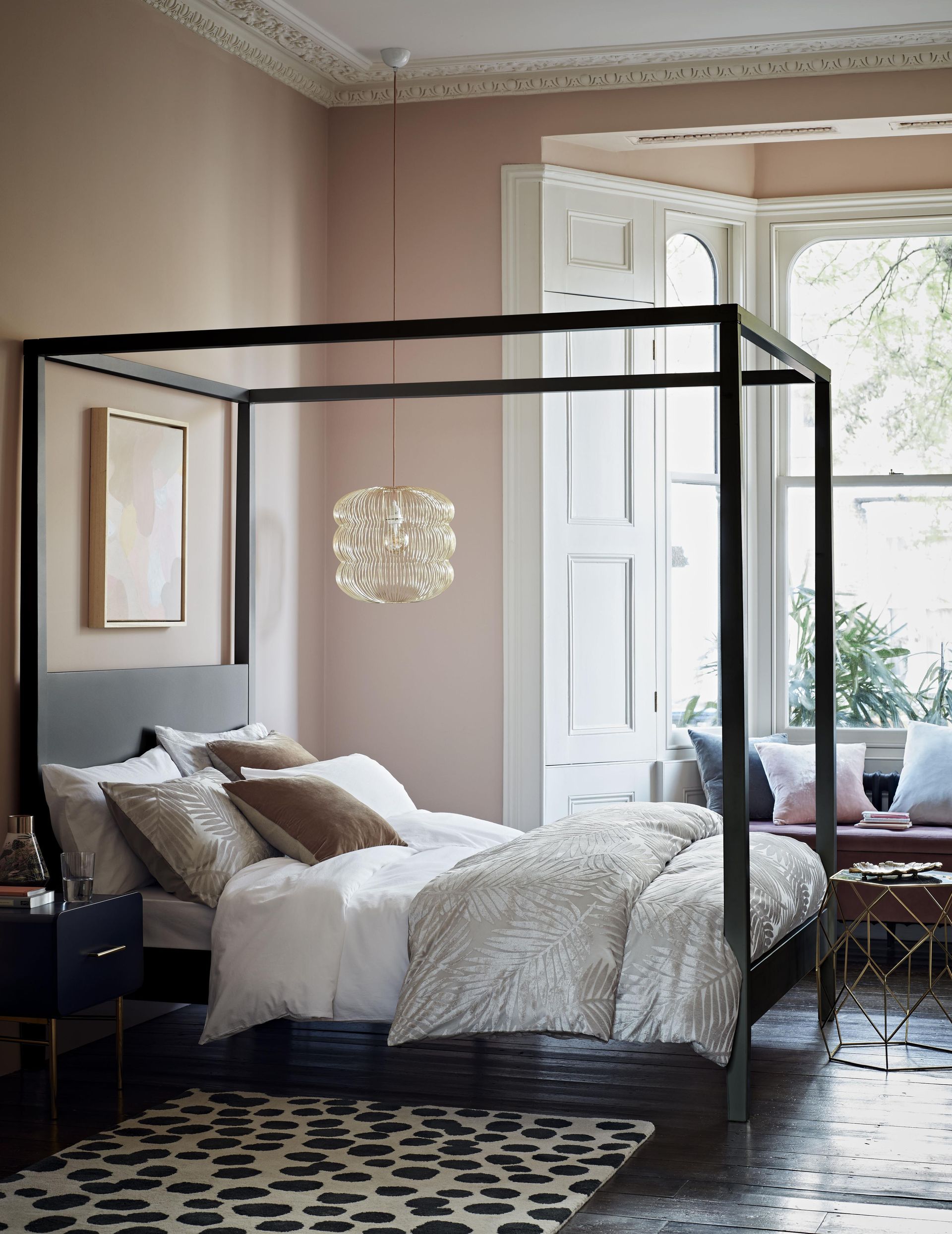 If you are a big fan of pink and grey bedrooms but don't want your space to be too saccharine, adding some statement dark furniture to your scheme will give it more of an edge. Keep the walls pretty in a blush pink and your sheets soft with light greys but bring in a stark contrast with a black bed frame or a deep charcoal bedside table.
Note how the floorboards in this bedroom have been painted black too to really up the drama and ground all those soft, subtle hues. If you like the idea of a black bedroom color scheme, we have plenty more ideas over in our gallery.
12. Pair pink with the softest greys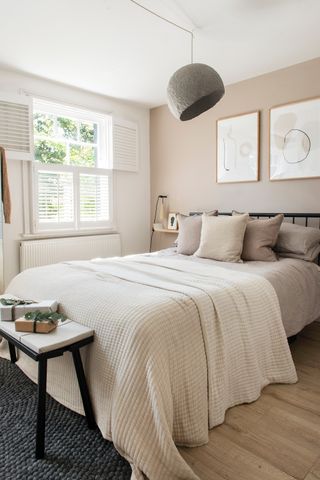 Rather than pair pink and grey in a bedroom, why not merge the colors together to create a... grink? Prey? A pink and grey hybrid that results in a gorgeously soft, but slightly moody nude tone. This muted color works perfectly in minimalist spaces where the color scheme is kept really simple, with just a few very similar tones going on. Pile up the textures as a way of adding interest and you could add a few touches of black for contrast.
13. Break up a pink wall with a dark grey headboard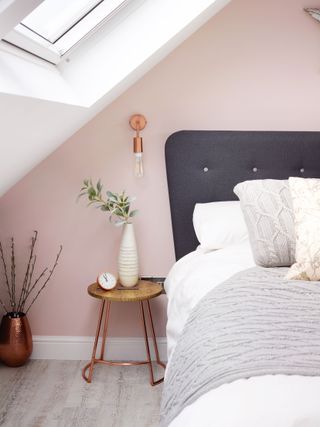 Simple but statement, a grey headboard against a pink wall is all that's needed to tie this color scheme together. The clean lines and deeper grey of the headboard offset the pale pinks and greys used throughout the rest of the room, giving this attic bedroom a more modern, grown-up feel.