After the best bed to turn your bedroom into the respite of your dreams? Everyone knows a good night's sleep can only come with a good sleep setup, so the bed is the very foundation of it all.
Once you decide on the best mattress for your sleep style, the bed frame you choose is probably the next most important thing, and perhaps the most fun. The bed will be the centerpiece of your room too, and anchor the entire space – so let's make it beautiful.
We've considered the many types of beds available to create our comprehensive list that serves a wide range of design aesthetics, functional needs, and budgets. From fabulous mid-century-inspired bed frames to luxe upholstered designs, our round-up considered the most popular bed frames of the moment. We have checked out comments from those who have lived with (and slept on) these beds to make sure they fit the bill.
Keep reading to find the best bed frame for your bedroom. We're apologizing in advance for how hard it is going to be to choose just one for the perfect bedroom scheme.
Best beds for 2023
Why you can trust Real Homes Our expert reviewers spend hours testing and comparing products and services so you can choose the best for you. Find out more about how we test.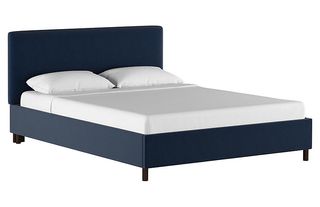 The upholstered bed is an extremely practical choice (who doesn't love leaning up against soft, cushioned things) with a big design impact, making it a standout choice for your primary bedroom. They come in a range of styles and even more color options. We narrowed it down to the One King's Lane Novak Platform Bed, a stylish staple piece that's available in over 21 colors and prints, from neutral to playful.
This timelessly tailored bed is made to order, so it does have a longer lead time and it is non-returnable. However, taking into account the craftsmanship that goes into making this bed, we want to put our money toward something built to last. And it is, with a sturdy pine frame, and stable metal legs. This version is a platform style, but there is also a version available that requires a box spring.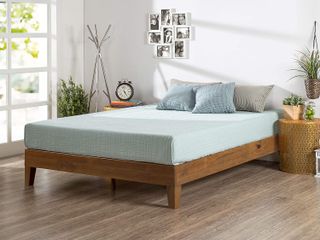 A solid platform bed shouldn't have to set you back hundreds. Enter Zinus. They've already mastered affordable mattresses, so it's time to wake up to their easy assembly platform beds as well. The official name of the 12 Inch Deluxe Wood Platform changes with the color options, including a rustic pine (Alexis), cherry (Wen), natural (Moiz), and antique espresso (Vivek).
We're really into the wooden frame sans headboard look on this model for a minimalist, rustic take, but you also have the option to add on a headboard. It's made of solid wood with an interior steel framework and the whole look is perfect for a Scandinavian style bedroom. It also offers an 8.2" clearance if you're looking to store extra items under the bed, and utilizes a velcro strip to keep the mattress in place.
Reviews are also overwhelmingly positive on this budget bed frame, with 84 percent offering up a 5-star rating, and many citing how impressed they were with this sturdy and stylish frame. Everything ships in one box and assembly should take less than 30 minutes.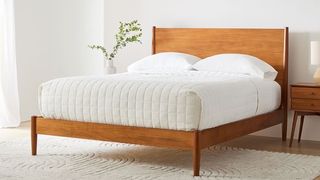 West Elm is THE DESTINATION for anything Mid-century modern. Start and end your search with their Mid-Century bed. This best-selling wood bed features iconic details like doweled headboard edges and tapered wood legs for a crisp appearance. With the option to choose from three classic wood tones, it is the perfect anchor to your bedroom. Classic, streamlined and understated.
It's also contract-grade, so this bed is a solid investment for the long term. And, it's built with several environmental factors, including being made in a fair trade environment, made from kiln-dried, sustainably sourced, FSC-certified wood, and its Greenguard Gold certified, so it won't emit any toxins into the air.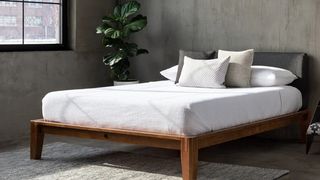 The Thuma promise: furniture, specifically a bed frame, that takes minimal time and effort to assemble. Did we mention, that it's also made keeping sustainability in mind? The response: a loyal following of buyers who are thrilled with their results.
The materials include handcrafted, repurposed wood and double-strength slats lined with eco-fi felt made from recycled plastics for durability and sound reduction.
Perhaps the biggest selling point for the Thuma bed is that it requires no tools for installation. No screws or bolts to lose track off. Rather, each piece fits together, like a puzzle, inspired by the Japanese joinery technique; it's so easy, that installation should take just about five minutes. The thoughtfully-designed bed includes a frame, soft PillowBoard (or a headboard option), and extra-strength cushion-coated slats. Even better, the PillowBoard is built for lounging and can be removed for easy laundering. However, we should note that it is not directly connected to the frame, but the mattress, which some have noted caused the headboard to shift.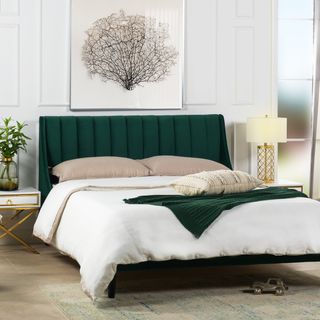 Sumptuous velvet is a fan-favorite for its sophisticated design, versatility, and of course, soft texture. Get the luxe look with this channel-tufted velvet confection, available in several color hues to fit your space. The sheer number of colors is what makes this bed so appealing.
It's also sturdy and so comfortable to lie back against. It's constructed with solid kiln-dried birch wood with plywood and upholstered with high-quality velvet over flame-retardant foam. The 30" headboard height could be considered on the shorter side, especially if you plan to load up your bed with pillows that may conceal the design. Albeit the shorter headboard, it's a great-looking piece. Additionally, the platform design is equipped to work with adjustable bases, so you won't have to sacrifice style.
Buyers said that assembly was a little complicated and timing-consuming (each slat is placed one at a time) but Wayfair does offer assembly services for an additional fee.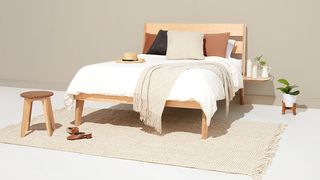 Sustainability and customization is at the root of Inside Weather. Made-to-order pieces cut down on waste and unsold units, and give the customer, you, the benefit of choice, to tailor your bed to your own needs. Though, you will likely want to practice patience as the lead time to have your bed delivered could be several weeks out; and if you purchase multiple items, they are all sent together in one bundle.
The Savoy bed is available in a range of configurations where you can choose the headboard profile, the bed height (12" or 16"), and even add on modern-looking side tables. Beyond its good looks, the bed is sturdy and well constructed.
The plywood is FSC certified & topped with an eco-solvent finish. Any excess wood is recycled, and sometimes even upcycled, and a tree is planted via the National Forest Foundation for every order placed and box that ships.
Assembly is pretty easy too, but you do have the option to choose white-glove delivery if you want a hassle-free experience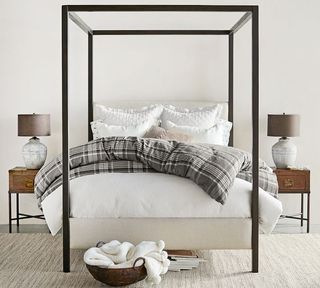 Is there anything more fitting to a romantic bedroom than a canopy bed? Canopy beds have been surging in popularity as of late, giving us more options than ever. The Pottery Barn Atwell Canopy Bed caught our eye for its excellent mix of contemporary upholstery with a sleek powder-coated metal frame. A box spring is required, but the bed itself is also compatible with adjustable beds. The bed is both stylish and incredibly sturdy.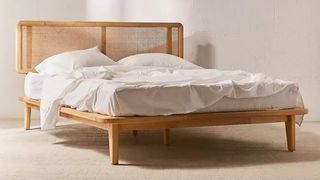 The rattan and cane style is more popular than ever and truthfully, we're having a very hard time resisting this perfect bohemian bed.
Gorgeous woven rattan is framed with rubber wood for subtle contrast and reviewers frequently comment on the sturdy design. It's part of the Marte collection which also offers a dresser, vanity, and side tables, among other matching pieces that fully outfit your space.
The bed is absolutely beautiful, but it does require assembly, and does not come with instructions, according to some reviewers. Urban Outfitters also requires a $149 oversized furniture shipping fee and charges a 15% restocking fee if you change your mind.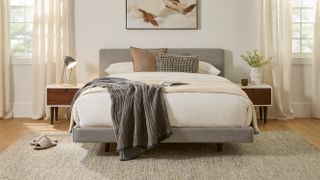 If you describe your style as modern minimalist meets Scandinavian comfort, well, Article's Tessu bed is for you. The low-profile upholstered platform bed is available in three colors that make a beautiful backdrop for your bedroom.
It is estimated to take about 45 minutes to assemble and arrives in three boxes. It's available in queen and king sizes and can work with some adjustable bed models as well. It consistently ranks high among buyers for its value, quality, and design. We particularly like the wooden slats and sturdy wooden legs.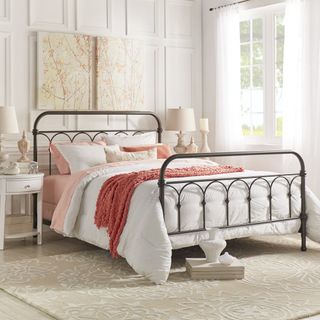 The classic look of a metal bed frame will never go out of style. A metal bed feels light and airy and won't overwhelm a room. The old-school design is for those looking to achieve a rustic, vintage-inspired bedroom, or farmhouse space.
We found the Mercer Casted Knot Metal Bed from iNSPIRE Q noteworthy for its incredible value and pleasing curved detail inspired by Victorian-era wrought iron. It's available in both bronze and white, though it can easily be spray painted, as some mentioned they've done to personalize the bed to your liking. Most reviewers have commented on its straightforward assembly and stable build. A few noted, however, it was lower to the ground than they expected, with just a 6.5" clearance under the bed. It's easy to add extra height with a thicker boxspring foundation or mattress.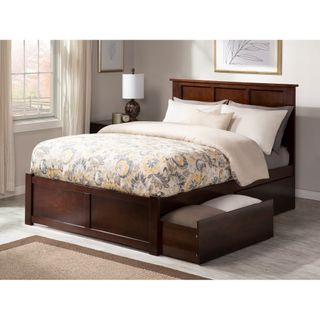 If you're tight on closet space, a storage bed maximizes your bed's usefulness with ample and discreet drawers to stash extra linens, off-season clothing, toys, or whatever items you want easy access to. Storage beds are typically available with drawers either accessible via the sides or the foot of the bed.
The Madison Platform Bed from Atlantic Furniture offers a traditional style and is available in a bunch of colors. As far as storage, it has some of the most versatile options, with roomy rolling drawers that can be placed on either side of the bed. It comes with two drawers, so if you put both on one side and want to double the set, you'll have to pay extra. However, should you put both drawers on the same side, it could be more difficult to access the one at the top of the bed if you plan to put a nightstand or lamp next to your bed, so we advise placing them near the foot.
In addition to ample storage, Atlantic Furniture amps up the functionality with the addition of a power hub with ports for two USBs, so you'll never be without a charge. It's durable, too, and made of solid wood. It's a great pick for any stage of your life.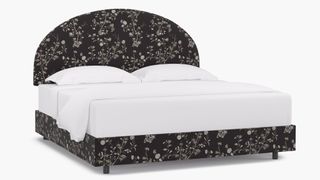 So you want a bed like no one else! We totally understand your desire for a one-of-a-kind piece that takes the cake. Enter, The Inside by Havenly, one of design maven Christiane Lemieux's ventures to make custom pieces more accessible and to take the lead time from months to weeks.
Just scrolling through the nearly 100 patterns is a treat, with special collaborations with artists such as Scalamandre, CW Stockwell, and Old World Weavers, founded by the incomparable Iris Apfel and her late husband, Carl. You'll find a rainbow of colors and floral, abstract, chintz, terrazzo, or gingham prints that range from subtle to bold. There are 13-bed styles to choose from, including the classic tailored, a wingback design, and a regency-inspired headboard. They've also recently introduced four new designs, including the Arch Design and a Slipcover one that evolved from customer feedback and was voted on by Havenly's interior designers. The Inside's made-to-order methods and digital printing technology enable them to offer quality designs without any waste. Even the digital printing process is water-free.
The Inside by Havenly gives you the chance to make a major impact with your furniture, and perhaps go neutral with the bedding. Those who've taken the plunge on these stunning beds were thrilled with how their beds came out, but they did note that assembly was tedious and these beds are heavy.
If you need help deciding on a pattern, fabric swatches are available before you commit to one style.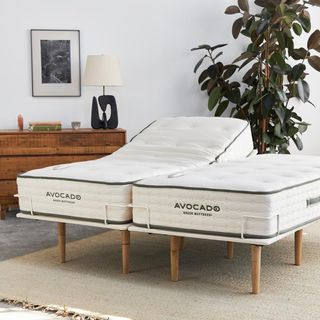 There are a lot of health benefits to adjustable beds that people are really starting to catch on to. For instance, elevating your bed to a more upright position can improve circulation while reducing heartburn and snoring. Avocado's eco-friendly edition is made with GOTS organic certified cotton canvas, durable rubberwood legs, and a sturdy metal base. It's also one of the more attractive models available. The rubberwood legs, available in three heights, are a refreshing design choice from Avocado, though the frame will also sit within existing beds as well if you prefer a bed that matches your aesthetic better. Assembly is pretty straightforward and doesn't require any tools.
The Avocado Eco Adjustable Base app or wireless remote manage two programmable memory positions, head and foot tilt adjustments, and the ability to shift the bed to flat, zero gravity, and anti-snore positions. There's even a massage function, and the frame has built-in USB ports to easily charge your devices too. However, should you decide to use within an existing bed frame, you won't be able to access the USB ports. Another thoughtful feature: the remote control can double as a flashlight, which is pretty neat.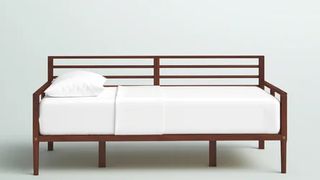 Sometimes, smaller spaces call for a multi-tasking day bed. It's the perfect solution for tiny studios to guests rooms turned home office, playroom, and gym and can be a good alternative to a full bed or the best sleeper sofa. Our sights are on this affordable and design-forward day bed with a mid-century-inspired stylish, spindle design. Available in caramel or a walnut wood-toned color, it can easily blend into your space and be decorated in a variety of ways. It's made with solid pinewood and requires some assembly.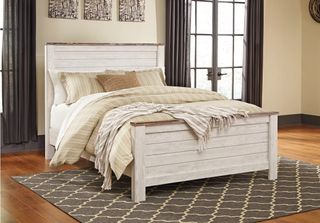 Farmhouse design isn't going anywhere. As the design trends evolve into cottage core, the appeal of a rustic panel bed is everlasting. This design from Ashley Furniture is affordable (under $600 for a queen) and can easily be paired with coordinating furniture pieces to create an entire set. The panel bed features a driftwood whitewashed finish with faux plank detailing on the headboard and footboard. It's made with engineered wood, which helps drive down the price tag, but some have called out this bed as flimsy, while others have taken no issue with it at all.
How we choose the best beds
As well as judging by aesthetics, to find the best bed frames for this list we dived into the specifications and materials, tried and tested bestsellers, grilled the Real Homes team for their expert knowledge, asked friends and family for their top-rated products, and took into account third party reviews on retailer websites. Click here to find out more about how we review products on Real Homes.
How to choose the best bed frame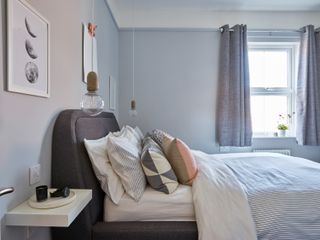 Choosing a bed is a highly subjective choice based on your personal style.
The two technical components to consider are the size, and whether or not you want to make use of a bed frame or a foundation.
The most common bed sizes and their measurements:
Twin/single: 38" x 75" (sleeps one)
Twin XL: 38" x 80" (sleeps one)
Full/double: 54" x 75" (sleeps two)
Queen: 60" x 80" (comfortably sleeps two)
King: 76" x 80" (comfortably sleeps two)
California king: 72" x 84" (comfortably sleeps two)
Besides considering the many different styles of bed available today, first consider the type of bed you pick out, which are traditionally broken down into three camps.
Standard, or traditional beds often use a metal rail bed frame that doesn't have the support to hold a mattress on its own and will require a box spring or foundation to support the mattress.
Becoming much more commonplace are platform beds. Platform beds typically use wood or metal slats close together that will support the mattress without any extra materials, i.e. no box spring. You may even see solid wood beds that categorize as a platform too.
For a more customizable sleep position, adjustable bases are growing in popularity, and offer numerous health benefits. These are less aesthetic-driven and more or less chosen for their practicality. An adjustable bed does exactly what it sounds like. It adjusts to various positions, like a hospital bed, to elevate the upper half or lower half of your body. It's useful for those who like to sit up and watch TV in bed, people dealing with respiratory issues, or for individuals looking to curb their snoring. They can only be used with certain types of mattresses such as hybrid, foam, or latex, so check your mattress compatibility before purchasing.
What's the difference between a box spring and a foundation?
Standard beds often require a box spring or a foundation, as they have minimal support. Box Springs are becoming more or less obsolete and replaced with foundations.
A box spring consists of a wooden frame filled with springs (or a metal grid) and wrapped in fabric. It sits directly under the mattress, providing support and extra height to your mattress. Most traditional innerspring mattresses required the use of a box spring, while memory foam, latex, and hybrid models do not. Instead, they use a foundation if the bed requires additional support for the mattress.
A foundation is similar in external appearance to a box spring and the word is sometimes used interchangeably. Rather, it consists of wooden slats or flat solid frames, like a platform bed, and does not contain metal springs.
Whichever setup you choose, make sure it's compatible with your mattress, otherwise, it could void its warranty.
How much should I spend on a new bed?
Beds can range anywhere from a few hundred to thousands of dollars. For our list, we focused on beds that were on average between $500 and $1,000. The $1,000 price point is where you'll see the sturdiest materials, white glove delivery, and recognizable brand names.
Most beds sourced from places like Wayfair, Overstock or Walmart are the most budget-friendly, but often require assembly and could be made of engineered wood. Be sure to check what the bed is made of before going ahead with your purchase.
If you're looking for a bed for a short amount of time, and like to switch things up, go with the more affordable bed, but if you're planning to hold on to your bed, we say, go with the investment piece. You won't be disappointed.