Bedroom wall paneling is a great way to add interest and texture to your room, without overwhelming the space with patterns or vibrant colors.
When it comes to the most up-to-date bedroom ideas, the past few years have seen a surge in wall paneling ideas, with interior designers throwing out the rule book to introduce fresh new ways to use this age-old technique.
While paneling was originally created as a means of insulation – helping to warm up rooms with stone walls – we now use it as an art form. And it's more versatile than you may think. We often think of paneling as a way of injecting period features into a home, giving it more character and creating a sense of nostalgia. While we all love a bit of history, the latest paneled designs are bold, fun and contemporary.
So whether you want a nod to the past, or a statement geometric feature wall, bedroom paneling is your answer.
1. Go for classic square panelling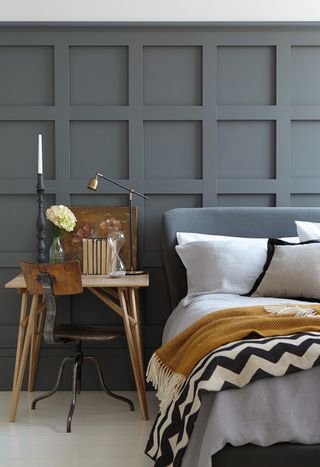 You can't go far wrong with a simple square design for your wall paneling. This design's symmetry makes it perfect for any kind of bedroom - be it a large master bedroom or a smaller kids' room.
'Paneling will add character and reflect a period style that is emphasized when hit with light. As the sun moves throughout the day shadows and texture will be created from the reflection of the sun,' says Justyna Korczynska, senior designer at Crown. With the chunky paneling design shown above, the shadows cast will be even stronger, creating a more dramatic feel.
Top tip – if you plan to paint your paneling a dark shade like this, don't panel all the way up your wall. Keeping the ceiling and the top of the wall white visually tricks the eye into making the room feel bigger and airier than it is. Installing shaker-style DIY wall panels is easier than you may think too.
2. Elongate you room with vertical stripes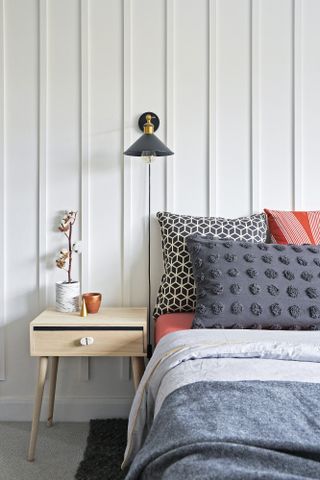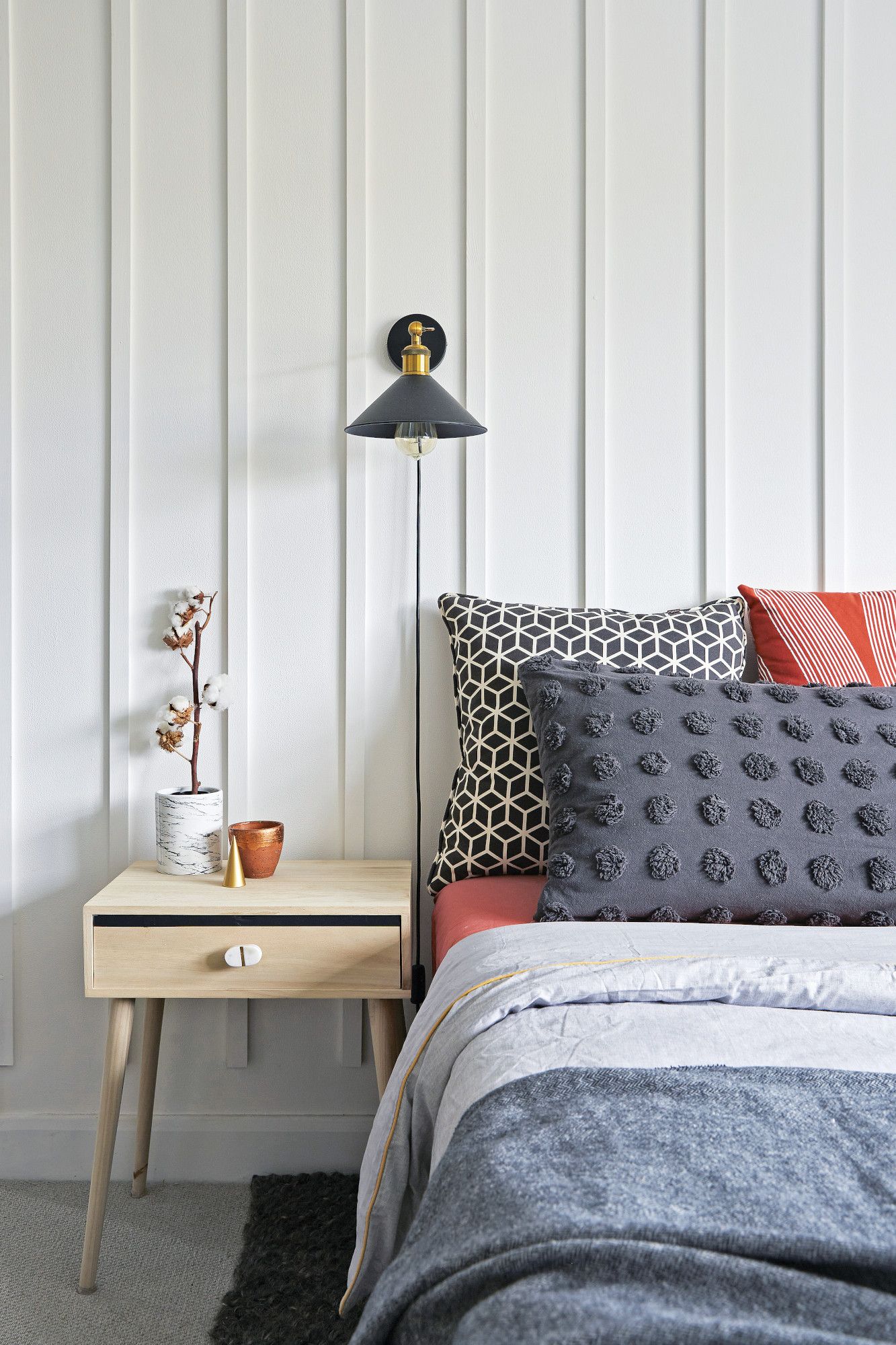 If you're a DIY novice and you're looking to experiment with paneling, this is a great design to start with. These simple vertical stripes couldn't be easier to replicate. They are made up of vertical strips of plywood, which are cut to size, and then glued and nailed to the wall. You can use caulk to fill in any gaps, then paint in you chosen color.
This simple idea means that you can go wild with your bedding, mixing and matching textures and colors as you see fit.
3. Paint your paneling pink for a modern twist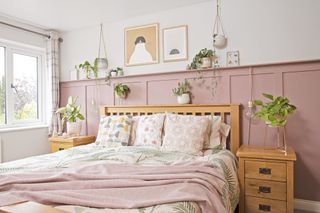 Draw attention to your paneling and make it a stand-out design feature by painting it a different shade than the rest of your space. A great pink room idea, this soft pink paneling works to create a real focal point in the room and is a textured backdrop to an array of house plants.
It's fairly easy to learn how to install a board and batten wall like this, and it's quite a fun (and satisfying) project you can do in a few days.
4. Keep traditional with beveled panels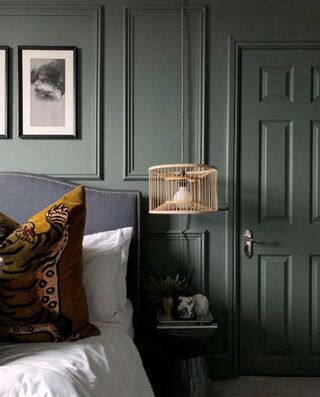 If you want a real classic look, or you're keen to take the decor of your period property back to its routes, consider choosing panels with decorative moldings.
These bring even more depth and interest, but could be a little more fiddly to apply yourself at home. Calling in the professionals for this kind of design might be your best bet.
5. Choose tongue and groove paneling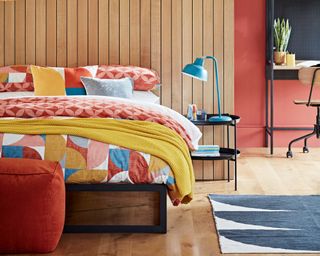 Bring texture and interest to a simple scheme with vertical tongue and groove paneling. With a nod to cozy log cabins, this works especially well in a cozy and warming bedroom for a space where you'll want to snuggle up and hunker down.
'Be brave with color, paneling doesn't mean you can't experiment with textured or fun paints. Wood-paneled walls can also help balance out bolder reds, oranges, and bright blues,' says Rachel Fernie, an interior expert at Hillary's.
These colors are exemplified perfectly in the above image, where the pops of yellow, blue, and red add a contemporary, fun edge.
6. Use finer paneling in a smaller space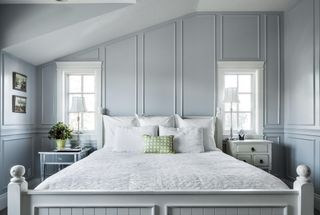 If you're tight on space, scale down the size of your paneling. Here, the slim paneling mirrors the elegant and refined feel of the room. We love how this paneling works around the architecture of the room, adding depth and detail to every corner.
7. Go modern with chevron panelling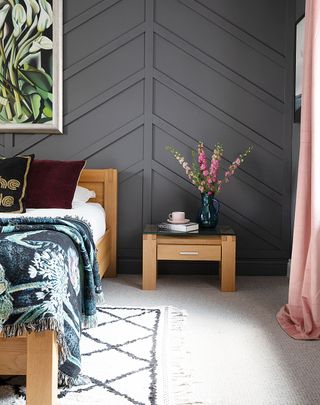 How amazing is this? When creating your own paneling, you don't need to stick to classic designs. Try modern shapes and new patterns that really pack a punch, such as this oversized chevron effect. And the best bit is that the larger the pattern, the less fiddly and the quicker it is to install.
You can recreate this look using timber planks. Simply measure and cut at precisely the right angles, and attach to your wall using either Gorilla glue (buy in bulk at Amazon) or nails (or both to be extra secure). For a smooth finish, apply a filler where the planks meet. Then prime and paint in your chosen shade.
8. Display pictures and accecories on your paneling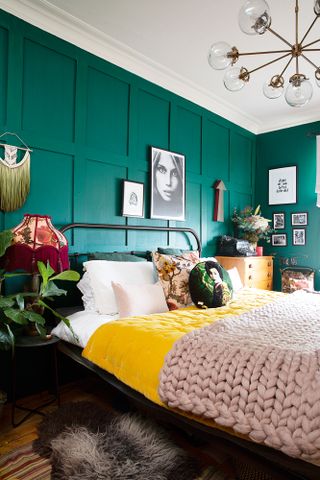 Don't think that you need to leave your paneling bare. You can still use a paneled wall as a blank canvas to show off a gallery wall idea.
From picture frames, to tapestries and decorative lighting, position them carefully either between or on top of your panels. This makes for a feature wall idea that's full to the brim of interest, texture, and depth.
9. Create a shelf with low level panelling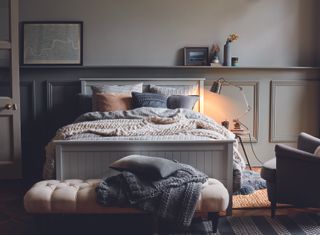 Paneling at dado height brings a perfect opportunity to embed extra storage.
Position a shelf above your paneling and paint it, along with the wall, in the same color for a cohesive look. Decorate with trailing plants and treasured items for a striking bedroom shelf idea.
Why is paneling so popular?
Paneling has been growing in popularity for many reasons. Modern houses often lack the beautiful, decorative features of period properties. A square, boxy room can feel very clinical and uninviting, so paneling is a relatively inexpensive way to add in some character and give your space a more architecturally interesting shape.
As well as this, lockdown saw many of us turn to decorating our homes as a means of creative outlet, and wall paneling is a fun, achievable project that most DIYers can turn their hand to.
Can you panel over wallpaper?
Yes, you can panel over wallpaper. You can simply attach your battens directly over the top of your wallpaper, gluing or nailing as usual.
If your bedroom wallpaper idea is particularly bold or contrasting to the color you intend to paint your paneling, it's a good idea to paint on white all over first, and use a primer. This will ensure an even color when you come to apply your chosen shade.