Love the look of a modern bathroom? Us, too, and that's why we have made a whole gallery of ideas to inspire you. Whether you want to give your bathroom a contemporary feel with statement additions or are searching for decorating inspiration, we've got plenty of tips and ideas.
Get design inspiration for your contemporary bathroom here and for loads more ideas head to our bathroom ideas page.
1. Experiment with texture
While a sleek, fuss-free scheme is a great starting point for a modern bathroom, you'll want to consider experimenting with texture and visual effects to create a unique space. Despite its characteristically minimalist feel, this bathroom is given its own personality with a statement house plant. For more house plant display ideas, check out our gallery.
2. Opt for modern bathroom tile designs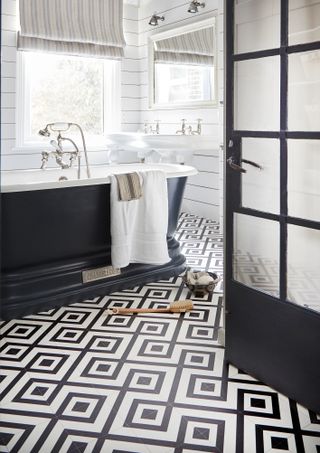 An on trend, geometric bathroom tile scheme makes a striking feature in a modern bathroom. Consider opting for a monochrome version if you want a muted finish, but team it with brass fittings to add a warming note. Small bathroom? Find out how to choose the right size tiles to make your bathroom feel bigger and brighter.
3. Create a focal point in a modern bathroom with a stylish mural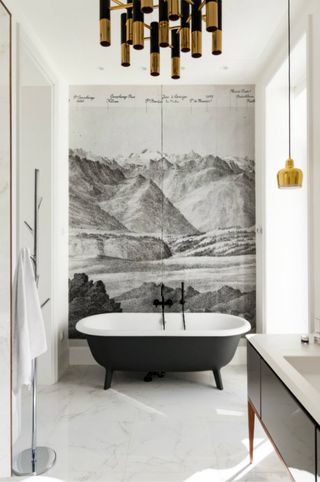 An intricate monochrome wall mural in this small modern bathroom creates a stunning focal point, drawing the eye and creating the illusion of a longer space – a great trick if you're looking for small bathroom design ideas.
Paired with a stylish, matt black freestanding bath and statement light fitting, this bathroom is a great example of a successful contemporary space.
4. Add colour to a modern bathroom with accent features
With grey and monochrome schemes often favoured for modern bathrooms, going for an accent feature is a great way to add both colour and interest to the room. Mustard yellow or blush pink are on trend additions to a grey scheme.
See more paint colour scheme ideas for bathrooms in our gallery.
5. Incorporate natural materials
Bringing natural materials – wood being a great example – into a sleek, cool-toned scheme is a brilliant way to add texture and interest to a modern bathroom without compromising its minimalist feel.
We love this combination of a dark wood freestanding unit and streamlined sanitaryware from GSG Ceramic Design.
6. Design an open space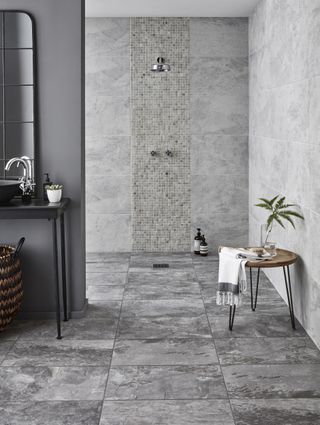 When you're designing a modern bathroom, prioritise creating an open and spacious feel. A walk-in wet room is a good way to go as it helps keep the layout as streamlined as possible. Zones can still be distinguished within it without detracting from the open feel.
Natural Slate Effect Tiles are a stylish solution for a contemporary bathroom or wet room. If you love the idea of transforming your bathroom into a wet room, check out our guide to creating a wet room for all the tips and tricks.
7. Create a design feature using house plants
Proven to encourage wellbeing, house plants are a must for a modern bathroom. Whether you're looking to make a design feature with a statement species – we love the addition of a slightly unruly house plant to an otherwise streamlined space – or prefer something a little more understated, our house plants guide will tell you everything you need to know about house plants, so that you can choose a species that suits.
8. Add personality in a modern bathroom with a gallery wall
Avoid a clinical feel and inject personality into a modern bathroom with the addition of a gallery wall. Start by reading our guide to displaying photos and pictures before selecting images that suit your style – we''d recommend an eclectic combination of tasteful photographs and prints.
9. Opt for atmospheric lighting
Lighting is key if you're designing a bathroom with relaxation in mind. Avoid bright, overpowering illumination, and instead opt for something with a warmer light and more understated feel. Industrial-style designs make the perfect addition to a contemporary bathroom. For more on how to choose bathroom lighting go and have a read of our expert guide.
Find this Hex Box Pendant Lighting at Original BTC.
10. Choose sleek, but statement sanitaryware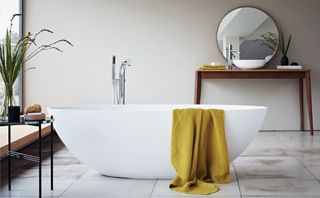 Smooth edges and simple silhouettes make for stylish sanitaryware in a modern bathroom. Positioned in the centre of a bathroom (if yours is large enough) a freestanding bath can create a striking focal point, just check out these amazing freestanding baths.
11. Strip back walls for an industrial feel
Creating a feature wall with exposed bricks is one way to create a contemporary industrial look, especially if paired with factory-style light fittings, like these from Fritz Fryer. The downside to this pared-back look? The bathroom can feel a tad cool, so why not go for underfloor heating beneath the tiled floor plus plenty of fluffy towels to dry off with?
12. Undress the windows
One way to make your bathroom feel larger is to choose bathroom window treatments that are minimalist – like this white Roman blind just peeking into shot. However, if your room is overlooked, you might like to add window film to allow in plenty of light while preserving your privacy.
Bear in mind, too, that if the window is undressed, the room might feel somewhat cold, so up the comfort factor with plenty of quality towels and pretty accessories to dress the room – these are from JD Williams.
13. Give a traditional bathroom a modern twist
Part contemporary, part period style, and bang on trend, boho chic interiors are all about paring back a traditional scheme to the minimum and adding a couple of stand-out modern details. Here, it's the artwork, but it could just as easily be a shapely rolltop bath or contemporary flooring. Find more boho chic-inspired room schemes in our guide.
14. Create symmetry in a modern bathroom
How smart is this bathroom? You can re-create this contemporary look easily by adding symmetry with mirrors. Even if you haven't been blessed with a double sink, hanging two oversized circular mirrors above a smaller sink or a vanity unit would be just as striking. For similar mirrors, check out these versions from Made – they come in loads of colours, too, if you want to make a move on from monochrome.
15. Add softness to a modern bathroom
Modern bathrooms don't have to all be about the super sleek monochrome look. You can create a contemporary space with softer neutrals and natural materials too. We love how in this bathroom a single colour scheme has been kept but the interest comes with the mixture of textures – the granite, the wood and the polished plaster walls work perfectly to create a serene modern space.
More bathroom inspiration? We think so...