They are the stuff childhood dreams are made of: country cottages with roses round the door, welcoming, homely and with the prettiest gardens to match. Who wouldn't want to downsize to a cosy cottage under a thatched roof?
Humble abodes with simple interiors and country retreats in honey-coloured Cotswold stone, there's something here to suit every taste. Join us on a tour of Britain's cottage heritage.
1. A 19th-century farm cottage in the Dales
This remote stone farm cottage in North Yorkshire was full of potential, but was unbearably cold in the bleak Dales winters. The new owners fitted secondary glazing to the draughty timber sash windows and repointed the external stonework. They also had to have the chimneys rebuilt. Inside, the decor is simple and calm, allowing the home's beautiful original features - including a stunning cast-iron cooking range - to speak for themselves.
2. Built in a day
It is hard to imagine, looking at this picture-perfect thatched cottage, that the original section - one upstairs room, one downstairs, was built in just one day. This is a so-called 'squatter's cottage', dating back to 1725. Common Law of the time declared that if a house could be built within 24 hours, with smoke coming from its chimney at the end of the day, then the builder could claim the land as his own. The cottage has been added to in subsequent centuries and the current owners have taken care to preserve the period features, while adding a new bathroom, updating the kitchen and freshening the interiors to make a homely, welcoming space.
See inside the squatter's cottage.
3. A historic stonemason's cottage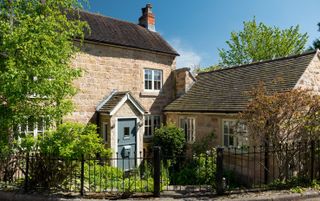 This pretty riverside cottage was built in 1840 in the local Derbyshire limestone and has one unique feature - a sturdy outhouse was once the village lock-up where unruly drunks would have been kept overnight! Other period features preserved by the owners include quarry tiles, beams, and a huge inglenook fireplace. The house originally belonged to to the village stonemason and its new owners like to think that he would be quite impressed by their new reclaimed stone-built extensions to the property that provide a dining room, garden room and cloakroom.
4. A part-thatched cottage restored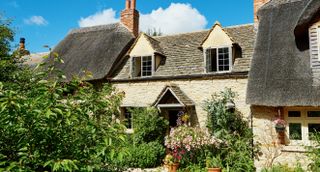 Built in the mid-17th century as part of a row of seven farmworker's dwellings, the main, central section of this part-thatched cottage had collapsed and had to be rebuilt. Its architect owner gradually pieced it back together again, using traditional methods, and modern or salvaged equivalents of the materials used when it was first built.
See inside this 17th-century cottage.
5. The shoemaker's cottage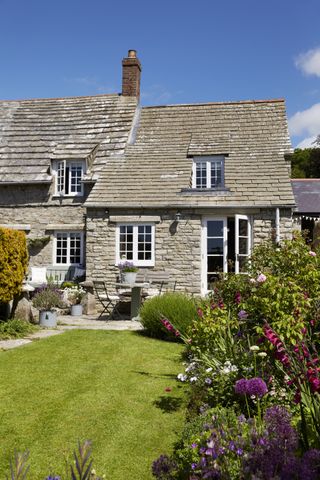 Grade-II listed and in a Conservation Area overlooking the green and duck pond in an idyllic village on Dorset's Jurassic Coast, this pretty cottage left its owners few options for extending. It had once belonged to the village shoemaker and cobbler who had lived a spartan existence. A new woodburning stove in the living room, and a new floor and Aga in the kitchen soon made things more homely, and eventually a modest extension, just 10 square metres, provided more space in the kitchen-diner and extending the roofline to add a dormer added much-needed space for the master bedroom. Stand on tiptoes in here and you can see the sea.
6. A Scottish croft by the sea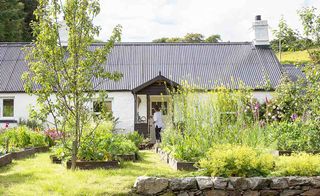 This lowly lochside croft on the west coast of Scotland has been remodelled to create a comfortable home full of traditional charm. The property had been empty for seven years and was near derelict. It was the oldest house in the village, built in 1780 as a two-room croft with one room for animals and one for the family. The cottage had been extended in the 1950s when the original thatched roof was replaced by a corrugated tin one. Once the major renovations were complete, the owner turned her hand to the garden, now an impressive potager and flower garden.
Take the tour of this Scottish croft.
7. Cowman's cottage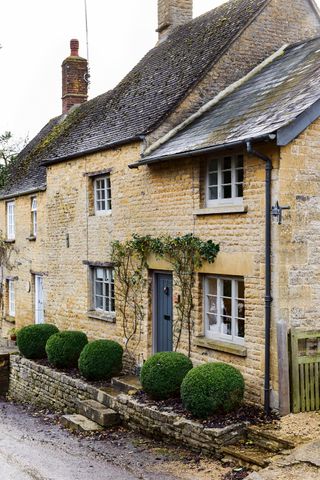 Originally a cowman's cottage, part of the country estate of Ditchley in Oxfordshire, this double-fronted Cotswold cottage has four bedrooms. Inside, there is a striking wall of exposed stone with a traditional inglenook fireplace, adding to the building's charm.
8. Victorian worker's home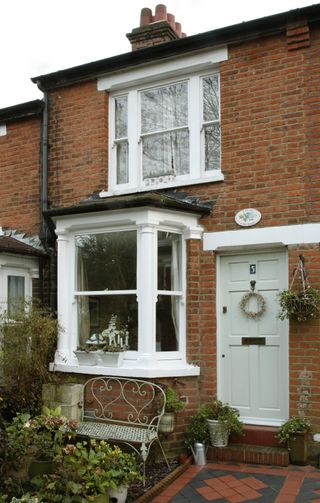 Built in the 1890s, this Victorian worker's cottage has two bedrooms and two reception rooms. The house has a mix of bay and sash windows, in the typical a-symmetrical style of this period.
9. Cosy Irish cottage
This cosy 18th century Irish cottage is built with thick stone walls, and is attached to a cow barn which has been converted to accommodation.
10. Cotswold stone home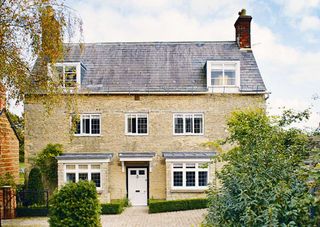 Set in the countryside of north-east Oxfordshire, this Grade-II listed house was built in 1806, and was extended in 1902. The five-bedroom cottage is built in Cotswold stone, and the interior contains period features including ornate pasterwork.
11. Mud-and-stud home
This mud-and-stud cottage in Lincolnshire nestles under a thatched roof and has a later yellow-brick addition added in the Victorian period. The interior features wooden beams and an unusual 'witch's hat' shape fireplace in the dining room.
12. Peak District perfection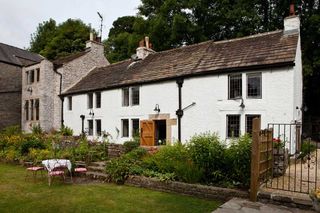 This solidly built Peak District property dates back to 1550, with a stone-built extension. The exterior has a white render, while the interior features wood-panelling and exposed beams.
13. Grade II cottage in Gloucestershire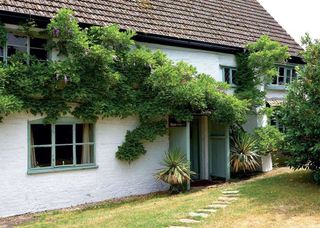 This idyllic Gloucestershire cottage has a Grade-II listing, as the oldest parts of the house date back to the 14th century. Inside there is a wealth of original features, including beams, flooring, and an original fireplace.
14. Timber-framed woodman's cottage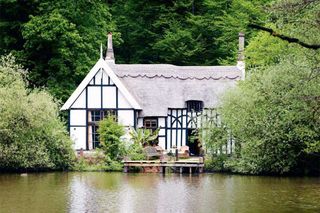 Situated on the Knebworth Estate in Hertfordshire, this historic home is built from a timber frame and thatch. It has a Grade-II listing, and the oldest part of the property was built 400 years ago as a woodman's cottage. It was extended in the Victorian era to become a folly.