The simplicity of white, in many layers and tones, forms the backdrop to Bethan Lewis-Powell's delightful four-bedroom Cotswold cottage, complemented by her collection of antique and vintage furniture. She bought the four-bedroom property more than 30 years ago.
Essential repairs
The previous owner had carried out most of the renovations
Bethan updated the interior with muted tones
New flooring was installed – coir and cork tiles downstairs, and carpet for a softer finish upstairs in the bedrooms
A modern bathroom was installed
The garden was redesigned
At the start of Bethan's search, she came across the details for a house in Gloucestershire, but before she even had chance to view it, another buyer had their offer accepted. So the estate agent suggested another property, this time in Oxfordshire.
The house was originally a cowman's cottage and was once part of the country estate of Ditchley. Positioned in a row of several small properties, the Victorian cottage was in need of an update.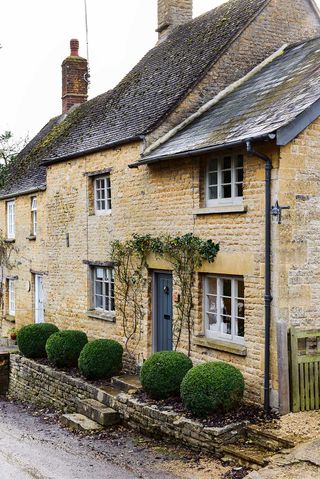 A line of box spheres creates a grand entrance to Bethan's honey-coloured Cotswold-stone cottage, her home for the past 30 years
The previous owners had tackled the major renovation work, including the electrics and plumbing, and converted the loft into a double bedroom. 'It just needed decorating to my taste,' Bethan explains. 'The rooms were painted in strong 1970s-style colours, with varnished pine woodwork in a vibrant shade of orange. Luckily I could see beyond the décor.'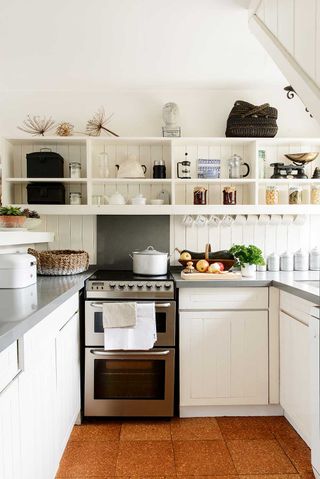 Painting the walls and cupboards white has increased the feeling of space in Bethan's cosy kitchen. Cork tiles, from The Cork Flooring Company, are durable, easy to maintain and environmentally friendly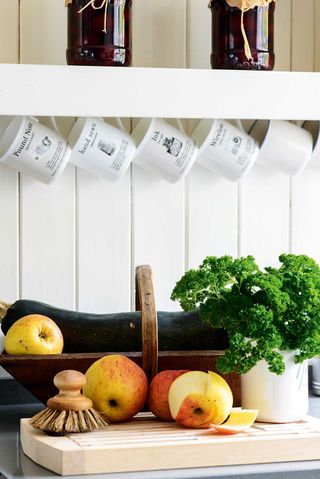 A trug from The Old Pill Factory adds a vintage touch
Grey, off-white and cream combine for a calm, relaxing feel in the guest bedroom, complemented by antique furniture with a distressed paint finish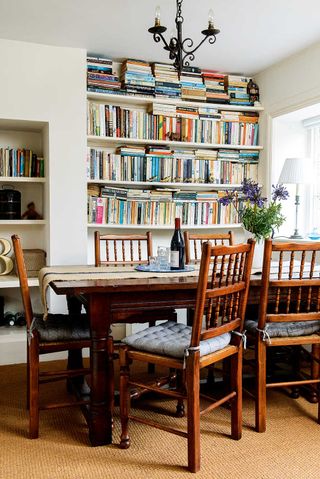 Bethan has an antique table cloth to suit every occasion, including French linen for summer dinner parties and German embroidered cloths for Christmas celebrations. For a more casual look, a piece of vintage mangle cloth, from The Old Pill Factory, makes a perfect table runner to suit the antique dining set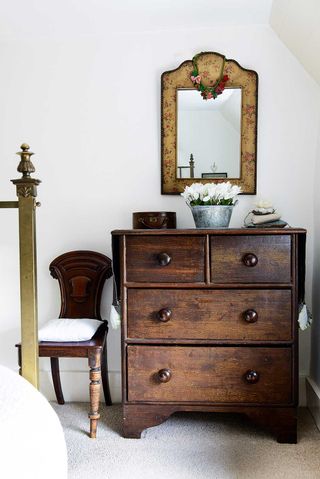 Bethan's antiques dealer friend Alison supplied the antique chair. The chest of drawers is partially made from fruit crates finished with a dark stain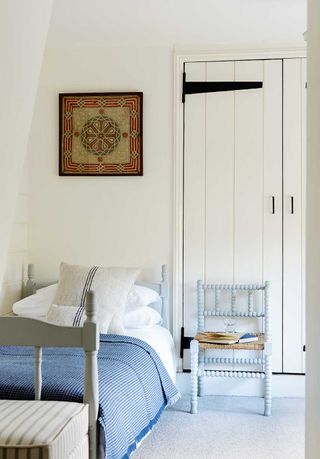 The understated charm of the guest bedroom is offset by a Georgian tapestry. Bethan painted the bed frame and chair in Annie Sloan's Paris Grey. The throw is from Melin Tregwynt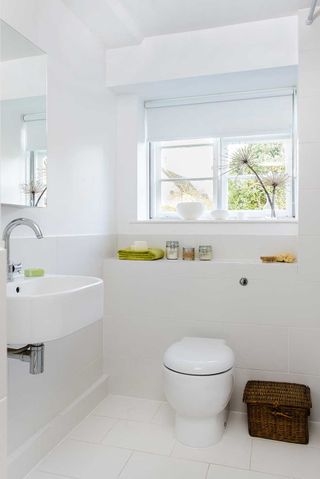 A new bathroom introduces a modern touch upstairs. 'Again, I have used a white palette to make the room feel larger,' says Bethan. 'I like using large-format tiles in a small room and I find that experimenting with scale creates a more interesting scheme'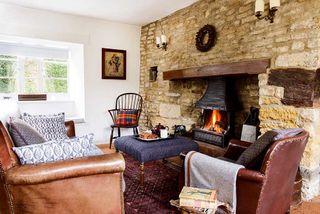 Bethan bought the chestnut leather sofa and chair from London's Portobello Road market and replaced the original seat covers with a knitted cable design, made by Elizabeth Tyers; 'I saw someone making and selling knitted items at a craft fair and I asked her to knit some seat covers for me. Even though it wasn't a typical request, she liked the idea of making something unusual,' says Bethan. 'I am thrilled with the results; I love the texture it brings to the room.'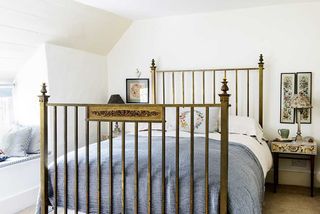 A brass bedstead in Bethan's bedroom, left behind by the previous owners, is dressed with embroidered linens. The floral cushion is from Blue Dog & Sought, and the mid-century bedside tables, upcycled with a découpage design, are by Emma Boyne
Author & Stylist: Ann Broad