THE STORY
Location: County Louth, Ireland
Period: Early 1700s thatched stone cottage
Size: Three bedrooms with a three-quarter acre plot
Owners: Sonja Bergin is a medical scientist and her husband, Kevin, is an electrician; they have four cats
Let Sonja and Kevin Bergin's sensitive restored of their thatch office inspire you to embark on your own project. And then browse more real home transformations...
After travelling the world for a couple of years Sonja and Kevin Bergin decided to buy a home in the Irish countryside, where Kevin had spent a happy childhood. They chose a thatched stone-built cottage and have been renovating for the last two decades.
Their passion for old buildings and their ability to rise above setbacks impressed our judges, making their home winner of Best Period Renovation in our Readers' Awards 2011.
'It took nearly a year to buy this house,' explains Kevin, 'as the purchase was subject to planning permission for a septic tank. This was frustrating but it gave us more time to gather funds: we couldn't get a mortgage as the building was thatched and had no services, so we had to apply for a personal loan.'
'But there was great excitement when we finally got the original key the following summer,' Sonja adds. Although the property had been empty for 12 years, it had been well looked after: while the roof needed initial repairs, the building was structurally sound. However, there was just electricity in a couple of rooms, no running water and no indoor lavatory.
Sonja explains: 'As Kevin and I didn't know much about traditional renovating, we hired a builder to bring it up to a habitable standard.' He put in timber and stone flooring, plastered the walls and ceilings, built a partition wall for the bathroom and inserted a staircase for the master bedroom, which had been accessed by a ladder. Meanwhile, Kevin wired the property, and his brother-in-law helped him with the plumbing for the bathroom and kitchen.
Unfortunately, the work had included finishing some of the walls with concrete; years later, Kevin went on specialist courses and learned that it wasn't good for the house so set about putting it right. Repairs included chipping back the modern plaster and redoing it with lime, which Kevin mixed and applied himself; with the help of his brother, Joe, he also repointed the walls using lime mortar and finished them with 12 coats of limewash.
Beneath more cladding, other apertures have been discovered throughout the house. 'There's a small window in our bedroom that still has one tiny shutter on it,' Sonja explains. 'It had been blocked up with stone by a previous owner. And there are useful recesses and cupboards built into other walls.'
MORE FROM PERIOD LIVING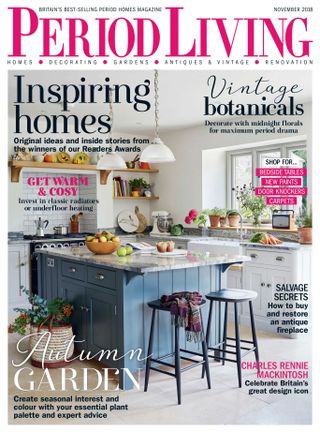 Period Living is the UK's best-selling period homes magazine. Get inspiration, ideas and advice straight to your door every month with a subscription.
As and when time and money allowed, and when new knowledge was gained, the restoration progressed. 'When we first bought the house there was a plywood ceiling in the kitchen,' says Kevin, 'and when we removed it we discovered a massive beam that spanned the room; a huge hearth had been blocked up as well so we restored this to its original state.'
Further work has included stripping wooden floors upstairs, painting the floorboards in the master bedroom pale blue, and redecorating.
'We wanted to maintain the whitewash on the exposed stone walls, inside and out,' says Kevin, 'and we freshened up the woodwork – the exterior window frames and door are now blue.'
But to complete the biggest job – replacing the thatch – they've had to call in professional help.
'Last year, we hired a local master thatcher,' says Kevin. 'He found nearly two tonnes of junk in the old thatch: there were concrete slabs, tin sheets, slates and plastic bags all hiding under the straw.'
'Thanks to Kevin's vision and hard work,' says Sonja, 'the house is now a protected structure (Ireland's equivalent of a listed building) so the architecture will hopefully survive for generations to come.'
Budget breakdown
Septic tank, well and labour
£5,000
Building work
£8,600
Plumbing
£1,500
Electrics
£500
Central heating
£1,200
Window repairs
£200
Roof repairs/new thatch
£25,200
New kitchen
£500
New bathroom
£500
Furniture
£4,500
Lighting
£200
Paint
£400
Flooring/carpets
£800
Accessories
£500
Garden
£1,500
Total cost of renovation
£51,100
More inspiring thatched homes to explore: