Are you that homeowner who has more dog beds than actual human beds? You have signs everywhere that say stuff like Home is Where the Dog is? And Please Wipe Your Paws? No no, we aren't judging. In fact we fully condone all dog-related homewares.
So for all you fellow dog lovers who aren't afraid of a chewed up sofa leg or the odd carpet stain, we've rounded up some of the most fabulous pooches from some our favourite real home transformations... Take a peek below and click the links to see more of the homes (with and without the dogs).
1. Check out this converted factory
Yer yer, gorgeous exposed brick, beautiful high ceilings, swoon worthy Mid-century furniture, we get it. But can we all just take a moment to appreciate Baci, the King Charles spaniel who also inhabits this Victorian factory conversion in east London?
Find out more about taking on a conversion in our guide, too.
2. Take a look around this renovated thatched cottage
Whether you're looking for inspiration to tackle your own period property renovation project or just fancy a look around a cute country cottage, we're sure you'll fall in love with this thatched holiday cottage (and of course Flora the gorgeous chocolate lab who lives there).
Find out how to tackle your own project in our guide to renovating a house.
3. Love industrial interiors? Take a look at this kitchen extension
The owners of this extended Victorian property spent 12 years renovating and perfecting their home, completing a lot of the work themselves and carefully selecting new, vintage and reclaimed pieces to fill the spaces. So we bet you are dying to have a snoop round? No? Just want to see pictures of their dog Copper, the poodle? Okay here you go...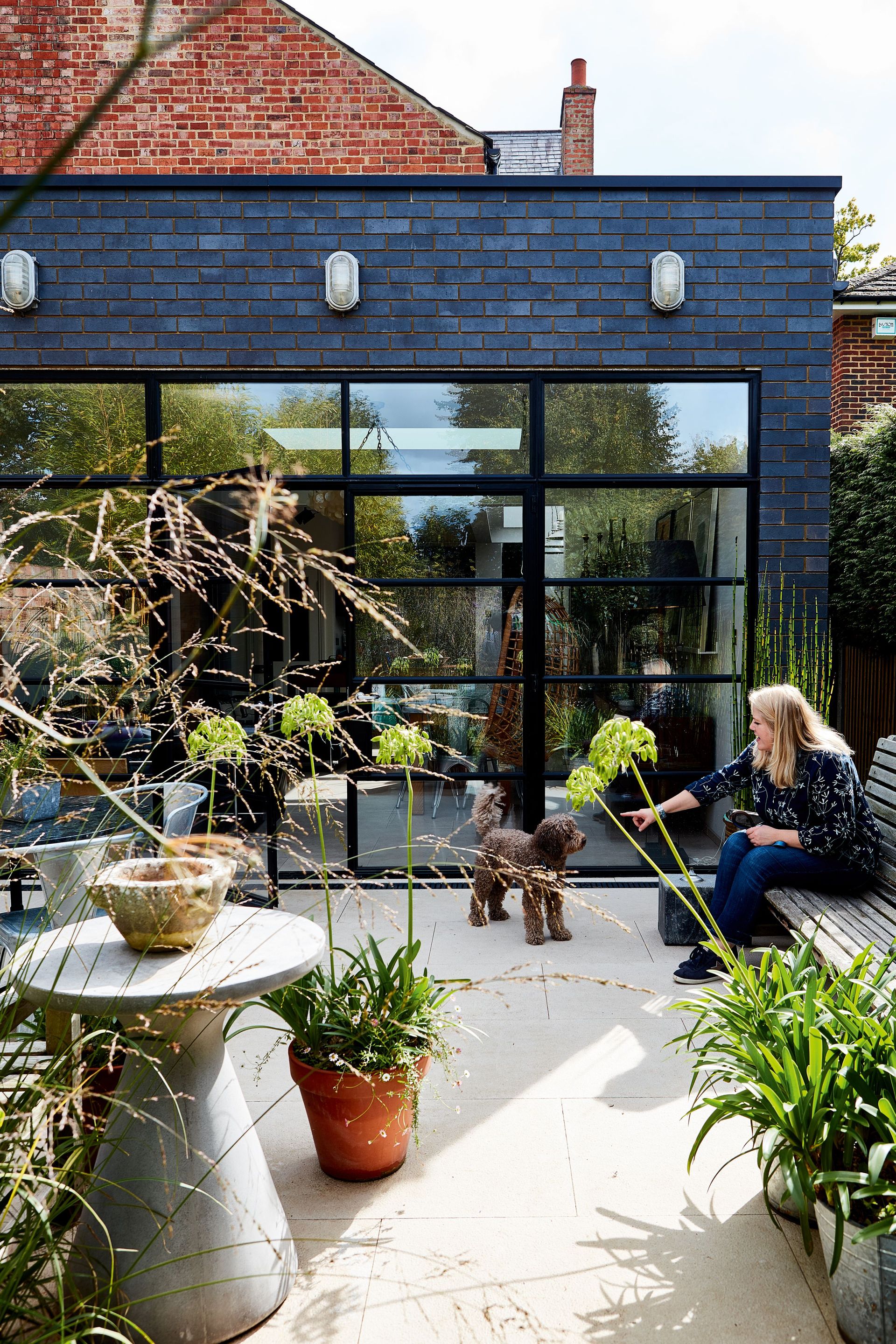 If you are actually looking for advice on renovating a Victorian property make sure you have a read of our guide too.
4. Take a tour of Lisa Dawson's insanely Instagrammable home
If you spend an fair chunk of your time scrolling through Instagram for interiors inspiration chances are you might have come across Lisa Dawson's house before. Oh and if you've ever picked up a copy of Real Homes magazine, you definitely will have read her monthly column. But sorry Lisa, we're not here to swoon over your gallery walls today, we are here for your darling Lhasa Apso Buddy...
Why not have a look at #sorealhomes, our Instagram community?
5. Snoop around a new-build log cabin with serious hygge factor
This stunning log cabin may just be one of favourite houses to grace the pages of Real Homes. Wood panelled walls, sheepskin throws and beautiful upcycled furniture; does it get any more dreamy? Yes, yes it does because there is also a dog. Meet Pepsi.
Can we get one facing the camera please Pepsi? Ah, we can. Thanks.
6. Feel inspired by this award-winning kitchen extension
Adding a kitchen extension to a home is no small feat especially if you are somewhat restricted by a small budget. But we think this open plan kitchen extension that came in at under £35,000 proves how much you can do if think a bit more creatively.
We do reckon that this homeowner had a fair bit of help from Coco and Winston here too...
Use our guide, too, to find out more about planning a kitchen extension.
7. Have a look around this bright home transformation
Green sofa? Check. Purple carpet? Check. BLACK LAB?! Check. If you are looking for some inspirational ideas to inject some colour into your space, take a look around this 1980s detached house that been transformed into a bright, beautiful home filled with loads of eclectic finds.
Jealous of that dog hair free rug? Maybe it's time to invest in a vacuum for pet hair
– check out our pick of the best.
8. See how old and new styles work in this kitchen extension
Well this bright industrial-style kitchen-diner extension is so darn gorgeous it looks like it's come straight out of a show home. Even Audrey the sausage dog looks like she's been hired to roam around just looking cute.
Love the look of exposed brick walls? You can actually create them yourself and it's not as difficult as you might think, check out our guide to creating a feature wall with exposed bricks to learn how.
9. Be surprised by this country-style kitchen extension
Blending a new kitchen and bedroom extension with an original ancient timber-frame building proved quite a challenge when renovating this period property, but turns out a modern glass link was the perfect solution. Go and take a tour of the whole project to see how it turned out.
Oh, sorry, and here's a pic of Phoebe, the resident Lurcher, enjoying her corner of the utility room...
10. Go dotty for this renovated school house
Get it? Dotty? Dalmatian? Too much? Whatever, here's another picture of a beautiful dog in a beautiful home.
Make sure you take the full tour of this seriously impressive renovated school house.
11. Be wowed by this boldly decorated period cottage
So much amazing styling going on in this dining room (and yet all we can focus on is the super cute dog!), from the turquoise ceilings and animal print wallpaper to the terrazzo topped table and velvet bar stool, this 1800s cottage is full of surprises.
12. Take a look around this colourful cottage
Imagine being greeted by this beautifully colourful front garden (and, of course, Ethel the labradoodle) every day! What lies behind the front door is equally inspiring, so go and take the full tour of this charming country cottage with filled with colourful vintage finds.
13. Have a snoop around a renovated château
Days spent running around this idyllic château, lazing in the courtyard, exploring the nearby medieval castle... sounds like the perfect life for any dog, or any human for that matter. Go and have a look round the rest of this gorgeous French property, but be prepared to feel incredibly envious...
Nawwww we couldn't not include this pic. Got a new friend there mate?
Read more about dogs (and homes)...