Barn conversions are a popular option for renovators seeking a unique space to call home. While these projects require careful planning, flexible budgeting, good design and plenty of patience, the results are more than worth the investment, both time and money wise.
Our 10-step guide to tackling barn conversions is the perfect accompaniment to your house renovation project, guiding you through every stage of the process with help from barn conversion experts. We also take a look at how to convert a disused church or school, too.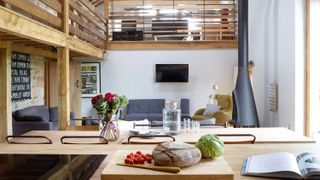 1. Find a barn to convert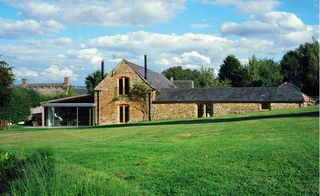 If conversations with estate agents and your local council have proven fruitless, Plotfinder is a great place to find potential barn. You can also use it to look for potential school or church conversions. And for finished barn conversion ideas you can look to our edit.
2. Budget – how much does a barn conversion cost?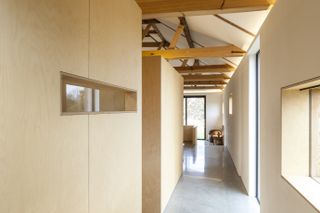 Overall, you will probably end up spending more on your conversion as a rate per sq metre than you would if you were building from new. 'Whereas your new house might have cost you £1,700 sq metre, rising to £2,500 sq metre for high spec, a barn conversion, for example, could be up to £3,000 sq metre for the same spec,' says Oxford-based project manager and chartered quantity surveyor Jon Darnell. Expect the following possible costs:
Underpinning can cost from £3,500 to £3,800 per metre, depending on the level of access available and the stability of the existing structure.
Disposing of asbestos costs from £250 to £350 per tonne, which might be the equivalent of 25sq metres.
Stone repointing, which makes a huge difference to the appearance of the building, might be between £25 and £30sq metre for cement lime mortar and another £20sq metre on top for pure lime mortar.
Spraying timbers to protect them from damp is worthwhile once the source of dampness has been eliminated – expect to pay around £1,000 to £1,500 for a 2,000sq foot barn.
Before you make an offer, ask several local estate agents what the barn might be worth if you were to convert it, taking note of any advice they might offer to maximise value. The same advice stands if you are converting a school or church.
Ask a building surveyor – try Royal Institution of Chartered Surveyors – or structural engineer to survey the building to highlight any structural problems and to give you rough costings. If you have an architect in mind, it will also be worth asking for a site visit to talk through ideas and costs, too.
'Planning and project management is key,' says Luke Winham, who is director of Vision Residences and has 20 years' experience of property development. 'Whilst developing old buildings can be rewarding, it can be timely and expensive. Keep your eye on your budget as old buildings can sometimes unearth extra development costs which you may not have accounted for and can very easily cost a lot more than you initially thought.'
3. How to get planning permission for barn conversions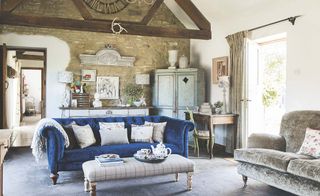 Spotted a potential conversion project? Or perhaps you've noticed an abandoned church or empty school? Contact your local planning department to see if approval for 'change of use' is likely to be given. Bear in mind that you won't be able to apply for outline planning permission because the council will want to look at a full planning application in great detail.
Check whether the building is listed, in which case you need listed buildings consent, and find out if the building is in a conservation area, which will further restrict what changes can be made. Finally, if it is a church, you will need permission from the church authorities.
Planners will be more likely to approve applications that are sympathetic to the original building's external appearance, which will mean restoring windows and doors, and using reclaimed or like-for-like materials. You may find that the alterations you are allowed to make inside are limited, or have to be reversible, too.
Read our guide to planning permission for more information, and check out the advice below which might help you push an application through.
4. Upgrading the building's fabric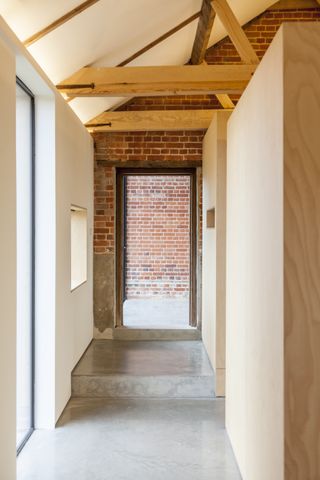 For best effect, use materials that are core to the original building's character. Inside or out, it should still obviously be a barn – a conversion where the original architecture is hidden won't be as successful.
David Nossiter the principal of David Nossiter Architects who specialises in barn conversions advises "Barn constructions fall into three main categories: Timber framed, masonry and metal-framed structures. Use local materials for repairs and re-use original materials where possible. If you introduce new materials, decide whether they are appropriate for an agricultural building. Consult with a structural engineer before undertaking work to structural elements and of course ensure you have the necessary permissions in place."
5. Plan for natural light
Since you cannot usually add extra openings, install glazing into existing ones to make the most of the views. Where permitted, use the largest skylights – this works really well in double-height spaces.
Plan your layout carefully so the rooms without much natural light are those that don't need it: a cloakroom, utility, larder, media room or snug.
6. Highlight special features
Make a feature of the staircase by using materials that contrast with the barn, such as steel and glass, or which complement it, such as timber.
Joining two barns together? See if the planners will agree to a sleek, glazed passageway. 'I like to make the new work contemporary,' says architect Ben Parsons. 'This normally means glazed elevations and a lighter-looking structure, acting as a counterpoint to the (typically) heavy original building.'
7. Tackle roofing
"The roof is usually the largest element of a barn meaning that its renovation and upgrade will be a significant outlay. Large roofs shed large volumes of rainwater so do not skimp on drainage." Advises David Nossiter.
8. Upgrade the flooring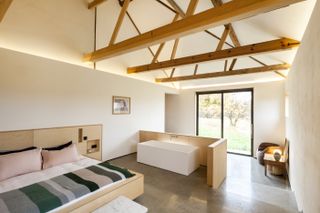 "Most barns do not have concrete
 floor slabs to building regulations standards. Floors may be paved with bricks or a thin concrete oversite slab, laid to fall for sluicing out."
"When breaking out an old slab, be careful not to damage the existing walls. Any services penetrating the floor will need to be coordinated before the slab is cast. The floor will also need to be insulated and a damp proof membrane installed. Work back from your finished floor level." Advises David Nossiter.
9. Think insulation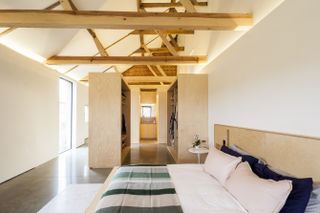 "It is difficult to seal insulation around old timber framed structures. The usual method is to insulate between the timber members with mineral wool and then add insulated plasterboard internally. However, insulating internally can cause condensation issues, you may need to incorporate a ventilation gap and a vapour barrier. Seek product manufacturer's recommendations and professional advice ahead of the works."
"An alternative is to add a new insulated layer externally. But, be aware that this approach requires thought at an early stage because such measures might have to be included as part of your planning application."
"The aim in all cases is to create an airtight sealed continuous envelope that is not compromised around the irregular shaped timber structure." David Nossiter.
10. And, heat recovery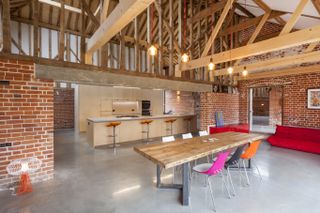 "Tall, lofty barns are difficult to heat effectively, suffering from the 'stack effect'. That is, warm heated air emitted at low level rises and congregates in the apex of the roof space. One method of overcoming the issue is to install a mechanical ventilation and heat recovery system (MVHR). Warm air gathering at high level is extracted and ducted to a heat exchanger where it is used to warm incoming filtered air at low level." Recommends David Nossiter.
Potential problems when converting a barn
'Barn conversions can be expensive if the building's condition is worse than appears on the surface,' advises architect Ben Parsons. 'They weren't always built for longevity – very shallow foundations that will require underpinning are not an uncommon discovery.
'Other structural defects, such as cracks in walls, rot that requires replacement timbers, failed roof structures that cause further stress on the rest of the property, and contamination within the building and around the site, all add to costs.'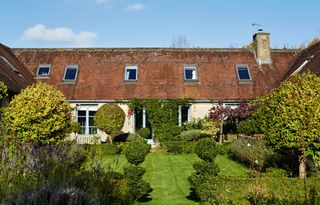 'Generations of farmers may have tried to keep their low-value barn safe and waterproof, but making it look pretty was not a priority,' says project manager and chartered quantity surveyor Jon Darnell. 'I have come across traditional oak roofs that have been replaced by corrugated steel or asbestos sheet.
'Other patch-ups you might have to undo are blockwork sections instead of good stone repairs, and hard grey mortar used in an ugly attempt to stop stone erosion.'
David Nossiter also advises on the following repairs you may encounter when planning a barn conversion:
Timber Repairs:
"If your barn is constructed from timber it is highly likely that you will need to undertake some timber repairs. Most structural timber members can be repaired. If your building is Listed you will wish to retain as much of the original fabric as possible. Once adequately propped, decayed timber is removed and new sections scarfed in with matching wood."
Masonry Repairs:
"Avoid cement renders as they seal
 in condensation and moisture. Breathability and flexibility are important considerations. Use lime based renders, which are vapour permeable and accommodate an amount of building movement. Lime based materials require protection from frost and execution is undertaken during warmer months."
Reclaiming VAT on a barn conversion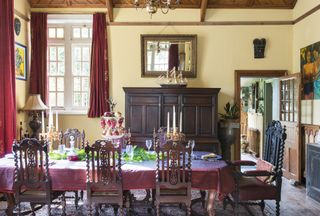 As a DIY-er, you can reclaim the VAT paid for labour and materials on a barn conversion project without needing to register. When work is complete, all relevant receipts must be submitted with the paperwork to the central VAT offices, and a refund cheque will be sent.
If your builder is VAT-registered, they should invoice their labour and materials at a reduced rate of 5 per cent. The same stands for school and church conversions.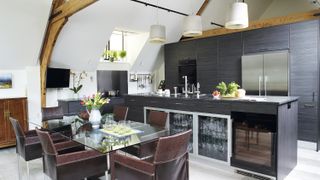 Looking for more renovation advice?