Aldo and Elisabeth scoured London and even contemplated moving to Brighton when searching for their perfect property. They found it in the former factory, which was only a mile away from the two-bedroom flat where they were living at the time.
Project notes
The owners: Elisabeth and Aldo Ciarrocchi,
who run a reclamation business, Encore Reclamation, live here with daughters Isabella, nine, and Piera, seven, and their King Charles Spaniel, Baci
The property: A four-bedroom duplex apartment inside a Victorian factory conversion in east London
Total project cost: £120,200
'Out of curiosity, we came to view it,' says Elisabeth. 'We both liked the idea of warehouse-style living, and as soon as we walked inside, we fell in love.'
The previous owners had turned what was once a pet-food factory into a homely apartment, but on a tight budget. They'd then rented it out for several years.
'The entire ground floor was covered in cheap laminate flooring, and there was even a basketball hoop hanging from one of the pillars,' recalls Elisabeth. 'The kitchen was cluttered with too many wall cabinets and had a low bulk-head ceiling to accommodate the sunken bath in the ridiculously large bathroom above.'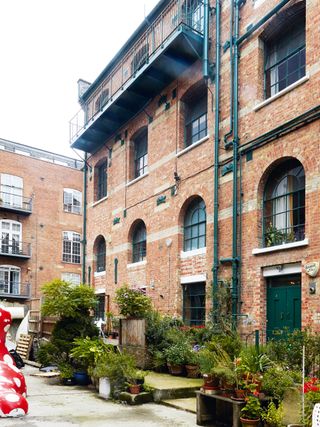 An empty shell in what was once a pet-food factory has been turned into a stunning loft-style home
The family moved in during 2010, replacing the flooring with reclaimed wooden floorboards from Crosby Hall in London's Cheyne Walk. They then lived in the space before starting the renovation so they knew how to make it work for them.
They consulted five architects to find one that would listen to their ideas. 'Space Group Architects really understood that I wanted to keep things simple,' says Elisabeth. 'Plus the company is local, which was handy when it came to picking up samples.'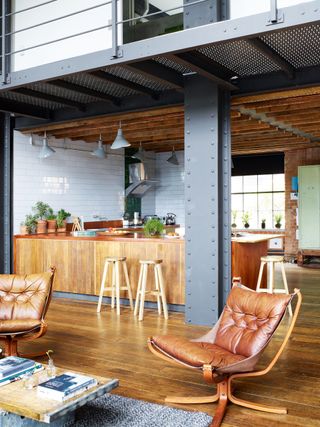 The previous kitchen had wall units, but Elisabeth felt these separated the cooking area too much from the rest of the living space, so all the storage in the new kitchen is low lying. Skogsta bar stools, Ikea. Benjamin Elliptical grey enamel factory lights, Ebay. The splashback tiles are original Edwardian fireplace tiles, from Encore Reclamation; for similar, try Topps Tiles. Extractor fan, Currys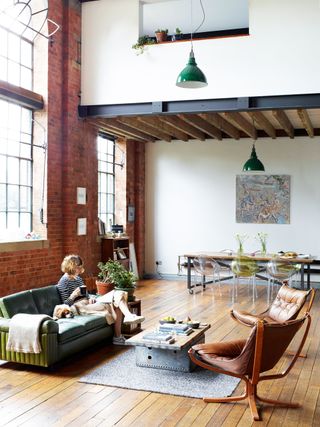 The double-storey living area is flooded with light from the original Victorian windows. The dining table, from Moosejaw Woodworks, is made from reclaimed French carriage oak and has been put on wheels to make it easy to rearrange the space. Mr Impossible dining chairs, Philip Starck for Kartell. For similar flooring, try the Natural Wood Flooring Co.
Upstairs, the floor of the loft was bowed as the joists had been laid too far apart, so additional steel beams had to be inserted to rectify this. No other major structural changes were being made so the scheme didn't require planning permission.
The layout of the large double-height living space remained the same, but Elisabeth and the architects designed the kitchen peninsular on wheels so that it can be moved around to work as an island unit or the space needs to be opened up for entertaining. The dining table was also put on wheels for the same reason.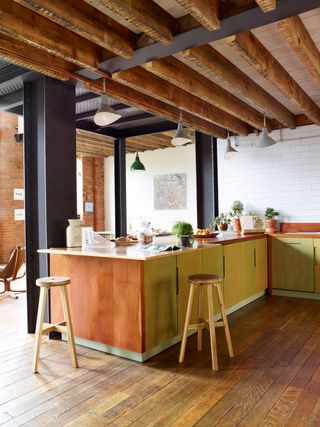 The wide peninsular unit has an overhang at one end to double up as a breakfast bar. Elisabeth had a kitchen fitter make and install the fronts of the unusual tonal olive kitchen units, which were created by leaving the simple moisture-resistant MDF in its unpainted state and finishing with shellac. B&Q's Cooke & Lewis carcasses were used for the cabinets, which start at just £26 each. Crackle glazed ceramic apothecary vase, Pastel Lane
On the first floor, the walls were moved further in to widen the mezzanine, and the vast bathroom was split in two to create an en suite to the children's bedroom. The internal windows within each room that open on to the mezzanine were also repositioned and widened to bring in more light.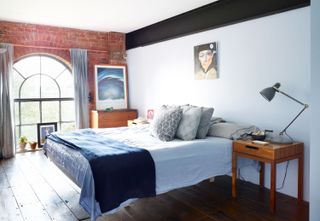 Elisabeth has furnished the master bedroom with vintage furniture in keeping with the period of the property. Island super-king bed, Warren Evans. Vintage chest of school drawers with formica top and wooden bedside table, Ebay. Grey lamp, Anglepoise. For similar grey curtains and bedding, try John Lewis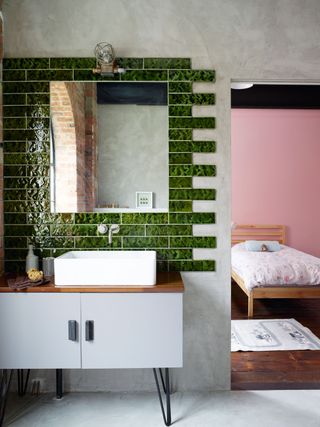 The original bathroom was split in two to create an en suite to the girls' bedroom. The bespoke vanity unit, made by DWM Interiors, provides ample storage. Karl rectangular washbasin, Bathstore. Handmade ceramic tiles, Rachel Puckey. For a similar mirror, try Wayfair. For a similar child's bed, try Ikea. Try Farrow & Ball's Cinder Rose for a similar pink wall colour
All of the construction work was carried out by DWM Interiors, a company which was recommended to Elisabeth and Aldo.
The family moved to another apartment within the complex for four months while the work was being carried out. 'When we returned, it was still a building site,' says Elisabeth.
'We lived here for three weeks with no toilets or showers, using running water from a single sink that the plumber hooked up. We didn't have a kitchen, just a fridge, a panini maker and a hot plate!'
Costs
Construction: £48,000
Bathrooms: £19,000
Metalwork, including structural steel, stair treads and upper walkway: £18,000
Flooring: £15,000
Kitchen: £12,000
Decoration: £4,000
Building work: £3,500
Garden: £700
Elisabeth's desire to retain the building's factory feel helped keep costs down. 'I like the unfinished look,' she reveals.
'I told the builders I didn't want anything to look sleek and polished. As the builders were running behind schedule, they fitted the kitchen door fronts temporarily for Christmas.
'The plan was to take them off and paint them later. But once they were fitted in their pure MDF state and finished with shellac, we liked how they looked. The kitchen fitter thought I was crazy, but now he's grown to like the style too and is fitting similar kitchens elsewhere!'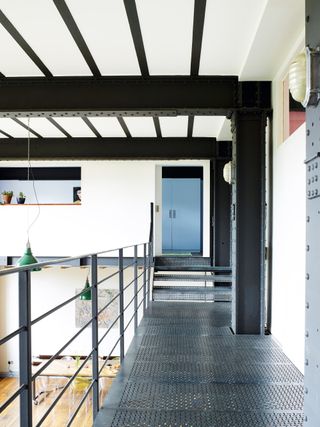 A corridor overlooking the living space links the upstairs rooms. New windows allow light to flood into the bedrooms and bathrooms. Walls painted in Valspar's Modern Grey. For a similar shade to that used on the beams and metalwork, try
the brand's Dark Kettle Black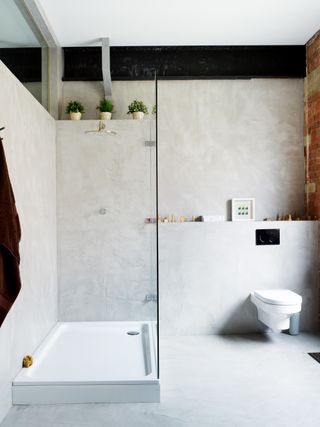 Waterproof micro-cement has been used on the bathroom walls and floor. An internal window above the shower sends light into the girls' en suite next door. Shower tray, QS Supplies. Custom-made glass shower screen, cut and fitted by O'Shea Glass & Glazing. Toilet, Hatria. Bath towel, Sheridan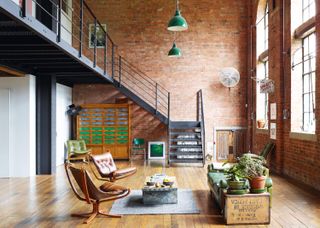 The exposed brick walls are a reminder of the building's architectural heritage. Pools of light from the vintage industrial pendants from Encore Reclamation add warmth to the lofty space at night. The side table was created from an old tea crate from the East Africa Tea Company. The vintage sofa and Sigurd Ressell Falcon chairs were found on Ebay. Elisabeth and Aldo made the coffee table by bolting together some reclaimed wood on a galvanised tub they found through their business
Most of the vintage furniture is sourced from Ebay, or was picked up by Elisabeth and Aldo in their reclamation work.
Now that everything is finished, they couldn't be happier with the space. 'I wouldn't have done anything differently,' says Elisabeth. 'Although it was challenging moving back in mid-way through the work, now it's perfect for us as a family.'
Contacts