Mary Gwynn's historic East Sussex home has been through a huge five-year programme of renovations. It had been used as a weekend home by its previous owners and was liveable, but in need of rewiring, replumbing and a new bathroom.
The kitchen was always going to be the most important room in the house for Mary, who is a food writer, and rather than being put off by its dated kitchen she was delighted.
Project notes
Owner: Mary Gwynn, food writer and author of many cookery books, (The WI Cookbook: The First 100 Years, Ebury, is one of her most recent) lives here with her lurcher Phoebe, and Jack Russell Ruby
Property: A Grade II-listed timber-framed Weald hall house, possibly built as early as 1450, in a Conservation Area, near Tunbridge Wells on the Kent/East Sussex border
What she did: Demolished an outhouse and a downstairs bedroom extension, adding a kitchen extension with a glass link to a new vaulted bedroom extension. Mary restored the home's many period features
'I have very specific requirements for writing and testing my recipes and I really use a professional kitchen, so it was actually a relief to know I wasn't going to be ripping out perfectly good units,' says Mary, who had envisaged just a small extension.
The planning department, however, suggested knocking down an outbuilding and ground-floor extension (added in 2001) and replacing it with a downstairs bedroom connected to a new kitchen extension by a glass link, so it ended up being a much more complicated job.
Most of the recent work on the house had done nothing to enhance it. A brick fireplace had been added in the living room, and fitted wardrobes had been built along the full run of two walls in the main bedroom, totally obscuring the room's ancient timber frame. False ceilings in the old kitchen - which is now the entrance hall – had made the space cramped and claustrophobic.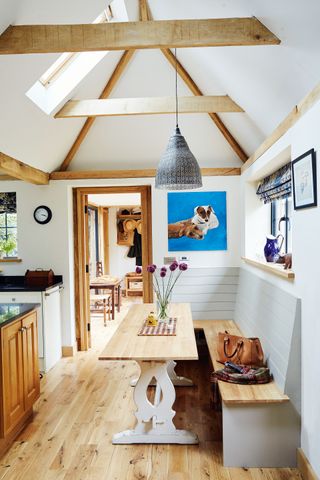 Mary's kitchen is also her workspace – she writes her recipe books at the oak table and bench made by Sibyl Van Praag at Factotum. The portrait of her dogs is by Kate Towers. The metal pendant light is from Mark Maynard and the blind fabric is Warwick's Anthropology in Denim. For similar engineered oak flooring, try Quick-Step
Mary and her Jack Russell Ruby
Phoebe makes herself comfortable in her utility room bed. The jugs were part of a job lot of 15 blue and white designs that cost just £120 at auction. The sink was recycled from the original kitchen
A dark grey Everhot range cooker and granite-topped island create a smart contrast with the painted cabinets from Howdens and oak worktops around the edge of the room. A CDA gas wok burner has been installed on the island. Dotted between the plain tiles above the cooker are a few antique Delft tiles that belonged to Mary's mother
Mary designed the larder cupboard herself and chose Farrow & Ball's Pitch Blue as a contrast to the other units
Thankfully, the Listed Property Owners' Club were on hand with advice on how the house could be brought up to date sympathetically, while staying true to its rich Weald hall heritage. A complex planning process ensued, lasting more than two years, and delays with building and changes of contractors all added to the stress of the renovations.
However, as the true character of the original home started to emerge Mary found that her cherished family heirlooms and assorted auction finds were coming together to create a comfortable and very harmonious home with something to interest and catch the eye at every turn.
'These are all things I've moved from house to house, things that I remember seeing in my grandparents' homes even, so it's great to see them have a chance to shine - just like the house itself.'
Possibly built as long ago as 1450, the Grade II-listed property is a timber-framed Weald hall house. It overlooks a large front garden, with a door from the living room to a seating area
The side of the house with the village church beyond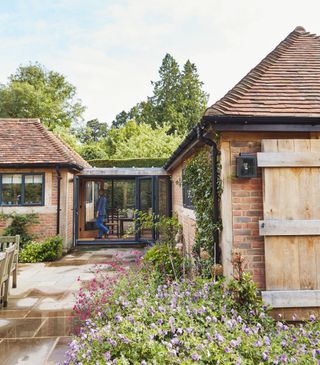 Mary's sister, garden designer Jane King, came up with a planting scheme to ensure the garden looked just as good from inside the home as outside, reasoning we spend more time inside than out
A local planning officer suggested connecting the kitchen to the bedroom with a modern link, creating another great place from which to enjoy the garden. The bench and hat rack are from Ikea, the side table belonged to Mary's grandfather and the rush seated ladder-back chairs and rug were auction buys
With its time-worn beams and cherished family antiques, the living room is full of familiar comforts. Mary has moved the Conran sofa from house to house, but bought the fire surround from a Petworth antiques market to replace an ugly 1970s brick fireplace. The armchair is from Settle, its cushion from an antiques fair, the ottoman is covered in a Mulberry Home fabric, and the curtains came with the house. The console table near the door was part of Mary's grandfather's extensive collection of medieval oak furniture. For a similar rug, try Olney Oriental Rugs, and for a similar standard lamp, try Broughtons
Balanced on her grandmother's bureau is a small painting of Mary's grandfather's horse, by the artist Lamorna Birch. His painting of St Michael's Mount hangs above the mantelpiece. An old leather firebucket is on hand by the hearth
A sofa from Settle, a Stovax wood-burning stove, an oriental rug and a bright Dorothy Dix travel poster from the 1930s, all add to the snug's warm, cosy feel
Mary bought the still life painting from a charity shop for just £10. The wingback chair was from Settle in Tunbridge Wells, the standard lamp is from The French House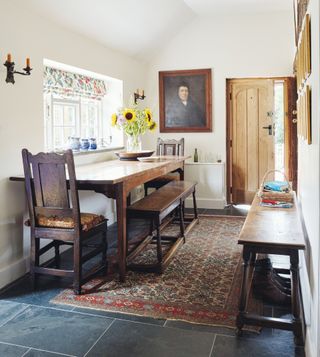 This light spacious hallway was originally a very drafty kitchen, with the sink where the front door is now. When Mary found that her antique French walnut table fitted the space perfectly, she knew she was truly home. The blind fabric is Sanderson's Amanpuri
The original floorboards and stairs were revealed when the carpet came up. Over the banister is an old Mulberry Home throw; for similar, try Oka. The blind fabric was from John Lewis. The medieval oak coffer was part of Mary's grandfather's collection
With two runs of fitted wardrobes removed and the original timbers back in view, Mary's bedroom is now much more at one with the house. A painted freestanding cupboard from Mark Maynard has replaced the ugly fitted storage. The curtain fabric is Sanderson's Woodland Chorus
The en suite bathroom, with bath and taps from Burlington
The guest room extension has been built where an old workshop once stood. For a similar bed, try The Original Bedstead Company. The large Monet-inspired painting is by Megan Davies, a friend of one of Mary's daughters