Many of us find that trying to balance our jobs and our home life is a constant battle between hitting deadlines, family time and hastily scheduled drinks with friends. For Jenny and Anthony, creating that balance was a key reason for their big house move.
'We both grew up in small towns in Greece, so we were after a slower pace of life,' Jenny explains. 'After a full day in London, we wanted to come home to a relaxed environment.' In the two weeks between getting the keys and moving in, Jenny and Anthony tasked themselves with bringing the house up to scratch.
Find out how she did it, then browse all our real home transformations. For practical advice on how to renovate a house, read our essential guide.
'We skimmed the Artex ceilings, painted the walls, stripped back the brown carpets and put in oak laminate throughout the house to create flow,' Jenny says. 'Those 14 days were so intense that for the next six months, we didn't want to put a single nail in the wall!'
PROFILE
The owners Jenny Kakoudakis, a financial crime compliance worker, her husband Anthony, a management consultant, their son, George, and black Labrador Bella
The property A five-bedroom 1980s detached house in Warlingham, Surrey
Project cost £15,600
When the couple did start decorating, Jenny was full of ideas. 'We'd lived in rental properties for so long, where you can't add any colours other than black, white or magnolia,' she says.
'We wanted to give the place some character and colour. We love Mid-century design and tried to combine pieces from that era with more modern items, as well as with pieces we've brought over from Greece – pieces that belonged to our families.'
Inspired by designers like Abigail Ahern, Jenny decided to go bold with her spaces. Some rooms worked better than others. 'My office has two dark walls to add a little bit of drama without being too claustrophobic,' she says. 'But I originally painted my husband's study pitch black, including the ceiling. We needed a flashlight to see! Eventually, I decided to add wallpaper to lighten it up. Anthony was like, "Thank God! I was beginning to feel really depressed in there.".'
Jenny's black and white office was inspired by a mural she won in a competition – a monochrome tree design with a linen texture. She initially wanted an extended desk space, but the quotes she got from joiners were out of her budget.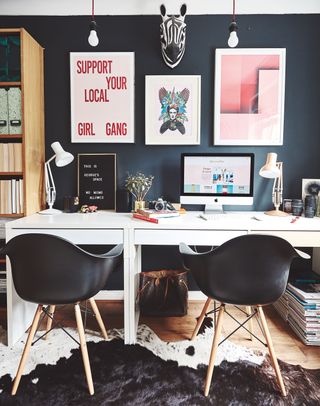 'I had a desk from my old office and George had a smaller one in his room, and it just happened that those fitted together perfectly,' she says. 'It means I can supervise him when he's doing his homework, and it's a fun area for him as well – it's a creative environment with lots of things to look at around the room.'
Jenny's collection of artwork features in nearly every room. 'I change it around quite a lot,' she says. 'I have a few favourite online sources – Art Republic and Southsea Art, for example. I try to find either limited-edition prints, which I invest in as a long-term purchase, or cheaper prints to change the style.'
READ MORE AT REAL HOMES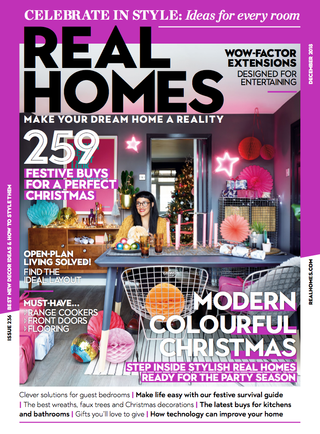 Whether you are extending, renovating or making over your home, Real Homes is packed with articles, information and advice. Subscribe and save £s
She's convinced that the trend for gallery walls will give way to something more considered. 'I think bigger artworks, limited-edition paintings or originals are going to be the way forward,' she says. 'We're going to get tired of having busy walls.
A big part of Jenny's design is about luxury. The mid-century furniture and Art Deco touches around the house certainly evoke sumptuousness – including the bedroom, with brass wall lights and a light pink velvet scalloped bed from DFS.
'It was a discontinued model, but a week after it went off their website, I called them and begged them to make one last one,' Jenny laughs. 'Luckily, they had enough fabric for one more.'
The living room is carefully zoned. 'Because it's a long, double-aspect room, it was difficult to create one united space,' Jenny says. 'We've separated it into two areas: there's a TV corner and a more formal seating area.'
Mid-century furniture dominates the space. 'The point is to add character,' Jenny adds. 'We have heirloom pieces that we brought over from Greece and reupholstered, and we mix them up with Mid-century styles, such as a green velvet sofa and West Elm armchairs.'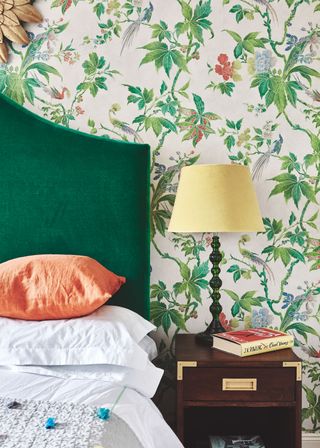 Jenny's biggest tip for homebuyers is to plan in advance. 'It might take you a lot of time to get to the style that you want,' she says. 'You might need to work one room at a time, so for some time you won't have very good flow through the house. Before you have the keys in your hand, have a plan and create moodboards.'
While it's taken a good few years to get to where they are now, Jenny and her family feel the benefits of having a well thought-out home. 'It addresses our needs,' she adds. 'It has plenty of colour, and we feel relaxed when we step through the door after a long day at work. It's a reflection of our character, our hobbies and our lives.'
SEE MORE COLOUR INSPIRATION