There's something truly magical about dining outdoors in your garden. Whether it's breakfast on the patio, a picnic lunch on the lawn, tea on the terrace, or a fancy supper on a balmy summer evening – feasting al fresco makes happy moments with friends and family all the more memorable.
Whether you're planning a garden redesign, or want to incorporate an outdoor dining area into an existing garden, we've gathered plenty of inspiration to whet your appetite, from the secluded corners of cottage gardens to lunch spots with breathtaking views and pretty country summerhouses.
Once you've finished browsing, get more practical advice and garden ideas via our hub.
Starting from scratch? If so, you should take a look at our garden design guide.
1. Design a cottage courtyard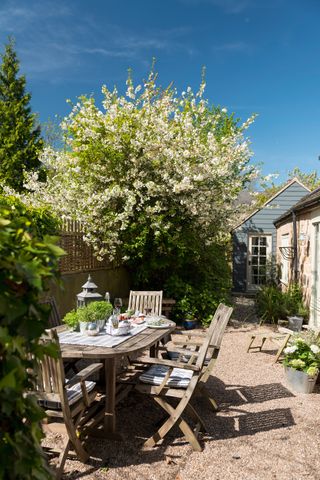 Small is beautiful, as this idyllic little cottage patio proves. Overlooked by a pretty blossom tree, it's a magical space for spring brunches.
For similar striped seat pads try Garden Trading.
2. Add traditional-style garden furniture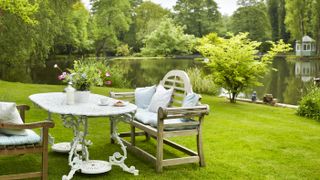 Oh to have a lake in your back garden! Conjuring picturesque Capability-Brown vistas, the magnificent grounds of this renovated Victorian watermill offer a breathtaking backdrop for garden parties. A vintage wrought iron garden table teamed with traditional benches are the perfect furniture pieces to sit and admire the view.
For similar, try Barlow Tyrie's Sissinghurst design.
3. Make the most of a small patio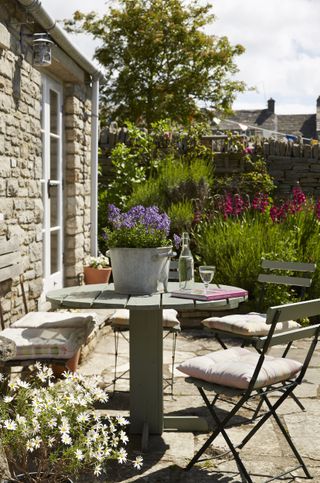 With plenty of small bistro dining sets available, you can make the most of even the most modest of patio spaces, whether it's for supper for two or a perch for some much needed gardening refreshment.
For a similar option to this wooden bistro set, try customising Ikea's TÄRNÖ design with a lick of paint and adding some pretty cushions.
Find out how to paint furniture in our guide.
4. Create a magical setting with outdoor lighting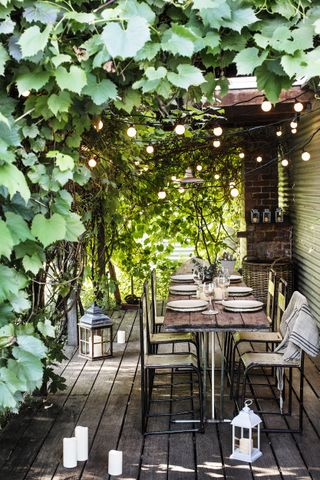 Why retire indoors when you can keep the garden party going after dark by factoring in lots of outdoor lighting options? Hanging plenty of festoon lights and dotting about lots of solar powered lanterns, such as these from Lights4fun, are guaranteed to create a party mood.
We've rounded up the best garden lighting ideas for more inspiration.
5. Extend your living space with a paved patio area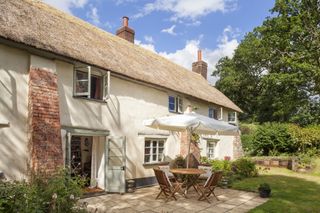 Create a seamless link between indoor and outdoor living by adding a paved patio area by your french doors. These honeyed stone slabs are the perfect compliment to the warm rustic finishes of this charming thatched cottage.
6. Choose the best spot for your outdoor dining set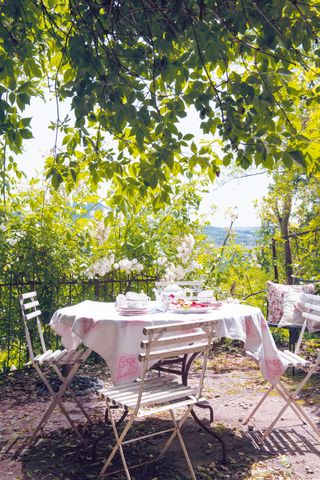 When William James bought his house in the Dordogne region of France, he invested in the land opposite the house, too, where he has created a terraced garden. To make the most of the dramatic views over the French countryside, he included a private but spectacular al fresco dining area, surrounded by David Austin roses that William planted himself, and among which he often has tea on a summer afternoon.
7. Add a country summerhouse – or a garden room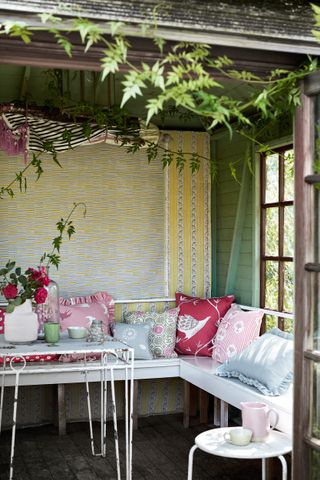 Whether it's a space to socialise, or to enjoy quiet moments of reflection, a summerhouse is a brilliant way to make the most of your garden – all you need is
a lick of paint and some pretty fabrics to bring it to life.
Get advice on adding a garden room in our expert guide.
Offering a beautiful mix of prints based on her family's original art, Vanessa Arbuthnott's Artist's Collection of fabrics is perfect for creating a folksy feel. Opt for pinks, reds and yellows teamed with pea green paint for a cheery summer palette.
8. Create a relaxed setting for a picnic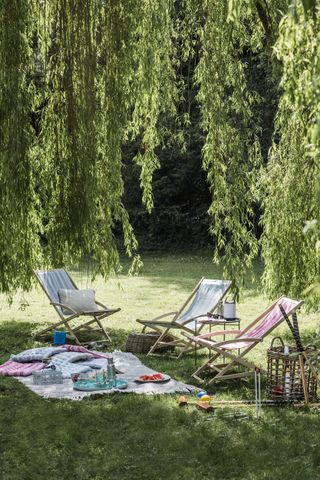 Don't have space for a dedicated outdoor dining area or a permanent outdoor dining set? Or perhaps you just fancy having lunch in a secret corner of the garden? Creating a picnic-style dining space could be the perfect solution. Easy to fold up and store away after use, these rocking deck chairs from Garden Trading are just the ticket, plus there are matching seat pads for little ones.
9. Inject rustic charm with weathered antique furniture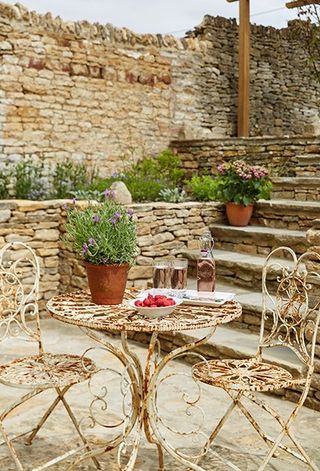 Re-landscaped with beautiful honeyed drystone walling, this sunken patio beautifully complements the rustic charm of this renovated Cotswold cottage. With aged patina, this vintage bistro set is the perfect fit. For similar garden antiques try Lorfords Antiques
10. Create a relaxed look by layering pretty textiles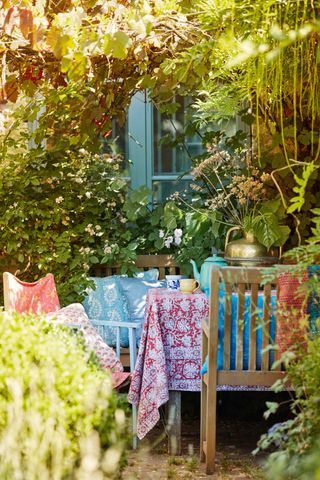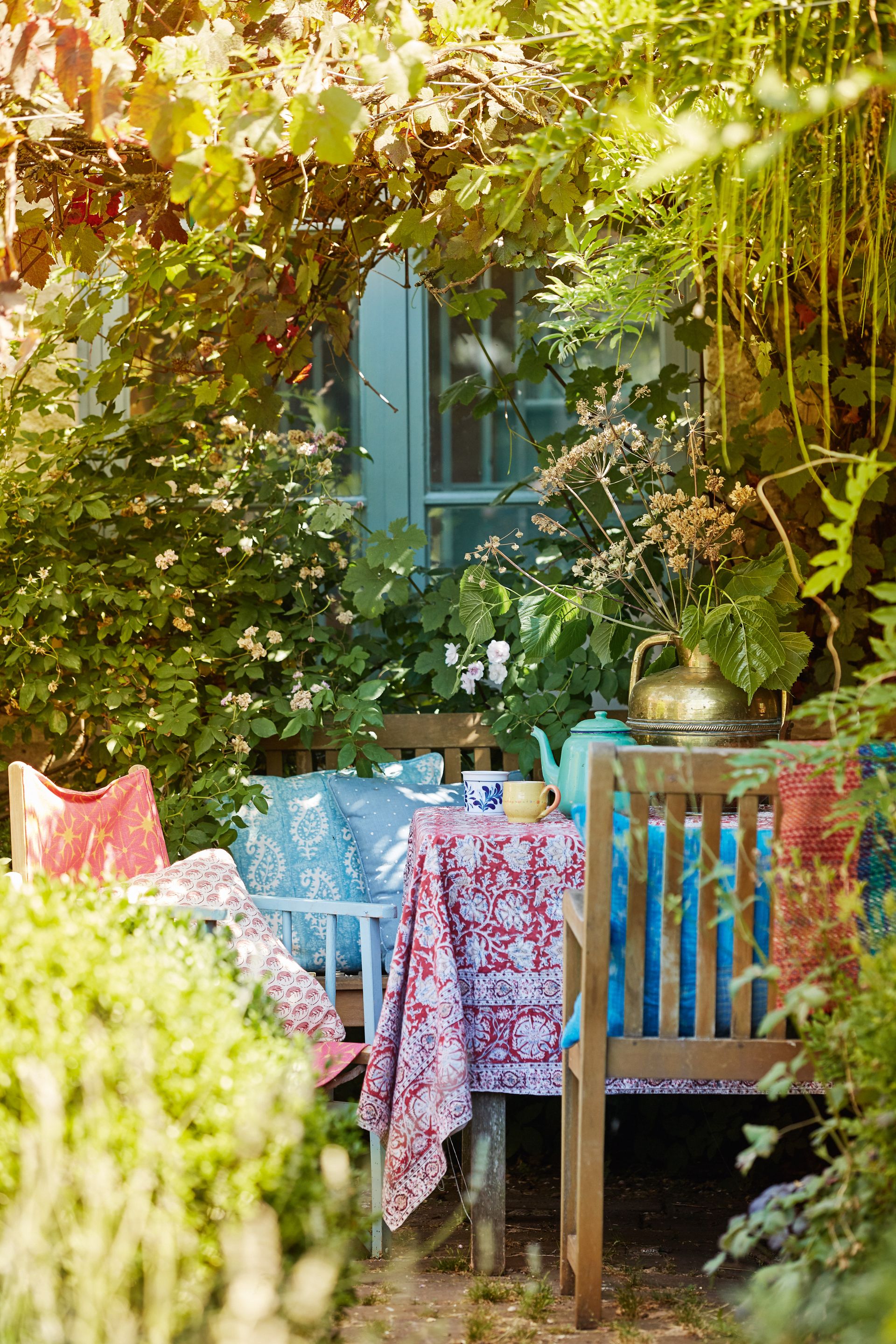 Mixing and matching a pretty tablecloth, cushions and chair covers for your outdoor dining space will help create a laid-back boho feel. Take a look at the plants around your garden to help inspire a co-ordinating colour palette.
Find out how to choose a garden colour scheme in our guide.
11. Create a dining area in a wild setting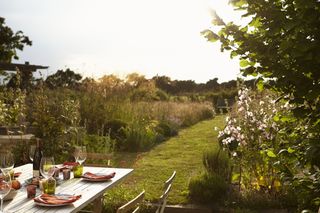 Perched at the top of this long, wild cottage garden is a perfectly placed dining table and chairs. Surrounded on three sides by the garden and countryside, it is a beautiful place to watch the sun set, and enjoy a glass of wine after a meal. Set on the Sandlings peninsula, a stone's throw from the sea, it is also a brilliant place for breakfast in the garden — a refreshing start to any day.
12. Create a lunch spot beneath the loggia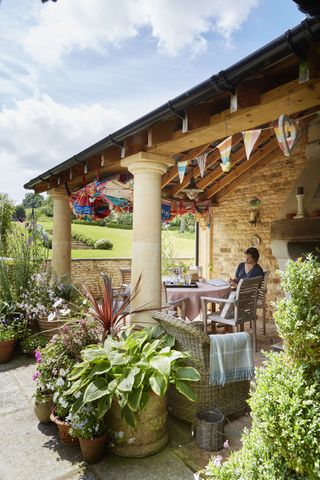 This beautifully constructed loggia with Cotswold stone columns, added to a grade II-listed home in 2010, offers a perfect shaded spot for lunching on a hot summer's day. A talented artist with a penchant for colour, the homeowner has added colour accents with plenty of potted plants, deckchair stripe bunting, and even plates on the wall. To create a magical mood and keep warm after dark there's also an outdoor fireplace, fitted pendant lamp and wall sconces for candles.
Find out how to plan your garden lighting.
13. Accessorise with plenty of soft furnishings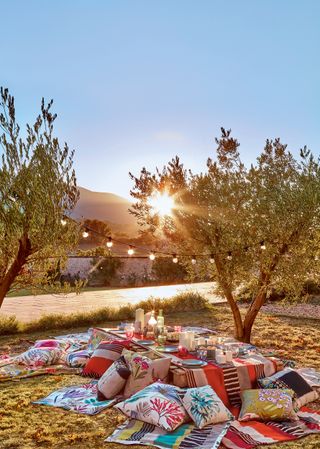 There's no better end to a warm summer's day than a relaxed meal with friends and family. For a laid-back festival vibe, try creating an impromptu table from a few salvaged crates and layering plenty of colourful fabrics and cushions to create a comfy space to hang out.
Covered in tropical-inspired prints in a palette of paprika, fuchsia, teal and lime, Zapara collection from Harlequin really captures the holiday mood. From £38 per metre.
14. Make the most of water features in your garden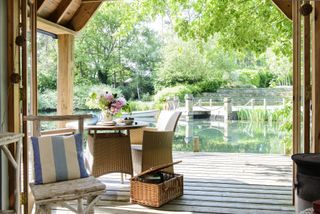 If you're lucky enough to have a lake, or any water feature in your garden, take the opportunity to watch the wildlife it attracts by creating a wonderful outdoor dining area at the water's edge. A wall of bi-fold doors in this summerhouse open out on to a covered veranda, where a rattan outdoor dining set creates a wonderfully secluded spot.
Take a look at our pick of the best outdoor dining sets in our buyer's guide.
15. Create a tree-top retreat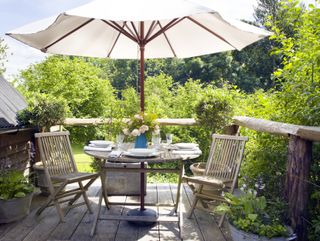 Set amid the dappled shade of the tree-tops and boasting beautiful birds-eye vistas, the raised deck adjoining this stunning Somerset country home makes for a magical outdoor dining setting. Vintage flower-filled planters and a vase of garden flowers make it even more idyllic.
We have more ideas for small garden terraces and balconies.
16. Create a secluded cottage garden setting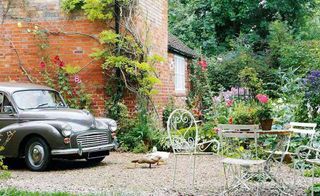 Surrounded by tall trees and a bustle of hollyhocks, climbing roses, lilac bushes and other traditional cottage garden plants, the secluded patio of this old village bakery would make a dreamy spot for afternoon tea with friends, and maybe a few feathered visitors!
Learn more about choosing plants for traditional gardens.
17. Introduce ornate garden furniture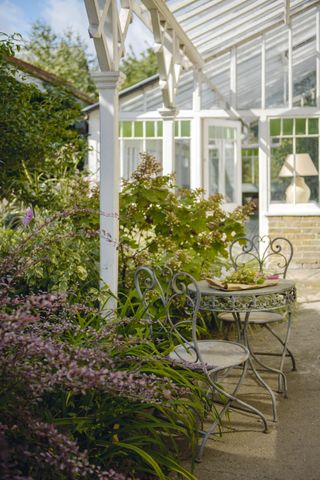 What Victorian veranda would be complete without an ornate, wrought iron breakfast table with matching chairs? Enjoy a relaxing start to your day, and admire your garden in the freshness of morning, breakfasting at an outdoor dining table. It also makes the perfect little perch where a gardener can pull up a seat for a lunch break, or enjoy a coffee and survey their hard work.
18. Combine dining accessories to create a Scandi look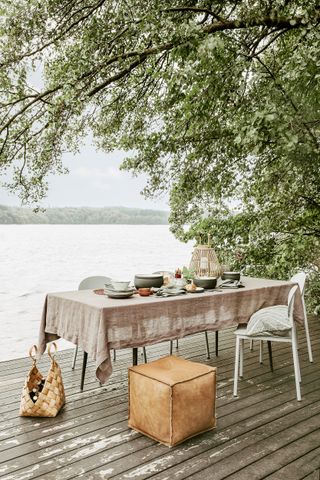 What could be more romantic than dining on the shores of a Swedish lake? Recreate the serenity of this natural setting with the classic silhouettes of Scandinavian furniture teamed with rustic materials and textures.
Want some Scandi charm indoors, too? We have some very cosy Scandi room design ideas.
Danish brand House Doctor has the ideal pieces to achieve the look, including Walker chairs, £144, linen tablecloths, £96 each, simple ceramics, from £5.75, and rattan accessories, from £54 for a set of three baskets.
19. Plant for the future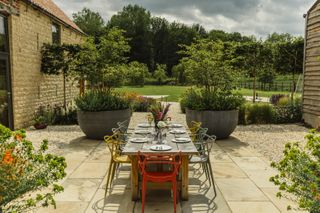 Take an architectural view of an outdoor dining space, choosing trees or shrubs to build 'walls' which will eventually provide shade for the table.
For this informal courtyard garden, designer Lee Bestall of Bestall & Co arranged huge planters containing multi-stem Amelanchier Lamarckii trees at the corners of the dining table, which will grow to give the area a shaded, intimate and cosy feel.
Read more on outdoor entertaining: