Househunting is a big part of Simon Fenwick's life – he finds, renovates and manages period properties on behalf of his clients. And it was on one of these searches that he discovered his renovation project; Grade II-listed Elm House.
Essential repairs
'I'd looked at more than 30 options for a client who wanted a country home in the Cotswolds. This one was by far the best,' says Simon. 'The client's sale fell through, but meanwhile I'd fallen for the property and the area.' So, in August 2009, Simon found himself the owner of a new home.
Built in the 1640s, many of the house's original features were still intact, and Simon soon started to get a feel for the renovation that lay ahead. 'I was lucky as it hadn't been messed around with too much, but it also hadn't been well maintained,' he says. 'Horrible windows had been fitted in the 1960s, along with ugly radiators and dodgy pipework and electrics.'
Built in classic Cotswold stone, Simon Fenwick's home dates back to the 1640s and has undergone a complete renovation since he bought it in 2009
The butler's sink and tap were salvaged from the house, and the pendant lights are by Industville
Having previously practised as a chartered building surveyor before setting up his company, Simon wasn't short of inspiration. 'The house dictated what it needed and I used my experience of what worked in other people's homes,' he says. 'I was determined to restore it as sympathetically as I could and to a high standard of craftsmanship.'
Simon discovered that the Cotswolds is home to skilled practitioners of all manner of crafts. The builder, CN Builders, is based just down the road, carpenter Jon Hitchcock is a neighbour, and blacksmith Ben Landucci, of Iron Forged Designs, who made stair rails, garden furniture and a new front gate, is based in nearby Brackley.
An alcove was created to house the electric Aga. The wall lights are from Original BTC, and the curtains from Ian Wright Interiors
Like much of the furniture in the living room, the Flemish tapestry came from Lots Road Auctions in London
Most of the windows were replaced, but the glass was reused. The windows, shutters and seat are by nearby Hitchcock Woodworks. Soft furnishings are all by Ian Wright Interiors
The roll-top bath in the en suite was salvaged from the house, with taps from Victorian Plumbing. The planning department specified the conservation rooflights
Simon sourced the butcher's block from Burgess Reclamation Yard and the leather armchair at Lots Road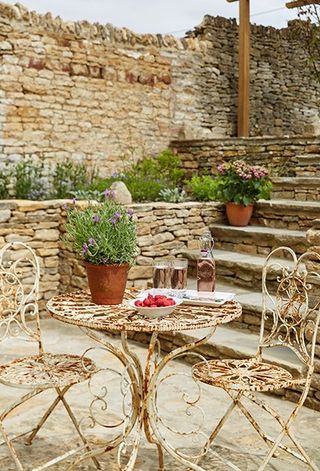 The garden landscaping was designed by LSV Gardens & Associates and carried out by Five Valleys Natural Pools
Simon oversaw every detail of the home's restoration, down to inspecting each individual reclaimed floorboard in the living room and sourcing the 17th-century fireback. The door to the left of the fireplace is a second staircase, now only used for storage
The master bedroom is decorated in warm neutrals that set off the rich tones of the original beams. The bed is from Victorian Dreams, the armchair from Lots Road, and the sisal carpet from Cotswold Carpets
Simon managed to preserve enough original elm floorboards, taken from the study, for the guest bedroom, giving it a characterful look. The cast-iron bed is from Victorian Dreams and the bedside lamps from Cotswold Home & Garden in Chipping Norton