Designer, author and founder of fashion and homeware store Cabbages & Roses, Christina Strutt was just 24 and a journalist at British Vogue, when Mark – now her husband of 36 years – took her to his grandparents' estate. The wild, expansive gardens and honey-coloured Cotswold stone cottages soon captured the London girl's heart and the couple moved into the main house when they married in 1980, bringing up their children, Kate and Edward, there.
The estate has gradually evolved to suit the family's needs. In the mid-1980s, Christina wanted the kitchen space to be the heart of the home, so they decided to uproot it from its original spot and relocate it to the former sitting room. The old kitchen has become a cosy snug.
The home
Owners: Christina Strutt, designer, author and founder of fashion and homeware store Cabbages & Roses, and her husband Mark, a retired land agent, live here. Their son Edward, a woodsman, forester, and furniture-maker, and his wife Sophie, a garden designer and mosaic artist, live on the estate with their children, Frankie, five, and Bobbie, two, along with Jack Russell Walter Gilbert
Property: A Grade II-listed, 15th-century mill cottage, set in hundreds of acres of rolling Somerset hills
What they did: The main house had been divided in two, so Christina and Mark put it back together, relocating the kitchen. A former pigsty was made into an annexe, where Edward and his family now live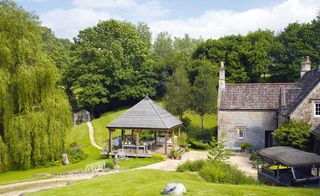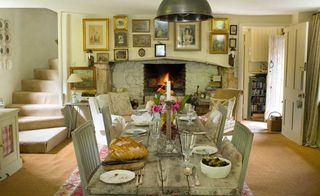 The pavilion
More recently their son Edward built the pavilion where the families spend summer evenings sharing food and taking in the sounds of the countryside. The annexe, where he lives with wife Sophie and their children, Frankie and Bobbie, was originally a pigsty but was renovated by Mark in the mid-1990s.
Just as Mark and Christina created new spaces for their family in the 1980s and '90s, Edward has made his mark, crafting bunk-beds, shelves and decks.
Christina's interiors influences
Christina's fashion and homeware brand Cabbages & Roses is eccentric, classical English and internationally respected, but nowhere expresses her style more clearly than her own home. Scouring antiques fairs and junk shops is one of her real pleasures, and there is a magpie nature to her collections both inside and outside.
Living Life Beautifully is Christina's latest interiors book, and her home and extended family's lifestyle absolutely reflect this vision. 'I have always believed that homes need to be filled with more than just lovely things. To be really beautiful, they must be lived in, with the things complementing the human stories that run through them.'
Words: Hannah Newton
Photography & Styling: Solesbury & Worthy