Looking for the best 75 inch TV you can buy? If you want to create a home-cinema, or experience your favourite films, games or TV shows on a big screen, this is an ideal size. No matter which way you look at it they're really big, meaning you'll want to consider all your options before choosing the model that's right for you.
Luckily, we're committed to making the process of buying a TV as easy as possible and have rounded up our pick of the best 75 inch TVs for you to browse.
If you want big, prepare to spend big
Suffice to say that getting a TV that's over 70 inches in size is a commitment, and not one to be undertaken lightly.
Even if you've got the space for it, 75 inch TVs are expensive by their very nature. Don't go for this size unless you're prepared to spend a significant amount of money. Trust us, if you're looking for a cheap option then you'd be much better off getting a more premium set in a smaller size.
If you're comfortable with the space and monetary costs then you have a decent number of choices of TV, far more than you would have had in previous years.
OLED or LCD?
In terms of panels, it's a pretty even split between OLED and LCD. Of the two, LCDs are the cheaper option but you'll still be paying OLED prices for them at this size. If you want the perfect blacks and wide-viewing angles of OLED then TVs at this size can easily jump into the tens of thousands - you have been warned.
Before we dive into our list of the best TVs available at this size we should just quickly point out that we've included a couple of 77-inch choices because frankly at this size you're unlikely to notice the extra couple of inches.
Let's get to it shall we?
THE BEST 75 INCH TVS
1. LG OLED77C8
The cheapest OLED you'll find at this size, this is our pick of the very best 75 inch TV you can buy
Specifications
Resolution: Ultra HD
Panel type: OLED
Smart TV: WebOS
HDR: HDR10, Dolby Vision
Reasons to buy
+'Perfect' blacks+Responsive panel+Fantastic soundbar
Reasons to avoid
-Limited brightness
OLED TVs, with their deep black levels and fantastic pixel response times, are expensive at any size, but at over 70 inches they start to enter another realm of pricing entirely. Despite the LG OLED77C8's huge size, it still manages to remain minimalistic and it has gallery mode so when it's not in use, you can enjoy stunning images and artwork from around the globe. It also works with Google Assistant so you can use your voice to control the TV.
It's hardly cheap, but for the price you're getting an absolutely exceptional screen, a beefy soundbar, and an interface that beautifully ties the two together. If you want a 77 inch OLED then this is the best option for most people.
2. Sony KD-75ZD9
The best HDR LCD has to offer
Specifications
Resolution: Ultra HD
Panel type: LCD
Smart TV: Android TV
HDR: HDR10, Dolby Vision (incoming via firmware update)
Reasons to buy
+Stunning HDR+Phenomenally bright
Reasons to avoid
-Average audio
If you want a premium TV experience but don't want to go for OLED, then Sony ZD9 is the set to go for. This TV uses a similar form of backlighting technology as Sony's other LCD models, but it pushes it to the extreme with more backlighting zones (meaning more precise contrast between light and dark areas of an image) and a much brighter panel (meaning more striking HDR highlights and more detail in the bright parts of an image).
You'll pay dearly for the privilege of course (hence why this TV is sitting a little further down our list), but the Sony KD-75ZD9 makes LCD's strongest argument yet against OLED.
3. Panasonic TX-77EZ1002B
One for the real AV geeks
Specifications
Resolution: Ultra HD
Panel type: OLED
Smart TV: My Home Screen
HDR: HDR10
Reasons to buy
+Colours as accurate as they come+Sleek OS
Reasons to avoid
-No Dolby Vision
At this price, Panasonic's TX-77EZ1002B is a TV for those people that really care about image quality. It's about as good as OLED TVs get, with phenomenally accurate colours that mean that you're seeing content exactly as was intended in the editing suite. Its this colour accuracy that lead to the EZ1002 winning HDTVTest's 2017 TV Shootout against some stiff competition. Beyond picture quality, the EZ1002 is also equipped with a pretty hefty soundbar that provides a great level of audio clarity to complement its visuals. The one downside here is that the EZ1002, unlike LG and Sony's models, does not and will not support Dolby Vision, the enhanced HDR standard from the veteran AV company. Instead, it will be receiving support for HDR10+ via a forthcoming firmware update. Initial comparisons suggest that HDR10+ offers a very similar level of performance to Dolby Vision, but it will be up to content creators to support it, and this part of the equation is still something of an unknown.
In our opinion, this is the best 75 inch TV if you're after an exceptional image quality, and aren't as bothered about sound.
4. Sony KD-77A1
A high-end OLED with some impressive upscaling smarts
Specifications
Resolution: Ultra HD
Panel type: OLED
Smart TV: Android TV
HDR: HDR10, Dolby Vision (incoming via firmware update)
Reasons to buy
+Impressive upscaling+Sounds great
Reasons to avoid
-Expensive-Unusual stand
Of course, once you've committed to spending £££s then Sony's KD-77A1 is another fantastic option. Its big advantage over Panasonic's efforts is how it's able to upscale HD/SDR content to a level that looks almost identical to native 4K/HDR footage. That's a great piece of functionality, especially when you consider that the majority of content is unlikely to be 4K HDR for the foreseeable future. Beyond its upscaling prowess the set also features a pretty unique speaker configuration which actually sees it vibrate its screen itself to create sound.
We'd probably opt for the Panasonic over the Sony overall because the Panasonic is marginally better at handling 4K content (which will eventually become the standard), but if you want a TV that's going to deal better with the majority of the things you watch right now then the Sony is the best 75 inch TV for you.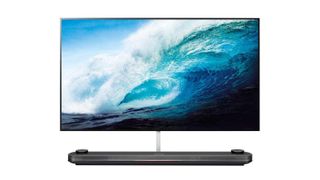 5. LG OLED77W7V
A TV with a stunning look
Specifications
Resolution: Ultra HD
Panel type: OLED
Smart TV: WebOS
HDR: HDR10, Dolby Vision
Reasons to buy
+Wallpaper thin design+Dolby Atmos soundbar
Reasons to avoid
-Can only be wall-mounted
If you want a premium OLED experience, then LG's 77 inch W7 is a great option. It's a striking looking television. The screen itself is just millimetres thick, a feat achieved by packing the TV's internals into a hefty, Dolby Atmos-capable, soundbar. This unique design means that the W7 does not come with a stand – instead you'll have to wall-mount it in order to experience its delights in your house.
It's enormously expensive, but this is the TV you should go for if you want a set that looks just as good when it's turned off as when it's turned on.
6. Hitachi 75HL16T64U
On a budget? Look no further than this 75-inch Hitachi TV
Specifications
Resolution: 3840 x 2160
Panel type: LCD
Smart TV: WebOS
HDR: N/A
Reasons to buy
+Affordable+Good picture+Built-in Freeview HD as well as Freeview Play
Reasons to avoid
-Basic looking
Upgrade your home entertainment for cheap with this Hitachi TV. It's a fraction of the price of the other TVs on our list, but it definitely doesn't lack in features. Although it doesn't look like anything special, it can stream Netflix, BBC iPlayer, iTV, demand 5, 4od, and YouTube through the Hitachi smarTVue portal. It has crisp picture quality as well as 2 USB ports and 3 HDMI sockets and an efficient energy rating of A+.
For the money, you can't really expect any more, so pair it with the best Blu-ray player and you're sorted. The best 75 inch TV if you want a home cinema for an affordable price.
More buying guides by tech guru Jon Porter: