Manage to bag a Black Friday weekend TV deal? Lucky you. In terms of Black Friday TV deals, 2018 brought everything from 20 per cent off all TVs to up to £1234.99 off large models.
If you're still on the look out for a good TV deal, check out our best current TV deals for all the latest bargains. We take a look forward to Black Friday 2019, too.
Quick links to the best TV deals
How to get a great TV deal
As with lots of items, buying online can be nerve-wracking BUT totally possible. Especially with help from our in-depth TV buying guides. Check them out for the best deals and bags of guidance.
Buying guides:
WHEN IS BLACK FRIDAY 2019?
Black Friday 2018 fell on Friday 23rd November, with sales lasting for around a week. Mark your calendar, as Black Friday 2019 is due to fall on 29th November, with Cyber Monday on 2nd December.
Where should I shop for TVs on Black Friday and Cyber Monday?
With well-known brands ever more attuned to the Black Friday buzz, you can bet on big savings from some of your favourite retailers.
So, you will be able to buy TVs via Amazonand John Lewis among others. And while we can't predict exactly who will be slashing prices on what just yet, take a look back in time with us to see what we might expect.
Black Friday 2018 saw big savings to be had on TVs, with high street giant John Lewis offering 20 per cent off ALL their TVs for the duration of the weekend. Amazon had some pretty amazing deals including this Philips 43PUS6753 for £329 and the LG 65SK8000PLB which had £1234.99 off. Very was also selling the Samsung UE55NU7300 for £150 off amongst many other TVs.
Are Black Friday and Cyber Monday TV savings real?
Yes, but... since many products' prices change frequently, checking the price history of what you're planning to buy on CamelCamelCamel.com or PriceSpy will tell you whether the savings are real or not. These sites show you whether a price is likely to re-occur.
How we'll help you find the best Black Friday and Cyber Monday TV deals
Finding the deals is the trickiest part of Cyber Weekend. With so many retailers offering huge savings, it can be difficult to know where to start looking.
The good news? We'll provide a guide to the best Black Friday and Cyber Monday TV deals (and, since you ask, on everything for your home, including smart home tech devices, mattresses, furniture and more). That way, we'll do the browsing and you can snap up the bargains.
Is my new TV the right size?
Looking for a new TV? Before you buy in a rush, desperate to score that brilliant Black Friday TV deal, check you've got the size right. Got your tape measure to hand? Good, because this is vitally important.
There's a hefty range of screen sizes available from 14 to over 100 inches. Most people will be thinking of going for the biggest TV they can afford, but as impressive as it may look, that's not necessarily the answer. There's a simple equation to use when it comes to getting a TV that will fit in your space, and allow everyone to watch from a comfortable distance:
Divide the diagonal width (in inches) of the TV by 0.84 to get the optimum viewing distance.
So for example, for a 65 inch TV, you would need to be sitting at least 6.5ft from it – something to bear in mind if you have a smaller living room but your heart is set on a huge screen.
That said, modern TVs are smaller/slimmer than older models, which means you can afford to go larger than your last model. Plus, if you replace an HD TV with a UHD one of the same size, but don't change your viewing distance, you won't see an improvement in resolution. Either buy a larger UHD TV than your old HD one, or stay the same and pull your sofa nearer.
Which style TV should I get?
While most TVs nowadays all look pretty similar, there are some manufacturers who go beyond the barely there bezels and lookalike pedestals. The most stylish brands are Loewe and Bang & Olufsen, who take a more avant garde approach to TV design.
Curved screens create the ultimate immersive experience, just be aware that they do tend to distort any on-screen reflections so that they cover much more of the screen than they would with a flat TV. Also, if you watch from an angle, the picture can start to look distorted.
Is the TV right for you?
Subscribe to Real Homes magazine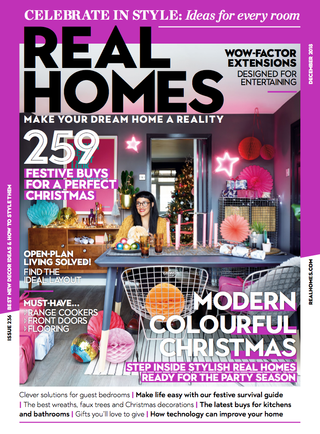 (Image credit: Real Homes magazine)
Love your daily dose of Real Homes? Then why not subscribe to our magazine to see our newest content first? Packed with fabulous readers' homes, trend features, project advice and easy updates, you'll wonder how you ever lived without it.
4K? HD? OLED? Choosing a new TV can be a bit of a jargon-filled minefield, so let us help you out.
There are two display technologies: LED (Light Emitting Diode) backlit LCD and OLED. It's easy to see why OLED TVs are fast becoming the most popular option, as the individual LEDs light themselves, no backlight is needed and the TV can actually be thinner. It reduces motion blur with as it has a faster refresh rate, in turn offering a sharper, more natural image. LED TVs are perfect if you're looking for a lightweight TV on a budget. However, as they use a backlight to illuminate pixels, colours may be less vivid.
There are two resolutions to choose from: Ultra HD (UHD, also known as 4K) and HD. HD TV's carry 1920 x 1080 pixels while 4K TVs carry 3840 x 2160 pixels, so can deliver pictures with much more resolution. With 4K sources becoming more well-known (Netflix, Amazon, Sky Q) and the prices of 4K TVs dropping, even if you don't have currently have any access to 4K content, getting a 4K TV would be a smart move.
HDR (High Dynamic Range) is the next step up in picture quality, giving you bright spectral highlights, reflections that glint and sunlight that glares.
If you're going to want to watch Netflix, Amazon Prime Video and YouTube at the minimum, as well as broadcast catch-up TV from BBC, ITV, Channel 4 and 5, ensure you choose a smart TV.
For those who have a keen video gamer in the family, you'll need a TV with low input lag, which gives you fast response times.
More Black Friday and Cyber Monday deals