So your current TV has finally given up, or maybe you are just looking for something better to binge-watch sport or Netflix on? You could just trawl our buyer's guides or smart home tech page, but how will you know whether your TV upgrade is the best choice? How do you navigate the minefield of new technologies and features out there? Well, we are here to help, with a beginner's guide to buying the best TV…
Cracking TV-buying jargon
Display: LED (LCD) or OLED?
There are two display technologies: LED (Light Emitting Diode) backlit LCD and OLED.
OLED TVs are fast becoming the most popular option and it's easy to see why. Because the individual LEDs light themselves, no backlight is required, meaning the TV itself can be even thinner. The faster refresh rate reduces motion blur, offering a sharper, more natural image, plus it offers perfect inky black performance and vibrant colours.
LCD is great if you are looking for a lightweight TV on a smaller budget, but be aware that, because they use a back light to illuminate pixels, colours may be less vivid and the blacks less, well, black. You might hear about QLED, too; that's Samsung's variant of LCD.
Resolution: full HD or 4K?
There are two resolutions to choose from: Ultra HD (UHD, also known as 4K) and HD.
HD TVs carry 1920 x 1080 pixels while 4K TVs carry 3840 x 2160 pixels, so can deliver pictures with much more resolution.
With 4K sources becoming more common (Netflix, Amazon, Sky Q) and the prices of 4K TVs dropping, getting a 4K TV, even if you don't have currently have any access to 4K content, would be a smart move.
What is HDR?
HDR (High Dynamic Range) is the next step up in picture quality, giving you bright spectral highlights, reflections that glint and sunlight that glares. If you're an avid sports fan, it's a real bonus. HDR content is currently available on Netflix and Amazon Prime Video. When it comes to choosing an HDR compatible TV, don't buy a budget model – mid- to high-end models only will give you the picture quality you're seeking.
Smart TV platforms – what to consider
It's highly likely the TV you're considering is network connectable, offering Netflix, Amazon Prime Video and YouTube at the minimum, as well as broadcast catch-up TV from BBC, ITV, Channel 4 and 5. But which smart TV platform to choose?
WebOS, found on LG connected screens, has a host of clever features, while Panasonic's My Home Screen is similarly impressive; Samsung's Tizen interface is worth a look, too. Android, used by Sony and Philips doesn't impress reviewers as much, but has Chromecast built-in and works with Google smart speakers.
Which tuner?
Freeview Play, the latest version of terrestrial Freeview, offers web-delivered catch-up TV services and a roll-back seven-day programme guide. Available with all TVs except Samsung's.
Gaming modes
If you've got a keen video gamer in the family, you need a TV with low input lag, which gives you fast response times. Most TVs have dedicated Game modes, and while these often perform better than regular TV image presets, they vary dramatically, so check before you buy.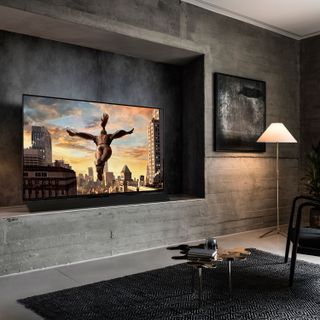 Getting the TV's screen size right
Got your tape measure to hand? Good, because choosing the right size TV for your living space may be the simplest step, but it's also vitally important. The range of screen sizes available is immense – we are talking from 14 inches to over 100 inches. So how to you decide which size is right for your living space?
You might be thinking of going for the biggest TV you can afford but, as impressive as it may look, that's not necessarily the answer. There's a simple equation to use when it comes to getting a TV that will fit in your space, and allow everyone to watch from a comfortable distance:
Divide the diagonal width (in inches) of the TV by 0.84 to get the optimum viewing distance.
So for example, for a 65 inch TV, you would need to be sitting at least 6.5ft from it – something to bear in mind if you have a smaller living room but your heart is set on a huge screen.
That said, modern TVs are smaller/slimmer than older models, which means you can afford to go larger than your last model. Plus, if you replace an HD TV with a UHD one of the same size, but don't change your viewing distance, you won't see an improvement in resolution. Either buy a larger UHD TV than your old HD one, or stay the same and pull your sofa nearer.
Already made your decision on size? Check out our favourite small TVs, 32 inch TVs, 55 inch TVs and 65 inch TVs.
What about the TV's audio?
In general, the thin flat panel that comes with most TVs will only provide you with a basic sound, so you may well want to add one of the best soundbars or a home theatre speaker.
But if you don't want to invest in external speakers, look carefully at how many speakers a TV has and the configuration of those speakers.
TVs with tiny, downward firing drivers will give you an indirect, muffled sound, so look out for TVs with forward-firing speakers (also known as integrated soundbars), as they tend to sound much cleaner and more powerful. Clue: if you can see speakers on a TV set, it'll generally sound better than one where you can't.
And don't forget about design
While most TVs nowadays all look pretty similar, there are some manufacturers who go beyond the barely there bezels and lookalike pedestals. The most stylish brands are Loewe and Bang & Olufsen, who take a more avant garde approach to TV design – so check them out if you want a TV that's a bit more statement than standard.
Considering a curved screen rather than flat? While curved screens may have fallen out of favour (with only Samsung left flying the flag), they do create the ultimate immersive experience. Just be aware that curved screens tend to distort any on-screen reflections so that they cover much more of the screen than they would with a flat TV. Also, if you watch from an angle, the picture can start to look distorted.
How much does a new TV cost?
Apologies, but we can't put an exact number on that because it depends on so many variables... what we will say is not all TVs were created equal and you do tend to get what you pay for.
As our buying guides will show you, you can get a decent TV for under £300 and an even better TV for under £1,000. But if you are after the best TV, you are probably going to have to go head-first through that four-figure barrier.
Want more expert home tech advice?