If you've recently been feeling inspired to seriously upgrade your TV set-up, then you're not alone. Spending more time at home has naturally led many of us to start daydreaming about our next TV, whether that involves a considerable size increase, a jump to 4K (or even 8K), or something else. The best TVs can turn an ordinary Friday night in front of Netflix into a cinema-worthy experience.
If that's been lacking for you, then we think it's high time you look at what's on offer.
But how to choose the perfect set? Specs and features in the television space can too often become incomprehensible jargon, so it's essential to do your homework before handing over your hard-earned cash.
And, if you're having trouble, then we're here to help decipher things like the difference between LED, OLED and QLED, 4K and HD, and whether an 85-inch TV can ever really look good in an ordinary-sized living room.
Keep reading to see how we rated some of the best sets out there right now, or narrow down your search with our guide to the best 75 inch TVs.
The best TVs: tried and tested by us
Why you can trust Real Homes Our expert reviewers spend hours testing and comparing products and services so you can choose the best for you. Find out more about how we test.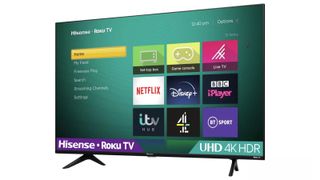 If you're looking for a way to upgrade your TV set but don't have a ton of spare cash, then we're here to recommend the Hisense Roku A7200 TV. It's a brilliant deal for those who want to get 4K HDR visuals and user-friendly smarts for less.
Roku won't be for everyone, but it's one of the most easy-to-use operating systems out there - proven by the popularity of their streaming sticks. It also has all the content you could want, from Netflix and iPlayer to Disney+ and NOW TV.
There are no in-built smart assistants, but you wouldn't expect that for the price, and it's compatible with Alexa, Google Home and Apple HomeKit if you already have a speaker at home. It also works with Apple AirPlay for iOS users.
Real Homes rating: 4.5 out of 5 stars | read our full review of the Hisense Roku A7200 TV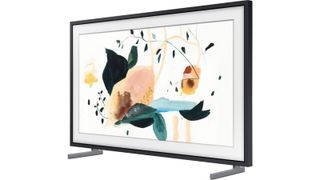 Samsung's Frame TV gives you QLED features that firmly steer towards interior design. It offers an outstanding viewing experience with a thin bezel styled to appear like a picture frame that you would hang on the wall.
The Frame blends with your other pictures thanks to Art Mode, displaying thousands of attractive digital photos when switched off. You can subscribe to Samsung's Art Store (for just £3.99 per month) to access hundreds of images ranging from contemporary to classic, or you can create your slide show using your snaps. The tech has gone one step further this year to suggest artwork in line with your tastes - very clever!
Essential to this set is the No Gap Wall Mount, which sits this TV flush to your wall with only enough space for the tiny near-invisible cable to run discreetly down to the One Connect box - which you can tuck away inside a cupboard. This also comes in a smaller size, making it to our list of the best 32 inch TVs.
Real Homes rating: 4 out of 5 stars | read our full review of the Samsung The Frame TV (2020)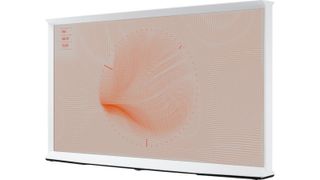 The Samsung Serif TV may not have caught attention like its sister, The Frame, but it's a great lifestyle TV in its own right. With the same 4K QLED screen technology, it sports a design by Bouroullec that incorporates a black metal floor stand (it can also sit on another flat surface if this isn't for you.
Ambient Mode+ allows you to have your TV display everything from beautiful works of art to your family photos, and you can also use the Multi-View feature to have your favourite series and your Twitter feed on screen side by side.
As an alternative to The Frame, The Serif has many of the same features and an even more distinctive design. It also scored highly in our review, so it is recommended. This is also one of our best 40 inch TV options!
Real Homes rating: 4 out of 5 stars | read our full review of the Samsung The Serif (2020)
The best TVs: more top picks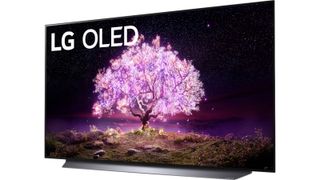 The LG C1 OLED TV is one of the best OLED screens available right now. Released in 2021, the C1 sports a gorgeous 4K panel with an a9 Gen4 processor that upscales everything beautifully. In addition, its smart TV offering, webOS, is one of the most popular for streaming fans.
The panel is skinny, which means it looks pretty sublime mounted to the wall, and there's a Game Optimiser setting that uses NVIDIA G-SYNC and FreeSync Premium to boost specs. Google Home and Alexa are also built-in, so you can enjoy smart home features even if you don't yet have a standalone smart speaker.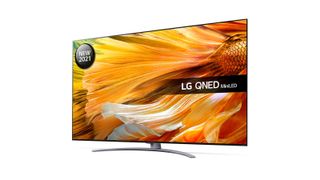 Technology in the TV world can often seem overcomplicated and, in the end, not worth the hype. But this LG MiniLED set stresses the importance of colour and brightness in the overall viewing experience. Alongside its MiniLED panel is Quantum Dot NanoCell Technology with Full Array Dimming, which all combine to deliver a higher contrast ratio, almost 2,500 unique dimming zones and 30,000 Mini LEDs.
The QNED91 also offers built-in Alexa and Google Assistant for your smart home, and gamers or sports fans will be pleased with its 120Hz refresh rate. Dolby Atmos sound tops everything off, making this a beast of a TV.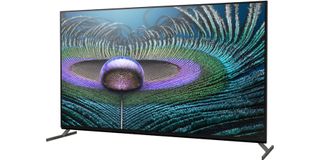 If you like to have the latest tech at home, consider the Sony Z9J for a stunning 8K resolution, upscaling and support for everything from IMAX to Netflix Calibrated Mode. The model also looks great, with an ultra-slim wall-mount bracket (not included) that sits flush to the wall.
The only big downside of 8K currently is the lack of content being offered in the format. While most of the major streaming services offer 4K viewing, it's more uncommon to find anything above that. Still, purchasing a set with support for 8K will future-proof your entertainment system.
How we test the best TVs
The products on this list have been chosen based on the industry knowledge and expertise of our editors and writers, as well as first hand experience of the models featured. While we aim to have tested every product that we feature, this is unfortunately not always possible. Products we have tried ourselves will be clearly marked within the content.
The best TVs are tested in several ways to ensure our recommendations are as useful as possible for our readers. Criteria include how the set looks in an average living space, its price, size availability, and the use of various technology such as resolution, audio and HDR formats. Head to our guide for more information on how we test.
How to choose the best TV for your home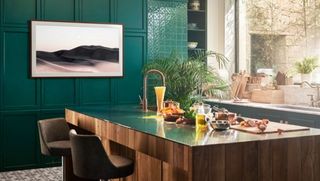 What should I consider when looking for the best TV?
Choosing a TV for you and your family can be daunting. The single most significant decision you'll need to make (other than agreeing on a budget) is between LED, OLED and QLED.
OLED TVs are the most expensive of the bunch, but they benefit from absolutely astonishing levels of contrast thanks to the fact that they're able to turn off individual pixels for 'perfect' black levels. On the other hand, they aren't quite as bright as LED TVs, meaning they can be a little harder to watch in bright living rooms. You also don't get as much sparkle in those bright parts of the image.
Beyond panel type, your decision will come down to the strengths and weaknesses of each TV. Ultimately this depends on what you want in a TV - the latest tech, the biggest screen, the smartest abilities and voice control? The list goes on.
And for those who want a TV that will blend into the rest of their décor, check out our guide to living room TV ideas for ways to cleverly disguise your tech.
What is the best TV brand?
Logik - for budget LED TVs in HD and 4K. Sizes range from 40" to 65". Prices range from about £250 to about £550.
Toshiba - for budget LED TVs in HD and 4K. Sizes range from 32" to 65". Prices range from about £250 to about £550.
TCL - for budget LED TVs in HD and 4K. Sizes range from 40" to 65". Prices range from about £300 to about £550.
JVC - for budget LED TVs in HD and 4K. Sizes range from 32" to 65". Prices range from about £200 to about £600.
Panasonic - for LED TVs in HD and 4K. Sizes range from 40" to 65". Prices range from about £450 to about £1,500.
Hisense - for budget LED, OLED and QLED TVs in HD and 4K. Sizes range from 40" to 75". Prices range from about £300 to about £2,500.
Philips - for LED and OLED TVs in HD and 4K. Sizes range from 43" to 70". Prices range from about £350 to about £2,500.
Sony - LED and OLED TVs in HD, 4K and 8K. Sizes range from 43" to 85". Prices range from about £450 to about £8,000.
Samsung - LED and QLED TVs in HD, 4K and 8K. Sizes range from 32" to 85". Prices range from about £300 to about £12,000.
LG - LED, OLED and QNED TVs in HD, 4K and 8K. Sizes range from 32" to 88". Prices range from about £300 to about £30,000.
What is the difference between QLED and OLED?
This TV vocabulary is being thrown around a fair bit, which can be confusing, but it's always good to know about these things before committing.
OLED, or Organic Light Emitting Diode, means that each pixel in the screen is self-lighting and can be switched on and off individually. There is also an extra white sub-pixel, which delivers ultra-fine gradation and a true-to-life colour palette.
OLED TVs are fast becoming the most popular option, and it's easy to see why. The self-lighting LEDs mean the TV can be thinner, and a faster refresh rate reduces motion blur for sharper, more natural images.
QLED, or Quantum-dot Light Emitting Diode, was introduced by Samsung as an alternative to OLED technology. In simplified terms, QLED TVs place a quantum dot colour filter in front of an ordinary LCD backlight which - though not sounding too impressive - has caught on with more companies wanting to invest in it.
QNED, or Quantum NanoCell Emitting Diodes, is the new kid on the block and is only being sported by a handful of LG TVs. The technology uses tens of thousands of tiny LEDs to control brightness, contrast and everything else in minute detail, combining the best parts of NanoCell LCD and Mini LED tech.
Are 4K and 8K worth it?
These days, the three main resolutions to choose from are HD, 4K (or Ultra HD) and 8K. This refers to the number of pixels carried - and the higher, the better.
You can buy 4K TVs at pretty affordable prices, so we recommend going for it if picture quality is essential to you. It'll also be future-proof with more and more 4K content delivered via streaming apps like Netflix.
8K is a different proposition, as those who have already leapt are finding that there isn't much around now to enjoy in the brain-busting resolution. So it's an expense that may not be justifiable, BUT you may be glad you invested in a few years when 8K movies and TV shows are more common. Technology moves quickly, as we all know.
What is HDR?
HDR (High Dynamic Range) is the next step in picture quality, giving you bright spectral highlights, reflections that glint and sunlight that glares. If you're an avid sports fan, it's a real bonus. Plus, HDR content is currently available on Netflix and Amazon Prime Video. When choosing an HDR-compatible TV, don't buy a budget model – mid to high-end models only will give you the picture quality you're seeking.
What size TV should I buy?
Got your tape measure to hand? Good, because choosing the right size TV for your living space may be the most straightforward step, but it's also vitally important.
There's a simple equation to use when it comes to getting a TV that will fit in your space and allow everyone to watch from a comfortable distance:
Divide the TV's diagonal width (in inches) by 0.84 to get the optimum viewing distance.
For a 65-inch TV, for example, you will need to be sitting at least 6.5ft from it – something to bear in mind if you have a smaller living room, but your heart is set on a giant screen.
That said, modern TVs are smaller/slimmer than older models, so you can afford to go larger than your last model. Plus, if you replace an HD TV with a 4K one of the same size but don't change your viewing distance, you won't see an improvement in resolution. So either buy a larger 4K TV than your old HD one or stay the same and pull your sofa nearer.
How long will a new TV last?
Buying a new TV is often a big budget-stretching event, especially if you want a model that is all singing and dancing (so to speak). You'll be glad to hear, then, that many models come with at least a 1-2 year guarantee as standard, which will cover you for any faults that develop with the technology (though not accidental damage).
Tuning into a BBC podcast with Martin Lewis, it's explained that, should your TV fail you beyond the warranty, you need to ask yourself, 'what is a reasonable amount of time for this television to last?'. It's often subjective reasoning, i.e. if you've spent £2,000 on something, you would expect it to last a few years. Therefore, if your logic is realistic and not something down to you, you will have the Consumer Rights Act to fall back on as it's not fit for purpose.
We hope this guide has gone someway in helping. Want to see our full list again? Jump back up to the top ^