Without the professional (expensive) set-ups of cinemas, many of us have decided that now is the time to upgrade our system to mimic the experience as closely as possible. That's where the best surround sound systems come in.
If one of those people is you, then you're in the right place. However, while a good surround sound system can seriously upgrade your viewing and listening experience, unfortunately, not all products are created equal. That's why it's essential to think about what you want before committing to a purchase.
For example, some items on this list are all-encompassing set-ups consisting of multiple speakers for the entire room. In contrast, others are smaller soundbar-led systems designed to create the same experience.
So whether you're a film buff, gamer, or just your standard Netflix addict (guilty!), we've collected some of the best and most popular surround sound systems and ranked them based on who they'll be best for, to pair with your TV. And if you're more interested in simplicity, take a look at our ranking of the best soundbars.
The best surround sound systems 2022
Why you can trust Real Homes Our expert reviewers spend hours testing and comparing products and services so you can choose the best for you. Find out more about how we test.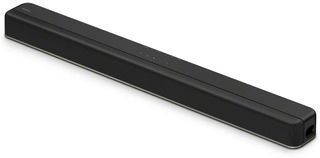 While just a few years ago, getting a surround sound system set up in your home meant trailing wires, multiple bulky speakers, and a whole lot of stress (and mess), steps in technology mean that you can now mimic the effect of a home theatre system with a single device.
The Sony HT-X8500 2.1 All-in-One Sound Bar features two built-in subwoofers, Dolby Atmos and DTS:X, for an impressive sound capable of upscaling audio to a maximum of 7.1.2. In addition, the vertical surround button on the remote activates the upfiring sound with Sony's Vertical Surround Engine, so you won't feel like you're missing out.
You can also use the soundbar with external devices via Bluetooth, so it really is a multi-purpose speaker that can do it all.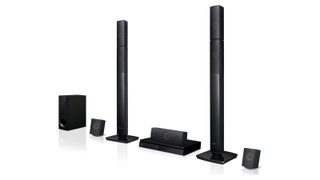 A sleek and minimalist multi-speaker system, the LG LHB645N is a good choice for those who have plenty of space and want the authentic home theatre experience. Comprised of two slim tower speakers, a centre unit, two rear speakers and a wireless subwoofer, you will get 5.1 channel audio that fills the room.
LG fans will be glad to hear that those with a TV from the brand can benefit from wireless connection via LG Sound Sync, but this is only available for some models. You also get a private listening mode, which means that late-night listeners will be able to connect their sound system to their phones over Wi-Fi.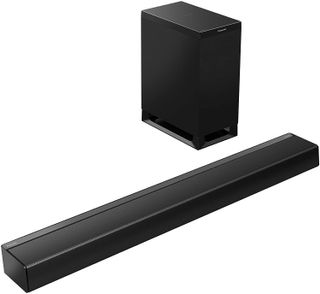 A soundbar and subwoofer that pack some serious power, the Panasonic SC-HTB900EBK is a smart option that uses an eight-speaker system to create crystal clear, all-encompassing sound. Of course, you can add external rear speakers if you want, but the soundbar and sub do a fantastic job on their own.
As you'd expect from a soundbar claiming to offer the surround sound experience, the SC-HTB900 emits sound in every direction using Dolby Atmos and DTS:X to create that immersive feeling you're after and it's also compatible with 4K viewing. In addition, the whole system is based on Technics engineering, so even audio buffs should be impressed.
With Google smarts built-in, you can control your system using just your voice. Chromecast functionality is also incredibly convenient for streaming music (which sounds fantastic through the speaker) or podcasts from your phone. Overall the SC-HTB900 offers impressive style and performance for a reasonable price, which is why it's one of our best surround sound system picks.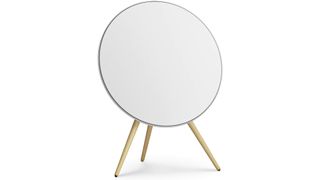 Entirely customisable for your space and taste, this surround sound speaker not only makes a dramatic design statement, but it features built-in room adaptation to adjust the sound perfectly to its surroundings. Hence, you experience natural, clean sound in any room.
Choose from displaying your surround sound speaker on wooden legs (as above) or wall-mounting, depending on your preference and the set-up of your space.
It's also worth noting that this model is available in white, black, smoked oak or bronze tones, thanks to interchangeable covers, so you really can choose a finish that complements your interiors style.
Unlike other wireless surround sound systems, the Beoplay A9 is so powerful that only one speaker is needed to fill the room with sound, ideal for those going for a minimalist look or who don't like clutter.
You can connect this wireless surround speaker to your phone via Bluetooth, Airplay or Spotify, use the Bang & Olufsen app on your smartphone to control it remotely, or swipe and tap the Intuitive Touch Interface along the top of the system.
Bang & Olufsen fans will also be pleased to know the speaker features BeoLink Multiroom technology, allowing you to unite all your Beoplay products to play the same music in every room.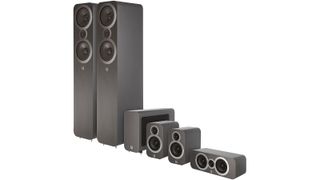 If you're looking for the best surround sound system with professional quality, look no further than this wireless cinema pack. Although it is not the cheapest of our top picks, it offers A LOT of bang for your buck, so it gets our vote for the best surround sound you can buy.
As we've said from the outset, surround sound systems aren't cheap. But, this system offers some seriously impressive value for money. After all, you're getting a comprehensive set-up consisting of two-floor standing speakers, two bookshelf speakers, a subwoofer and a central speaker.
Specifically, these passive speakers have been designed to offer big sound and deep bass, which is just what you'd expect from Q Acoustics. And, although they'll need to be wired to a source via an AV amplifier, they are straightforward to set up. Plus, dialogue is crisp and clear, meaning you'll experience your favourite films in a newly enhanced manner.
While we're not convinced that everyone will want such an extensive speaker system in their home, this surround sound system is pretty stylish for those who do. Available in four different finishes – Arctic White, Carbon Black, Graphite Grey and English Walnut – you're sure to find something that suits your space.
How to choose the best surround sound system for your home
When buying the best surround sound system for your home, there are many factors and features you'll want to consider. After all, wireless surround sound speakers tend to be something of an investment, so you'll want to ensure you're getting the most for your money. Here's what to look out for:
Design
If, like us, you're something of an interiors fanatic, you may be slightly concerned about the aesthetic impact of installing the best surround sound system. Fortunately, there are several smart – and even stylish – designs on offer. Alternatively, check out those that are small enough to be tucked out of the way.
Consider what's included in your system
Typically, home surround sound systems are purchased as a 5.1 set – that's five speakers to one woofer, although there is the option to invest in more speakers if you require. You'll typically receive two front speakers, two rear speakers and a centre speaker as part of a typical kit, in which case the following set-up is advisable:
The two front speakers may sit in two corners of the room as they typically carry the bulk of the track.
The two rear speakers should sit behind your sofa, as their purpose is to provide an immersive sound experience.
The centre speaker usually sits underneath the television as it amplifies the dialogue in the track, separating speech from the rest of the sound, making it clearer and easier to hear.
The woofer can usually be placed anywhere within the space and provides bass and depth – it's the speaker that makes the room vibrate if you turn the volume right up, so use with caution.
However, this is not always the case. For example, the Beoplay A9 has all of these features piled into just one speaker, ideal for those who don't want several speakers dotted around the room but still want good quality sound.
Size
Surround sound speakers exist in three levels of size. We'd recommend bearing the following factors in mind when choosing the option that's right for you.
Small living rooms will benefit from a compact surround sound system. The speakers are small enough to put on a shelf or top of a cabinet, allowing you to maximise the space you have.
The next size up are bookshelf speakers – these typically require a mount or a stand and deliver a better sound quality than a compact surround sound set without being too intrusive.
Finally, there are floor standing surround sound speakers, which are a feature in their own right, and are best placed in large lounges where there's plenty of space.
Can you build your surround sound system over time?
As we mentioned previously, home surround sound systems tend to be expensive and are an investment for the vast majority of people. If you can't stump up for an entire surround sound system in one go, it may be worth opting for a make that you can build over time – adding speakers as and when you can afford it.
Smart capabilities
Some of the latest surround sound systems are smart enabled, meaning you can sync them with your chosen smart assistant – perhaps Amazon Alexa or Google Assistant. This capability makes it super easy to control your surround sounds system using your voice, and enables you to manage your entire home cinema set-up using the same software.