Getting the best home theater system to reside with your television will dramatically enhance your audio visual experience, and create a more cinematic feel, all from the comfort of your living room.
While built in speakers – particularly in a high quality TV – soundbars and home cinema amplifiers can improve the quality of your viewing experience, this won't compare to the quality offered by a home theatre system made of multiple visual and sound enhancing components.
In this guide we have scoured high and low for the best systems which pack an audio punch, look good, are easy to use – and are easy to set up in the first place – and showcase a range of price tags. Keep scrolling for our six top picks, then check out our best TV guide to get your hands on the latest television spec, too.
The best home theater systems 2021
Why you can trust Real Homes Our expert reviewers spend hours testing and comparing products and services so you can choose the best for you. Find out more about how we test.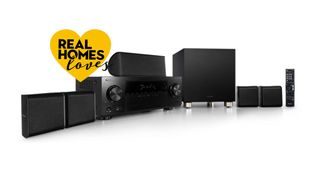 Claiming the #1 prize is the Yamaha YHT1840. With this system you're getting 5.1 channels of surround sound audio, which is more than enough for most content.
Despite not being future proofed with Atmos, the receiver still offers support for 4K, and there are also a comfortable four HDMI inputs so you shouldn't have to pick favourites amongst your AV gear for a few years yet.
But our main reason for ranking the Yamaha so highly is its price. It's the cheapest setup on this list that doesn't omit 4K support from its list of features, which we think makes it a great buy.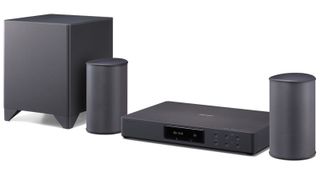 We've allowed ourselves a couple of premium picks in our list, and the first of these is the Pioneer FSW50, a 2.1 channel system that retails for over a grand.
What you're paying for here is a big step up in sound quality, as well as a completely wireless system. While the Yamaha YHT1840B above offers you the convenience of wireless rear surround sound speakers, the FSW50 extends this same convenience to all the speakers in the setup.
Of course, you'll be paying for this convenience, and you also won't get an included disc player, a centre channel speaker, or any rear speakers.
The latter point can be amended by expanding the setup with a pair of wireless rear speakers (sold separately), but even so the Pioneer FSW50 is a premium option if you care about sound quality over the quantity of channels.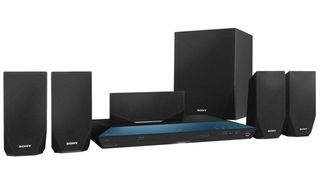 The Sony E2100 is for anyone with a budget that's slightly more stretched.
The main thing you're giving up by going for this cheaper option is the wireless rear surround sound speakers. Rear speakers are still included (this is a 5.1 channel system after all), but you'll have to be prepared to run cables to the rear of your living room when you're setting up the system.
You'll also be making sacrifices when it comes to the amount of HDMI inputs available. The E2100 is designed to either be used with its built-in Blu-ray player (there's no 4K source on board) or else using an HDMI ARC port to take audio from the TV. No HDMI pass through is possible with the E2100.
Otherwise these speakers are a great budget buy. They'll give your TV's audio a boost, but don't expect the same level of performance as the more expensive systems on this list.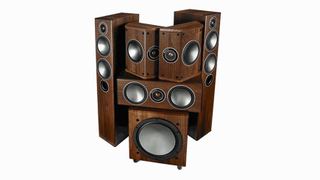 Spend a little more and the returns start to get slightly more marginal, but depending on how much you care about audio quality that might be a cost worth bearing.
Monitor Audio are a brand that produce speakers up and down the price spectrum, but what's nice about their cheaper sets is that they tend to benefit from all the high-end tech that the firm develops for their more expensive speakers.
The result is that although the Bronze speakers sit further down the brand's range, they sound like they should cost a great deal more thanks to their bags of detail and a tone that's overall very warm and clear.
We're also particularly fond of the traditional wood look of the speakers, but this will of course come down to personal preference thanks to the four finishes that are available.
If you're after a slightly more flexible surround sound setup, then ELAC's Debut series is a solid option. This is because, in the UK at least, it's impossible to buy the speakers as a 5.1 package.
Instead you'll have to buy them separately. Although this adds a little complexity, it does mean that you'll be able to choose between floorstanding and bookshelf speakers for your front stereo pair, which is enormously helpful if your living room only supports one or the other. This flexibility also means you can add a pair of Atmos-enabling upfiring ELAC Debut A4 speakers into the mix if you so choose.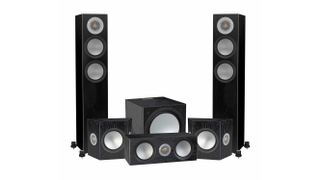 If you want to really splash out on a set of home theatre speakers, then Monitor Audio's step up Silver 200 AV12 are a great set.
There's very little to complain about here aside from the premium price. These are a set of very capable speakers, which has earned them WhatHifi's award for the best speaker package under £3,000. Spending this much money gets you a truly impressive set of speakers that manage to walk that fine line between delivering powerful sound that's not lacking in detail.
How to choose the best home theatre system
When it comes to buying the best home theatre system to suit your needs, there are a few factors worth considering before making your purchase. These include:
Consider what kind of home theatre system best suits your needs
In case you're new to the world of home theatre systems, let's run through the basic options available.
At the very low end you have the option of relying on your TV's built in speakers. Depending on which set you buy the quality of these can vary a great deal, but most are designed to be as slimline as possible to avoid impacting upon the sleekness of the TV; and slimline speakers do not lend themselves well to sounding very good at all.
The next step up is a soundbar or soundbase. These are a big improvement for many reasons, chief amongst them is that they're actually able to dedicate a decent amount of space to their audio drivers. However, they're limited in that they can only fire audio from one direction.
At the premium end of the spectrum you're expected to buy each component separately, or as part of a bundle of one of the best surround sound systems, as in this guide.
HDMI inputs
If you're planning on connecting multiple devices – for example games consoles, Blu-ray players and laptops – to your home theatre system, it's worth ensuring that you opt for a device with multiple HDMI inputs.
4K quality
If you're looking for the best in audio and visual quality, you'll want to ensure your home theatre system is 4K compatible.
What is the best home theater system?
If you want to buy the best home theatre system (in our opinion) we wouldn't hesitate to buy the Yamaha YHT1840B 5.1 Channel Home Theater Package. It has everything you need to give your audio a boost, and it's not one of the most expensive on our list either.