You can buy the perfect TV, but watching it is never going to be a very cinematic experience if you're still relying on its built-in speakers. Our guide to the best home theatre systems around is here to help.
In case you're new to the world of home theatre surround sound, let's run through the basic options available.
At the very low end you have the option of relying on your TV's built in speakers. Depending on which set you buy the quality of these can vary a great deal, but most are designed to be as slimline as possible to avoid impacting upon the sleekness of the TV; and slimline speakers do not lend themselves well to sounding very good at all.
The next step up is a soundbar or soundbase. These are a big improvement for many reasons, chief amongst them is that they're actually able to dedicate a decent amount of space to their audio drivers.
But soundbars and soundbases are still hamstrung by the fact that they're firing audio at you from just one direction, and any number of fancy technological tricks isn't going to change this fundamental truth.
Nope, for the best audio experience you're going to need a home cinema amplifier and a set of dedicated speakers to fire sound at you from all directions.
At the premium end of the spectrum you're expected to buy each component separately, but this guide will address home theatre systems, which tend to include everything from the receiver to the speakers, and the cables to connect them all together. Some even include a Blu-ray player as part of the package.
1. Onkyo HTS5805
Atmos-in-a-box
Specifications
Channels: 5.1.2
HDMI Inputs: 4
4K: Yes
Includes disc player: No
Reasons to buy
+Supports Dolby Atmos+Plenty of inputs
Reasons to avoid
-No included Blu-ray player
You'd be forgiven for thinking that our top entry in this list is less feature-complete than the others since it doesn't bundle in a Blu-ray player alongside the rest of its goodies.
But look closer and you'll see that this is the only system in the list to support Dolby Atmos, which is a new surround sound format that makes it sound as though audio is coming from above you, in addition to behind you like with a traditional surround sound system. This means that the Onkyo HTS5805 is ideally placed to make the most of this next generation of cinema surround sound.
Elsewhere the speaker package ticks all the boxes with a decent array of inputs along with full support for 4K/Ultra HD.
2. Yamaha YHT1840
A solid setup that won't break the bank
Specifications
Channels: 5.1
HDMI Inputs: 4
4K: Yes
Includes disc player: No
Reasons to buy
+Plenty of inputs+Affordable price
Reasons to avoid
-No included Blu-ray player-No Dolby Atmos
Down at number two in our list is the Yamaha YHT1840. You're not getting the Dolby Atmos support of the Onkyo system at the number one spot, but you're still getting 5.1 channels of surround sound audio, which is still enough for most modern content.
Despite not being future proofed with Atmos, the receiver still offers support for 4K, and there are also a comfortable four HDMI inputs so you shouldn't have to pick favourites amongst your AV gear for a few years yet.
But our main reason for ranking the Yamaha so highly is its price. It's the cheapest setup on this list that doesn't omit 4K support from its list of features, which we think makes it a great buy.
3. Pioneer HTP075
A sonic step up
Specifications
Channels: 5.1
HDMI Inputs: 4
4K: Yes
Includes disc player: No
Reasons to buy
+Plenty of inputs+Bluetooth aptX support
Reasons to avoid
-Disc player has to be bought separately-No Dolby Atmos
It might not be as cheap as the Yamaha YHT1840 above, but the Pioneer HTP075 has a couple of tricks up its sleeve that make it a great step up option for those looking to get a little more out of their home cinema system.
Chief amongst these tricks is built-in Bluetooth connectivity, which means that you can wirelessly connect your phone or tablet to the central amplifier to play music from your phone. The feature is absolutely fantastic for anyone who wants to avoid having several sets of single-use speakers taking up space in their living room.
4. Sony BDV-N5200W
Reduce the cable nightmare of surround
Specifications
Channels: 5.1
HDMI Inputs: 2
4K: No
Includes disc player: Yes
Reasons to buy
+Includes wireless rear speakers+Blu-ray player included
Reasons to avoid
-No 4K support-Limited HDMI inputs
At the number four place on our list is the Sony BDV-N5200W which is a particularly interesting home theatre system.
The highlight here is a pair of included wireless rear surround speakers. The rear set of speakers are a bit of a nightmare to set up for most systems; you have to trail cables all across your living room, and these can be extremely unsightly unless you do it particularly well.
The wireless speakers included with the N5200W neatly sidestep this issue. They're not completely wireless (they're still mains powered after all), but so long as you've got a plug socket at the rear of your living room then you should be good to go.
Elsewhere there's more good news, as the Sony BDV-N5200W also includes a Blu-ray player that's neatly integrated into the central receiver unit.
Unfortunately, the big downside of this system is the lack of support for 4K. This won't be a big issue if you're plugging your 4K sources (such as a games console or streaming box) into your TV and using the HDMI ARC port to output audio to the N5200W, but if you're planning on using the HDMI passthrough of the system then this will prove more of a problem.
This makes it less future-proofed as a system, but if you're looking to upgrade your current Full HD setup then it's a great pick.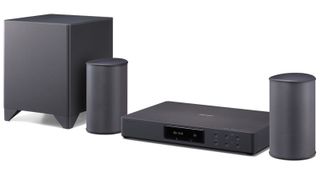 5. Pioneer FSW50
Go fully wireless
Specifications
Channels: 2.1
HDMI Inputs: 4
4K: Yes
Includes disc player: No
Reasons to buy
+Completely wireless system+Can be expanded with optional wireless rear speakers
Reasons to avoid
-Expensive-Only 2.1 channels out of the box
We've allowed ourselves a couple of premium picks in our list, and the first of these is the Pioneer FSW50, a 2.1 channel system that retails for over a grand.
What you're paying for here is a big step up in sound quality, as well as a completely wireless system. While the Sony N5200W above offers you the convenience of wireless rear surround sound speakers, the FSW50 extends this same convenience to all the speakers in the setup.
Of course, you'll be paying for this convenience, and you also won't get an included disc player, a centre channel speaker, or any rear speakers.
The latter point can be amended by expanding the setup with a pair of wireless rear speakers (sold separately), but even so the Pioneer FSW50 is a premium option if you care about sound quality over the quantity of channels.
6. Arcam Solo Movie 2.1
The audiophile treat
Specifications
Channels: 2.1
HDMI Inputs: 4
4K: No
Includes disc player: Yes
Reasons to buy
+Phenomenal sound+Plenty of inputs
Reasons to avoid
-Limited to 2.1 channels-No 4K support-Outrageously pricey
If the Pioneer FSW50 was this list dipping its toe into premium territory, then the Arcam Solo Movie 2.1 is an unrepentant dive. With a price approaching two grand if you opt for a package that includes speakers, the Movie 2.1 is firmly positioning itself as a home theatre system for people who care about audio quality above all else.
There are no high-end features here like 4K support or Dolby Atmos, and the receiver doesn't even include the option of upgrading the system with a pair of rear speakers at a later date (for that you'd have to opt for the Arcam Solo Movie 5.1 system).
But what the Movie 2.1 does have going for it is its fantastic audio visual presentation which benefits both the images you'll see on screen and the audio you'll hear.
Few will consider the trade-off in functionality worthwhile, but those who want the best presentation available for their Full HD TVs will find little to complain about.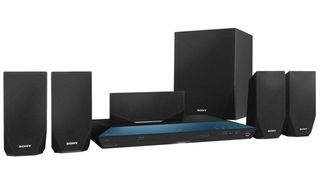 7. Sony BDV-E2100
An entry-level boost
Specifications
Channels: 5.1
HDMI Inputs: 1
4K: No
Includes disc player: Yes
Reasons to buy
+Affordable price+Includes disc player
Reasons to avoid
-No HDMI passthrough-No Atmos
At the opposite end of the price spectrum from the Arcam Movie sits the Sony BDV-E2100. We've already detailed the step up system, the N5200W above, but the E2100 is for anyone with a budget that's slightly more stretched.
The main thing you're giving up by going for this cheaper option is the wireless rear surround sound speakers. Rear speakers are still included (this is a 5.1 channel system after all), but you'll have to be prepared to run cables to the rear of your living room when you're setting up the system.
You'll also be making sacrifices when it comes to the amount of HDMI inputs available. The E2100 is designed to either be used with its built-in Blu-ray player (there's no 4K source on board) or else using an HDMI ARC port to take audio from the TV. No HDMI passthrough is possible with the E2100.
Otherwise these speakers are a great budget buy. They'll give your TV's audio a boost, but don't expect the same level of performance as the more expensive systems on this list.
Looking for more expert home tech advice?