Small TVs – such as the best 32-inch TVs featured on this list – might not look at home in the lounge but are a good choice of screen size if you want to watch your favorite shows in the bedroom, playroom, or kitchen.
Owning a television of this size doesn't mean you have to make any compromises on tech specs, either – such as image quality, audio richness, or smart capabilities – but finding them can be a little tricky as they come face-to-face with the bigger, more popular screen sizes.
This guide is designed to point you in the right direction of smaller-sized models that will work for your home and requirements because we understand that bigger isn't always better.
But if you want more televisions, check out our best TV guide for more screens at the best prices.
Which is the best 32 inch TV?
Why you can trust Real Homes Our expert reviewers spend hours testing and comparing products and services so you can choose the best for you. Find out more about how we test.
We love the Samsung 32-inch The Frame, which brings a 4K QLED screen to even those who don't want a massive screen in their homes. The gallery mode is arguably at its most useful in miniature, too, as you can easily mount the set with a nice-looking frame and treat it like a part of the decor until it's needed.
The best 32 inch TVs 2022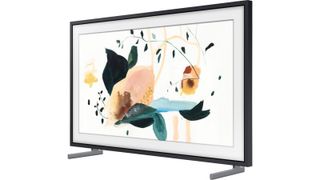 It was once thought that buying a smaller TV would mean forgoing modern specs like 1080p resolution and QLED panels, but not so with Samsung's 32-inch The Frame. Instead, the stunning television offers everything that larger versions do on a tiny scale.
Its main selling point is to sync with your decor, either with a subscription to the Art Store or using your photos and artwork. In Art Mode, the TV displays these pictures whenever someone is in the room (conserving energy when there is no one around), appearing like any other feature on the wall.
Adding to this design element is the customizable magnetic bezel, which you can use to make the set look more like a picture. These are sold separately, but there are a lot of choices. The TV also adjusts its brightness based on the amount of light in the environment so that it won't stick out even as part of a gallery wall.
But, as a TV, The Frame also impresses. There are multiple voice assistant options with in-built Alexa, Google, and Bixby, and cables are kept to a minimum, with the small One Connect Box holding everything in one place. The 60Hz response time is decent for gamers, and you can Miracast to beam your phone or laptop screen to the TV display.
Because of all these features, The Frame is quite expensive, but it's also a cut above and unique in the 32-inch TV space. Make sure you look at our Samsung discount codes for the best deals available.
Real Homes rating: 4.5 out of 5 stars | read our full review of the Samsung The Frame 32 inch TV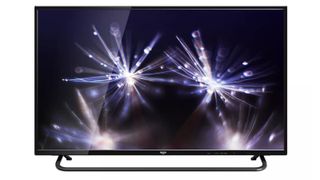 The Bush 32 Inch HD Ready LED Freeview TV comes recommended for those who want something straightforward, with none of the bells and whistles many of us have come to expect from our TVs. This will serve users well in a bedroom or kitchen where smart features and 4K resolution might not be required.
The Bush offering works well as a TV and a second screen for all of your entertainment. For example, there is an in-built Freeview tuner for standard HD telly watching, but the trio of HDMI ports and pair of USB ports will allow you to connect your Blu-ray player, streaming stick, or external drive with ease. There's even a SCART socket if you have some older tech you want to use.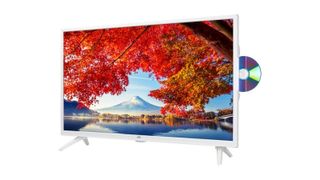 TV/DVD player combos used to be incredibly commonplace, but as streaming has taken off, they have become less popular. The JVC LT-32C606 32" Smart HD Ready HDR LED TV gives you the best of both worlds with Freeview Play, streaming from the likes of Netflix and Amazon Prime, and a built-in DVD player for enjoying your favorite films and TV box-sets.
The LT-32C606 is deceptively clever, working with Alexa and Google Assistant if you already have a speaker in the home. This means you can control elements of your viewing using just your voice! Handy if you can't find your remote control.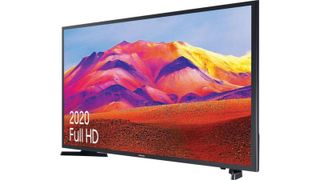 The only reason the SAMSUNG UE32T5300CKXXU 32" Smart Full HD HDR LED TV doesn't take the top spot as the best Samsung 32-inch TV is because of how much we love The Frame (the first TV on our list of the best 32-inch TV options), but it certainly earns its place as the runner-up. Sporting the exact 1080p resolution and a whole host of image-enhancing tech, it's also a great choice.
Image quality enthusiasts will enjoy contrast enhancement features and PurColour, which significantly boosts how your content looks. It is also Tizen for streaming from your favorite apps, and the set works with Alexa, Google, and Bixby smart assistants. You can also cast your phone screen with Apple AirPlay 2.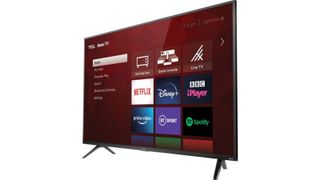 It won't be for everyone, but we love the Roku interface for navigating the modern streaming world. With all apps laid out clearly and the ability to search through them all at once for a particular show or movie, it's incredibly user-friendly. The TCL 32RS520K Roku 32" Smart HD Ready LED TV earns its place on the list for this reason, as well as a few others.
The TV has Freeview Play for effortless live viewing and streaming from catch-up apps like BBC iPlayer and All4, and you can use the Roku app to convert your phone into a remote and use voice control. It also works with Alexa, Google, and Siri – making it the only Apple-compatible set on our list.
How to choose the best 32 inch TV for your home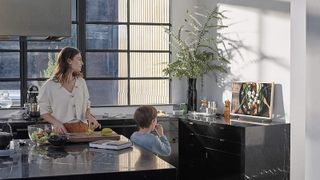 When choosing a TV, you'll want to start by thinking about the size and your desired resolution. For example, do you want one of the best 40 inch TVs, or do you want to go much bigger with one of the best 75 inch TVs? In general, picking the best TV for you depends on what you'll be using it for: most are smart TVs, ideal for streaming and catch-up apps, but remember that you will pay a premium for such technology.
32-inch TVs with 4K resolution are out there but are slightly more expensive. In our opinion, whether you need to invest in anything above HD depends on what you plan to watch and where your TV will end up living – as a screen to cast your phone screen onto in the kitchen may not warrant the best resolution.
How big is a 32 inch TV?
It sounds like a question with an obvious answer, but that's not necessarily true. Depending on the thickness of the bezel, the size of 32-inch TVs can vary ever-so-slightly. Therefore, where available, we have included the size and weight of each of the entries on this list, with the largest measuring 73.7cm (29in) wide.