When it comes to getting crafty in the kitchen you may be thinking of cooking, but personally, I love a small kitchen IKEA hack. When living in a studio apartment in a big city, a small space is part of the package. But it can also be a headache for those who enjoy spending time in the kitchen cooking up their favorite recipes or even just creating a chic kitchen space to their taste.
Although you might be able to renovate kitchens when living in a small studio apartment, it just wouldn't be worth the investment because you are renting rather than owning the living space.
To find some more small kitchen ideas, I spoke with Jules Yap, the founder of IKEAhakers.net, which is a blog showcasing the most impressive IKEA hacks from all over the world on ways to make a small kitchen a fun place to spend time in, which actually won't even break the bank.
10 small kitchen IKEA hacks
There are plenty of ways to make the most of your small furniture buys. Find some ideas for transforming a piece of budget-friendly IKEA furniture from creating a seating area to adding more storage.
1. Kitchen island hack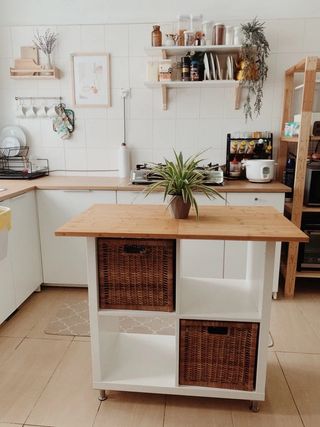 Yap featured a hack by X user HY (@yatt_azml) that caught the attention of many DIY enthusiasts. In the post, HY shares her clever IKEA kitchen island hack that is both compact and affordable.
With just four IKEA items — a Kallax shelf unit, Capita cabinet legs, two Lämplig chopping boards, and Stockaryard wood oil treatment — she demonstrates how easy it is to create a functional and stylish kitchen island that can fit in even the smallest of kitchens.
2. DIY pot rack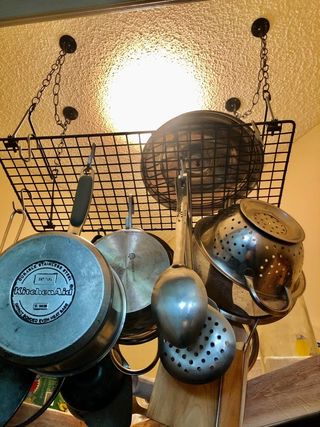 Yap featured an IKEA hacker who wanted a hanging pot rack for their pantry but didn't want to display the pots in the kitchen. This hacker found that most pot racks were too big for her small pantry.
Then, she discovered the Grejig shoe rack from IKEA and decided to use it for a DIY pot rack. She ended up ordering Vidka hooks and a Sonku 39-inch chain from Amazon to complete the project.
"The result was a hidden, functional, and affordable pot rack in their pantry," she Yap.
3. Sheet pan storage rack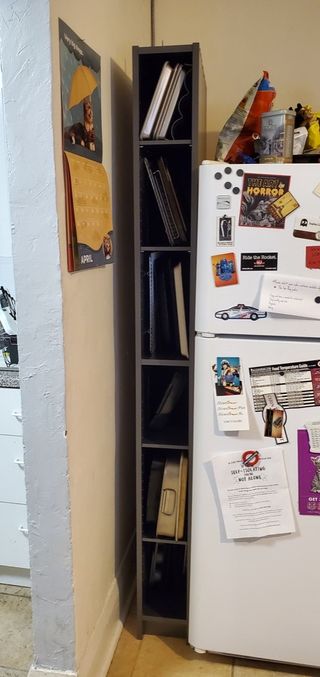 Yap featured Mark, who had been using various storage solutions for sheet pans, including an expandable pot lid rack. But was never truly satisfied.
Then, he found dead space between the fridge and the wall and came up with the idea to use a Gnedby shelving unit for sheet pans. As a result, this solution freed up space on other shelving units.
4. Kitchen pantry expansion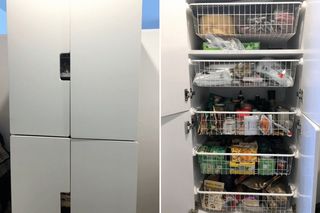 Yap mentioned that IKEA Hacker Marie shared the kitchen pantry she and her partner created using the Stuva system. The STUVA is not available on IKEA anymore, so the Småstad wall cabinet works just fine.
While there wasn't much hacking involved, Yap stated that Marie was able to repurpose the Småstad, originally intended for a kid's bedroom, for their kitchen pantry storage needs.
"The Småstad provided ample storage space for our kitchen items, and we were thrilled with the results," said Yap.
5. Kitchen pop peg board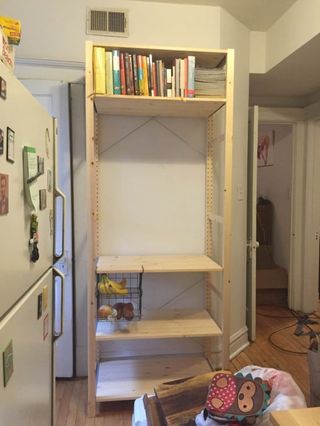 Yap featured Allison, who moved into a new apartment in Chicago with minimal cabinetry and plaster walls. Allison wanted to add a pegboard to the kitchen for storage but was worried about attaching weight to the wall.
As a result, she found the IKEA Ivar unit to be a sturdy solution, providing ample storage space for cookbooks, appliances, and cookware while also allowing for a pegboard workspace.
Therefore, she secured a cut-to-size pegboard painted in dark red to the Ivar unit using sturdy nails and attached an extension cord to the side. Combined with the Bäekvaem kitchen cart, the result is a functional and beautiful kitchen.
6. Mini Breakfast Bar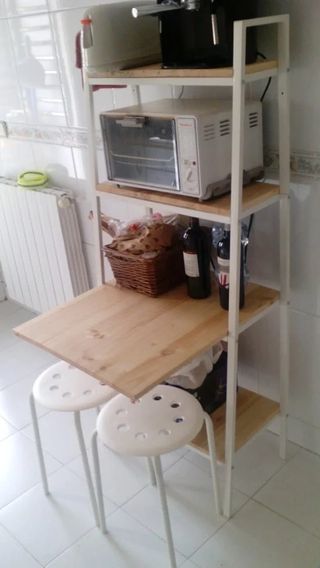 A clever hack to squeeze in a breakfast nook in a small kitchen. Yap featured Hacker Gilito, who replaced the metal shelves in the Lerberg bookcase with wooden ones, securing them with screws.
Yap said, "They also cut a longer shelf for the third shelf to create a small breakfast counter, with plenty of storage for kitchen essentials."
7. Portable kitchen island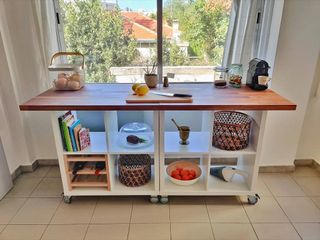 Yap featured IKEA Hacker Daphne, who had always wanted a kitchen island and found the opportunity to create one when moving into a new apartment with limited countertop space. Yap said she chose the Kallax shelf unit as an affordable and easy DIY solution.
Daphne found inspiration on Pinterest and created her own version of a kitchen island with lots of storage, a large enough surface area, and the ability to move it between rooms. Yap stated that the genius of this hack is how the long kitchen island detaches into two units.
"You can use one in the living room, another in the patio, or combine them again as a long buffet table," explained Yap.
8. Grain sack bag organizers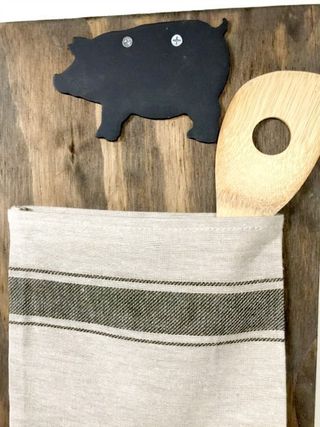 Using heavy plywood and Ikea Vardagen napkins, Yap featured IKEA Hacker Susan, who created a gorgeous farmhouse-style organizer for the kitchen. Since Vardagen napkins aren't available anymore, Gruppera napkins suffice.
"This was a simple DIY project, but it looks so cute in her kitchen," said Yap.
9. Kitchenette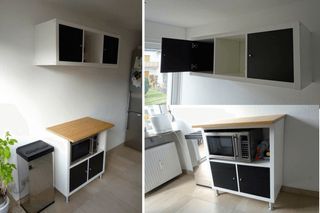 With limited storage and countertop space in the kitchen, Yap featured a hacker looking for an inexpensive storage solution and a designated space for the microwave.
After considering various options, Yap explained they decided to create a suitable solution using the Kallax shelf unit. The versatile Kallax unit got a new wood countertop and legs and was then mounted to the wall.
"For compact kitchen storage you can't beat this configuration," states Yap.
10. Shelving to avoid clutter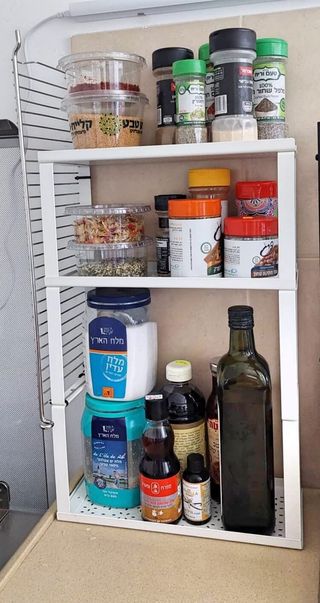 Yap featured IKEA Hacker Meira, who found a creative solution for kitchen organization to avoid clutter without drilling into tiles for shelving. She tried different cabinets and storage solutions before finding that a DIY shelving unit for spices and condiments worked best.
Meira used three small Variera shelves and the top part of the Ordning dish rack from a previous hack.
"She used zip-ties and two small nuts to create a small, sleek spice rack that doesn't take up too much counter space and takes advantage of vertical space," explained Yap.
Jules Yap started IKEAHackers.net in 2006 as a personal blog to showcase the most impressive IKEA hacks from all over the world. Since then, she has learned a lot more about power tools and DIY. Her site has helped thousands modify IKEA furniture with step-by-step tutorials, craft projects and home styling.
FAQs
What supplies will I need?
You shouldn't need too much supplies to pull of these small kitchen IKEA hacks. It's always helpful to have the basics around like a hammer, screwdriver, and wrench. If you're new to the DIY game, you can pick up a great 17-piece toolkit from IKEA.
How can I create more storage?
To accompany these great hacks, you may want to stock up on some storage baskets for all your extra odds and ends. You can add them to your new bookshelves or kitchen island to get organized properly.
---
While you're giving your space a makeover, you may want to think about design and decor. You may think you're quite limited as to what you can pull off in a tiny apartment, but there are plenty of outdated rules to ignore when decorating a small kitchen.