While it may seem overwhelming, there are some outdated rules to ignore when decorating a small kitchen. One of the many amazing things about social media is that interior design has become such a huge part of the conversation for everyone — not just designers.
These days, anyone with a camera, a few square meters to call their own, and a paintbrush can get creative with their space, and share their progress with the world. As part of that, we're throwing the rule book out of the window when it comes to how spaces 'should' look.
When it comes to kitchens, get ready to disregard everything you've ever been told. Told to stay away from patterns and color in a small space? Nuh uh, honey, not true. Heard that minimalism is the only way to go if your kitchen is on the petite side? Lies! In fact, here, I've spoken to some fabulous experts in the business about the ways you can defy the outdated small kitchen ideas and lean into your creativity, maximizing this space and leaving your mark.
Outdated rules to ignore when decorating a small kitchen
I've had enough of these old-school rules that don't apply to designing a modern kitchen and so have design experts. See their advice and alternative ideas, plus some small kitchen must-haves to stock up on.
1. Don't use bold colors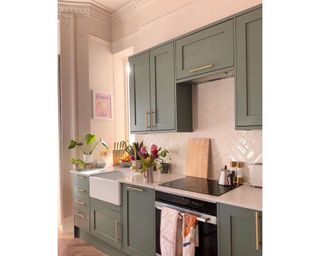 Matilda Martin, home decor brand Lick's Trend Specialist, explains that thinking you can only use neutral colors in a small kitchen is so last year. "One of the biggest myths when it comes to decorating small kitchens is that you can't be bold with color. The presumption is that in order to maximize space you have to go for bright white on your walls and cabinets. In reality, it is quite the opposite," she says.

"In fact, one of the key design trends this year is color drenching which involves taking one color and literally drenching your whole space in it. In the case of a small kitchen, this means painting everything from your cabinets and woodwork to your walls and ceiling in the same color. With less detail for the eye to take in and adjust to, your space will feel cohesive and visually calming."
2. You need wall cabinets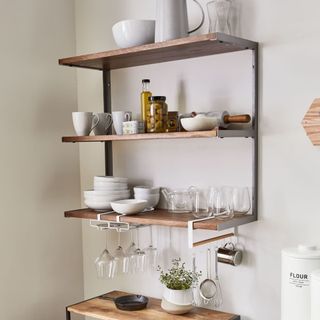 We've grown up seeing pretty much all kitchens designed and built with a standard set of cabinets across the wall to maximize storage. Now, while we love, love, love storage, especially in a teensy room, this isn't the only way to go and actually could make the room feel top heavy and cluttered. Instead, you could opt for open shelving, like these West Elm wall shelves, above countertops, and in free spaces to create a bit of breathing room. Plus, this means more opportunities to get your styling on and add cute plant pots, lamps, candles, and lamps.
3. You can't have an island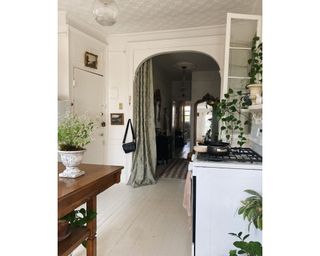 Now, we totally get that if your kitchen is in an enclosed space or a really small room, there may be literally nowhere to put an island or free-standing piece of furniture. But, if you have an open-plan living space with a kitchen built along a wall, as well as your seating area and dining set-up, an island can really work.
Candy Murray, Interior Style Manager at Soho Home explains: "A kitchen island opens up the room, creates flow, and brings a social element to the space. If you have an open-plan living area then an island or an equivalent could actually bring the whole scheme together," she says.
"An island doesn't have to be traditional, either. Go thrifting and find a big vintage table, dresser, or even get creative with pieces like an old butcher's block or apothecary cabinet. This can be transformed into a dining area with some bar stools, a place to prep and cook, the spot for cocktail parties or to chill when having a house party."
4. Never block a window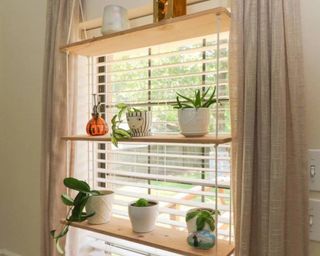 Now, we're obviously not suggesting that you actually do block off your windows. Please don't drag the fridge in front of your only light and ventilation source! But, if you're really short on space and storage, you can actually mount a shelf, like these hanging window shelves available on Etsy, sitting across the middle of a decent-sized window and it'll be fine. In fact, it can look pretty chic.
I know it sounds out there, but bear with me. If you add the mounts on the wall on either side of the window frame, you can place large, more light-obstructing objects on the edges and then smaller, lower, and more aesthetically pleasing bits and bobs in the middle. Add your favorite houseplants for small spaces and a scented candle and, bam, you've got a cool, quirky design feature.
5. Busy patterns don't work in small spaces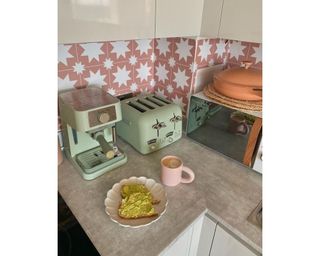 Always thought you had to stay away from prints and patterns if you had a small but perfectly formed home? Nope, lots of patterns can actually FLATTER a small space because it creates a sense of depth, where the eye is drawn around the room and you don't notice clutter as much.
Plus, you can't hide that your kitchen is the size of a postage stamp, so why try? Just embrace what you love. Use peel-and-stick-wallpaper to give your tiles or cabinets a dose of pattern, or you could even paint the walls in stripes, spots, or with a mural. It's all about being creative, baby.
6. Avoid dark colors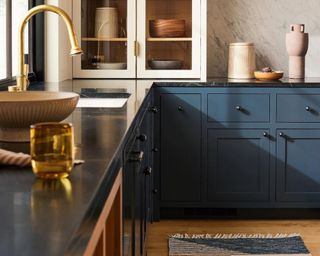 "Once again, I know everyone thinks that neutrals and pale tones are best for a small space, especially a kitchen which we envision being a clean, clinical environment, but actually this couldn't be further from the truth," says Matilda Martin, Lick's Trend Specialist.
"Painting your walls and cabinets in darker colors can actually give your kitchen depth and create the illusion of space. This is because darker colors absorb shadow, blurring corners to add dimension to a room."
Meet the experts
Matilda Martin is the Trend Specialist and Editor of In Good Taste magazine and Lifting The Lid' monthly newsletter at home decor brand, Lick.
Candy Murray is Interior Style Manager for Soho House's interior design brand, Soho Home.
FAQs
What should I avoid when designing a small kitchen?
Your kitchen means your rules and you can design it however you want. Visually, the creative choices are all up to you. But if you want to improve functionality, you may want to consider any organization mistakes you may be making.
How can I arrange my small kitchen?
When designing a small kitchen, it's important to consider all the elements you may have to move around. Have a think about everything from storing pots and pans to where to put your trash can. One of the easiest ways to do this is to sketch everything out on a piece of paper and play around until you're happy with the arrangement.
---
At the end of the day, there are no rules when it comes to interior design. The only thing that really matters is that YOU like it! So, be free, consider all small kitchen layout ideas, and decorate your space however you like!