New bed linen
New bedsheets can make a huge difference to the feel of your bedroom because, for most of us at least, the bed is the focal point of the room. If you live in rented accommodation with plain, white walls, you will find a colourful new set of bedding is a great way to re-fresh the look of your room on a regular basis.
If your bedroom is feeling a bit drab, you could go for bright, patterned bedding. To create a zen-like space, choose neutral, earthy shades that will create a sense of calm. If you love the hotel-vibe, then white bedlinen is your answer.
For bedding that's not going to break the bank, retailers like Ikea, Dunelm and H&M Home have great options available, as do major supermarkets. Don't be afraid to check out the sales too for an absolute bargain.
This duvet set by Ted Baker would be an uplifting addition to any bedroom. RRP £85 at John Lewis
Declutter
This one won't cost you a penny, in fact, you could even earn money by decluttering. If an item is in good condition, you could donate it or sell it (check out Ebay or Gumtree if car boot sales aren't your thing).
If the prospect of earning money isn't enough to encourage you to have a good clear out, then understanding the affect of clutter on your mental health might.
If you're not sure where to start, or struggle to let go of your belongings, then you need Marie Kondo (you can find loads of helpful tips by searching her on YouTube). Her KonMari Method involves asking yourself whether an item brings you joy. If not, you acknowledge the role that item has played in your life, and thank the belonging before letting it go.
The philosophy might sound strange, but it's turned into a worldwide phenomenon so there must be something to it.
Move your furniture around
Once you have decluttered your bedroom, have a think about how you might be able to change the furniture around.
Measure the size of the room first, then your large items, like the bed, drawers and wardrobes (if they are moveable). You might find it useful to draw a plan on paper before you (or your reinforcements) start any heavy lifting.
Make sure you empty your drawers/wardrobe before moving them, and make sure you only move what you are capable of moving.
Once you have the large items where you want them, try to identify any underused spaces. The tops of wardrobes and under the bed are often the most underused spaces. Utilising this space for storage can help you keep your home clutter-free all year round.
Paint
Make sure you prepare the wall well before you start and use the right tools to ensure a professional-looking finish
Depending on the size of your bedroom (and the cost of your chosen paint), it is possible to paint the whole room for under £50. Freshen up the existing colour with a coat of the same shade or go for something completely different — the choice is yours.
Also, no-one says you have to paint the entire wall to create a new look. You could add a splash of colour by creating a feature wall, or even create a unique paint effect to help distinguish zones in your room (see the headboard effect below). Use masking tape to plan out the zones before you put paint to plaster.
Upcycle/repurpose
Give your bedroom furniture a distressed look to add a vintage chic feel to your bedroom. The look is simple and relatively inexpensive to create
Upcycling tired furniture can create a whole new vibe for a bedroom (and it's a great way to create a cohesive scheme if you have collected individual furniture pieces from friends and family over the years).
Go for a lighter shade to create the illusion of more space, or choose complementary tones of the same shade to add depth. You can create different paint effects to create a vintage look. You can also transform your existing furniture with these handy tricks, turning mass-produced items into one-off and personal pieces.
Add a statement item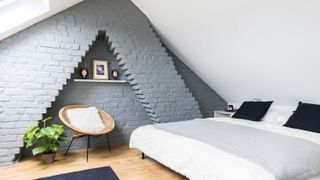 Adding new cushions or a throw to your bedroom can be a great way to add a sense of newness to the space without breaking the bank. Be inspired by this contemporary space
Often an inexpensive way to create a new focal point, adding a statement item is a great way to inject new life into a tired space. Whether that's a new rug, throw, cushion, or wall clock, having a new item to draw your eye when you enter a room can create a satisfying sense of newness.
A new mirror could also help to create the illusion of more light and space. Full length mirrors can be fixed to wardrobe doors to create the same effect if wall space is at a premium.
Scour secondhand shops and online auction sites such as eBay for statement items at bargain prices. A signature chair, ornament or even some inexpensive art will go a long way.