Designing your bedroom but short on funds? Perhaps you're renting and don't want to spend a fortune on decorating? Or perhaps you just like to create a new look for your room on a regular basis? Whichever... here's how to design a stylish new look for your bedroom – on a budget.
For more bedroom ideas, make sure you head over to our gallery next.
Get new bed linen
New bedsheets can make a huge difference to the feel of your bedroom since the bed tends to be the focal point of the room. If you live in rented accommodation with plain white walls, you will find a colourful new set of bedding is a great way to refresh the look of your room on a regular basis.
If your bedroom is looking a bit drab, you could go for bright, patterned bedding. To create a zen-like space, choose neutral, earthy shades that will create a sense of calm. If you love the hotel look, then white bedlinen is your answer.
For bedding that's not going to break the bank, retailers such as Ikea, Dunelm and H&M Home have great options available, as do major supermarkets. Also, check out the sales – you could get a bargain.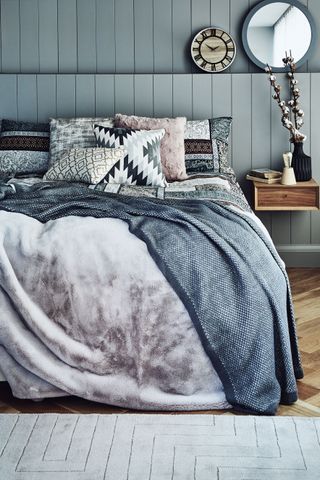 Declutter and reorganise
This one won't cost you a penny, in fact, you could even earn money by decluttering. If an item is in good condition, you could donate it or sell it (check out Ebay or Gumtree if car boot sales aren't your thing).
To make the process of decluttering even easier, spend that decluttering profit by investing in bedroom storage, not forgetting to beef up your clothes storage, makeup storage and jewellery storage, too.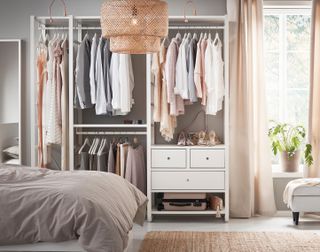 If you're not sure where to start with the decluttering, or struggle to let go of your belongings, then you need Marie Kondo (you can find loads of helpful tips by searching her on YouTube). Her KonMari Method involves asking yourself whether an item brings you joy. If not, you acknowledge the role that item has played in your life, and thank the belonging before letting it go.
The philosophy might sound strange, but it's turned into a worldwide phenomenon so there must be something to it.
Move your furniture around
Once you have decluttered your bedroom, have a think about how you might be able to change the furniture around to give it a new look.
Measure the size of the room first, then your large items, like the bed, drawers and wardrobes (if they are moveable). You might find it useful to draw a plan on paper before you (or your reinforcements) start any heavy lifting.
Once you have the large items where you want them, try to identify any underused spaces. The tops of wardrobes and under the bed are often the most overlooked, but the back of a bedroom door or a storage headboard instead of a flat one will prove space-enchancing, too.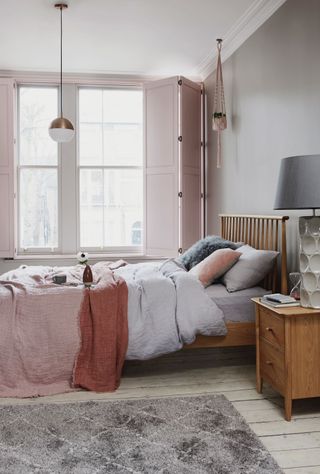 Give your bedroom a fresh coat of paint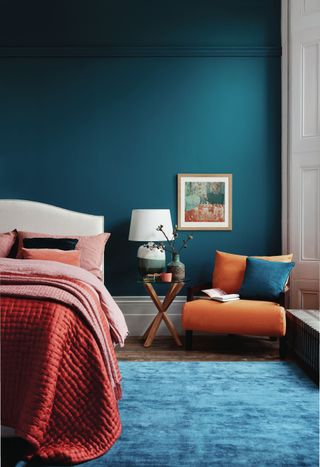 Depending on the size of your bedroom (and the cost of your chosen paint), it is possible to paint the whole room for under £50. Freshen up the existing colour with a coat of the same shade or go for something completely different — the choice is yours.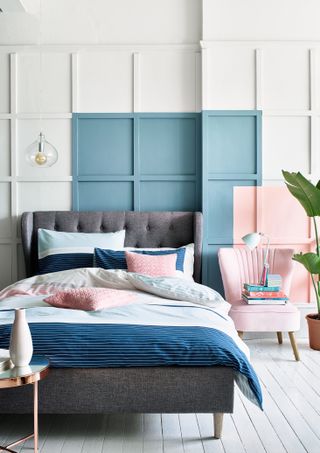 Also, no-one says you have to paint the entire wall to create a new look. You could add a splash of colour by creating a feature wall, or even create a unique colour blocking or ombre paint effect to help distinguish zones in your room. Use masking tape to plan out the zones before you put paint to plaster. Be inspired by these bedroom paint colour schemes.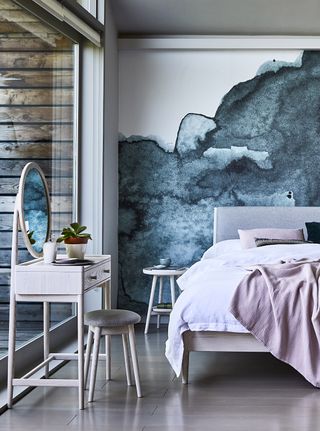 Paint the floorboards
Got the paint brushes out anyway for the walls? Painting previously honey-toned floorboards will make your room feel bigger and brighter instantly – just ensure you use a good quality floor paint for durability.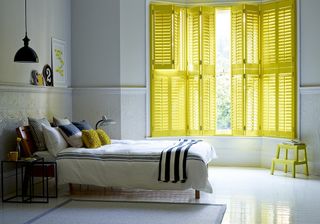 Upcycle your bedroom furniture
Upcycling tired bedroom furniture can create a whole new vibe for a bedroom (and it's a great way to create a cohesive scheme if you have collected individual furniture pieces from friends and family over the years).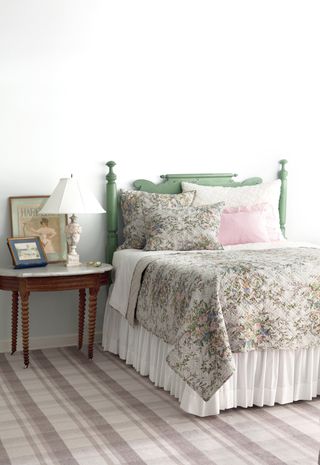 Go for a lighter shade to create the illusion of more space, or choose complementary tones of the same shade to add depth. You can create different paint effects to create a vintage look. You can also transform your existing furniture with these handy tricks, turning mass-produced items into one-off and personal pieces.
Find out how to paint your furniture with our step-by-step guide.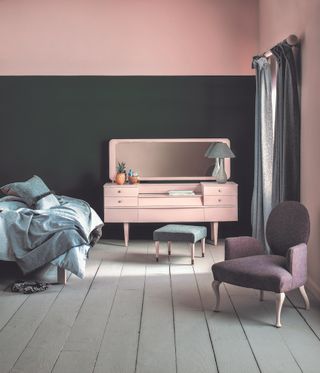 Go all-white
It's the cheapest paint colour for bedrooms, you can pick up affordable quality white bedlinen, and it's easy to repaint furniture (as discussed) while you're at it. Add in some woody textures and accessories in slubby, natural materials for a touch of laid-back warmth.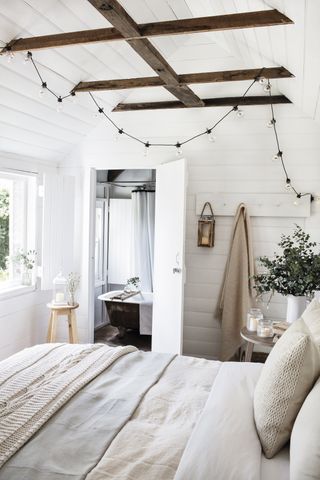 Add a statement bedroom furniture piece
Often an inexpensive way to create a new focal point, adding a statement item is a great way to inject new life into a tired space. Whether that's a new headboard, rug, throw, cushion, or wall clock, having a new item to draw your eye when you enter a room can create a satisfying sense of newness.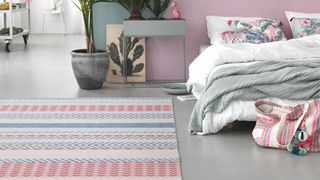 You needn't spend a fortune – this headboard (below) was created with painted MDF.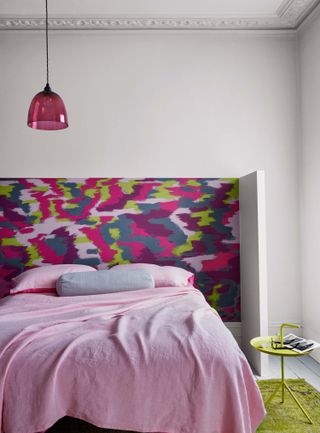 A new mirror could also help to create the illusion of more light and space. Full length mirrors can be fixed to wardrobe doors to create the same effect if wall space is at a premium.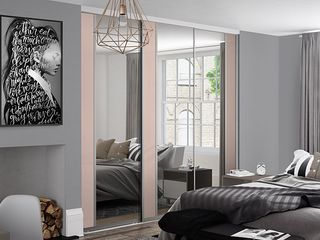 Buy at boot fairs
Scour secondhand shops, boot fairs and online auction sites such as eBay for statement items or collections of pretty pieces at bargain prices. A signature chair, ornament or even some inexpensive art will go a long way.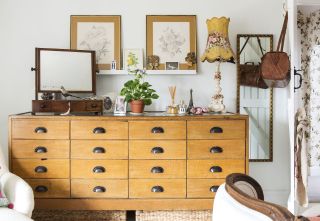 Display artwork artfully
Displaying artwork beautifully will add character, help pull the colour scheme together and create a focal feature in a bedroom. Better still, this might be something you can do for free, if you have enough pictures, photos or even postcards lying about the house.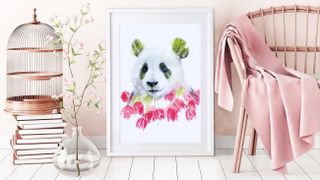 Put house plants on your shopping list
Growing an indoor garden is an easy way to bring life to a bedroom – plus it's good for the room's air quality. Find out more on the easiest common house plants to bring into your home.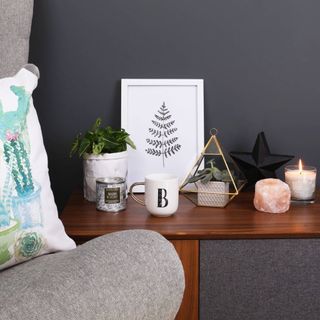 Read more: