Looking for the best way to clean a couch? It's true that cleaning your sofa may not be top on your list of priorities, but a couch that has wine stains and/or muddy paw prints on it, or one that smells, will just not do. Plus, a sparklingly clean couch will instantly elevate your living room decor, without having to spend any more cash on new furniture...
Whether you've just invested in one of the best sofas and want to keep it looking pristine, if you've literally just spilled coffee in your lap, or if you've inherited a hand-me-down in need of freshening up, rest assured, you can clean fabric, leather, suede and microfiber sofas quickly and efficiently.
Using regular household items like your best vacuum cleaner, in addition to natural ingredients like vinegar and baking soda and more will work wonders to bust stains and smells, fast.
Do this while you're cleaning upholstery around the rest of your home, and enjoy a much fresher experience on your couch from now on.
What is the best way to clean a fabric couch?
'The last thing you want to do when you see your dog jump up on the sofa covered in mud is panic,' says Kelly Collins, trained interior designer and head of creative at Swyft.
'Especially when cleaning one of our sofas is so easy to do. For stains like mud, ketchup, lipstick, or silly putty, you'll need to grab a teaspoon and first remove any stain residue with the edge of the spoon. For other stains, like pens or coffee, you won't need to do this. Simply dampen the fabric and begin the blotting process.'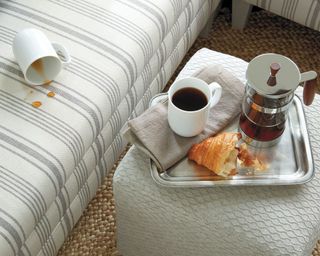 So you've been told to remain calm, but how to clean a fabric couch? Thankfully Collins has a 3-step process that you can try to clean a couch without enlisting the help of the professionals.
You will need:
Water
Paper towels
White bar of soap
Water and blot: Using a white paper towel, apply water to the stain and blot. Do NOT use circular motions as this will only rip your paper towel and drive the fibers from it into your fabric. It could also potentially make the stain worse. Blotting is time-consuming but highly effective so repeat the process, gently dabbing at the stain until you can't see it on the paper towel anymore.
Water and circles: Once the blotting is complete now is the time for using the circular motions trick. Apply more water to the stained area and use a microfibre cloth to rub the sofa with gentle movement. For extra stubborn stains, you can use a white bar of soap to help. Repeat this process until the stain is completely removed.
Air dry: Lastly, leave the sofa to air dry. This is really important. You don't want to use a hairdryer or apply heat to the stain in any way as this could embed the stain into the fibers.
'To avoid water marks after cleaning we advise that you dampen a colorfast cloth with boiled water from a kettle and gently wipe the entire panel or cushion from seam to seam. This will help to prevent any water stains as the fabric dries,' says Suzy McMahon, buying director, Sofology.
'Ensure you leave enough space between your sofa, doorways, and radiators to avoid accidental marking. Throws and cushions are a great way to add texture whilst simultaneously adding a layer of protection against stains.'
'Like with any sofa - whether it's linen, velvet, or similar – it's important to hoover it on a weekly basis to get rid of any loose dirt or crumbs,' says Collins.
'Hoovering your sofa can also prevent any smaller particles from embedding themselves into the weave making it much more difficult to remove the dirt or future stains.'
How do you deep clean a couch?
Whether it's the first time you've ever cleaned your couch, or if you've just inherited one from another home, a garage sale, or what have you, it needs to be cleaned and sanitized thoroughly.
Always check the label to see if there are any washing instructions available first, paying particular attention to the following guidelines, as different sofa fabrics need to be handled slightly differently.
'First, and most important, is making sure you read the manufacturer's suggestions for cleaning,' says Vera Peterson, President of Molly Maid. 'Couches always come with a cleaning tag, just like your favorite items of clothing. Check the tag for cleaning clues:
W — You can clean this material using water.
S — No water. You'll need to purchase a special solvent-based cleaner.
WS — You can use water or a solvent-based cleaner on this sofa.
X — Vacuum only'
Take these into account if you do find them, and If not, proceed as follows to clean and sanitize your sofa.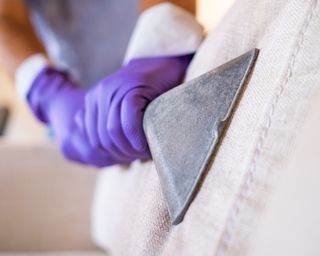 1. Vacuum your couch
Start as Collins suggested with a thorough vacuuming to lift debris, pulling up your couch cushions to get underneath, with your best vac or even handheld vacuum, if possible.
If you've just picked up an old couch, keep a close eye for any debris that looks like it could be from a pest, and make sure you get into all the nooks and crannies to suck up everything from toast crumbs to rodent feces.
If your couch is full of (your own pet's) hair, then don a rubber glove and run your hand over the sofa's fabric – be that suede, velvet, linen, or leather – to lift the fur shed by the four-legged. You can also try dampening the glove and again running your hand over the furry upholstery. Rinse off your now hairy glove and go again if necessary. Alternatively, we'd recommend investing in the best vacuum for pet hair you can afford if yours is a shedder.
'Pollen and allergens hide on our sofas.' says Paul Bagwell, founder, and CEO of Halo Appliances.
'Make sure to switch out your vacuum attachment to one that is especially gentle on upholstery, so you don't risk damaging your furniture. Remember to regularly clean under and around your sofa too, and all around those tricky corners of the room. using a crevice attachment here to ensure you're really getting into those hard-to-reach areas.'
2. Tackle spills on your couch
Next, you'll want to pull up any surface spills also. You'll need a spoon and a clean towel or paper towels for this.
If you're there when something gets spilled on your sofa, so much the better. If there's anything solid in the spill (we could be talking animal feces or human vomit here, as well as foods) remove it right away, using a spoon. Then apply a clean towel or paper towels to the liquid and blot as previously mentioned.
3. Treat sofa stains and deodorize
You will need:
If your fabric couch can be cleaned with water, you can try a weak solution of laundry liquid (or just plain water) and apply it with a spray bottle. Again blot with a clean cloth, but don't rub. Use water on a clean cloth to rinse.
Collins advises to 'not do the circular motion rub trick because it'll just rip your paper towel & drive the fibers from it into your fabric. Repeat the process until you can't see the stain on the paper towel anymore.'
Continue to apply more water to the area, rubbing gently with a microfiber cloth if it's still not lifted, and 'If the stain is particularly stubborn you can mix some soap in with your water to help lift it. Any white bar of soap will do, whatever you have in the house. Repeat the process until the stain is completely removed.'
4. Leave your couch to air dry
'This is really important, you must never use a hairdryer or apply heat to the stain. Adding heat will only help to set the stain. Patience is key,' says Collins.
5. Disinfect your sofa
If you did spot mouse droppings, bugs, or if someone in your house has got a cold – or we hate to say it, a virus – you should disinfect your couch with an anti-bacterial spray cleaner like this Amazon. Our favorite buy is below and for critters, try an all-purpose bug spray and leave it on for 24 hours or however long the instructions advise.

Lysol Disinfectant Spray Crisp Linen| $5.69 at Amazon
Use this disinfectant spray on everything from surfaces to upholstery. We're talking curtains, sofas, cushions, mattresses, and, it's great to use on handles, light switches, remotes, and other places you rarely think to disinfect – but really should. It can kill 99.9 percent of bacteria and it smells nice.
How to steam clean a couch
Steam cleaning a couch will rid the need to use harsh cleaning agents or chemicals. The best steam cleaners merely use water to disinfect and lift stubborn splatters, smears, and smudges. Our favorite for this job is Karcher SC3 Easy Fix steam cleaner.
'If you have a steamer very lightly steam just to ensure you're killing germs. Always hold approx 30cm away from the fabric.' advises Cleanfluencer, Lynsey Crombie, aka Lynsey Queen of Clean.
Clean a fabric couch with upholstery cleaner
You will need:
The best upholstery cleaners can be found everywhere; at the supermarket, online, and at your local hardware stores. Bear in mind that while these are designed to specifically tackle sofas and soft furnishings, it doesn't mean that they're necessarily gentle on skin, so you'll want to be especially careful if you have sensitive skin, allergies, or young children in the home.
Corrosive and toxic active ingredients need to be handled with care, and some are strong-smelling, so you may want to invest in some rubber gloves and get the family to vacate the room for a few hours, and open some windows to properly ventilate the space.
In terms of executing the job at hand, some come as sprays with a nozzle function, others are foam-based, and some look a little like soap bars. While it sounds cliche, the best cleaning jobs are the ones that get done, so ultimately pick the one that works for you.
How to clean a couch with vinegar
You will need:
White vinegar
A microfiber cloth
If your couch label says water shouldn't be used, and if you want an alternative to detergent, you can clean yours naturally using vinegar. Apply it on a cloth to gently blot the stain.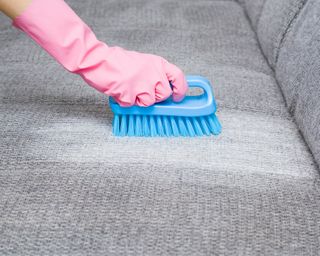 Clean a couch with baking or bicarbonate of soda
You will need:
Baking or bicarbonate of soda
A vacuum cleaner with smaller brush attachment
Cleaning cloths
Warm water
Washing-up liquid
Baking soda is great to lift stains and neutralize odors too, it's also the best method to clean linen sofas. Just sprinkle generously, leave for at least 15 minutes and vacuum up. Collins says: 'If you're dealing with a linen sofa you should avoid rubbing in a circular motion and stick to blotting. Bicarbonate of soda is great for linen; simply sprinkle some onto the stain, leave it for a few minutes to work its magic, vacuum it up (on a cold setting) and gently dab it until it's gone.'
Crombie agrees as she says: 'Bicarbonate of soda is great for a lot of things, including the removal of grime and embedded dirt in your sofa. Test the fabric first in an inconspicuous area, but bicarbonate of soda is safe for most types of upholstery. You will need a couple of cleaning cloths, a stiff brush, bicarbonate of soda, and your vacuum cleaner with the smaller brush attachment.'
'For any tough stains that are still present mix together 3/4 cup warm water, 1/4 cup white wine vinegar, and one tablespoon of washing-up liquid and scrub the mixture in with a hard brush and then blot dry.'
Remove food stains on microfiber couches with rubbing alcohol
You will need:
According to Ocean Free, a leading manufacturer of hand sanitizing products, 'Microfiber sofas can often be more complicated to treat than others, but stains can be removed easily by applying hand sanitizer to the affected area. Spot test in an inconspicuous place first, of course.'
Top tips on keeping your couch clean and cozy looking
Go for a high rub count: A rub count indicates how durable the fabric of your sofa is. Ideally want a sofa with a rub count of over 20,000. That's a lot of rubs before any wear and tear starts to show.
Vacuum regularly: To stop a buildup of grub that can lead to staining.
Catch spills: Treat them quickly for the best removal results.
Lint roller: Keep a lint roller close by if you have pets running around to pick up hair fuss-free.
Air dry only: Any harsh heat will actually set stains and damage your sofa in the long run.
How to clean a leather couch
If you want to learn how to clean a leather couch, you'll need to go gently. Forget about water and harsh upholstery cleaners.
You will need:
Even the best leather sofas can get grubby, and genuine hide can come at a high cost, so it's important to keep it looking prim and proper.
'First off, it's important to understand what kind of leather you have, as different grades will require different degrees of care. For example, high-quality aniline leather is meant to age over time so it doesn't have a protective top layer,' says Martha McNamara, head of design at Vevano Home.
'On the other hand, semi-aniline, finished, or pigmented leather has a bit more protection. Protected leather is more likely to be stiff, while unprotected leather appears softer and is more easily marked.'
'To clean leather sofas, first, you'll need to wipe or hoover away any dust or crumbs,' instructs Collins.
'Then you'll want to take a mild PH-balanced soap, either in bar or liquid form, or you can buy a specialist leather cleaner but be careful it doesn't darken or harden the leather. Dip a microfiber cloth into the water and soap mixture and swipe it across the surface. Continue rinsing the cloth in the cleaning solution whenever you need to. Once you've finished, use another, dry cloth to buff and dry the sofa off.'
'Make sure to thoroughly dry the sofa so there's no risk of mold or mildew building up. You can then apply a leather conditioner to restore moisture and suppleness although this is entirely optional and should only be done once or twice a year.'
And McMahon adds: 'To protect your leather, using a specialist conditioner from a quality care kit will help to clean and condition your product, reviving the sheen of the leather and preserving its soft suppleness. To prevent the leather losing its color or from becoming dry, apply this conditioner twice a year.'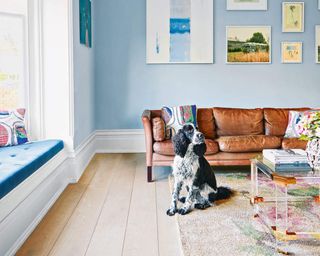 How to clean a suede couch
Want to know how to clean a suede couch? This material is technically the inner side of the leather, but with contrasting characteristics. Don't fret, though: learning how to clean suede is easy.
You will need:
Begin by gently brushing the suede with the specialist brush provided in your suede cleaning kit. These brushes are softer and gentler than those used for other household purposes – they work by gently lifting the fibers on the suede, dislodging dirt and stains.
For tougher stains, use the eraser, but bear in mind that it can remove some of the suede fibers, so go easy.
If you need to refresh a suede couch that is discolored or just a bit mucky all over, use the Saphir Omnidaim Nubuck & Suede Cleaner from Amazon which is one of the best cleaners for this job. Gently work it in with the brush, let sit for a while, and remove any residue with a cloth or paper towel.
Do not use harsh detergents on suede as it is a delicate material.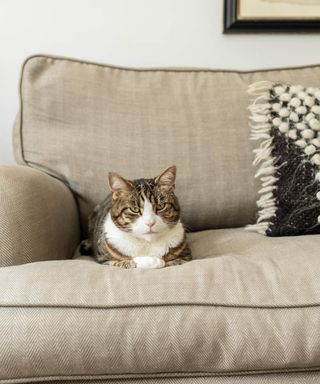 How to clean a couch if you've got pets
You will need:
'Lint rollers will be your second best friend to help remove your pet's hair from your sofa. Likewise, applying a stain repellent to your sofa may also prevent pesky pet nuisances and accidents,' says McNamara.
'If needed, and if it's safe for your furniture, a fabric deodorizing spray may also come in handy to remove any pet odors from the material. Another way to further pet-proof your furniture is to get a pet-proof furniture cover made from canvas.'
'When it comes to your pets, regular bathing and keeping their nails filed down will help prevent malodorous or damaged sofas and sectionals. If you have a dog, brush its fur often (preferably outside) to remove any strands that may be ready to fall before they fall on your couch.'
While Daniel Osman, head of sales at Balance Homes warns: 'For pet stains, beware. Normal cleaning products won't cut it. Look for specialty products that will chemically break down the lingering odors and hormones from your dog or cat's accident. Otherwise, your pet might think your couch is actually a toilet and become a repeat offender.'
How to clean a couch when you've got kids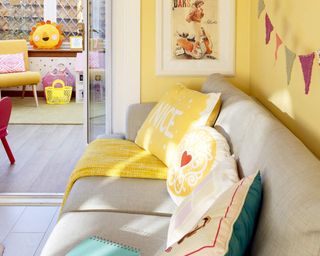 You will need:
A vacuum cleaner
A washing machine like one of the best washing machines from our guide.
A hairbrush
Specially-formulated odor remover
'Cleaning and maintaining your sofa regularly will go a long way in keeping it looking and smelling fresh,' says Collins.
It sounds weird, but you need to give your chair a good brush. She continues to explain that 'brushing it down a few times a month will keep the velvet at its best for longer. You can pick up fabric brushes online and for a low cost.'
Here are some of her top tips for keeping your sofa clean with accident-prone kids around the house:
Hoover daily or weekly to keep your floors sanitary for kids who like to sit and play.
Wipe or spray the sofa with a specially-formulated odor remover following juice or food spillages.
Regularly clean your sofa cushions and any scatter pillows, either by hand or in the washing machine if possible.
How to clean a couch that's been stained with red wine
You will need:
Water
Paper towels
Liquid hand soap
Cleaning cloths
'When red wine spills on your white or cream-colored sofa, it can feel like the end of the world,' says Collins.
'But, it's not impossible to remove. First, gently blot as much of the stain as you can with a paper towel and water. Then, mix one tablespoon of liquid hand soap with water and start to sponge the stain, repeat this until the stain has reduced.'
'You'll then need to blot with an absorbent cloth until all the liquid has been absorbed and sponge once more with cold water. To finish off simply leave the area to air dry and the wine stain should be completely gone.'
Can I clean a couch with a carpet cleaner?
The short answer is yes. Some of the best carpet cleaners are effective in eliminating stains on your sofa. For example, our Vax SpotWash Spot Cleaner CDCW-CSXS review proves how powerful it is in cleaning everyday mess.
How to clean a smelly couch
'Our sofas are often at the heart of our home. We use them for a range of activities, like reading a book, watching TV, sitting around with family, and cuddling up to our pets, so it comes as no surprise that the sofa absorbs odors.' says Susan Fermor, spokeswoman for Dr. Beckmann.
'These smells are often deep-rooted and thus using a scented spray usually only masks the scent, not removes it. We would recommend utilizing a scented spray, alongside a deep clean upholstery product, ensuring that the smell is eradicated deep within the fibers.'
How hard is it to clean a couch?
By now, you should've seen that although an inconvenience, a formula of natural or chemical detergents, quick thinking, and the right equipment can sweep up the slushiest of solutions. But, what if there was a way that you could be savvier with your sofa choice to save yourself unwanted stress? Patricia Gibbons from the design team at Sofa.com has the answer.
She says, 'think ahead when you first purchase a sofa and opt for a fabric with anti-spill, stain repellent properties. This will put your mind at ease whenever red wine or paw prints leave a mess. In recent months, our customers have been prioritizing longevity and comfort for their new sofas. Sales of our "smart" fabrics have grown by 29%.'
And, while it's not necessarily classed as keeping it clean, your sofa's position could play a part in how well the material looks.
'To avoid fabric fading we recommend placing your fabric sofa away from direct sunlight, fires, radiators, or other heat sources. If you are looking to place your sofa near a window, always try to keep curtains and blinds closed or dipped when the sun is at its strongest,' says Ian Allcock, supply chain sustainability manager at ScS.
How to clean couch legs
You will need:
Lint-free cleaning cloth
A diluted solution of soap and water
'Make sure to clean any non-fabric sections too, including the legs. If they're wood or metal, wipe it down with a soft, lint-free cloth and a gentle solution of diluted soap and water to get a soft shine.' says Rebecca Snowden, style advisor, Furniture and Choice.
How often should a couch be deep cleaned?
Typically, a couch should be deep cleaned once every two years. However, if yours gets heavy use and/or you have pets, you will need to clean it more often – at least every year. And, of course, if your couch has a stain on it or is smelly, clean it right away; the longer you wait, the harder the cleaning will be.
Is it worth getting a couch professionally cleaned?
Yes, there are several reasons why you should consider getting your couch professionally cleaned, even if it's not every time it's due a clean. Professional upholstery cleaners have the best tools and products, and a wealth of experience, so you're guaranteed a successful clean.
If your couch is made from an expensive material (say, suede or fine linen) and you're just not feeling confident cleaning it yourself, leaving the job to a professional is well worth it.
It is more expensive hiring out this job than doing it yourself – on average, a couch-cleaning service will cost you $160. But, if you need a guaranteed result, and especially if you've already tried the cleaning methods outlined above without success, we would recommend professional cleaning.