Cleaning leather is not rocket science and whether you want to spruce up a leather sofa, armchair, car seats or other gorgeous leather furniture items in your home, you can do it quickly and fairly naturally too. Mixing up a homemade leather cleaning solution using the likes of vinegar, olive oil and lemon juice (not a salad dressing we promise!) will let you both lift stains, sanitize and condition your leather items without any harsh products.
As with all cleaning, particularly if you're cleaning upholstery, always test any cleaning methods or products on an unseen area before you proceed.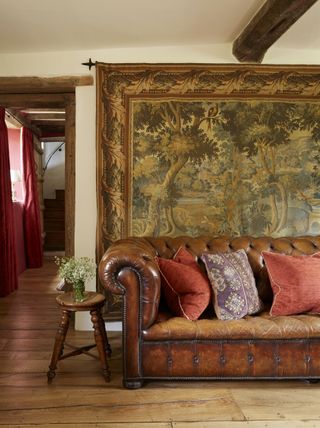 How to clean leather at home
We spoke with the sofa experts at ScS about the best ways to clean and care for leather items. 'To clean a leather piece, dust the sofa frequently and gently remove any spills with a clean, damp cloth. Make sure the cloth isn't too wet or it could leave a watermark. For stains, blot them with a solution of equal parts water and vinegar, then use a new microfibre cloth to wipe it away.'
Using a natural cleaner is our favorite way to treat our own leather goods, but you can also use gentle baby soaps or detergent if your leather is particularly dirty – it's all included below, whether you're cleaning a leather sofa, chairs, car seats or fashion items.
Note: Always check the manufacturer's label on your leather items and spot test any cleaner on a small hidden part of your furniture.
'W' means you should use a water-based cleaner; 'S' or 'P' means dry-clean only; 'SW' or 'WS' means use either method to clean your leather furniture; 'X' means professional clean only.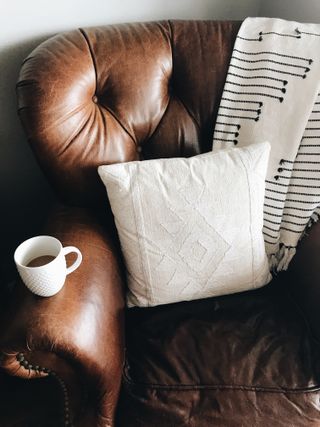 1. Gather your cleaning products and tools
It's good practice to gently vacuum your leather sofa cushions, inc. underneath them with the brush attachment. You can also just use a dry microfibre cloth to remove dust. Then you'll need your cleaning solution of choice and other tools to both tackle stains and enhance the material. We recommend gathering:
A microfibre cloth
Cotton wool/swap
White vinegar
Distilled water (distilled will reduce the likelihood of adding more residue)
Mild baby soap/detergent/rubbing alcohol
A leather conditioner: essential oils/olive oil/commercial conditioner
2. Wipe down your leather furniture items
Provided you can use water on your finished leather couch or other items, choose one of the following:
How to clean leather furniture with vinegar
Mix up a solution of equal parts white vinegar and distilled water (as much as you need). Take your clean cloth and gently wipe the solution over your leather items until damp – not wet.
Top tip: No white vinegar around? You can use apple cider vinegar, just that this won't sanitize the material.
How to clean leather furniture with oil and lemon
No we're not making a salad dressing here, combine two parts olive/walnut/melted coconut or another oil with one part lemon juice and apply this with your microfibre cloth until damp. Next, buff it in with another clean cloth.
How to clean leather furniture with baby soap
Mix up a solution of warm water with a few drops of baby soap or mild/natural detergent. You can add in a little vinegar for more potency if your leather is quite dirty. This mixture will also act as a leather conditioner, cleaning your furniture items and safeguarding against new stains.
How to clean leather furniture with a commercial cleaner
You can mix a few drops of commercial leather cleaner in water or load it on to a damp cloth to remove dirt and stains, but as with all cleaning of leather. Next, use a mild leather soap and water mix to remove any remaining cleaning solution.
How to clean leather with Castille soap
This method is ideal for cleaning leather car seats, you can still use any commercial leather cleaner or leather cream to clean and buff leather car seats if you prefer. Otherwise, use a solution of one part Castille soap to five parts water. Soak a soft cloth in the mixture, wring off the excess, and gently wipe down the seats. The olive oil in the Castille soap will help moisturise the leather.
3. Treat reamaining stains
Most stains should have lifted but if not, spot treat what's remaining using a cloth or cotton wool. We spoke with head creative at Swyft, Kelly Collins who recommends 'For tackling stains, you want to try to remove any residue first using a teaspoon, then use a damp cloth with soap - saddle soaps are specific to leather and the best to use here. Try rubbing in small circle motions as not to spread the stain out further. When it comes to leather, if you can't tackle the stain this way, it may be best to reach out to a professional cleaning service so you don't create any long-term damage to the upholstery.' And, here are some other tried and tested stain removal tricks for leather:
How to remove stains from leather with soap
For mild stains, dip a clean, damp cloth in a solution of warm water and baby or leather soap, and use it to wipe away the stain. Ensure the cloth is damp, not wet, or you may leave behind a water mark.
How to remove stains from leather with rubbing alcohol
More stubborn stains, such as those from an ink pen, can be carefully removed with rubbing alcohol applied with a cotton bud. Be sure to apply the rubbing alcohol directly on to the stain, not the surrounding leather. Next, use a mild baby of leather soap and water mix to remove any remaining alcohol.
How to remove stubborn stains from leather with vinegar
Use the same mixture as when wiping down leather and dab gently at the stains. Next, use a baby or mild leather soap and water mix to remove any remaining vinegar.
4. Dry off your items completely
Once you've cleaned and removed stains from leather, it's important to dry your items carefully. In a warm room, it can be left to dry naturally if it is merely damp. Otherwise, use a clean, dry microfibre cloth to dry it more quickly to avoid any mildew or mold growth, and to move onto the next step also.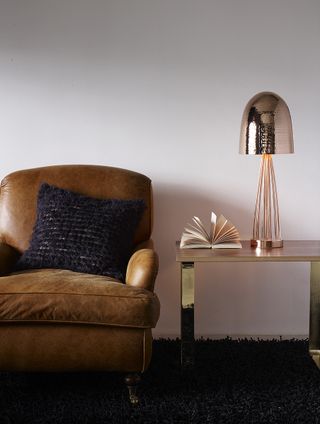 5. Apply leather conditioner
Think of leather as essentially an animal skin, and skin requires adequate moisture levels to stay supple and repel dirt. We'd recommend conditioning it every time you clean your items, but also on a monthly basis either using a commercial product or a natural solution. Some commercial leather conditioning treatments also have added beeswax which acts as a water and stain repellent. Bonus.
Conditioning leather with leather cream
Apply a leather cream like Astonish to your couch or chair, using a clean cloth to keep it soft and supple, following the manufacturer's instructions. Let the leather cream sink in, then buff to a shine. The process of working in the cream will also give the leather a general clean: you will see this on your cotton ball or sponge, which will collect surface dust and dirt.
Conditioning leather furniture with olive oil
Apply a dab of olive oil to a clean, soft microfibre cloth and buff the leather sofa or armchair with it to help keep them supple. In fact, you can mix equal parts white vinegar and olive oil in a bottle, shake well and use it to clean and condition the furniture all in one. Wipe and buff the leather afterwards to remove the oil.
Conditioning leather furniture with essential oils
For added scent and more conditioning benefits you can buff 10-15 drops of essential oils into your leather pieces using a clean microfiber cloth, moving in circular motions and removing any excess. Alternatively, add a few drops into the olive oil and vinegar spray solution above for more potency.
Note: all leather creams and balm should be applied to completely dry leather only.
Leather care and maintenance tips
Whether it's your leather sofa, a leather jacket, or a pair of leather shoes, this material really benefits from regular maintenance. So, prevention is the best cure where it comes to cleaning leather to not only prevent stains, but leather cracking too. Collins says, 'Leather is another durable option when it comes to upholstery, however it can call for more maintenance depending on how you desire it to look.'
You might like the look of lived-in leather – its characterful and perfect for period homes and contemporary interiors. However, if you'd rather keep your leather looking brand new, here's what to do:
Heat protection: Keep leather furniture away from radiators, roaring fires, direct sunlight and air conditioning units. Collins says 'Similar to velvet, it's important to place your leather items away from direct sunlight, radiators and air conditioners, this will help to keep it in the best condition possible.'
Regular dusting: Vacuum and dust the leather regularly, using the brush attachment to avoid scratching;
Conditioning and moisturizing: After cleaning and drying, treat your furniture with a leather conditioner just before it is completely dry. Collins advises 'Another tip for maintaining leather is to invest in a moisturiser/cream to avoid any wear and tear, this is also useful to apply after you've tackled any stains.'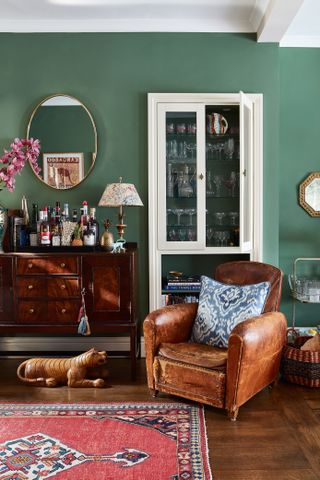 How do you get smells out of leather?
Airing out: Take the furniture outside. A shady spot is best if you're worried about the leather cracking; remove the cushions and allow the furniture to air for as long as possible, and bring it in before the evening starts to feel damp and failing that, air the room with the furniture in it.
Baking soda: Sprinkle baking or bicarbonate of soda over leather furniture and cushions, allow it to sit for an hour or two then vacuum off.
White vinegar: Diluted with water (half and half) and wiped over the furniture will work to remove odors. Don't forget to treat the underside of cushions, too.
Damp control: Check for mold and mildew and treat (as above). Ensure the leather furniture isn't kept in a dank or damp room.
You cleaning leather essentials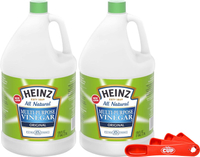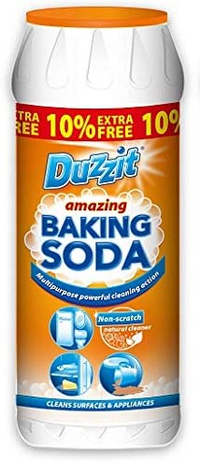 Leather looking super handsome 🙌