A bedroom should be a haven from the world, and a restorative space that leaves you ready to face the daily grind once more. As well as zones for sleep and storage, a mini living area to which you can retreat is a boon – if you can fit it. Whether you're designing a bedroom from scratch, or improving what you've got, be a savvy furniture buyer with our expert advice.
For more bedroom ideas make sure you head over to our gallery too.
Which bedroom furniture do you need?
The centrepiece of the room is, of course, the bed with bedside tables alongside it. You're also going to require both wardrobe and drawer storage in the bedroom, unless you have the space for a separate dressing room. A place for the television, if you like to watch it in the bedroom, a dressing table, plus perhaps a sofa or armchair might also be on your list of must-haves.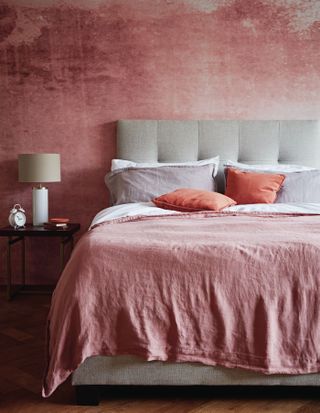 Choose the best bed
Size matters in the case of beds, so think kingsize as well as double. The ideal? A bed length of 10 to 15cm more than the height of the tallest occupant and, for a couple, the width to both lie with your arms behind your head and elbows out without touching.
Choose from divan beds and bedsteads.
Divan beds combine a base with a mattress, and a headboard is generally added. Cheaper divans have a hard top, while more luxurious versions have a sprung base that will make the bed feel more comfortable and prolong the life of the mattress above.
Bedsteads are frames and generally have a headboard. The base can be slatted, or consist of a metal grid or rigid woven wire. Flexible slats are preferable for both comfort and a longer mattress life.
Bedsteads may be wood or metal, and there's an increasing trend for upholstered versions.
If your bedroom is small, you may want to opt for a bed that incorporates storage – either as drawers, or with a lift-up mattress. Or, consider a storage headboard as a space-saving option.
Upholstered beds – whether divan or bedstead – look luxurious. Choose from fabrics such as soft-to-touch velvet, cotton, linen and wool. For period style, a metal bedstead is a natural fit, while wooden bedsteads are hardwearing and timeless in appearance.
For the mattress, select between sprung versions and those filled with foam or latex. Personal preference should be your guide, so try them out – together, if the bed's for two.
Sprung mattresses can have a more affordable open spring system or – much better for a bed you use every night – a hard-wearing pocket-spring system, which adjusts to each sleeper's shape and weight to create comfort. Look for higher spring counts for the most luxurious versions.
Non-sprung mattresses can be made from latex or memory foam, and offer good support. Memory foam can feel warmer than other mattresses – which you may or may not like. Latex mattresses tend to be more costly but should prove extremely durable.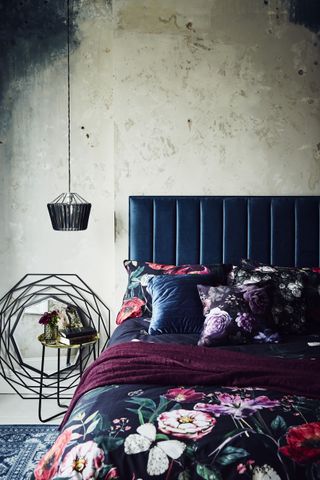 Find the right bedside tables
If there's room for a bedside table either side of the bed, it's well worth including them in your bedroom design. In a very small bedroom, a wall-hung option will keep more of the floor area clear, but otherwise the storage you need and the look should determine the choice.
If all that's required is space for a book, device and a place for a glass or cup, then a simple stool, tabletop with legs or tray table can keep the room feeling uncluttered and modern. Side tables with or without a drawer are a more traditional take on the same piece.
For more storage, select between cabinet-style designs and those with drawers. Depending on what you want to stow away, the latter will minimise the chances of losing things, as the back of a drawer's easily accessible when it's pulled out.
Designs on raised legs will make the room feel airier and larger, but maximising storage probably means a bedside table with more drawers that's very low to the floor.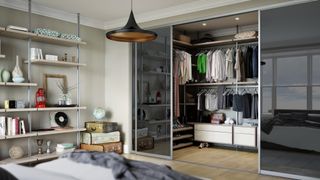 Pick bedroom clothes storage
Consider both hanging space and drawers or shelving for clothing storage. Before buying, assess how much of each type of space you need and also think about the length of the items you're going to hang. Shirts, for example, don't need the same depth as dresses and coats, and some designs can waste valuable space by offering much more deep hanging room than you require.
Wardrobes can be freestanding or fitted. Freestanding designs can, of course, be taken with you when you move and be elegant pieces of furniture in their own right, as well as providing storage space. Fitted designs have the advantage of being sized exactly to the room. They can also be designed around potentially awkward features like roof slopes.
Modular wardrobes and those that come with a wide choice of interior fittings can be worthwhile buys, allowing you to create the storage combination that suits the clothes you keep in the room.
Remember to allow for space to open wardrobe doors. Small bedroom storage ideas needed? Sliding doors can enable you to set pieces of furniture closer together. Check, though, that a sliding door design allows good access to every part of the wardrobe.
Chests of drawers can provide useful additional storage even if a wardrobe has shelf space within it. Tallboy designs are handy when floor area is limited, making use of vertical space without hogging too much of it width-ways. A chest of drawers could also stand in for a bedside table in a small bedroom, providing a place for a lamp and phone on top and clothes storage below.
Think about the drawer combination that suits what you're going to store. Many designs have two, or three, smaller drawers instead of one wide one on the top or top two levels, which are better for small items.
Drawer depth is important, too. A deep drawer is handy for winter jumpers, but pile too many T-shirts up to fill it and they'll end up crumpled.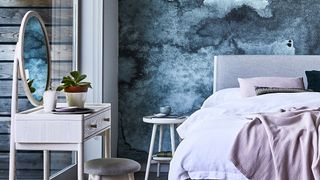 Go for a dressing table
A dressing table can be a valuable addition to a bedroom furniture selection, and is worth including even in a small room, if you can.
Think about how much storage the table needs to include: classic designs offer multiple drawer consoles extending from tabletop to floor, while others have a handful, a pair, or just one drawer under the table surface. Fewer drawers and a design with slim legs will help a small space feel larger, but with the downside of less storage immediately to hand.
Think about the width of the dressing table top. A scaled-down design can still provide space for a mirror for hair-drying and putting on make-up and slip into an alcove or fit along the same wall as another piece of furniture.
Teaming the table with a stool is traditional, and the seat can be tucked underneath when not in use to keep the room uncluttered.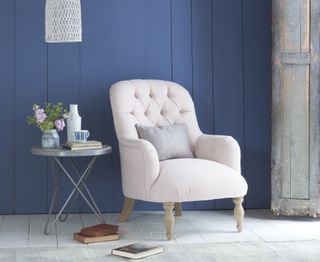 Introduce bedroom seating
Bedroom seating can transform your room from simple sleep space to luxury suite. Consider adding in these comfortable additions.
Bedroom chairs provide a quiet space for TV viewing or reading, as well as a handy place to perch when you're dressing. If a chair with arms won't fit, try an upholstered occasional chair without them.
Consider a sofa instead or as well as a chair. If there's not room to create a separate seating zone, can you position a small sofa at the end of the bed? Look for a design no wider than the bed for a neat finish.
If neither chair nor sofa can be accommodated, an upholstered stool or cube is another way to add colour and/or pattern, and a place to lay out clothes when necessary.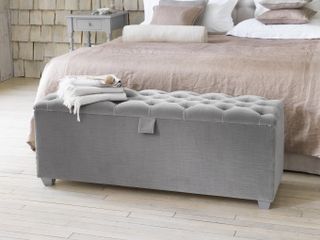 What other furniture do you need in a bedroom?
Don't neglect the extras that can make a bedroom more beautiful and counteract clutter.
If you watch television in your bedroom, and the goggle box isn't wall mounted or on top of a chest of drawers, you may want to add in a TV storage unit. Designs with doors that close on the screen can ensure it doesn't dominate the decor. Otherwise, go for a unit whose finish matches other bedroom furniture for a pulled-together look.
For storage of out-of-season clothes, or spare bedlinen, a storage ottoman or blanket box can often be accommodated at the end of a bed, and also provides an elegant end point when there isn't a footboard.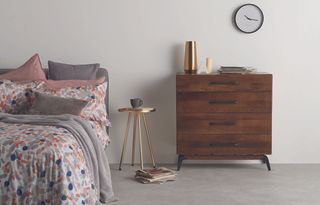 Bedroom storage furniture styles
With classic sets, clean-lined modern furnishings, Mid-century influenced furniture, and ornate French-style designs among the choices on offer, you can indulge your taste when it comes to buying bedroom furniture.
If you're shopping for wood furniture, look for quality designs with strong joints so they'll stand the test of time. Both solid and veneered wood furniture can put the focus on the grain and tone of the timber. Mid shades such as oak probably work best for small rooms, but in a larger space, the darker tones of a timber such as walnut can be impactful.
Storage furniture made from MDF is made to be stable and durable and painted finishes allow wardrobes and chest of drawers to have timeless style.
In a small room, choosing white or off-white bedroom paint finishes can help keep the space brighter- and bigger-looking by reflecting light. Want a contemporary look? Matt or gloss lacquered finishes have a modern edge.
Read more: