When it comes to bedroom design, it's all about creating the perfect balance between style and function. It's not easy, so we've created a ten step guide for success so that you can design a bedroom yourself, with ease. After all, we spend an impressive third of our lives sleeping, it is so worth investing a little time and effort in this room.
We cover everything from layout to lighting, and from paint colours to flooring options. Just keep scrolling to start working your magic.
Want more inspiration and ideas? Check out our bedroom ideas page to get your transformation just right.
How can I design my bedroom?
To design a bedroom yourself, you need to consider all the elements that will ultimately create harmony in your space. Start by assessing how big your bedroom is, it's shape, natural light levels and any features that you may need to think about a bit more carefully when you come to filling it with furniture and the likes.
And at the end of the day, designing your perfect bedroom is all about achieving a balance between practicality and style, so we touch on different bedroom design styles too, should you prefer a more traditional or contemporary bedroom look.
1. Choose the best colour for your bedroom
To create the illusion of more space, choose a light colour scheme, while if your room is north-facing and a little on the chilly side, you may want to consider warm paint colours or even moody hues.
Colour simply plays an important role in creating atmosphere in your space. And so, painting your bedroom should be one of your first considerations when designing a bedroom – it's also definitely the first job to do before moving in! Choosing the best colour paint will ensure that you bring more natural light into the room, and that your colour scheme promotes rest and relaxation, rather than overstimulating you before bedtime.
For bedroom paint ideas you can look to our feature.
The choice of bedroom paint colours is vast, but consider veering on the side of caution and opting for a calm and muted colour palette. A grey bedroom is still hugely popular and for good reason. It is soothing and elegant, and a little bit more exciting than white. Also we are big fans of pink at the moment – check out our pink room ideas and you will be joining us in our obsession in no time.
While paint is an easy route to success, wallpapers and feature wall designs are also a great way to bring life to your space. Modern bedroom wallpaper designs are an excellent – and often underrated – solution for bedroom walls. Wallpaper adds visual interest, texture, and warmth to any bedroom design, and is a particularly useful trick for making small bedrooms look larger. Choose a wallpaper with a delicate pattern to add dimension, or a bold design to make a statement with your bedroom walls.
2. Plan the best bedroom layout
Deciding on the layout of your bedroom furniture is a vital step in bedroom design. You may have little flexibility, but it's worth drawing a layout on graph paper, paying attention to the direction natural light is coming from.
Start with the position of your bed, organising all other furniture around it. It is best to position your bed lengthways in a rectangular room, while larger bedrooms will allow for more creativity, and you may well want to position the bed in the centre of the room. When planning the layout for small bedrooms, consider moving the bed into a corner to save floor space all round.
Now consider how much room (and budget) you have for bedroom storage. Fitted bedroom furniture tends to be more expensive and formal-looking but will offer a more efficient use of space, especially in a small bedroom, or an awkwardly-shaped one, such as a loft bedroom. Unfitted furniture needn't match, but you should aim, at the least, for a wardrobe, dressing table and bedside tables. See below for more on choosing bedroom furniture.
If you are planning a loft conversion, consider the shape and height of your space, and whether it will fit any of your desired furniture and storage.
If your bedroom is large and the nearest bathroom is on a different floor, you may want to consider adding an en-suite. An en suite bathroom can be added without planning permission, although it will need to conform to building regulations.
Alternatively, additional bedroom space can be transformed into a dressing room – just check out our dressing room ideas for inspiration.
3. Choose the best bed for your space
Choosing a bed isn't just about buying a good-looking bed frame. Rather, pick a bed frame that best suits your needs. For example, are you short on bedroom storage and would benefit from a divan with built-in drawers, or a bed that lifts up to reveal hidden storage in the base, or a bed with a storage headboard?
Do you really need a king-sized bed frame, or could you save space with double bed instead? Check out our pick of the best double beds to get you started.
What about the bed's style? It should complement your overall scheme, but can be used to dictate it, too. For example, if your preference is for a streamlined, minimalist look with a Scandi edge, go for a simple, white-washed wooden frame; if you want to add a feeling of luxury or an injection of pattern or colour, a bed with an upholstered, padded headboard will be perfect. Once you've picked your bed you may want to find the best mattress too and we can help.
4. Think about texture
Crisp, good quality bedlinen is key to a comfortable bed, and to creating a finished look in your bedroom design. To make sure that your bedlinen lasts, choose a high thread count (at least 300) if your preference is cotton, and linen bedding that fully discloses its manufacturing source. Linen is also great if you have no time, or don't want to iron your bedlinen, as it has a naturally distressed look.
If you are after some new bedding make sure you go and check out our best bedding deals and grab yourself a bargain.
5. Invest in practical bedroom furniture
The first consideration in choosing bedroom furniture is whether to go for fitted units or freestanding units. The choice will partly be dictated by the shape of your bedroom: awkwardly shaped rooms (often the case in period properties) will benefit from a bespoke fitted solution.
More standardised spaces in newer properties will work best with well chosen furniture sets or an eclectic mix of bedside tables, bedroom storage units, and a freestanding wardrobe.
Freestanding options can be considerably cheaper than fitted units, and can be replaced every few years if you like to switch up your bedroom design. If you only have to follow one rule when choosing your bedroom furniture, pick pieces that double up as bedroom storage. Choosing items that have delicate or light-coloured frames will avoid overloading the space visually, and should make the bedroom feel larger, less formal and brighter, too.
If you are designing a bedroom that's tight on space, a mirrored wardrobe is probably the best trick for visually enhancing the size of the room.
6. Find ways to stretch your space further
Bedroom storage options should be easy on the eye as well as functional. Specifically-designed small bedroom storage ideas will help make stretch your space, while jewellery storage, makeup storage, clothes storage and shoe storage will all keep the room neat and organised – a must if you want the bedroom to be relaxing.
Consider mixing and matching your bedroom storage, especially if you have a lot of stuff that needs sorting and tidying – and sufficient space for a variety of storage units. You can also choose a bedroom storage set, too, matching your bedside cabinets to your wardrobe and bed frame, and adding a bedroom storage bench or bedroom storage chest for maximum storage options.
7. Adjust natural light levels with bedroom window dressings
Bedrooms need plenty of natural light during the day, and the layout of your bedroom will largely depend on where the light is coming from.
However, windows are the source not only of annoying light during the summer, but also of excessive heat on hot days (especially in south-facing rooms), and draughts in the winter. Installing double-glazing is a solution to the draught problem, while summer heat can be managed with blinds, curtains (including blackout curtains for those sensitive to external light) and even window shutters.
For more bedroom window ideas take a look at our gallery.
8. And invest in artificial lighting too
While natural light is important when designing a bedroom, most of us will spend more time in our bedroom when it is dark, so maximising the potential of artificial bedroom light with a clever bedroom lighting scheme is crucial to creating a cosy and relaxing space.
Think soft, diffused light from dimmable bedside lamps or wall lights, or even a string of fairy lights arranged along your headboard. You may find that a ceiling light is unnecessary if you have integrated lighting in a wardrobe and good task lighting around your dressing table, for example, but in a high-ceilinged room, a chandelier or over-sized lampshade will create a focal decorative point.
Discover more bedroom lighting ideas
9. Visit your bedroom flooring options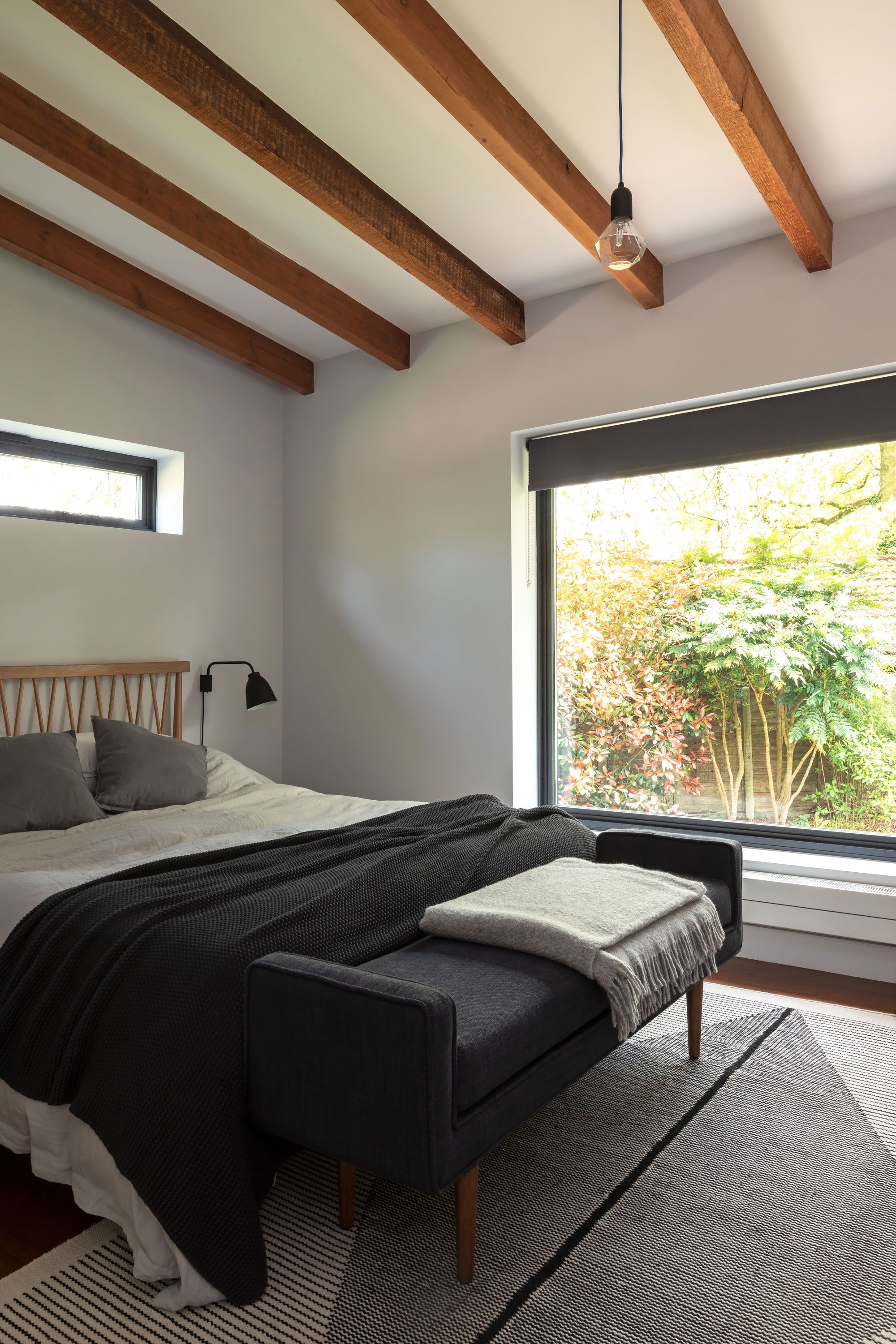 Choosing bedroom flooring is all about maximising comfort and warmth. Unsurprisingly, carpet is the most popular flooring option for most bedroom designs, but solid wood flooring is another great option, as it can still be warm underfoot, especially if you add a rug.
Solid wood is an expensive option, however, so consider an engineered wood flooring instead, which will be durable and virtually indistinguishable from solid wood, although slightly more affordable in most cases. If you are on a tight budget, consider laminate flooring or vinyl flooring, with higher quality options replicating the appearance of wood quite convincingly, or paint pine floorboards.
Real stone flooring can work in contemporary bedrooms, but consider installing underfloor heating to counteract the natural coolness of these materials.
10. Embellish your bedroom design with accessories
In any bedroom, large or small, a few finishing touches can make all the difference. How to choose accessories for the bedroom entirely depends on your tastes and budget: invest in a quality rug and see your bedroom instantly look more elegant; layer cushions and throws to up the comfort factor; create a gallery wall to add interest and colour; display photos and pictures to personalise the bedroom; and use house plants to promote a healthy atmosphere.
Style your accessories to create an attractive colour scheme and a variety of textures. Sheepskin, cotton, and satin do wonders for softening up the look and feel of bedrooms large and small.
Read more: