A fir pit in your backyard is the epitome of conviviality and a must-have feature, not just in the summer months. Beautiful and versatile in style, whether you have a small and modern looking patio or a super spacious suburban courtyard, you'll be able to elevate the look of your space with our fire pit ideas below. You may love DIY and want to build your own out of brick or stone, but there are so many great concrete, cast iron and more options out there to either blend seamlessly into your surroundings, or make a statement in your outdoor living space. Be inspired by the latest fire pit looks below and get ready for toasty evenings spent outdoors with your close ones.
Are fire pits a good idea?
We spoke with Dominique Imbert, Founder, Focus about the benefits of adding this feature to your home. 'Adding a new dimension to your outdoor space all year round, you can create an outdoor wellness zone for keeping warm, cooking or indeed as an escape from the indoors. You don't even have to have acres of garden this can be achieved with a very small patch of ground.'
'A crackling fire with dancing flames are the perfect ingredients for lighting up a summer's evening. Creating a designated zone for eating, reading, relaxing or simply keeping warm is the basis for atmospheric outdoor living and entertaining. Fire has the ability to transform a mood and create magical, memorable traces in time. Remember those moments of calm; the celebrations; a gourmet evening with friends and family - fire is so often a companion on these special occasions.'
1. Let it define the chill out zone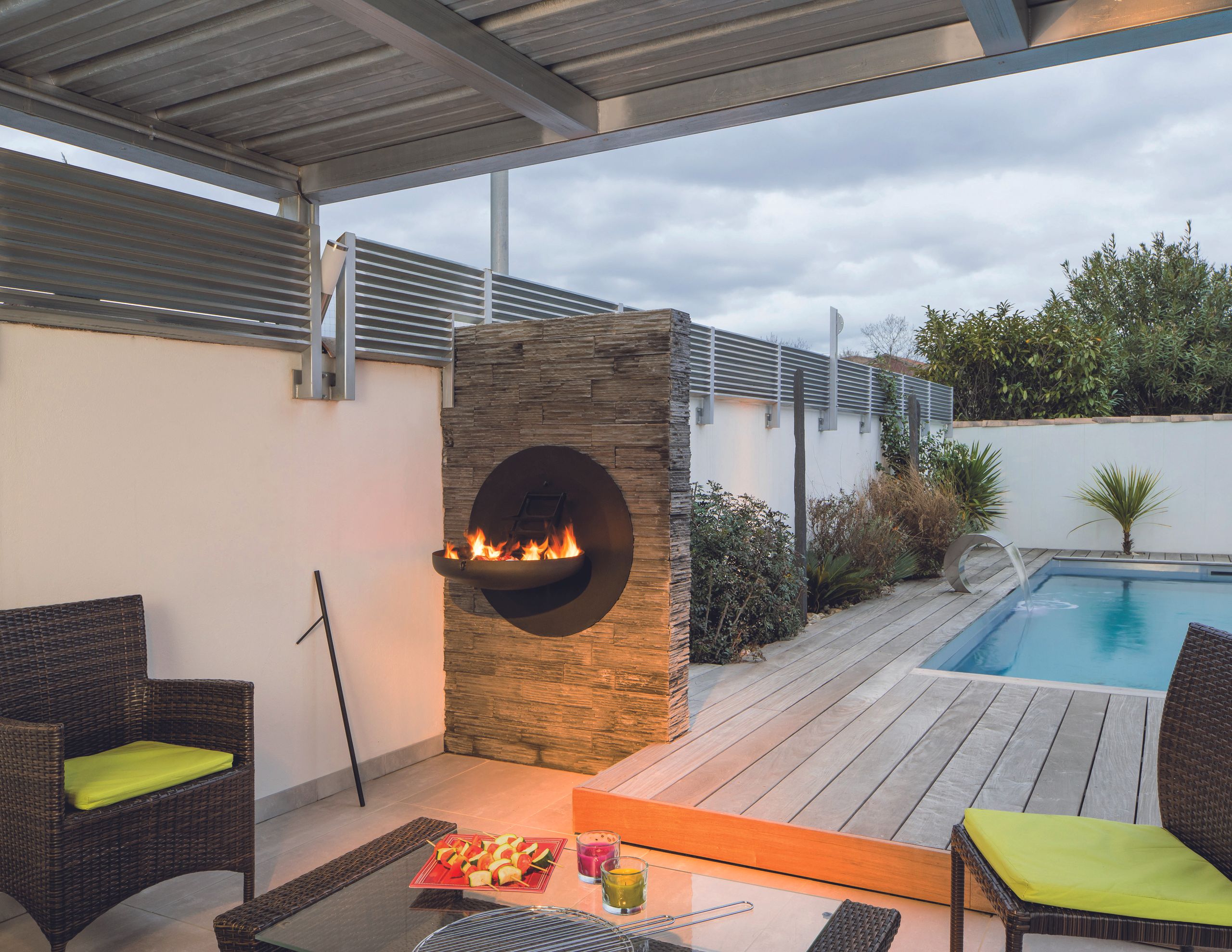 Consider a wall mounted fire pit and let it zone your backyard space, creating a little separation from say, splashes from the pool. This fire pit acts as a barbecue too and that surrounding disk is not only cool but will also protect your wall from ash and discoloration too.
2. Weave yours into your coffee table
A coffee table that doubles up not only as a fire pit but also as a drinks cooler and barbecue... That's our kind of fire pit. Nod to luxury a little more by choosing the finishing rattan weave as above or surrounding fabric to suit your outdoor sofas and armchairs too.
Jonny Brierley, CEO of Moda Furnishings recommends, 'If you are hosting guests in your garden in the evening, make sure the fire pit is lit before guests arrive. This creates a wow factor as they step into the garden, and also helps them to relax more quickly. Firelight is said to create a more intimate setting, allowing guests to relax and talk, letting their guards down at the end of the day. The fire provides a visual, psychological comfort from which you and your guests will benefit.'
3. Contrast concrete with an organic landscape
The contrast of a modern (and multi functional) rectangular table against the container trees and grass flooring creates balanced and sophisticated outdoor area. Think about aligning the length of your table fire pit with your surrounding garden furniture too for more clean lines.
4. Add lanterns for a festival finish
This fire pit set up will make you feel like you've gone for the glam option at Glastonbury, or like you're living it up at Coachella. Light that fire, turn the music up and keep dreaming in your backyard.
5. Complement your fire pit with candles too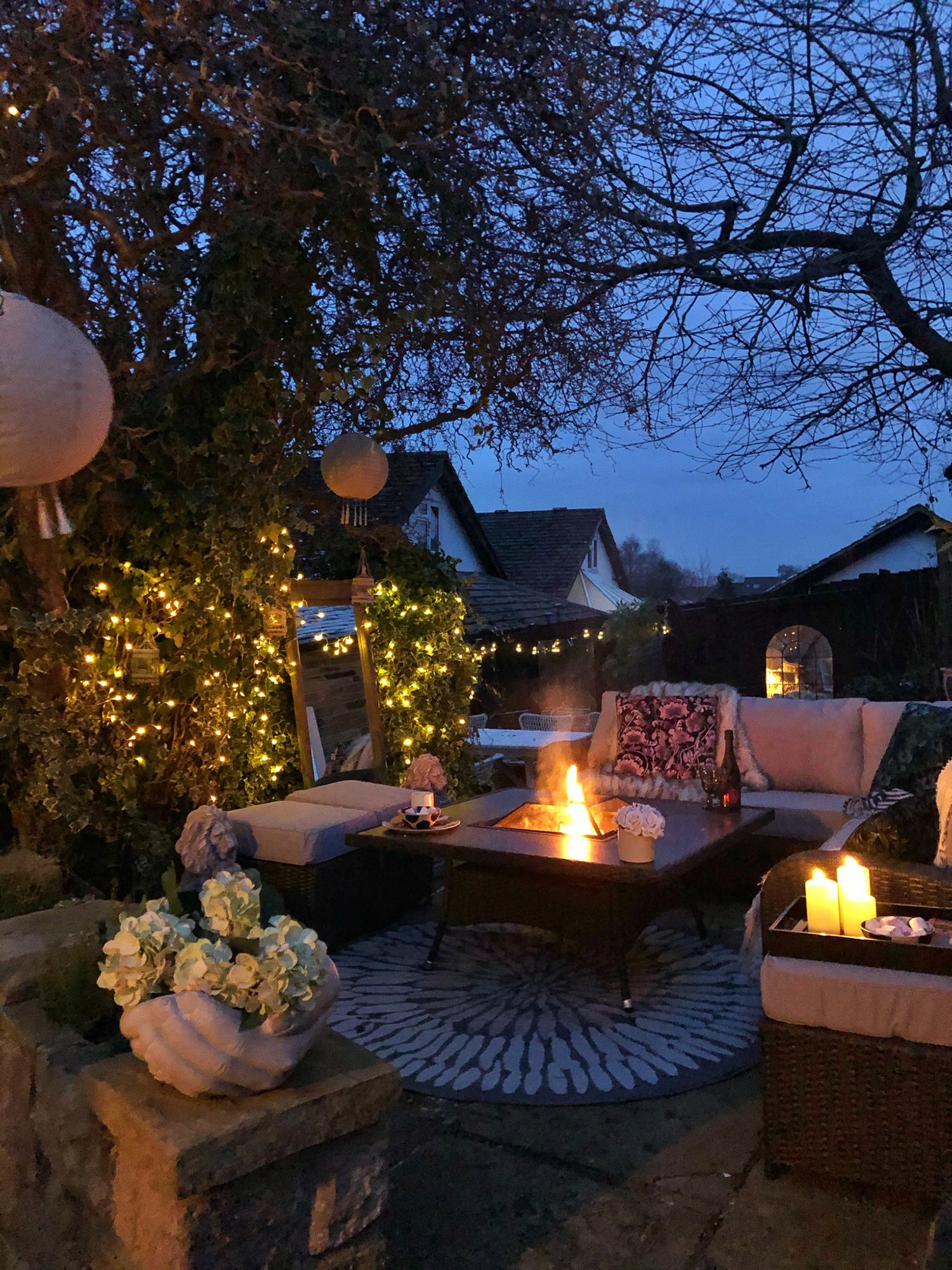 Adding candles and other sources of light to the fire pit mix is a surefire way (pun intended) to create a super cozy set up. You don't need to go wild but pick out some easy garden lighting ideas to incorporate like a few candles and some fairy lights, and you will be loving those long evenings spent in your backyard (even on a school night).
6. Create a view from the inside
Choose a statement piece that works wonders on the eye outside, and in. The elegant curves of this fire pit add a modern touch to the landscape in the background without overpowering the space at all.
7. Nod to all the camping vibes
If you want to go old school then choose a fit pit or learn how to build a fire pit yourself out of stone for a really authentic look. Pitch close to trees or in another fairly open space with natural barriers, grab your best deck chairs, your guitar and the marshmallows, and you have the cutest set up out there.
8. Elevate classic garden surroundings
If you have a more traditional or English country garden style going on, you don't need to shy away from all the trends. This open rust fire pit has a solid industrial finish to it and will make a cool contrast to even the most classic of garden looks.
9. Couple up with containers for effect
If you're a big fan of container gardening and have many pots of plants on your patio, consider complementing their placement with a couple of fire pits in a similar shape. Having the repetition of form will make for a cool display and you could even create a stylish walkway from the patio door right through to your backyard.
10. Have it on the rocks
Warm up your courtyard with this big ol' fire pit idea which adds warmth and coziness to what is quite an open space. Setting this on gravel creates a cool contrast to the fire pit's smooth exterior but nods to the textured interior also for an all round streamlined, stylish look.
11. Keep it really low key
Consider placing your fire pit away from your main lounge area to create a more tranquil and intimate zone. It's a great way to add interest to that boring pathway around the back of the house too. One of the simplest garden ideas that still has impact.
12. Go for the classics
Simple and modern, sure it's one of the most classic fire pit ideas going but sometimes basic works, right? The tripod legs and open round top give this cast iron fire pit full marks for elegance – plus it's portable and small with just a 56cm D – so it makes a great addition to small courtyards areas too.
13. Sit yours smartly (and safely) in your outdoor living room
A smart design comes with both decorative and functional perks. The glass and over all look works so well on a patterned outdoor rug. And, choosing a bioethanol fireplace which uses an eco-friendly, renewable energy source and that burns clean too, will let you enjoy a soot and smoke-free fire pit experience. This particular model is actually portable and safe to use both inside and out.
14. Match your patio's aesthetics
Looking at the colors and style of garden furniture you have before picking out your fire pit is a must. Here the sleek and contemporary grey finish of this tabletop fire pit matches up so well with the slate patio and surrounding furniture, creating a balanced and spacious area. We like the fiber glass-reinforced concrete here as it has a contemporary, minimalist look that will fit right in an urban patio.
15. Add interest with a small patio fire pit
Tiny patio areas look better and more spacious when fully kitted out, so contrast what you have on display already with a minimal but really fetching fire pit. Think about the frame's pattern and shape too for added interest in a contemporary space.
16. Gather round
Make it the center of attention by nesting your fire pit in the middle of your sofas, even in a small patio space. The atmosphere here is on point and what better way to relax than by watching dancing flames and talking the night away with friends?
17. Keep yours boho
Keep your fire pit scene laid back and relaxed using colorful bamboo seating, patterned rugs thrown on the floor and cushions galore for a 'woke up like this' setting.
Can you use wood in a fire pit?
If your fir pit of choice requires wood for fuel, Imbert recommends to only use hardwood and that it must be dry for optimal performance of your fire pit. 'It is essential to burn dry wood. The maximum moisture content for a log ready to burn is 20%. Depending on how it is stored, wood can be burned 18–24 months after it is cut. The storage conditions for wood are very important. Wood should be stacked in a dry and well-ventilated location. Ideally it should be stored under a cover, with the sides left open for sufficient ventilation. Do not place logs directly on the ground, but on pallets or wooden planks to allow air to circulate around them. If wood is not stored properly, it can become moist and thus burn less efficiently and emit pollutants as it burns.'
What should you not put in a fire pit?
Imbert notes to not confuse your fire pit with your rubbish bin, 'Waste and rubbish can rapidly transform the former to an incinerator producing unpleasant odours, not to mention the release of toxic gases into the atmosphere.'
Warm it up 🔥