Designing kitchens on a budget does take some skill but it can be done, and it can be done well. After all, when it comes to planning a new kitchen, there is often a huge gulf between budget and expectation. You can start designing your dream kitchen with a limited budget in mind but then when you start adding on the price for labor, appliances such as the best dishwasher and best fridge freezer, worktops, tiles and other extras, costs can quickly escalate, and that original number you started with just seems impossible to stick to.
Whether you are just changing a few items or redoing everything, it's really important ahead of starting, to know your budget and to have an idea of the end result would like. Here, we explain what you can expect to pay for various crucial elements of your kitchen, how to get the best quality for a good price, and why you aren't restricted to buying from budget kitchen brands when planning a stylish makeover...
We've included some our best budget kitchen essentials also, such as flooring cabinetry, ironmongery and more – at pocket-friendly prices. Whether you are overhauling your kitchen or not, keep scrolling for our 21 tips on how to put your favorite kitchen ideas into practice, without burning a hole in your pocket.
Know the cost of designing a stylish kitchen on a budget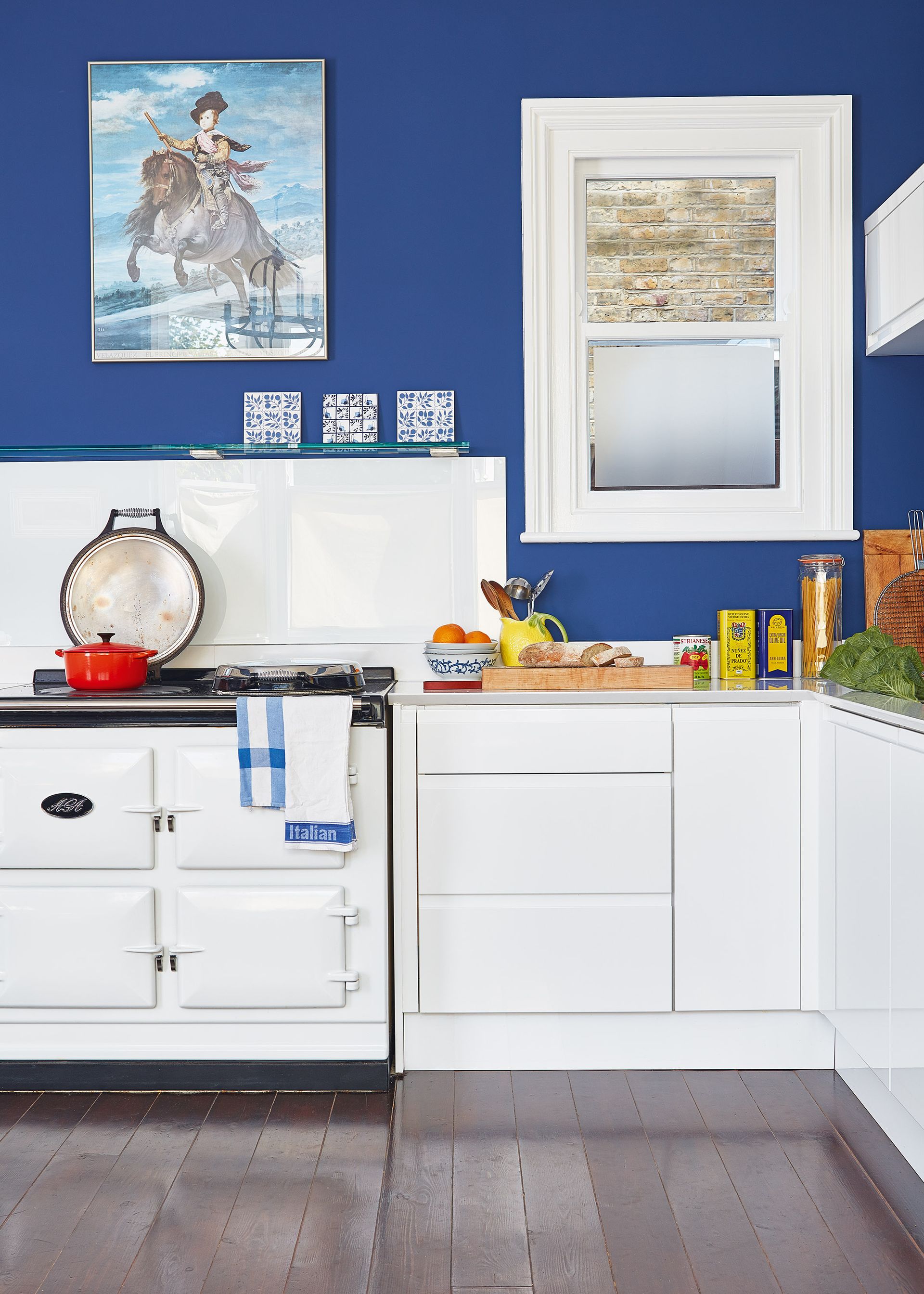 As a very rough guide, when designing a kitchen on a budget, it is sensible to spend a maximum of five per cent of the overall value of your house on a new kitchen, to avoid losing money if you sell.
At the lower end of the new kitchen cost scale, expect to pay upwards of £3,000 for good quality units for an average sized kitchen. On top of this, you'll need to add worktops, which cost upwards of £100, appliances and fitting, which can vary from a few hundred pounds to more than £2,000, depending on the kitchen's complexity.
When pricing up your furniture and worktops, be aware that estimates will vary quite widely depending on the quality and level of design you are after, but expect to pay from £17/m² for standard off-the-shelf units and work surface, and up to £144/m² for bespoke units and design service.
Kitchens on a budget can be DIY fitted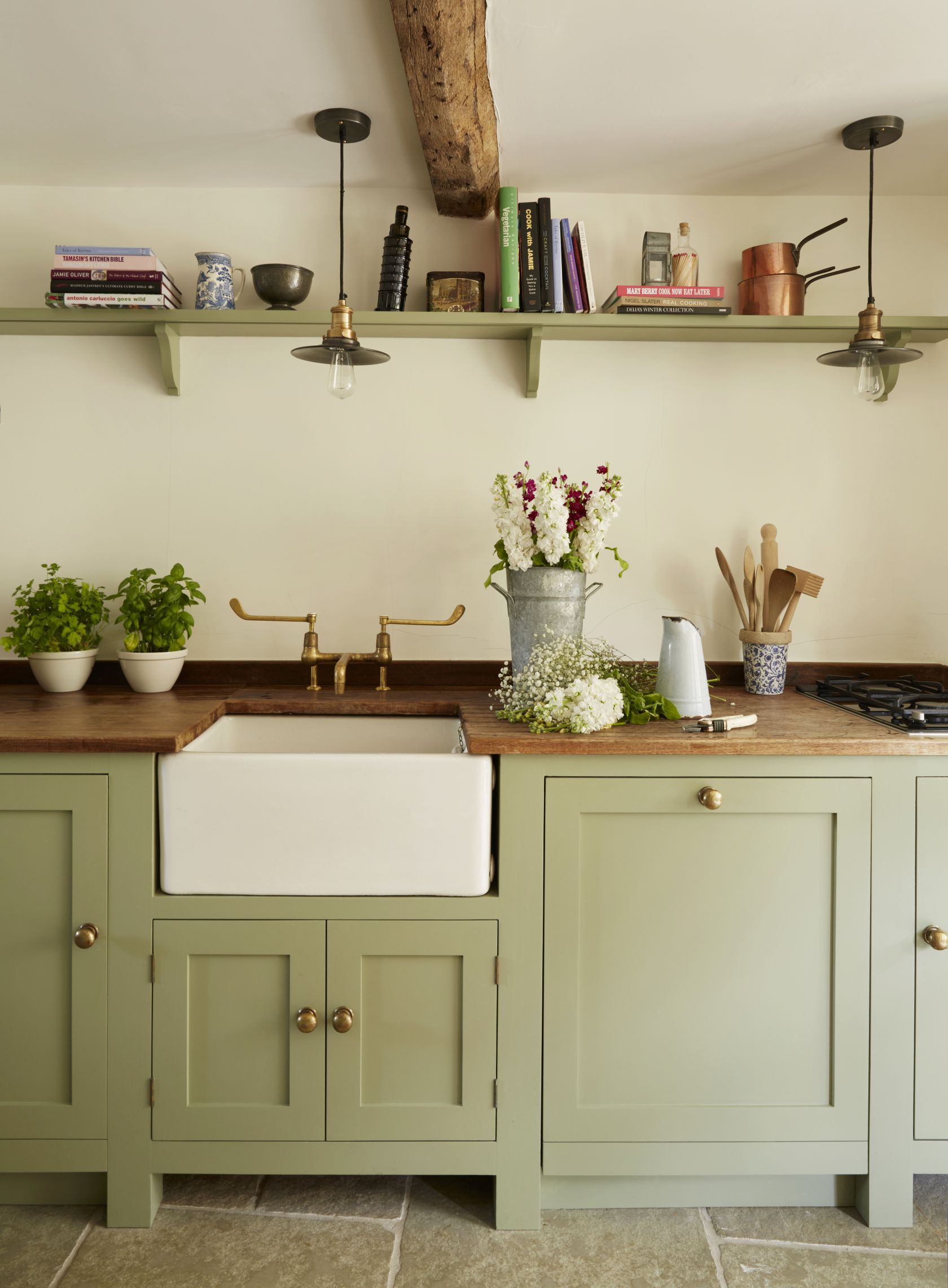 You could also save over £1,000 by installing the kitchen yourself, but you will compromise the finish if your DIY skills are not up to scratch.
Kitchens on a budget: 21 tips, looks and ideas
These budget kitchens we show you that you really don't need to spend a ton of money to get a stylish design – you just have to know a few handy tricks...
1. Buy flat-pack for a more affordable kitchen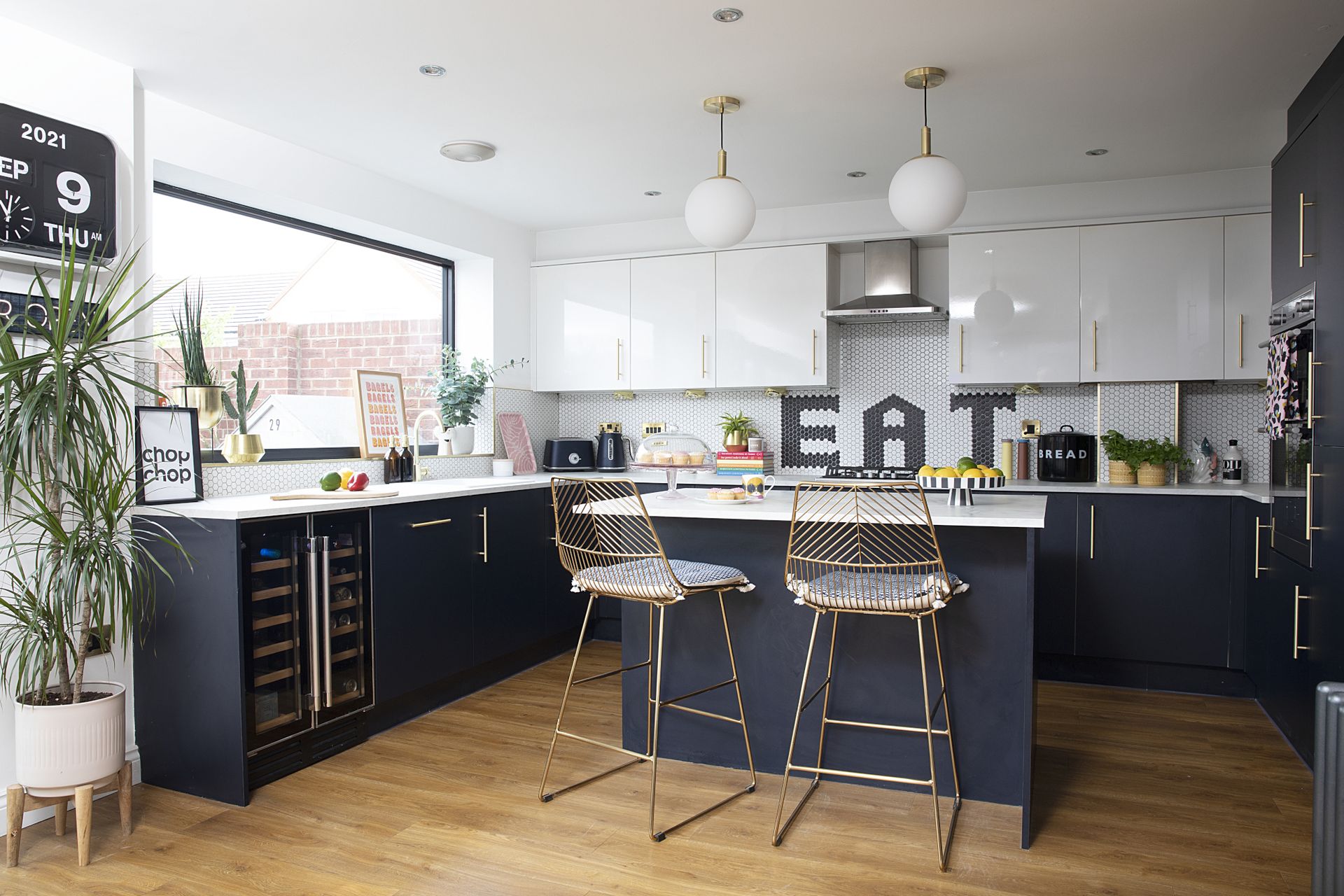 If you have a total budget of between £5,000 to £10,000, you may be surprised at the quality of cabinets you can afford. The majority of kitchens within this price bracket will consist of flat-pack carcasses with doors mounted on to the front using hinges screwed into the chipboard. The units are generally all the same on the inside – although some are made sturdier than others with an 18mm frame – with the look dictated by the style and color of doors and decor panels.
2. Pick an Ikea kitchen and upgrade the doors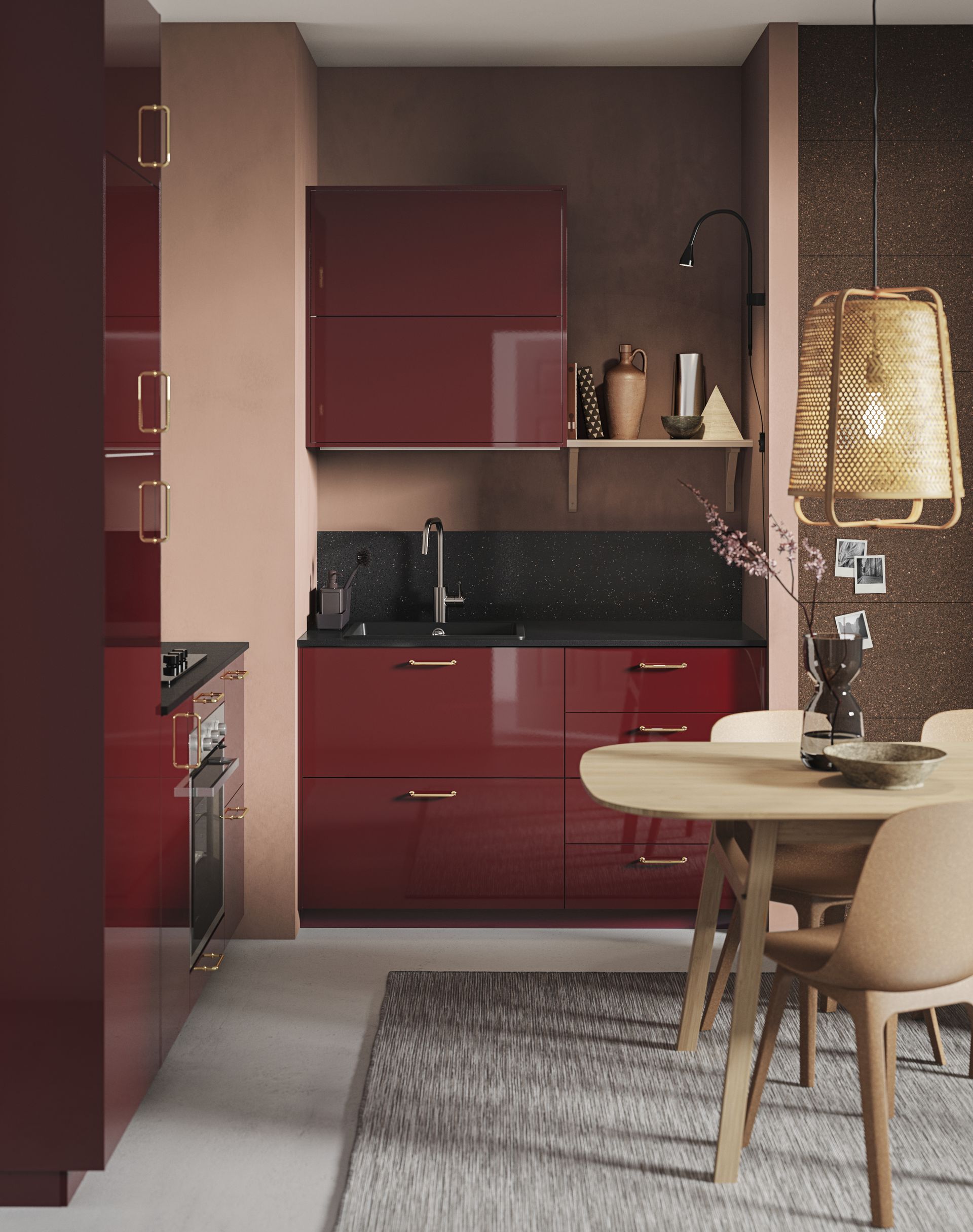 The cheapest way of getting a kitchen with a solid wood finish is to buy affordable off-the-shelf carcasses, such as from Ikea, and then get a joiner to make solid wood door fronts. You can even order them online – try Superfront (opens in new tab), which makes doors, handles and legs for Ikea frames, or Shaker Doors Oxford (opens in new tab).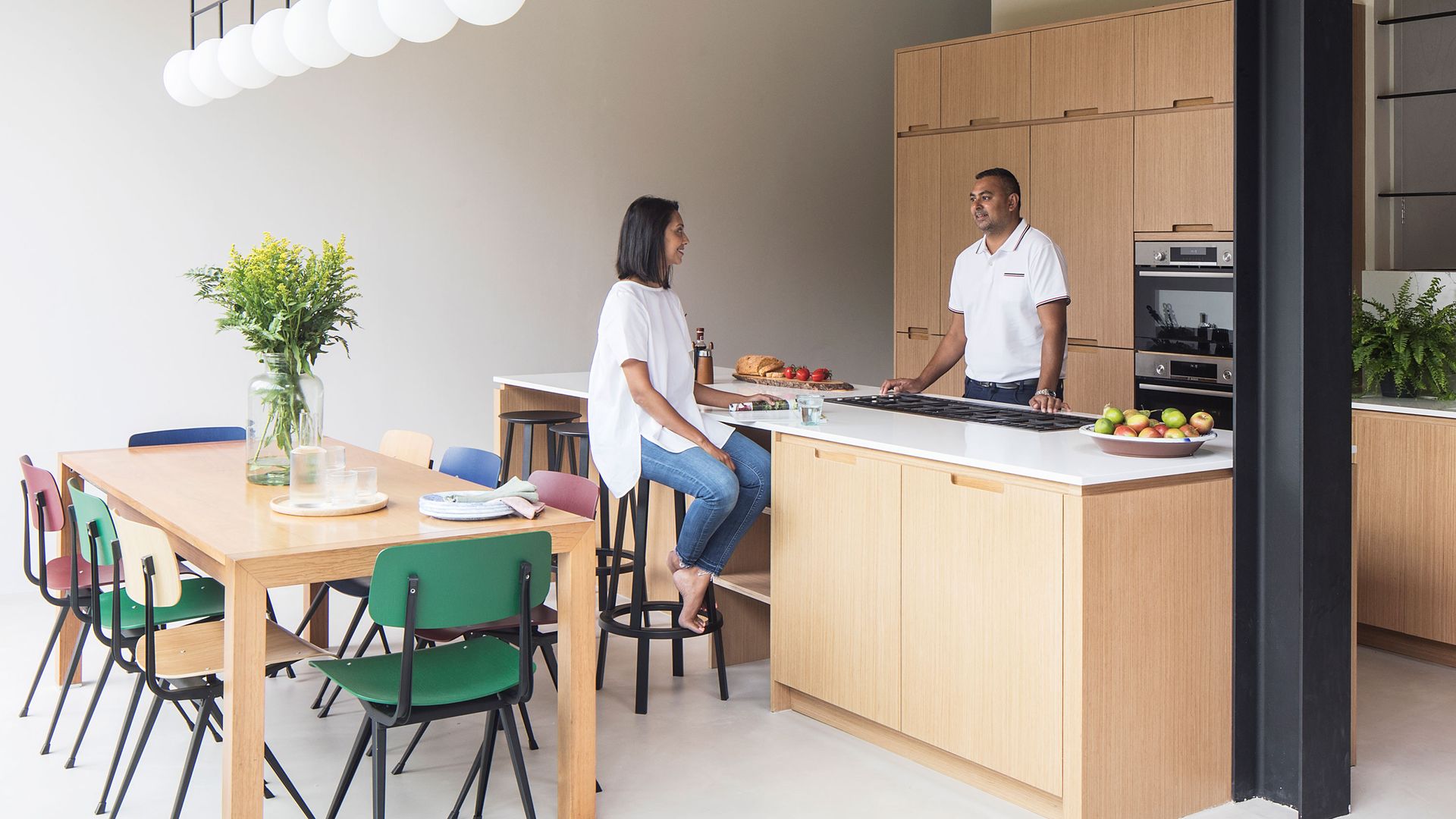 If you're designing a kitchen on a budget but want to achieve the look and feel of bespoke units, companies like Plykea (opens in new tab) and Husk (opens in new tab) upscale Ikea Metod Kitchens (opens in new tab) with the help of bespoke and stylish plywood fronts and worktops.
The beauty of this type of kitchen is that it can recreate the look of a more expensive in-frame design for less, which can then be dressed up with luxurious fixtures and finishes, such as a beautiful Belfast sink and bridge tap. Smart kitchen storage solutions, such as pull-out carousels, can also be installed into the units at a fairly low cost.
Or, if you've found a cabinet door finish you like from Ikea, swap out the handles for ones that are more interesting, such as antique shop finds. Use our kitchen cabinet design ideas for inspiration and advice.
It is possible to purchase a bespoke solid wood, traditionally jointed in-frame kitchen, where the doors sit within the frame, for about £5,000. Try Old Creamery Furniture (opens in new tab) and Pineland (opens in new tab), which offer painted, solid wood freestanding units at a very reasonable price. As there are no units to put together, this reduces the time and cost it takes to install.
Also look at British Standard (opens in new tab) by Plain English. Plain English sells bespoke kitchens with an average price of £50,000 to £60,000 but, through British Standard, offer a more affordable range of quality cabinets – from £5,000 for a complete set-up. These have solid wood doors and carcasses made from white melamine faced European birch ply, with beech shelf lippings and traditionally dovetailed drawers.
For more advice on how to design a free-standing kitchen check out our guide.
3. Know where to find the best budget kitchens
Other than Ikea, check out more of our favourite brands, where you can find plenty of budget kitchens that are still incredible stylish...
4. Look for budget kitchens that are ex-display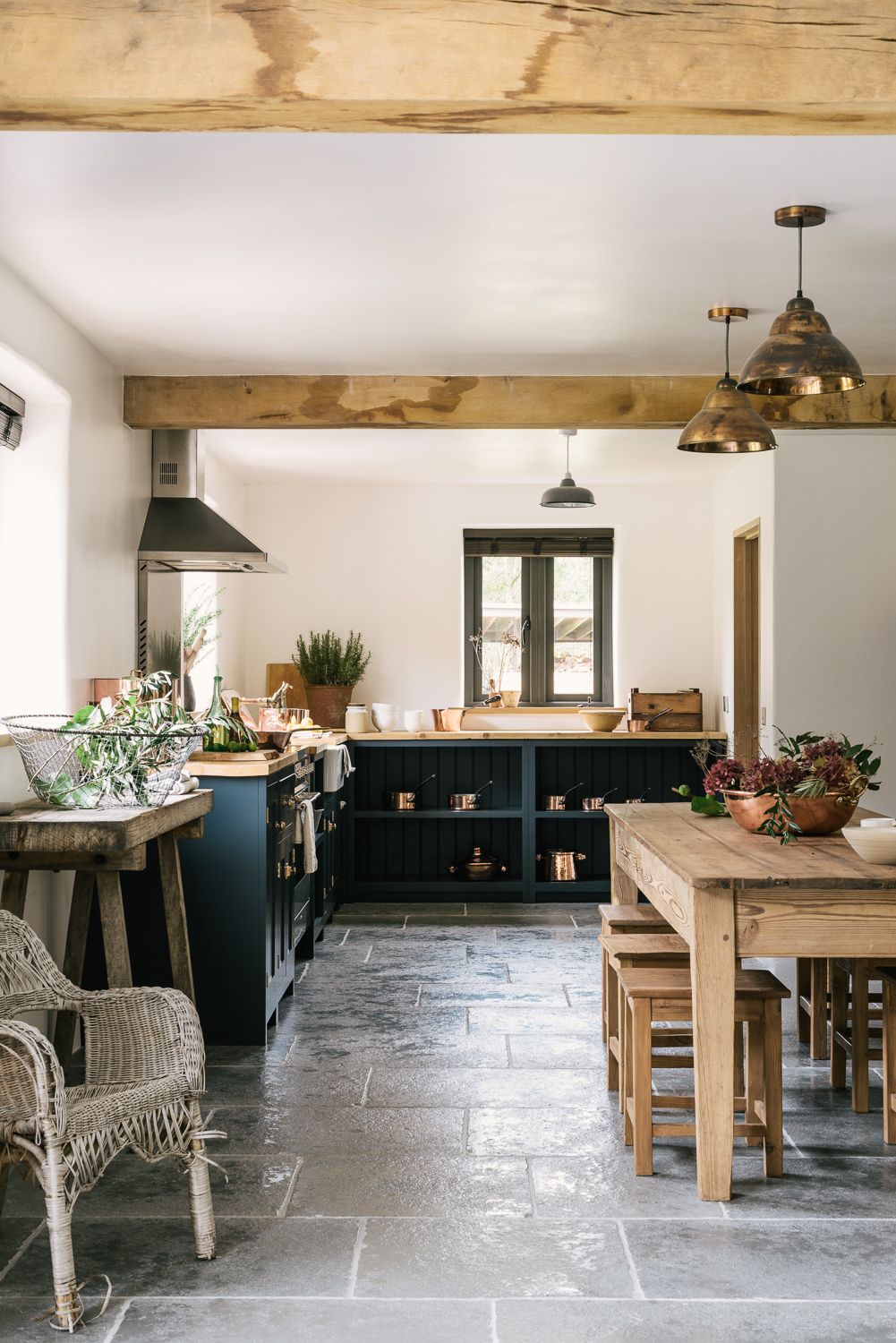 An ex-display kitchen can be an absolute bargain – and in top notch condition. The used kitchens on sites like The Used Kitchen Company (opens in new tab)and The Kitchen Exchange (opens in new tab) are fully inspected to check that they are in great condition, so your second-hand kitchen won't come with second-hand scratches, scuff marks or moisture rings.
Plus, if you are buying an ex-display kitchen, it has essentially never been used. Everything is pretty much already assembled and ready to go with a recycled kitchen, so no time is spent matching fittings and fixtures. Providing you have the right measurements, your new kitchen can just slide into place; you could of course also hire a kitchen fitter just to make sure everything is exactly as you want it.
5. Mix and match budget and expensive buys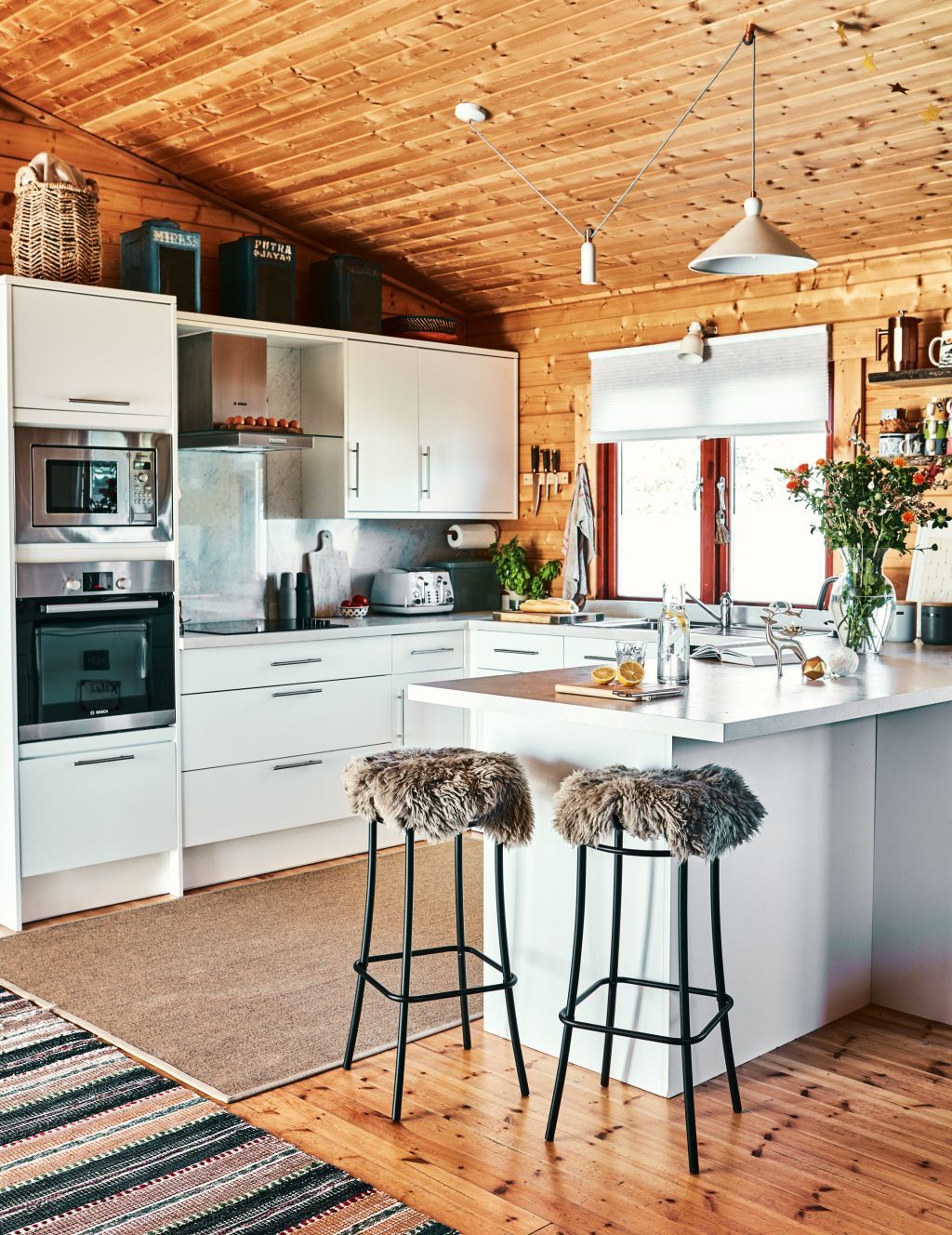 To get a look you love while sticking to your budget, mix and match expensive and more affordable materials. Save pricier buys for areas that are on display and make a feature of them. If you've got an island, you could choose a high quality and striking worktop for it and pick a less-expensive worktop for the other units.
Combining a fitted or flatpack kitchen with more unusual freestanding pieces can avoid it looking mass-produced. A statement larder will give your kitchen a bespoke feel, without the price tag. You could even repurpose and paint furniture from another room for a characterful touch.
If you've found a tile you love but it will be too expensive to use for the whole kitchen, limit it to a high-profile area, like a splashback, and complement or contrast with a cheaper tile in the rest of the room.
Mix and match closed and open kitchen storage, too. Open shelving is often much less expensive and you can make a display of favourite ceramics, cook books or jars.
6. Replace kitchen worktops on a budget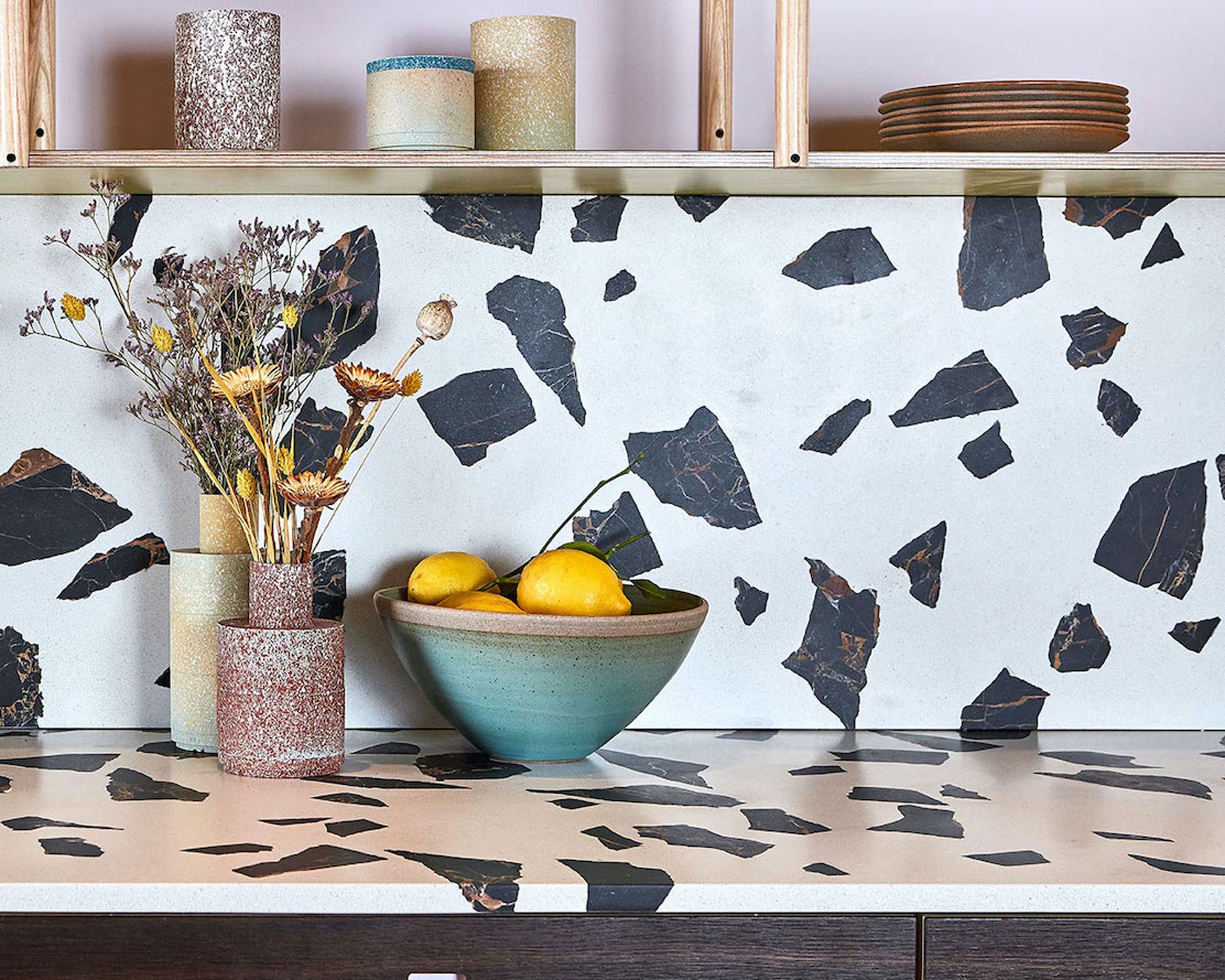 The best types of kitchen worktops can make or break the look of a budget kitchen.
When it comes to finishes, premium worktops will lift the look of the whole kitchen. Granite and quartz surfaces are a real investment, at several hundred pounds per 3m run, but durable composites, which replicate their intrinsic character and sparkle, are much more cost-effective.
Solid oak work surfaces can be ordered online for as little as £100 to £120 per 3m run; try Worktop Express (opens in new tab).
If opting for a high-quality laminate, choose a good depth with a squared edge, and overhang it slightly at the end of unit runs for an elegant finish.
If you're only replacing worktops but keeping the rest of the kitchen, you could try Granite Transformations (opens in new tab), a company that fits a new worktop over the top of the old ones.
Mix and match worktop materials, for example a granite island against timber topped units, for a bespoke finish.
This also allows you to use a cheaper and more durable material where you do most of your work and prep, then inject a bit of luxury with a breakfast bar or plinth in something more high-end such as quartz.
7. Choose a cheap but chic kitchen sink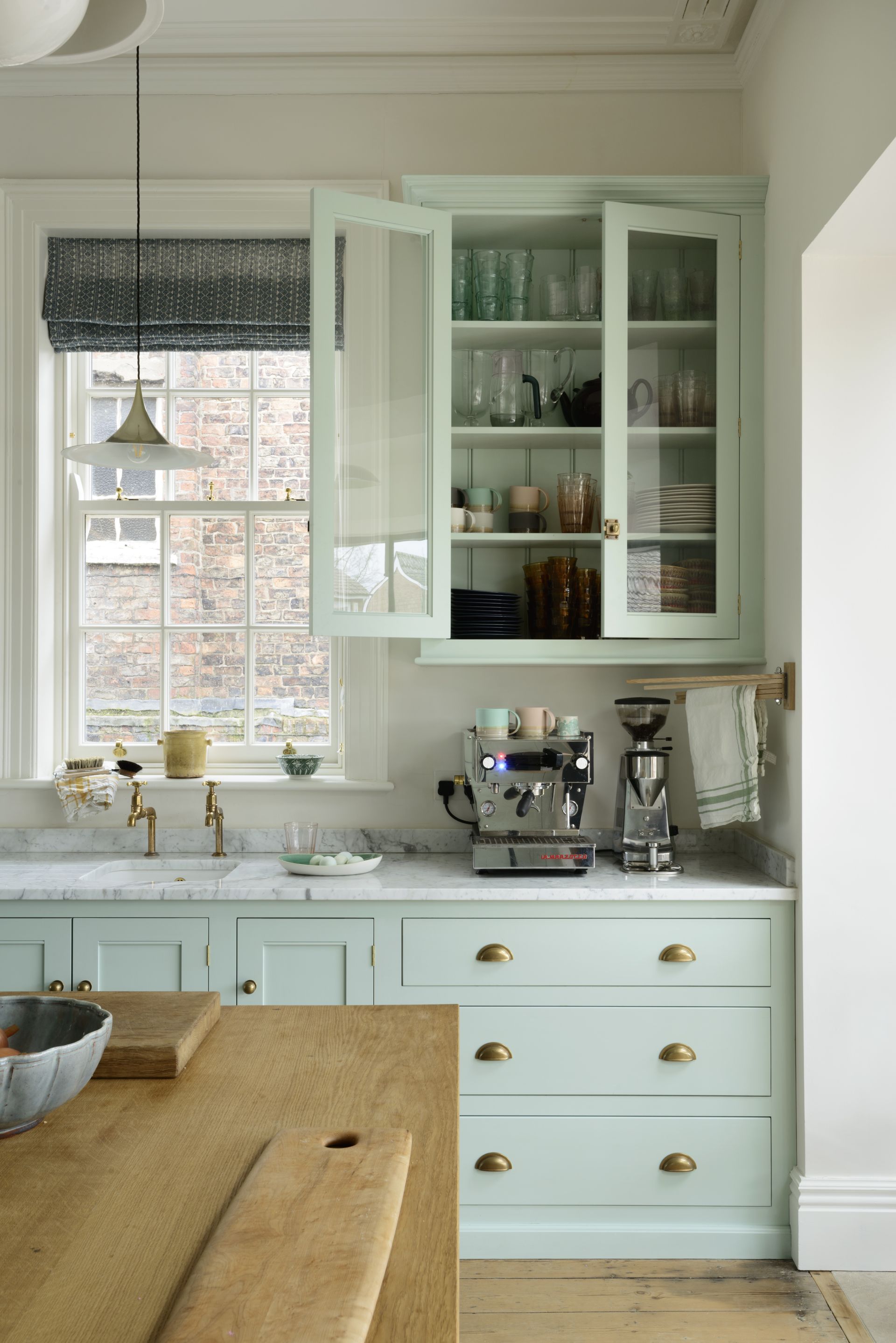 The style of kitchen sink you choose will be dictated by how much space you have available, and what will work with the look of your kitchen. Most sinks are inset into a hole cut in the worktop, so they are easier to fit and tend to be cheaper. Sinks can also be under-mounted (fixed to the underside of the worktop) which creates a cleaner finish and works well if you choose to have draining channels cut into the adjoining work surface. When it comes to choosing a material, you main choices are stainless steel, stone/composite or ceramic:
Stainless steel is low-maintenance and tends to be the cheapest option – here's how to clean stainless steel.
Composite sinks can withstand high temperatures and come in a variety of finishes. They can be pricey, but are a good investment as they are hardwearing.
Ceramic sinks tend to come in styles most suited to period homes. However, they are prone to staining and chipping, but still a good choice if properly cared for.
For more tips on choosing a kitchen sink, check out our dedicated feature.
8. Invest in the best flooring for a stylish kitchen on a budget
Ideally, you might pick out beautiful kitchen floor tiles, but if these are beyond your budget, it's really worth investigating the latest laminate flooring and vinyl flooring designs, as they tend to much cheaper.
Both can be created to mimic wood flooring or tiles convincingly, both are tough and suitable for kitchens, and both are budget-friendly. For more advice on what to opt for, use our guide to choosing kitchen flooring, or check out our guides by floor type and where to buy the best cheap kitchen flooring: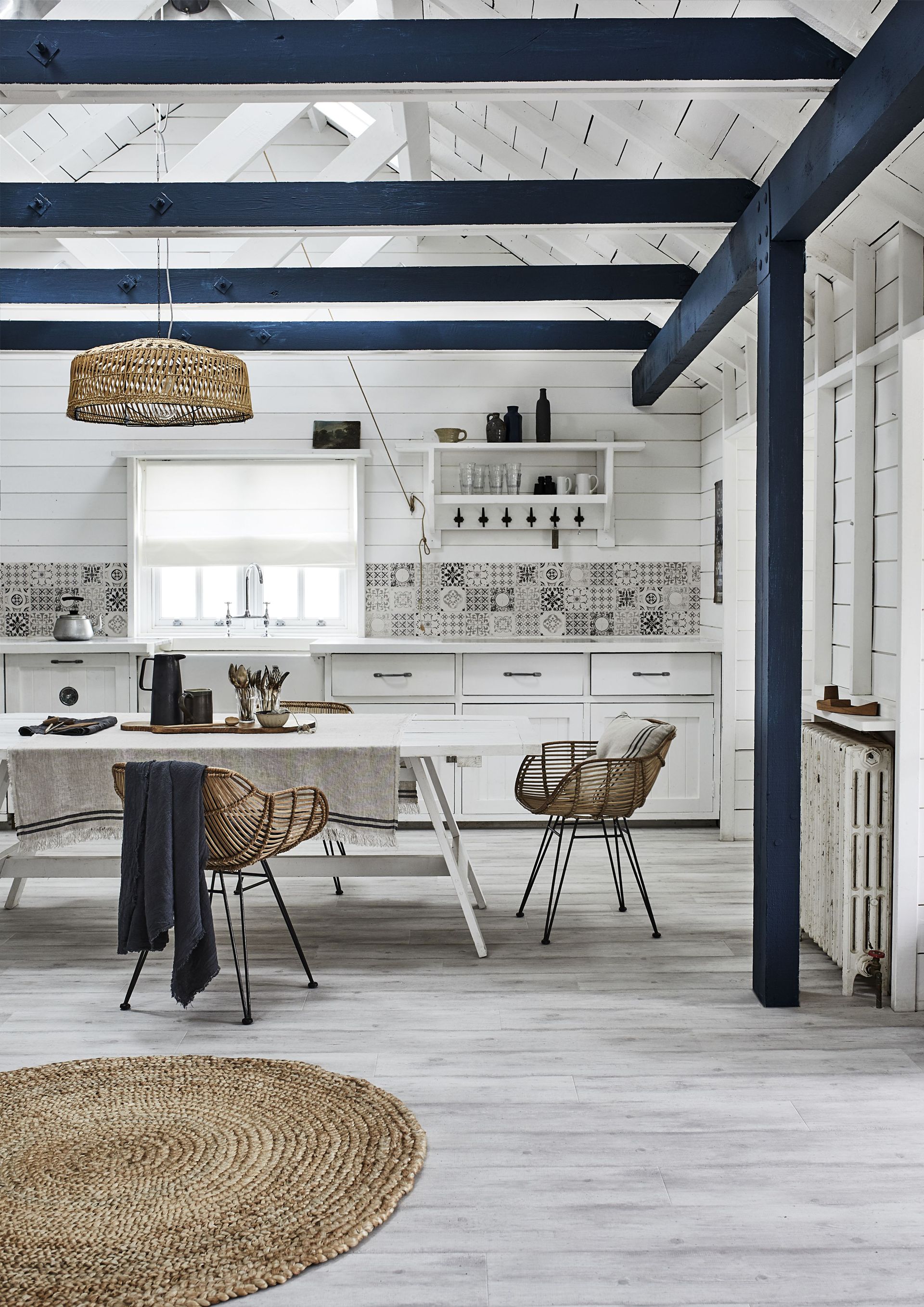 9. Use tiles to add interest to budget kitchen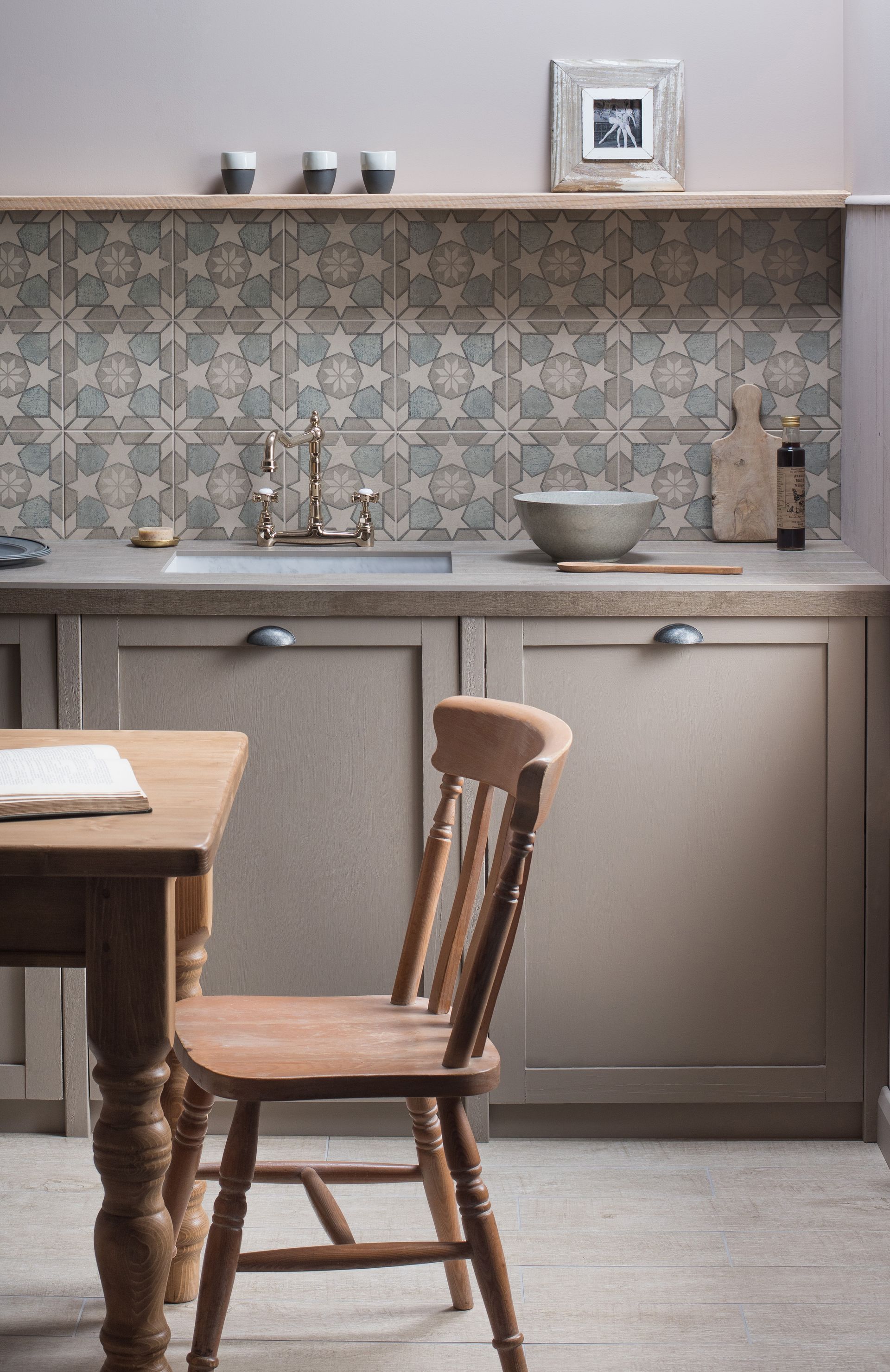 Kitchen splashbacks needn't be expensive but, since they cover a large area of wall, will make a big impact. Beautiful tiles are an obvious way to lift the look of a budget kitchen – and needn't be expensive. Use hand-finished tiles sparingly to give an artisan look to the space. You can then use less-expensive tiles for greater expanses. Try mixing in plain tiles in two or three different tones, such as gray or sage with cream, for a characterful country look.
Stainless steel or glass splashbacks are easy to clean and add interest to a tiled wall. Kitchen suppliers have a number available, but consider looking online too. Some companies provide made-to-measure splashbacks at a fraction of the cost you would expect.
Use our guide to choose the best kitchen tiles for walls and floors. Check out these splashback ideas for more inspiration and remember you can always save money by tiling a splashback yourself – just check out our guide to find out how.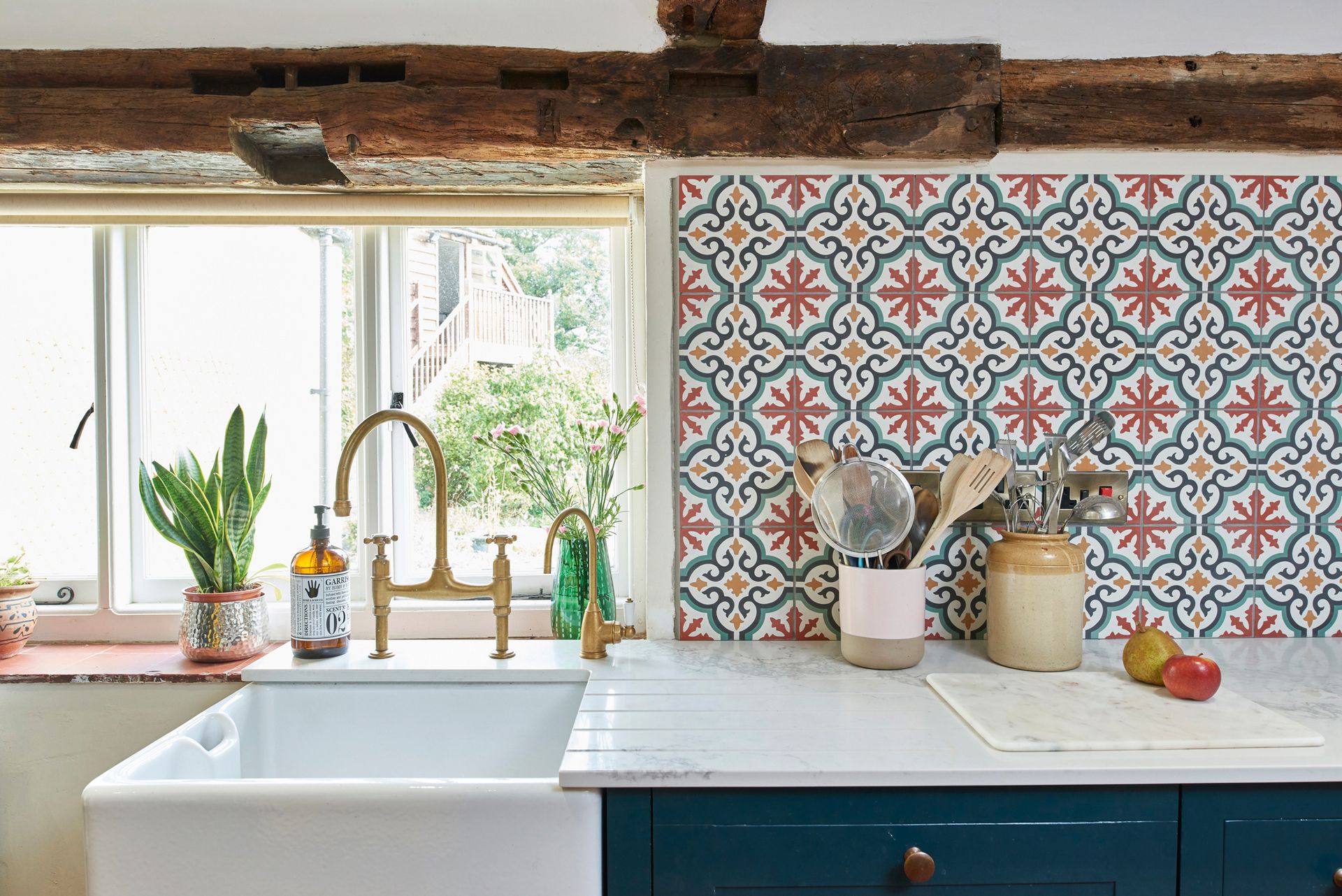 10. Fit affordable ironmongery in a budget kitchen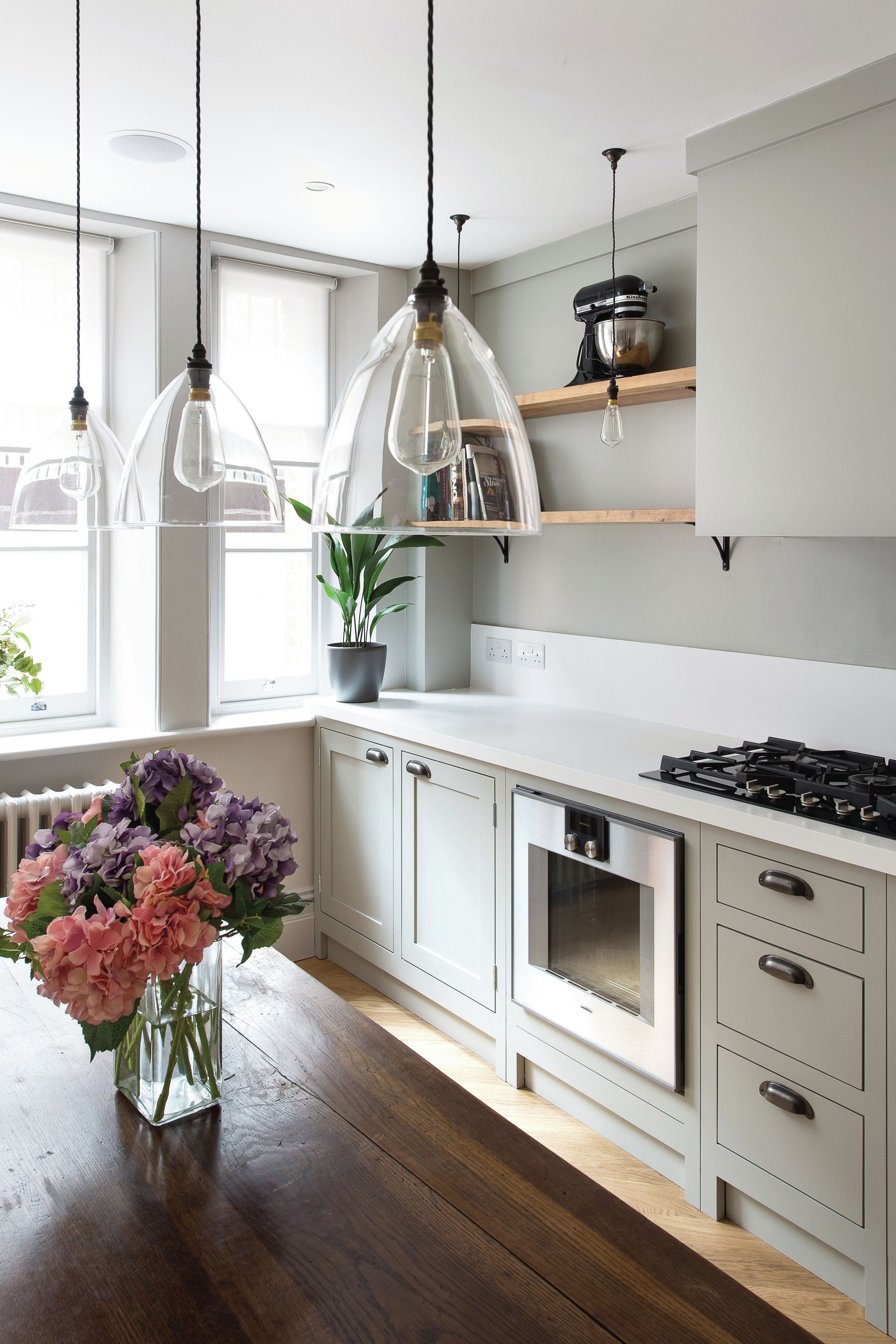 Do not neglect smaller details: ironmongery makes an enormous difference to the overall look and feel of a kitchen. Invest in characterful cup handles for drawers, and mix with elegant nickel knobs on doors. Alternatively, turned wood knobs are a more affordable option that look perfect in traditional Shaker kitchens.
11. Pick out stylish, affordable kitchen storage options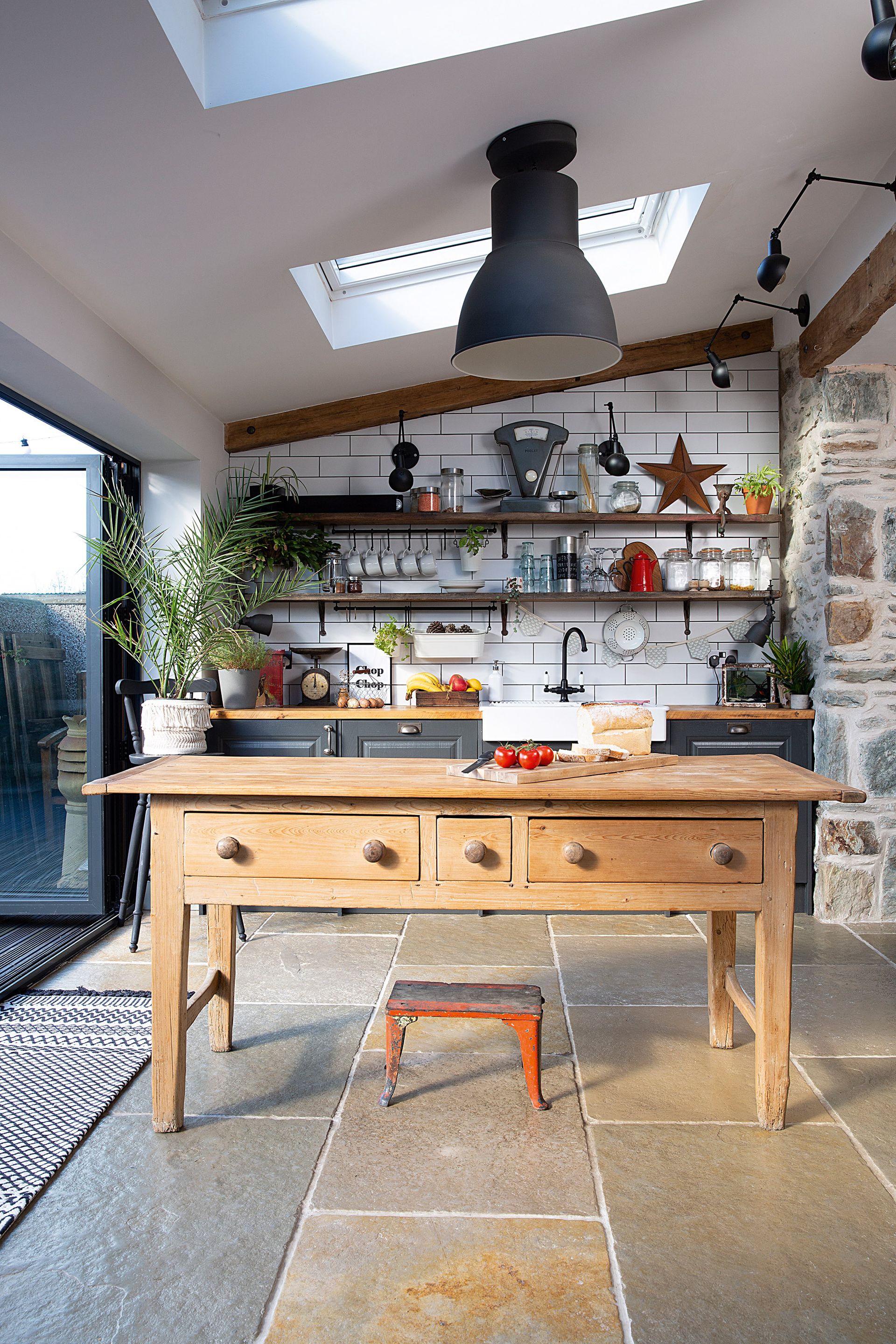 Kitchens on a budget needn't be boring! Nothing adds style to a kitchen quite like some open shelving and wow are they affordable! You could even DIY some yourself, which is great because it's cheaper and you can build them to perfectly fit your kitchen. You'll need to get your hands on some planed timber – B&Q (opens in new tab) and Wickes (opens in new tab) stock loads of different sizes and thicknesses. You can either leave them as they are, unfinished, or paint them with some wood stain (opens in new tab) and then saw them to the size you need. Then it's just a case of wall mounting them using some shelf brackets (opens in new tab) – we love these rustic ones from Amazon.
12. Hang affordable but gorgeous window treatments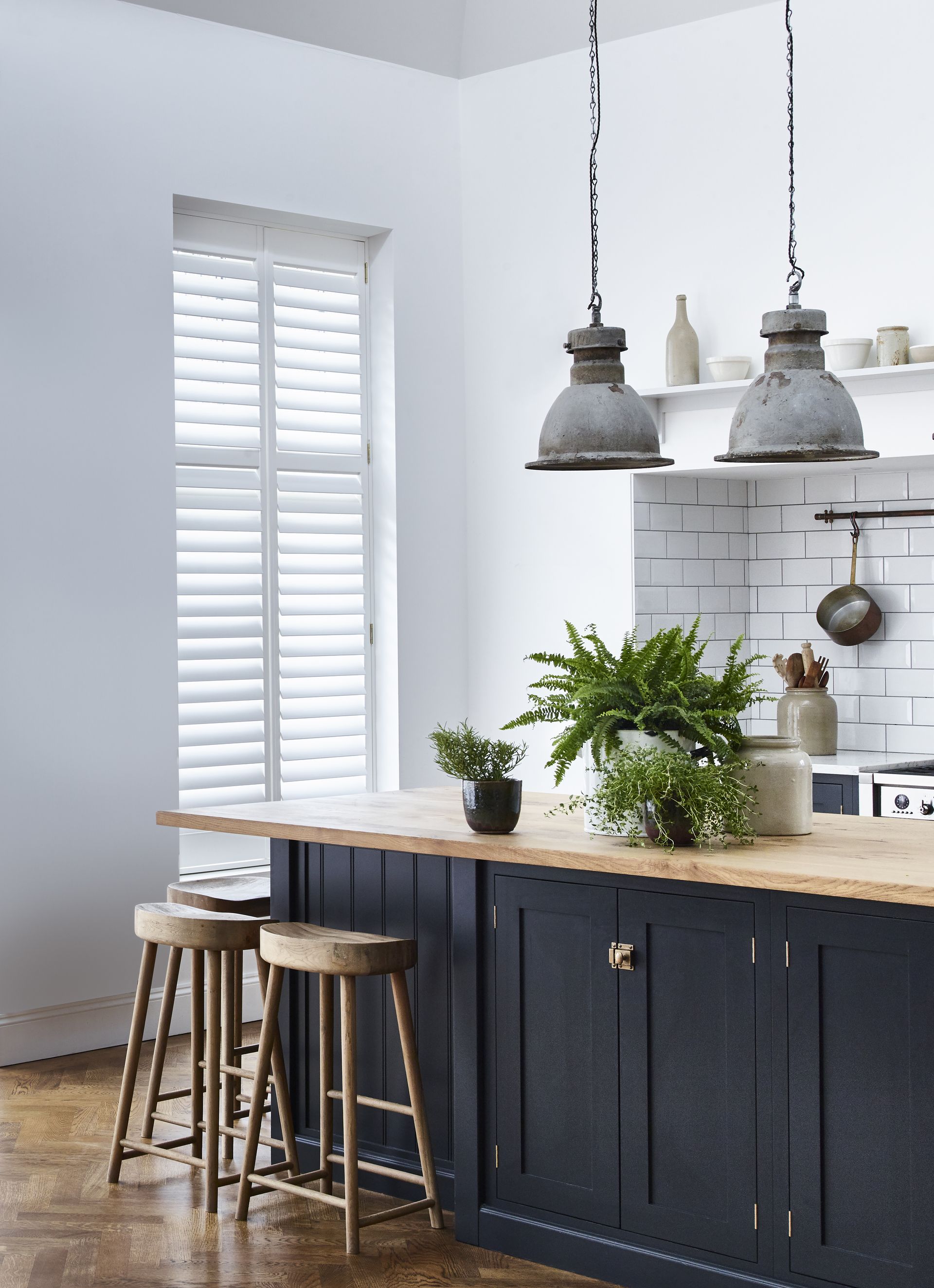 Kitchen window treatments needn't be costly to be good looking. Roller blinds are a cost-effective choice that allow you to add color, texture and pattern to your room and make lots of sense, particularly in a small kitchen, since they take up so little space. Window film is another affordable option that takes up no space while allowing light to flood in.
Shutters needn't be out of your price range either – choose a DIY design and fit options that cost a fraction of those that a designer measures up for and an installer fits.
13. Shop cleverly for cheap but chic kitchen furniture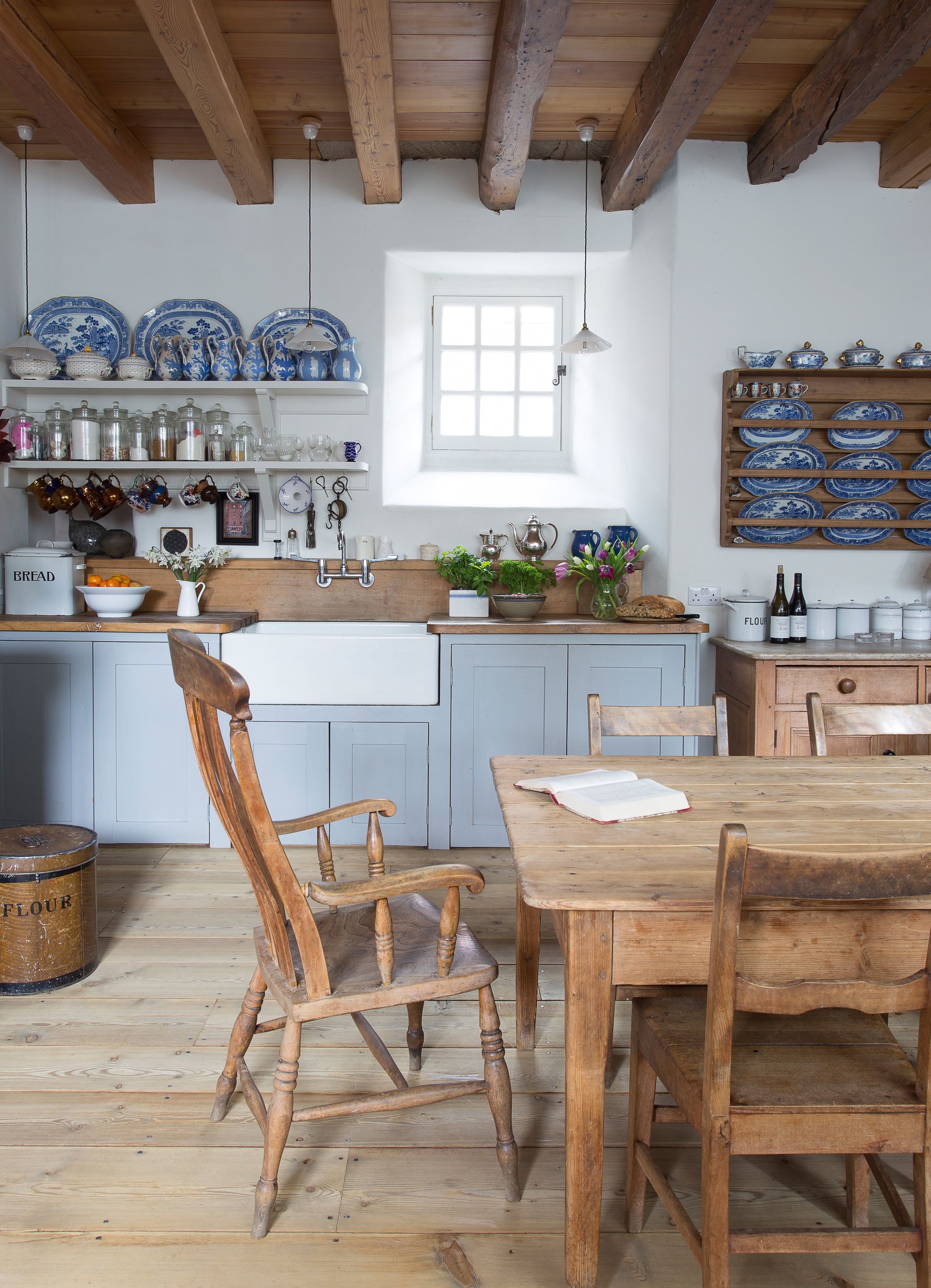 Antique shops or even charity shops are a great place to find old Welsh dressers and other freestanding furniture. These can be refreshed with a lick of paint or varnish. Look out, too, for butcher's blocks (find out how to seal a butcher's block yourself here), which can make great freestanding islands.
If you are planning on upcycling your finds with paint, look in on our pick of the best furniture paints too.
14. Consider a freestanding kitchen island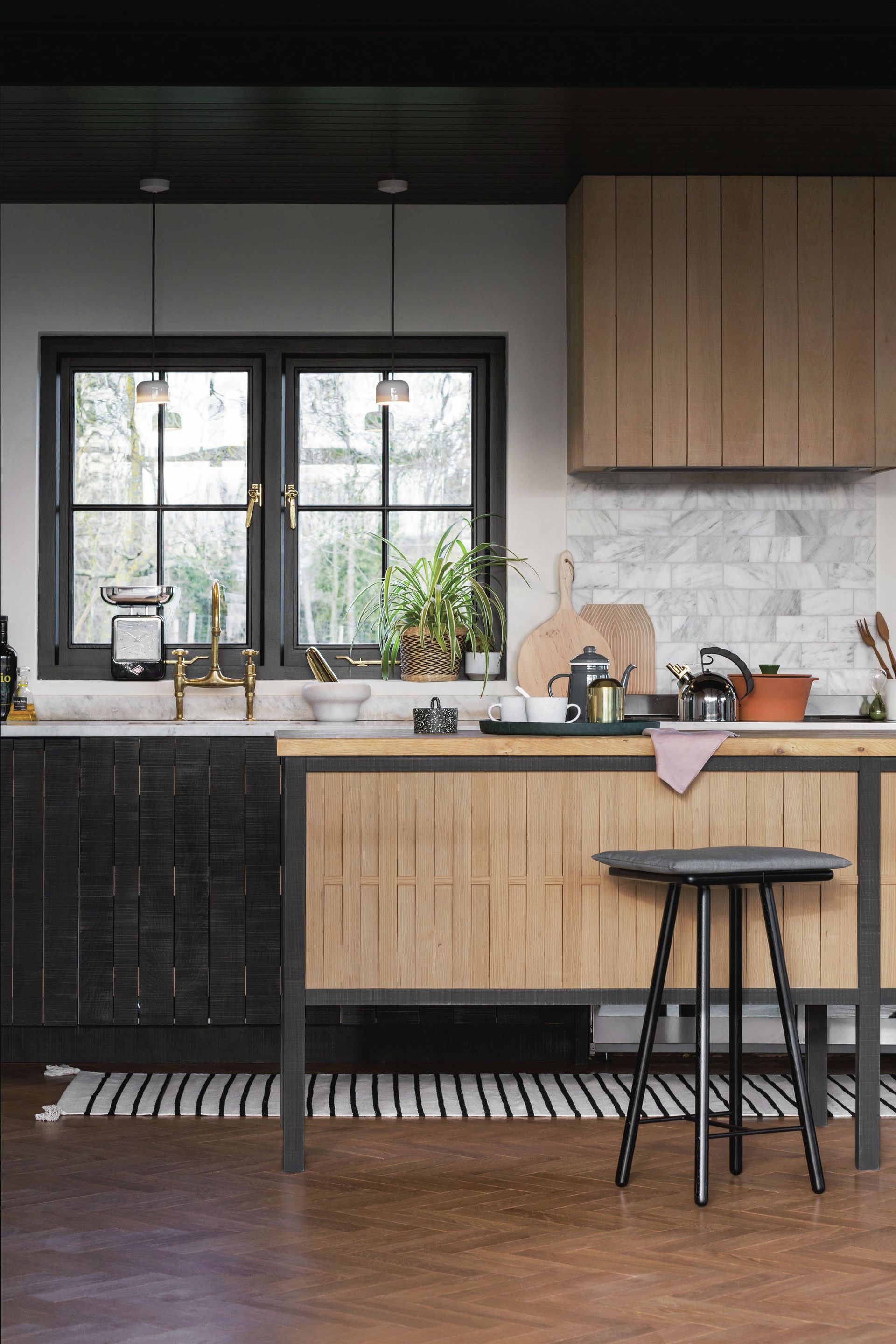 A freestanding kitchen island is much more affordable than a built-in one and will be a massive bonus to both prepping and storing. Or, perhaps you're renting and frustrated by the lack of kitchen storage in the room? A freestanding kitchen island is something you can take with you when you move... or flog. Plus, it often comes packed with kitchen storage space, worktop space and room for kitchen island seating.
If you are keen on a kitchen island, we have loads of kitchen island ideas in our dedicated feature.
15. Find affordable kitchen appliances
Kitchen appliances might not be as exciting to choose as cabinetry or flooring, but they are an essential and will take up a fair bit of your budget, so it's important to shop smart. There are always deals going on when it comes to kitchen appliances, from the essentials like fridges to the more... luxurious items, such as blenders and the best coffee makers. Keep an eye out on our deals hub page for all the latest sales and offers or click to shop below at some of our favorite places to find cheap appliances...
16. Paint your walls for a budget kitchen makeover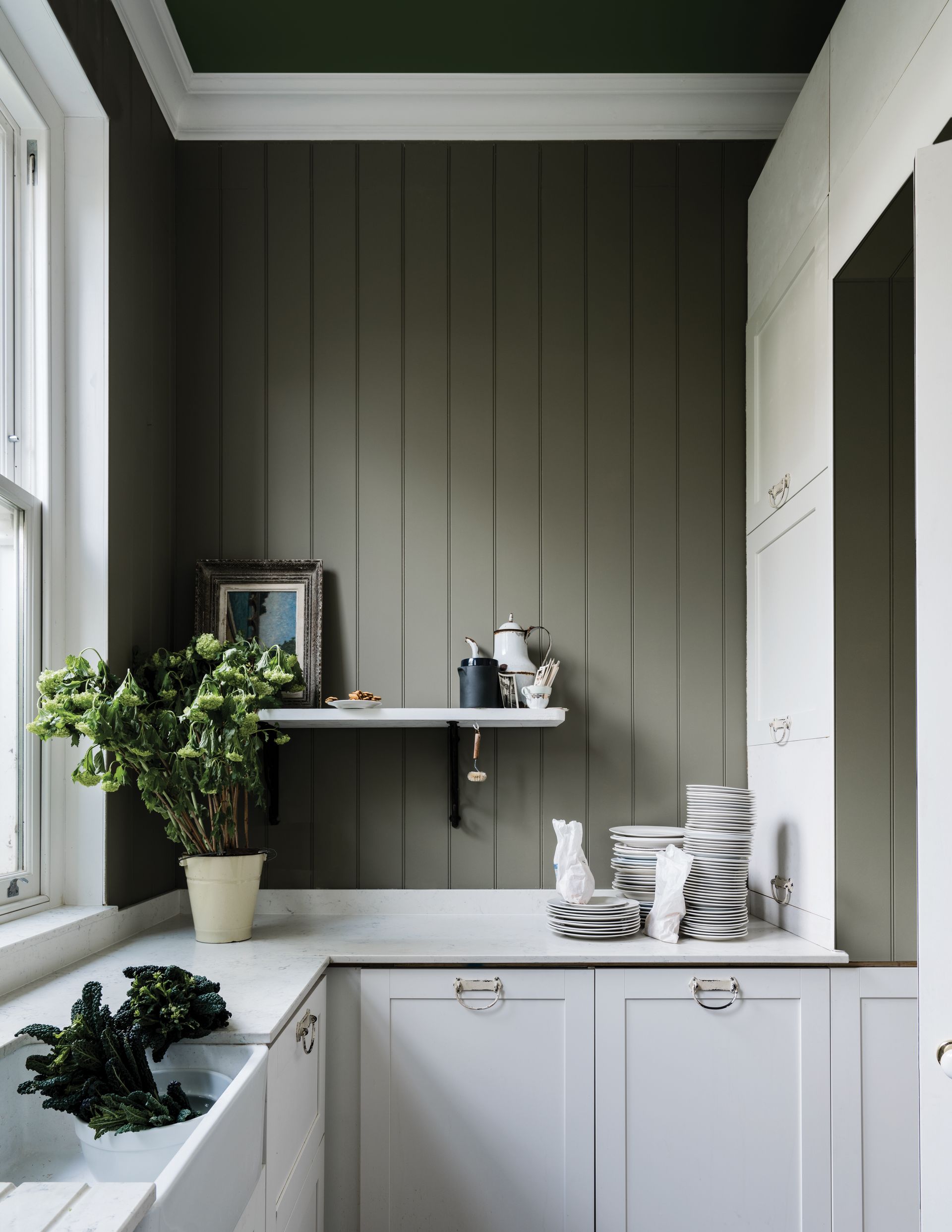 Choosing the right paint color for a kitchen can instantly transform it – all for the price of a tin of paint, and it's an easy update to move on from when you want a brand new look (again). Be inspired by the best kitchen paint ideas to transform your space.
17. Or paint your kitchen tiles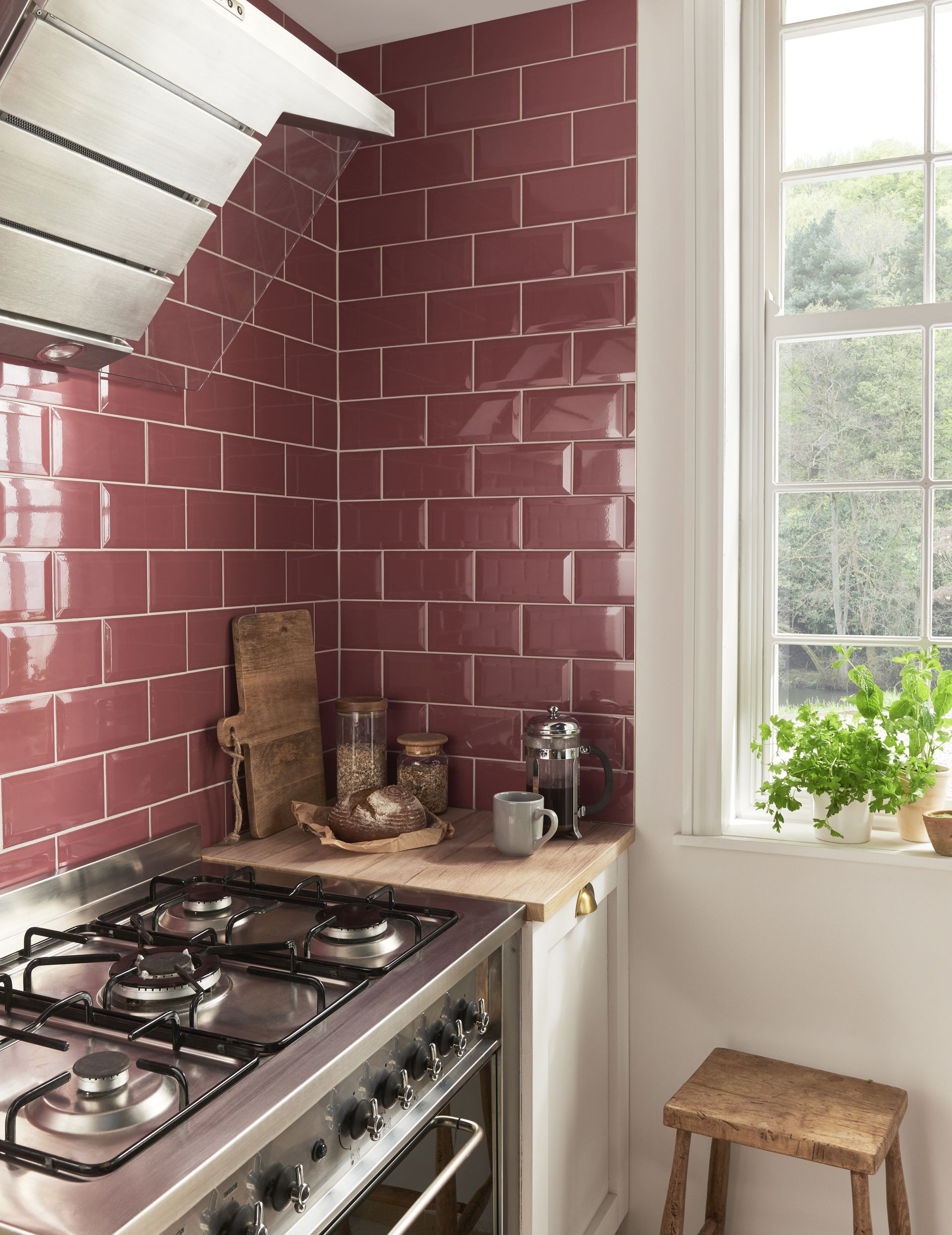 Painting over those eye-sore tiles rather than replacing or putting up with them is a much quicker (and cheaper) solution. So get out your paint brush and get those ugly tiles covered! It's actually a very easy DIY job if you know what you are doing, so go and have a read of our step-by-step guide to painting tiles to get started.
18. Hang wallpaper in the kitchen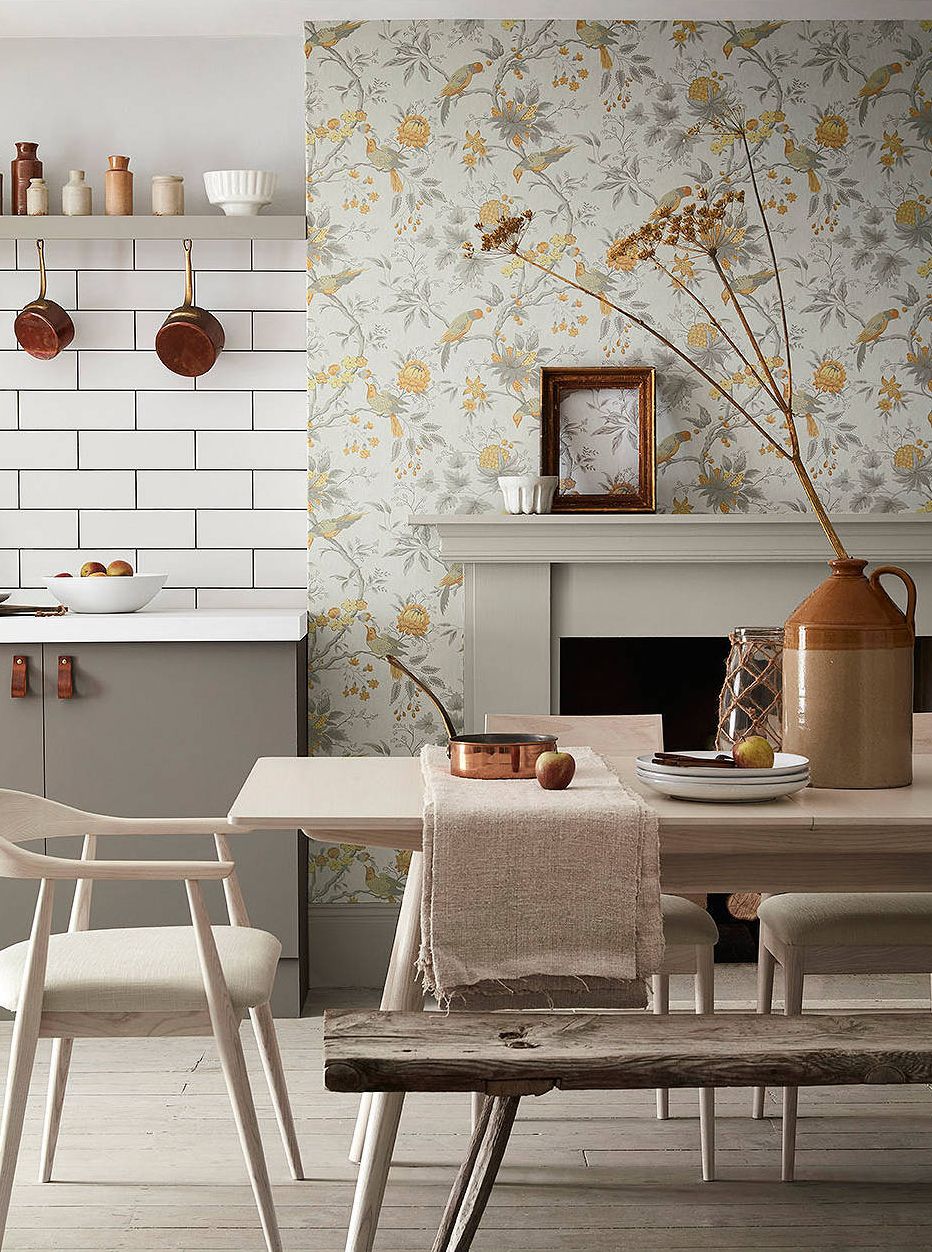 Wallpaper needn't be limited to a living space or bedroom. Putting a modern wallpaper in a kitchen – especially an open plan kitchen diner and living space or vintage-style kitchen – will add instant personality to a kitchen, and it's pretty affordable too if you do it yourself. Ensure it's wipeable, and protect any areas that might get repeatedly splashed with glass splashbacks.
19. Introduce a dining area to a small kitchen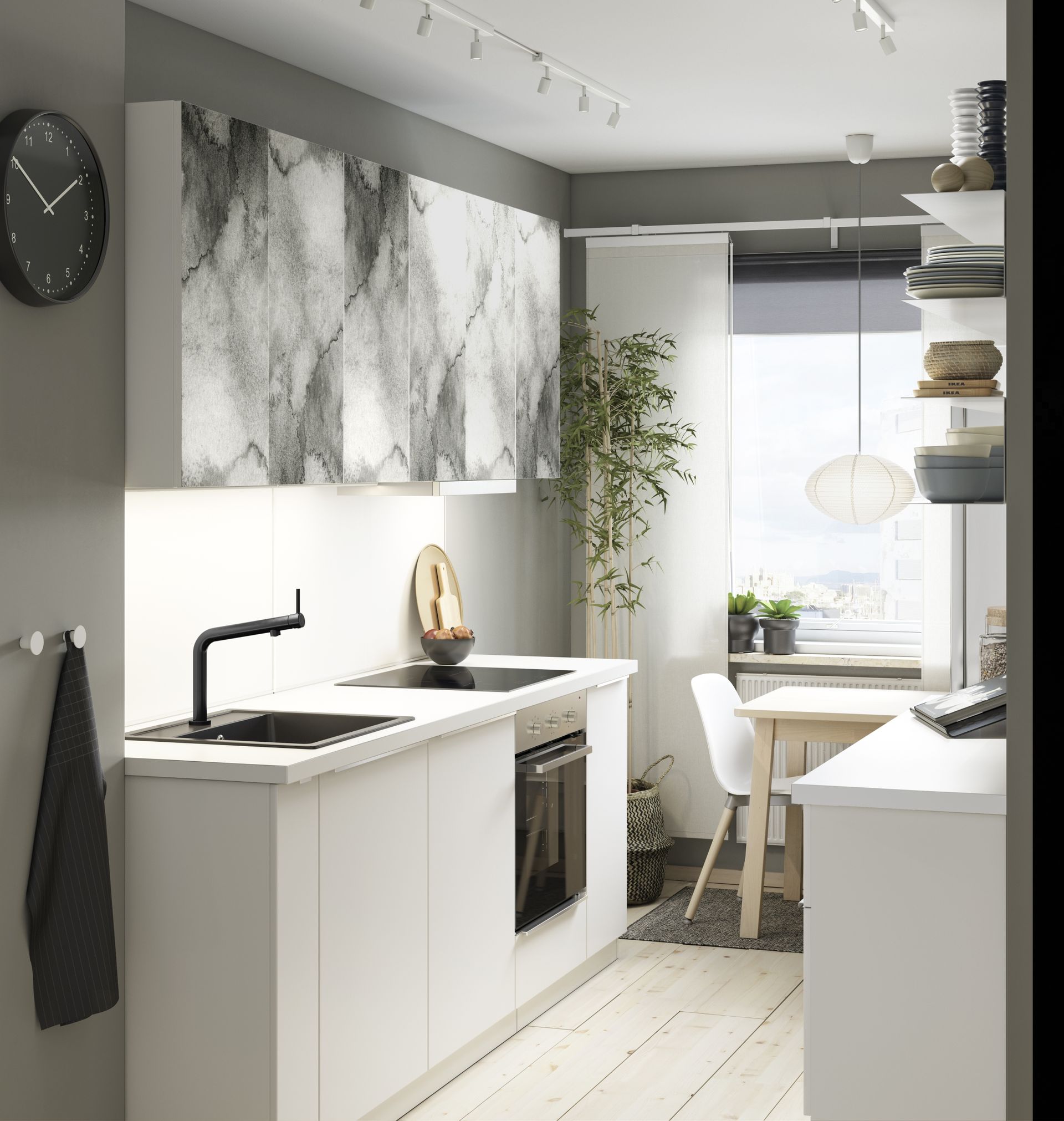 No matter that you have a small kitchen, there's often space for an inventively squeezed-in dining area. In the smallest of kitchens, a table that folds flat against the wall when not in use and chairs that similarly concertina and can hang on the wall. If you have a little more room, a breakfast bar with bar stools tucked neatly beneath will give you somewhere to perch while you eat; or, if there's room under a window, a small dining table (even a half-moon-shaped one) will do the trick.
20. Add personal touches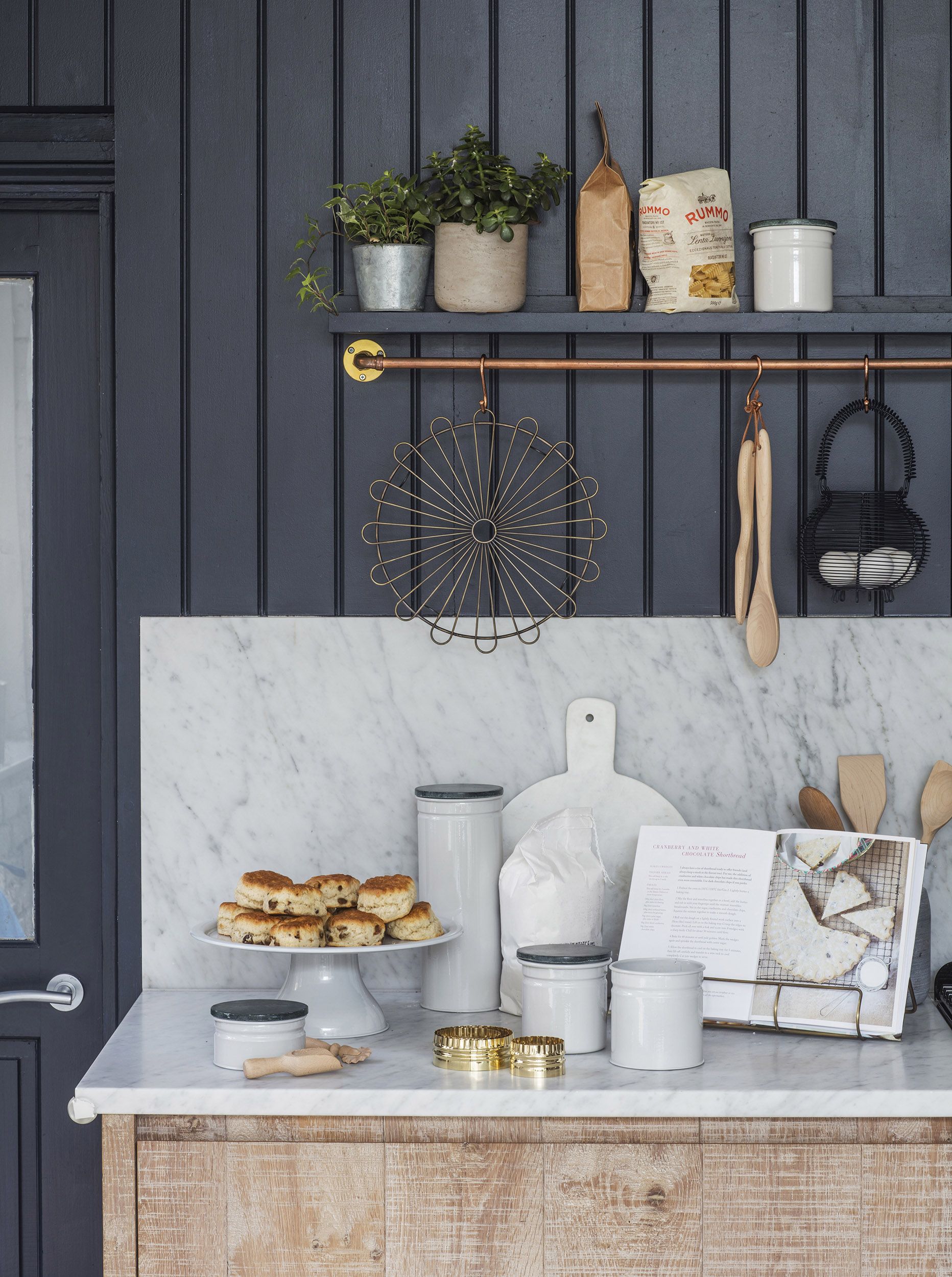 You might not have the budget to pay for an interior designer, but adding interior design touches to a kitchen needn't cost a fortune if you know how. Plus, adding personality to a kitchen with anything from a few common house plants to a full on indoor garden, or by creating a cool gallery wall might be something you can do for free – after all, it's likely you already have everything you need hanging about at home. If all else fails, a few polished accessories in similar colorways can really tie everything together.
21. Replace your kitchen cabinet handles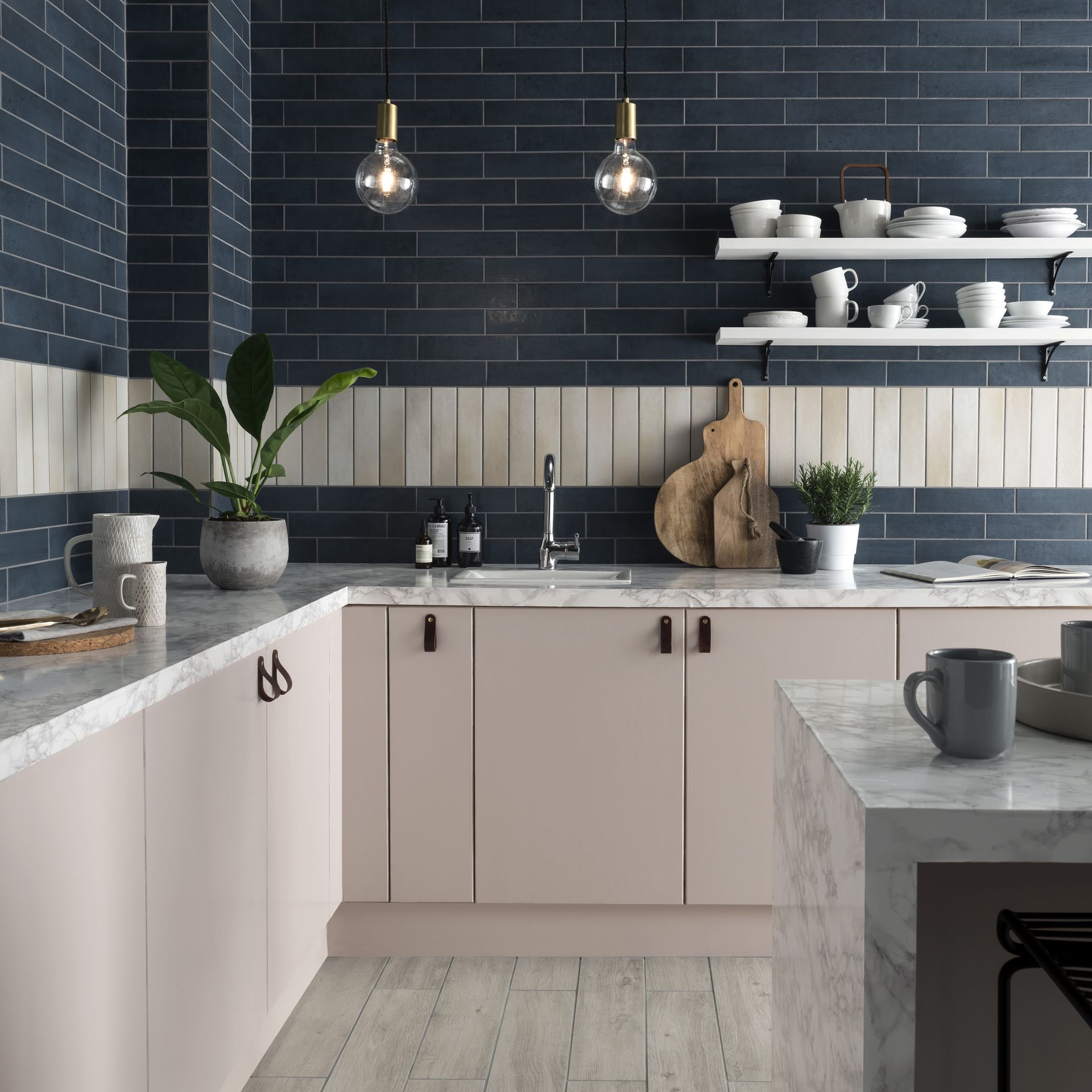 If you have only recently painted or replaced your kitchen cabinets but want to refresh your space still, simply changing the handles can make the world of difference. We love these leather pull handles below and they are beyond easy to fit. You can find similar leather handles on Amazon (opens in new tab) and at John Lewis (opens in new tab)to help create a relaxed, Scandi and modern vibe in your kitchen that will not cost you the earth, or a lot of time either.
Where to save and spend in a new kitchen
Spend:
In use every day, you want one which will not only look good, but will last. Consider size, shape and water pressure for a perfect fit.
Fixings
A quality fixing – we're talking door handles and knobs and hinges – will be long lasting and allow ease of use. Even if you choose inexpensive cabinets, good fixings can make a huge difference.
Worktops
A natural focal point, they need to be hardwearing. Avoid cheap laminates as they can chip and damage easily. Invest in the best you can afford. Quality laminates can look convincingly like stone and composite. Timber is warm and stylish but requires maintenance. For a statement in an urban-style kitchen, consider stainless steel. Use our guide to kitchen worktop materials to choose the best for you.
Save:
Appliances
If you're changing your fridge-freezer, washing machine or cooker, take advantage of holiday sales and outlet stores for specific brands like Miele, Hotpoint or Whirlpool. It could be worth a trip to save £100s on your white goods, oven and hob.
A stainless-steel sink is hard-wearing, easy to clean, resistant to high temperatures, and cost-effective. But be wary of choosing the cheapest steel option as this may scratch and dent easily.
Your tiles won't be exposed to as much wear and tear as your flooring or worktops, so a budget-friendly ceramic can be just as good as pricey porcelain or cement options. Experiment with unusual arrangements; try laying great-value metro tiles in a herringbone pattern and fill with an on-trend colored grout – simple but effective. Shop around for the best price.
More tips for creating the best kitchen: